The pandemic has made it necessary for nonprofits to look for unique fundraising ideas and innovations to keep fundraising during COVID-19.
Zoomtopia, for example, held a virtual gala with all the trimmings of a real-life ball; there was a well-designed invitation, a guest list, performances, signature cocktails, a host committee.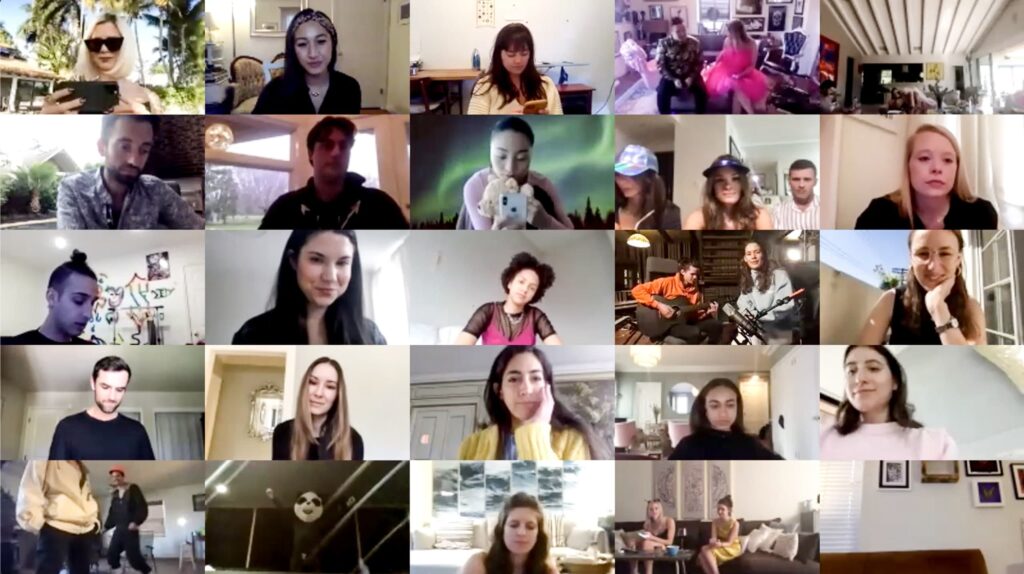 We're seeing these types of virtual fundraising events, and new virtual fundraising ideas popping up everywhere, as nonprofits look for ways to keep fundraising during COVID-19 and make up revenue from cancelled events. 
With predictions that one third of nonprofit organizations may not survive the pandemic and the resulting recession, it's definitely time to get creative and find new ways to fundraise. 
To give you a hand, we've compiled a list of virtual fundraising ideas, and virtual fundraising event ideas with examples to help inspire you as you navigate the changing face of nonprofit fundraising, and not just survive, but thrive through COVID-19.
1. Third-party Events
Third party events, also known as do it yourself (DIY) fundraising, is when you ask supporters to raise money on your nonprofit's behalf.
It's a great, easy to implement virtual fundraising idea for 2020!
The CAMH Foundation, for example, set up a dedicated Community Fundraisers website that encourages third-party fundraisers to start their own fundraiser to raise money for the cause, including ideas for fundraisers, to make it really easy for anyone to get started.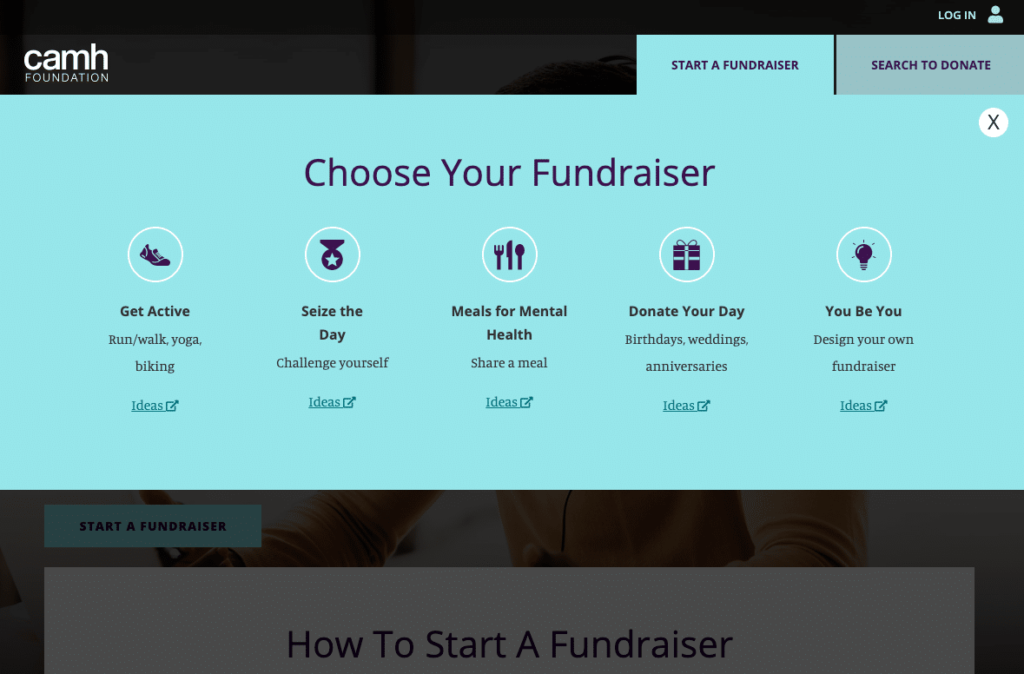 With third-party event, your nonprofit is not in charge of, or responsible for the individual fundraisers, but your nonprofit can encourage all third-party fundraisers to follow all laws and restrictions related to the pandemic, and exercise social distancing at any in-person events.
Use your nonprofit database software to find a list of supporters who you think would be up for this kind of challenge, and send them off an email inviting them to participate.
Here are some virtual fundraising event ideas you can promote to your supporters:
Birthday celebrations
Personal challenges like running 5km every day for a month
Virtual game night
Social distanced bake sale
Virtual concert or performance 
2. Virtual Fundraising Galas
Instead of coming up with a completely new virtual fundraising event idea, move one of your pre-existing signature events online. You already have a list of loyal attendees and an event concept ready to go. Offering these events online is a great virtual fundraising idea for 2020.
And if you don't currently have a signature event, that doesn't mean you can't start a brand new one virtually. 
Example: Michael Garron Hospital
Laughter is the Best Medicine at home virtual gala fundraising event hosted by Michael Garron Hospital is a perfect example of how to position your at-home gala experience, and offer your supporters a really special night-in that they can't get anywhere else. 
From their website: "Experience a night of fine dining and exclusive live entertainment hosted by Will Arnett, right from your own home."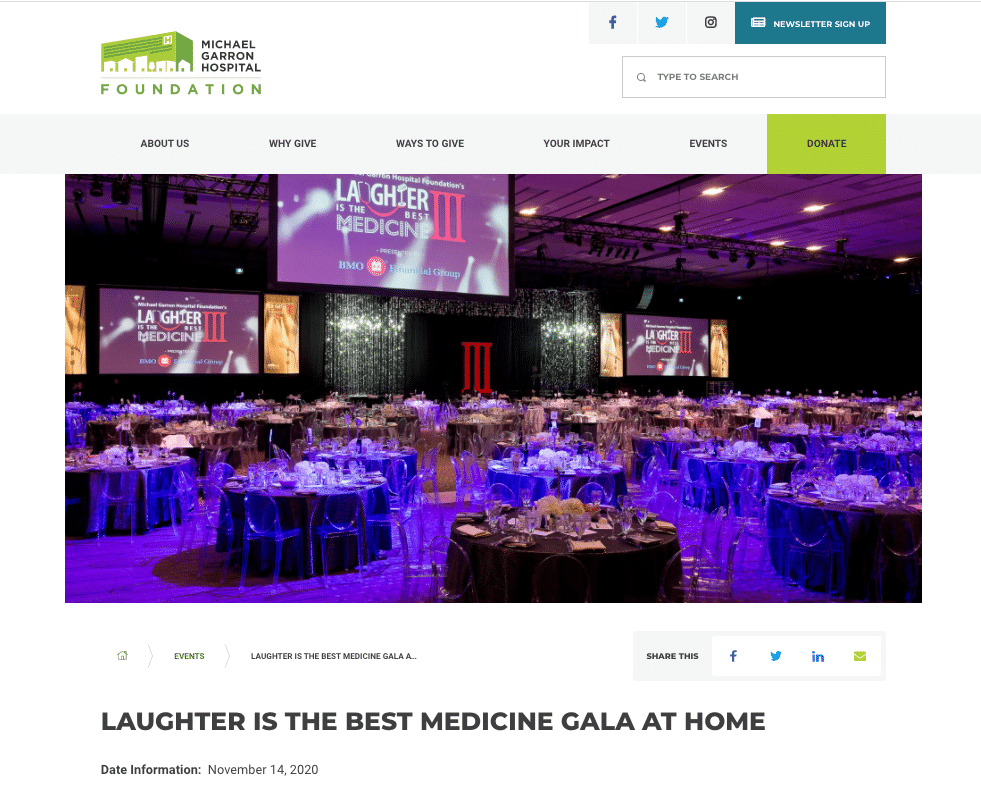 Example: The United Way of Thunder Bay
The United Way of Thunder Bay also held their annual gala virtually. The Stay at Home Gala promises a night to connect, unite, and nourish the community: 
"Social distancing at its finest, the first-of-its-kind event will host all the familiar elements of a gala: dinner for 2 from Giorg (optional),  national and local game-changing speakers, entertainers, musicians, local online auction and much more. Put on your best, log on, enjoy the entertainment, bid on your favourite items (#ShopLocal) and dine to support the members of our community who have been impacted by the COVID-19 virus."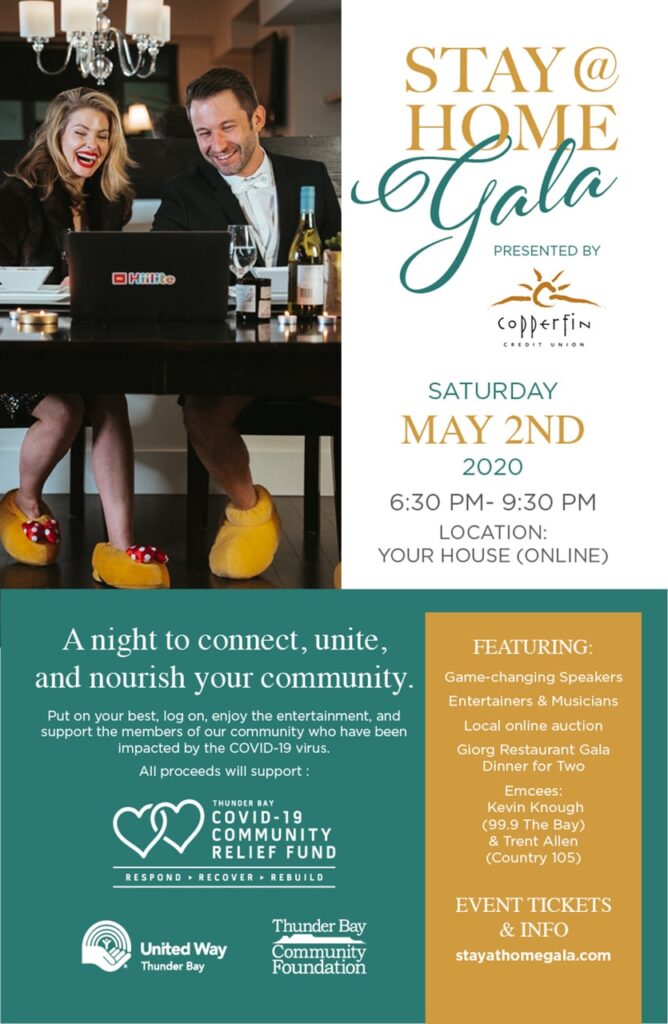 Example: Upaya
Upaya, a nonprofit fighting poverty by growing early-stage businesses, also moved their gala online this year with huge fundraising success! 
Here's their story: "Upaya's annual Gala is our biggest fundraiser of the year. We count on it for about one quarter of our operating budget, and our small-but-mighty team and volunteers prepare for it for many months. This year, our annual Gala was meant to be on Friday, March 6th, and we had 225 guests registered as of Monday, March 2nd. Our fundraising goal was $200,000.
Unfortunately, we began hearing from guests over the preceding weekend that they were concerned about large gatherings, and our keynote speaker was understandably nervous about travel from India to the epicenter of the coronavirus outbreak in the United States.
After evaluating the facts as we knew them at the beginning of the week, we made the decision to cancel the in-person Gala and attempt to engage with our donors in a way that might recapture as much of our goal as possible.
Our "Virtual Gala" was a remarkable experience and a much greater success than we could have imagined on Monday, when we were honestly very afraid of the outcome. So far, we have raised $295,000 through an online fundraising campaign and online auction. Although the campaign technically ended on Friday, March 6th, checks and online donations continue to arrive."
Black tie attire, a fancy venue, and great food are probably what come to mind when you think about a charity gala, and you're probably thinking there's no way you can replicate that at home. But even without all the glitz and glam, virtual galas are a great virtual fundraising event idea for your nonprofit.
Be sure to check out How to Hold a Virtual Fundraising Event Using Zoom, and make sure you have a great online donation page set up for your event so attendees can make additional donations throughout the virtual fundraising event.
Tip: Want your virtual fundraising gala to have a lower ticket cost? Instead of catering, send out a recipe for attendees to make their own dinner at home and include a list of wine pairings or a recipe for a signature cocktail.
3. Virtual Walks, Runs, and Rides
Walk, run, or ride events are staple peer-to-peer fundraising events and awareness builders for many nonprofits. Walk, run, or ride events give a nonprofit community the opportunity to raise money for their cause, but also to connect with each other during the event.
As these tend to be Spring fundraising events, they were among the hardest hit at the start of the COVID-19 pandemic.  If your nonprofit cancelled your walk, run, or ride earlier this year, it's not too late to do a virtual fundraising event in 2020.
Take a look at the virtual Jack Ride from Jack.org for some unique fundraising ideas for 2020 to host a successful virtual walk, run, or ride event.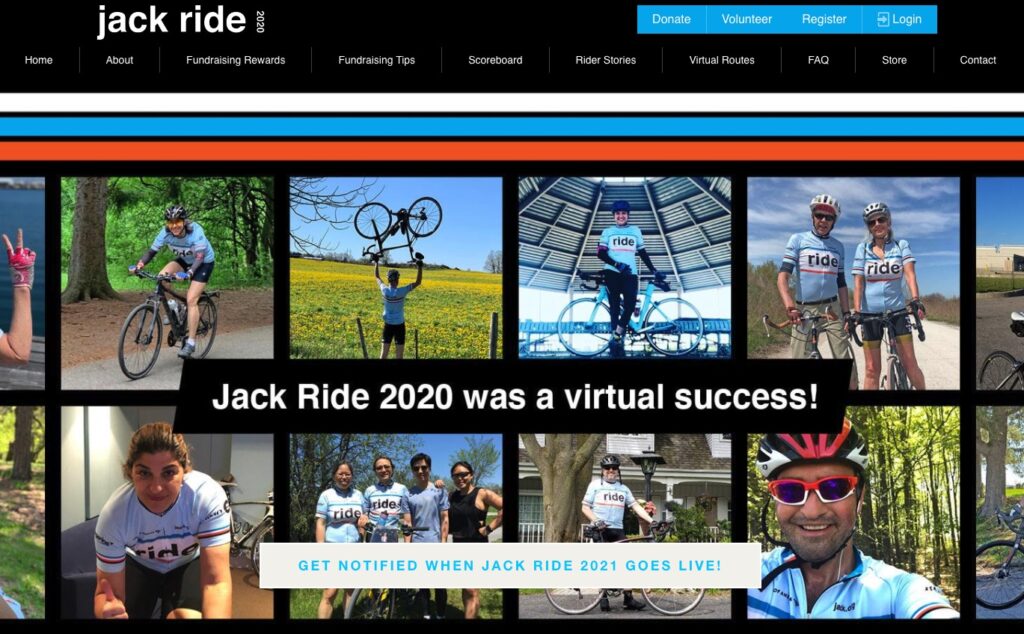 Or you can start to plan for a walk, run, or ride virtual fundraising event in Spring of 2021. Even if you can host your walk or run in 2021, some of your supporters may not feel comfortable attending, so a virtual event option will be a great way to keep them engaged and fundraising during COVID-19.
There are many different ways that you can host a virtual walk, run, or ride event, here are some unique fundraising ideas to incorporate into your virtual fundraising event.
Send out a swag box to participants with things to make their event day more fun like t-shirts, sunglasses, noise makers and more! (Tip: Make this a revenue generator by charging for the box or only sending physical items to people who raise a certain amount).
Create fun challenges for the highest amount fundraised and the farthest distance walked. Get creative with these categories by encouraging teams to come up with fun costumes or their own challenges for virtual event day.
Create a sense of community with a event hashtag, frequent social media updates and a group or chat room where participants can mingle virtually and connect with each other.
Host opening and closing ceremonies on live stream or in a virtual meeting platform like zoom.
No matter how your nonprofit chooses to host its walk or run virtual fundraising event, make sure you are creating the same rally-ing sense of community that you would at an in-person event.
4. Peer-to-peer Fundraising
Another virtual fundraising idea for 2020 is to encourage peer-to-peer fundraising through Facebook. Facebook's charitable giving tools include peer-to-peer fundraising for Facebook users which is easy to set up, and easy for people to donate.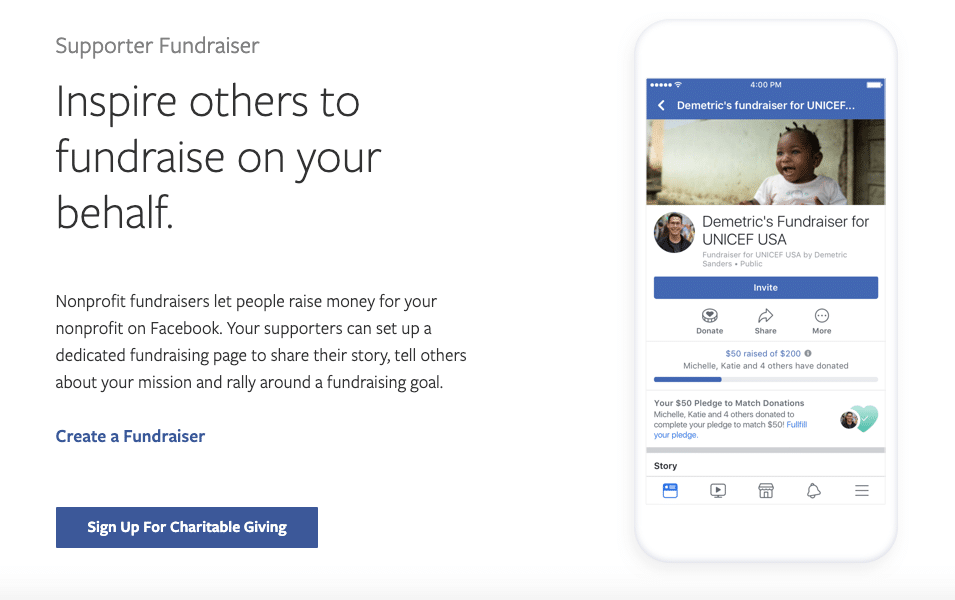 Birthday fundraisers are the most popular form of peer-to-peer fundraising on Facebook. Of the $2 billion that has been donated through Facebook's giving tools, $1 billion is from birthday fundraisers.
Here's how you can leverage birthday fundraisers to fundraise virtually in 2020:
Encourage supporters to choose your nonprofit for their birthday fundraiser.
Spread the word about birthday fundraising so your donors know this is an option.
Connect with fundraisers by reaching out and to say thank you and sharing their fundraiser on your nonprofit's social media.
5.  Use Facebook to Fundraise  
In 2020, during the COVID-19 pandemic, engagement on social media has increased. People are spending more time being active and engaged on social media, which presents an opportunity for virtual fundraising during COVID-19. 
For example, one really easy, smart virtual fundraising idea for 2020 is to use Facebook's fundraising and charitable giving tools to add a donate button to your nonprofit's facebook posts and profile. 
Charity Water has done this:

This is a small thing you can do to keep donating top of mind for your Facebook followers and leverage the increased engagement to keep fundraising during COVID-19.
You can also leverage these giving tools to:
Add a donate button to Facebook and Instagram stories
Add a donate button to Facebook live streams
Start a fundraiser on your Facebook page
6. Livestreaming
Livestreaming presents a unique fundraising opportunity for your nonprofit. Facebook reports that from February 2020 to March 2020 the consumption of live videos on their platforms increased by 50%. And other reports indicate livestream consumption was up 73% in the United States across all platforms from February to March.
World Pulse did a Facebook livestream for #GivingTuesday and it really worked to generate donations for the cause.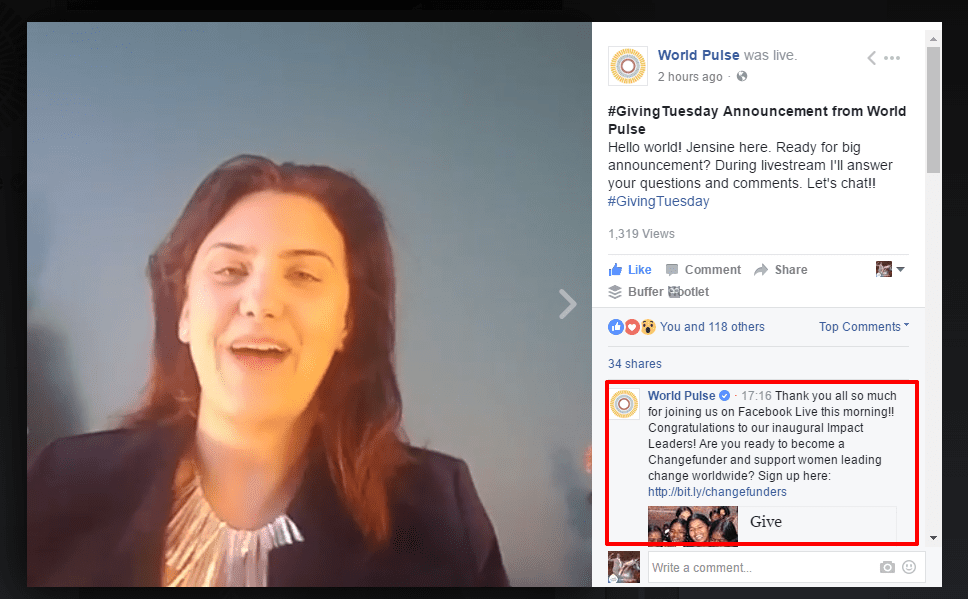 Heres' how to fundraise virtually during COVID-19 with live streaming:
Add a donate button to your livestream content
Produce engaging livestream content focused on your mission
Put out calls to action from your organization in the live chat and tell viewers why donations are important
This guide to livestreaming for nonprofits will give you all of the information you need to get started with fundraising virtually during COVID-19 with livestreaming.
7. Giving Days
Giving days have been a great and unique virtual fundraising idea for a while, but they're also a great way to keep fundraising during the COVID-19 pandemic.
#GivingTuesdayNow, for example, was created to respond to COVID-19 and the urgent needs nonprofits have for revenue at this time. Read more about it here: #GivingTuesdayNow: How to Create a Successful Digital Campaign Fast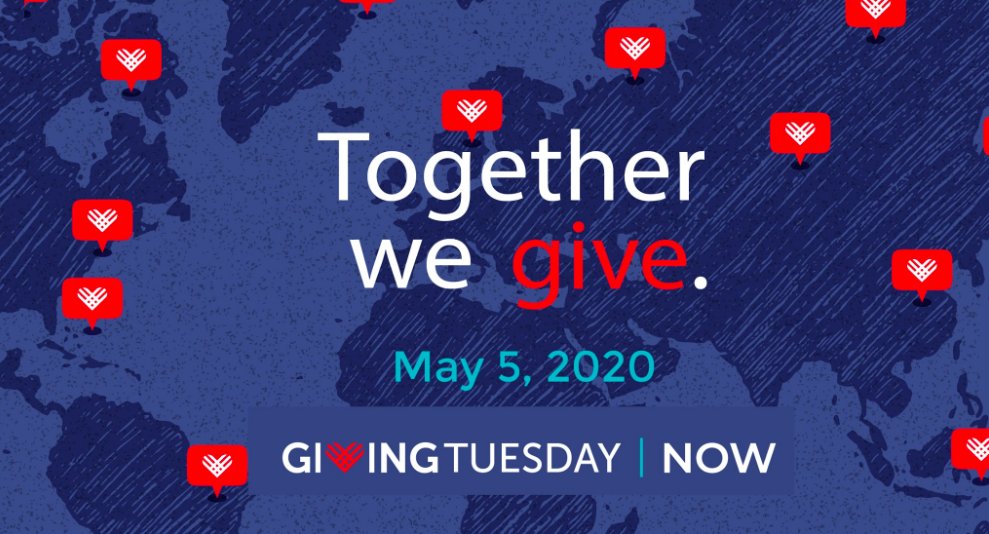 A giving day can be a fun, unique fundraising idea. Unlike universal giving days, like giving Tuesday, you can really customize this day to your organization and mission. And there won't be a lot of competition because this day is all for your nonprofit!
Here's how your nonprofit can organize a giving day:
Choose a date and a revenue goal. A goal with a specific deadline will create a sense of urgency for your donors. (Tip: A matching gift offer is a great motivator, leverage your giving day to connect with major or corporate donors and ask them to offer a matching gift).
Come up with a compelling offer that is tangible and easy for donors to understand.
Create a communications plan that includes multiple touch points like email, social media and paid digital advertising.
Make sure your donation form is easy to use and represents your mission. Top notch online donation forms, like the donation forms offered by Sumac, are essential for a successful giving day.
Report back to your donors when your giving days is over with how much you raised and what the impact of their donations will be. (Tip: Didn't hit your goal? Turn it into an opportunity to ask your donors once again for their support and help push you towards the end goal).
Other Virtual Fundraising Ideas
Your virtual fundraising event doesn't need to be a virtual gala or a virtual walk, run, or ride event. Here are some virtual fundraising event ideas for your nonprofit:
Performances like concerts or comedy shows
Panel discussions or lectures from experts in your field
A summit with your senior leadership about your nonprofit's impact in the context of the COVID-19 pandemic
Fun and games like trivia or bingo night
Looking for more ideas? Check out: 8 Brilliant Examples of Fundraising During Covid
There are so many other unique fundraising ideas that your nonprofit can execute as a virtual event to keep fundraising during COVID-19. Set up a brainstorm session with your team and see what ideas they might have, you are sure to come up with something great!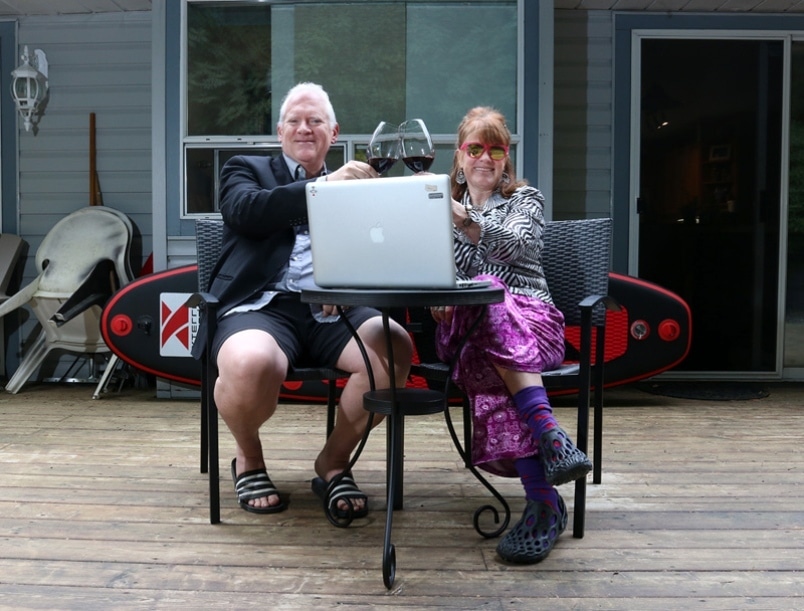 Final Tips for Virtual Fundraising During COVID-19
Do not stop fundraising during COVID-19 – Your nonprofit's mission is still important, and your community still needs you. And more importantly, your supporters still want to help! If you need more inspiration, check out: Fundraising During Covid: 3 Proven Ways to Keep Donors Giving During the Crisis
Don't miss opportunities – there are many unique fundraising ideas for 2020 and beyond that you can leverage to fundraising during COVID-19.
Connect with your donors – people are lonely and they're missing out on connecting with many of their friends and family in-person. In this time, nonprofits can give them a meaningful way to stay connected.
Focus on the impact – you can't ignore that COVID-19 has changed things for your nonprofit, or dance around the subject when you talk to your donors, but make sure you are tying all of your fundraising back to your nonprofit's mission.
Don't forget about your major donors and corporate partners! These are great relationships to leverage to support your new virtual fundraising ideas and virtual fundraising events.