I don't know what is worse, to stop fundraising because it looks bad or to go out of business because fundraising is stopped during the COVID-19 pandemic.
Should you still fundraise during the crisis?
YES! You should not abandon fundraising efforts. Your cause is still important. You still need funds to operate. And most importantly, your supporters will want to ensure that you are focused on the needs of your beneficiaries at a time of crisis.
What's more, you may have cancelled an event and closed your charity shop. Your donors understand this, they still care about your cause, they still want to help.
Don't get me wrong, I am not advocating that all nonprofit fundraising should be with reckless abandon right now, but if your nonprofit's mission is one that is directly impacted by the crisis such as health care or food banks, or if you have a drop in your number of patrons, such as visual and performing arts organizations, then you need to inform your loyal donors that you need help.
Here's a great example of a very personal emergency appeal from Animal Recovery Mission (ARM). The big bright yellow button calls to be clicked and takes you to a donation page designed specifically for this campaign.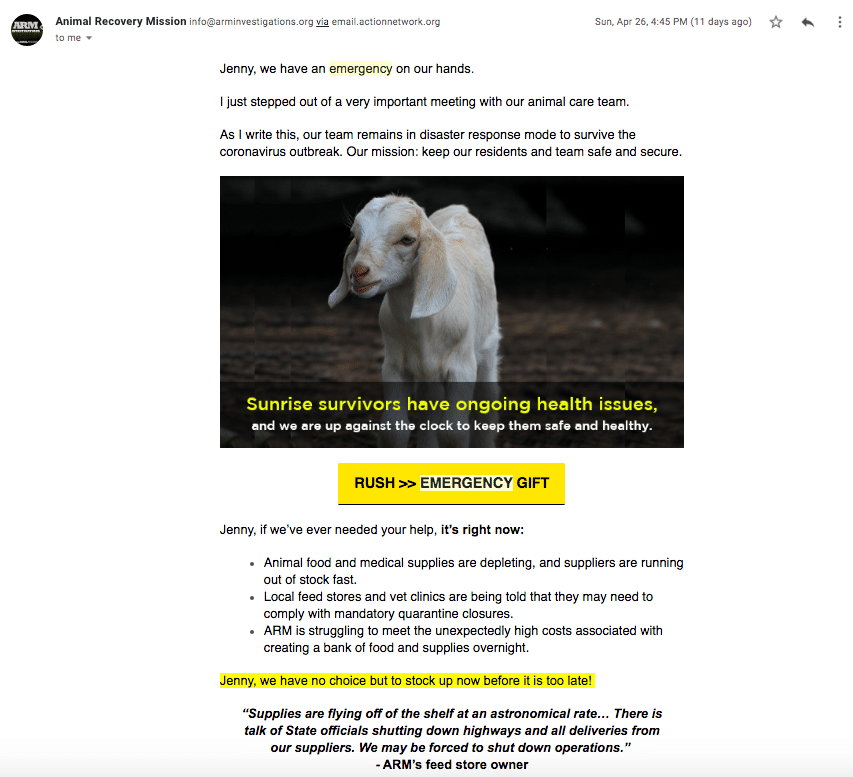 If you need a donation form that matches the look of your website, and integrates with your nonprofit CRM, Sumac's nonprofit donation forms may be a good option.
And if you're about to send out a direct mail appeal, here are three suggestions:
Add a stop-press/lift note to explain what you are doing in the face of the Coronavirus pandemic;
Make sure your donation form captures email addresses and telephone numbers, explaining that they are important communication channels should mail services be interrupted;
Consider an option to give monthly gifts to last the duration of the pandemic.
Here are 8 examples of brilliant fundraising campaigns during Covid:
1. McGill University's Giving Day
McGill University pressed on with its Giving Day on March 11 and 5,370 donors contributed $2.96 million, a 25.5% increase from 2019. Those fundraising gains suggest that the institution successfully demonstrated the importance of supporting the university. One of the key reasons for its success was that it let donors make the choice around when they give.
Remember the main purpose of your fundraising programs.
As soon as someone skips a year of giving, the chances of recovering his or her donation drops to 1 in 5 (20%). If the donor then skips two consecutive years, the chances of recovering his or her gift drop to less than 1 in 10 (10%). That's the real impact of not communicating with them on an ongoing basis.
If nonprofit fundraising is not possible for you because you are a museum or a gallery in lockdown due to Covid, then consider other ways to stay in touch with supporters.
Send updates, share plans for when you can reopen, ask donors what they're most looking forward to having access to again. Ask if you can offer your services digitally. It's important to stay in contact. Most people feel isolated right now, so knowing they're still part of your community helps.
2. Getty Museum's VanGoYourself Challenge
A great example of creative fundraising during Covid is the Getty Museum VanGoYourself challenge on twitter.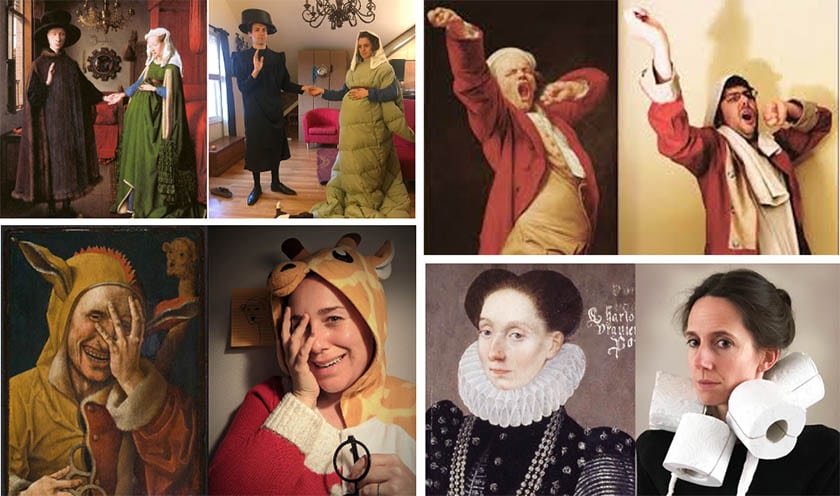 While it may not bring the museum any new donations right now, what it will do is add to the pool of new prospects once they reinstate their fundraising program. Recruiting like-minded people now is an excellent way to grow one's network and add new prospects for the future.
Our research tells us that the need for people to engage with charities that help others is still as powerful as ever.
3. Peace Community Center's Email Series
Peace Community Center (PCC) converted a canceled in-person event into a multi-touch email sequence. Rather than hosting the event "virtually" at a set date and time, the content of the event was rolled out over a two-week period, with an ask and campaign progress communicated in each email.
Email #1 – Event Cancellation:
Following a statewide shutdown, PCC was forced to cancel an in-person event scheduled about two weeks away. Rather than "canceling" the event, they communicated that it would be moving to an online format with an unchanged fundraising goal;
43% open rate, 3.4% click-through-rate;
Subject line: Important Update: Learners to Leaders 2020.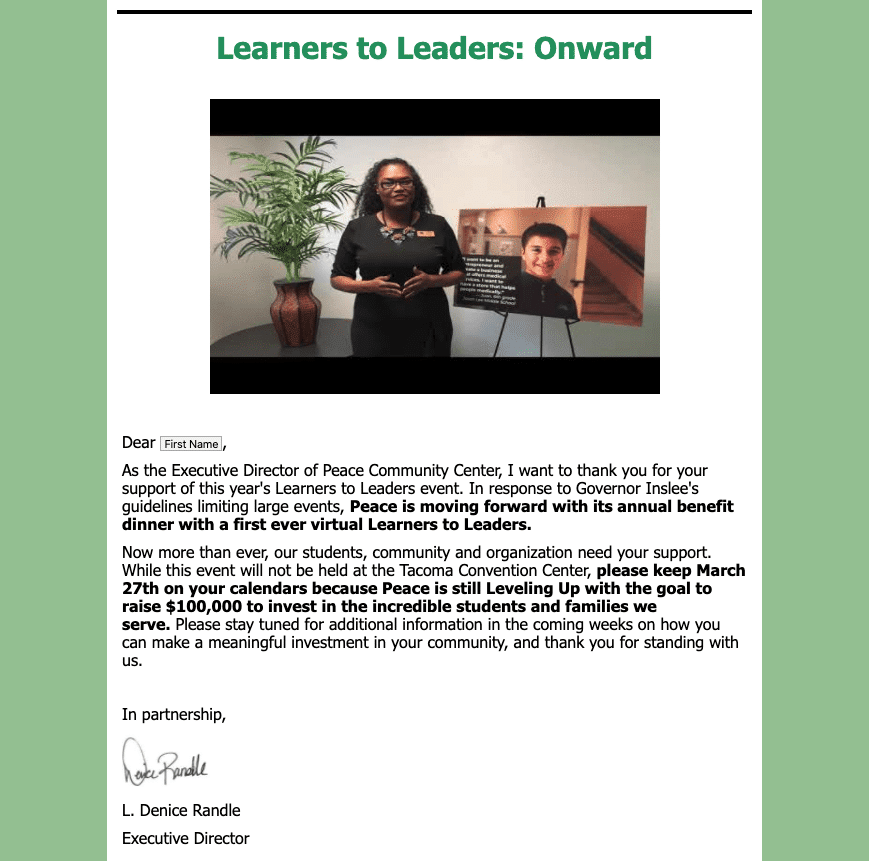 Appeal Email 3 of 5:
Between the event "cancellation" email and the scheduled date of the event, five emails were sent, each featuring someone who was going to speak at the event;
Here is one of those emails, featuring a former service recipient:
23% open rate, 3.4% click-through-rate;
Subject line: IT'S THE LAST DAY to stand with Hilltop students!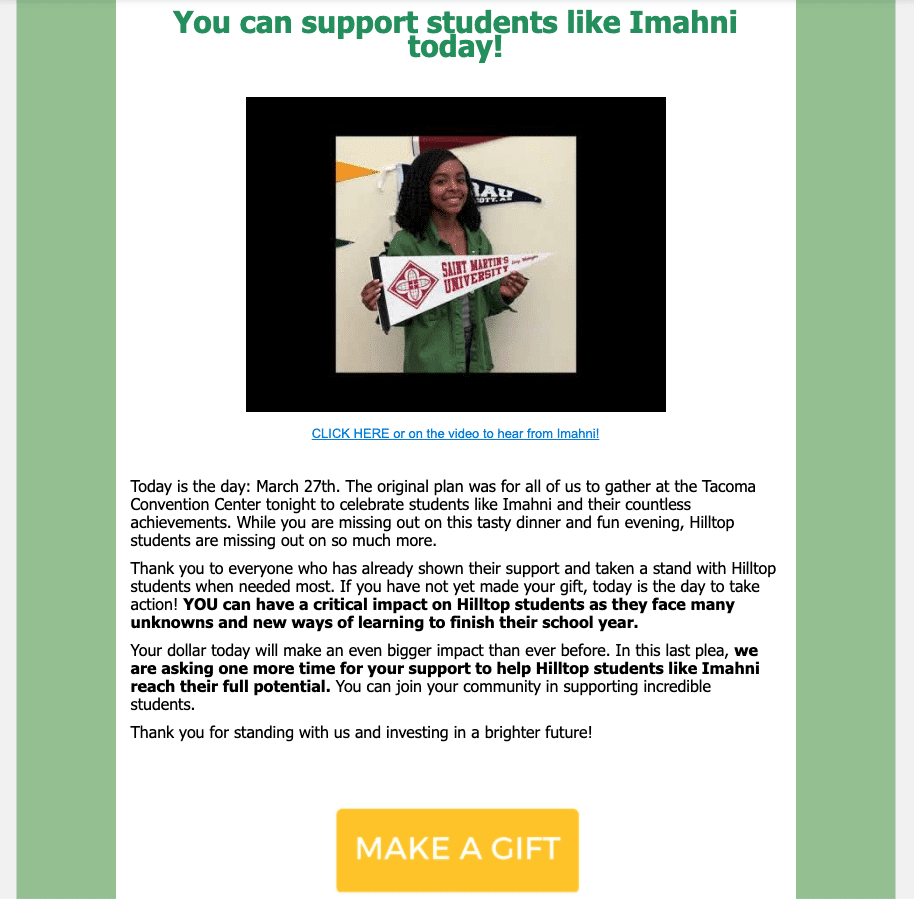 Finally, a Thank You Follow-up Email:
Following a successful campaign, a "thank you" email was sent which also included a video;
42% open rate, 4.7% click-through-rate;
Subject line: WOW! Thanks to YOU Peace Did It!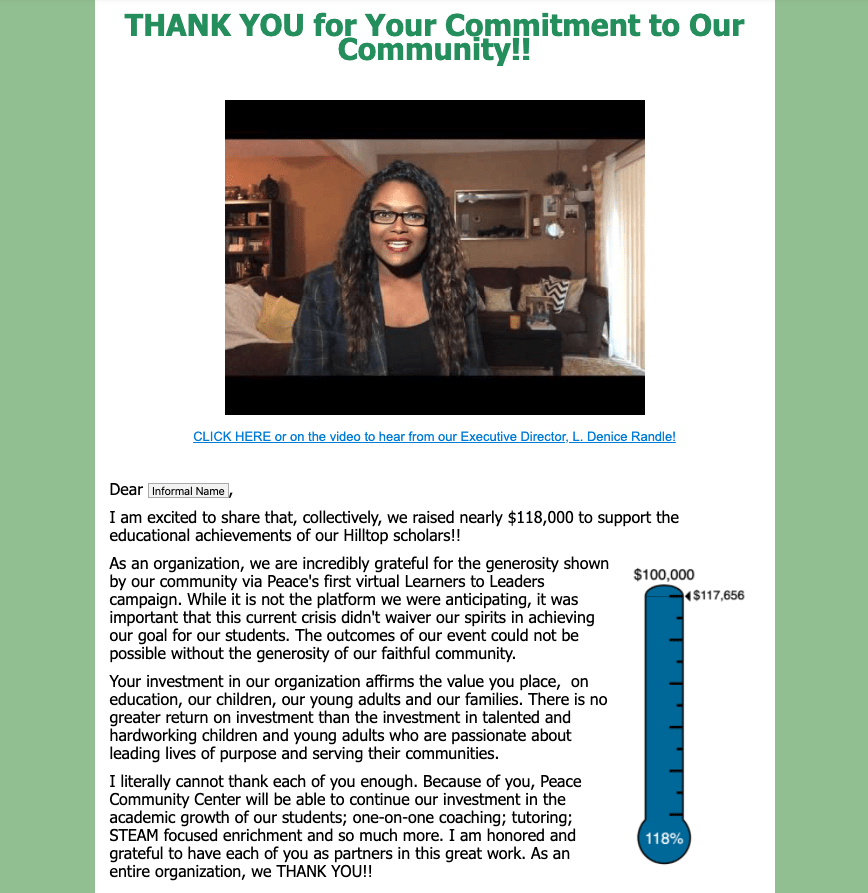 Result: This 5-Touc
h Email Campaign raised over $118k.
4. DigDeep's World Water Day Campaign for Navajo Families
With their initial 2020 goal set at $90,000, DigDeep, a charity in Los Angeles, quickly blew past that fundraising goal by relating their water-focused cause on the need to have water for handwashing during Covid.
This tactic allowed DigDeep to exceed even their second goal of $120,000, meaning they more than doubled their World Water Day contributions from 2019 to 2020.
To date they have raised over $144,770.00 of their new goal now set at $150,000.00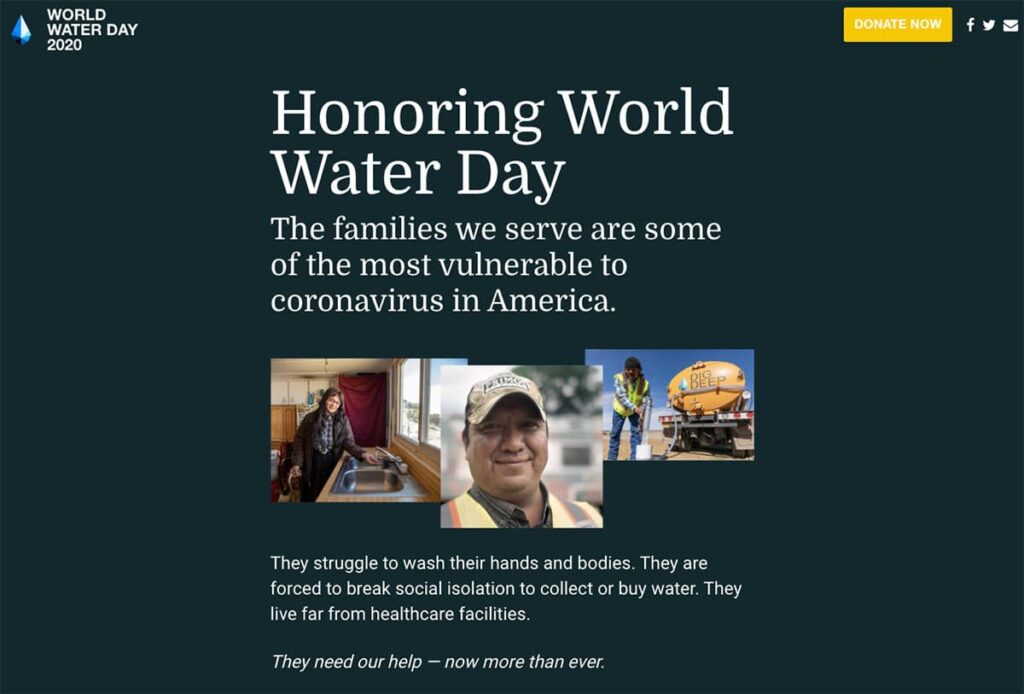 5. Blind Children's Learning Center's (BCLC) Virtual 5k Walk
BCLC took quick action to protect vulnerable members of their community by taking their 16th annual fundraising walk online. By hosting weekly workouts on Facebook Live, as well as professional footage of BCLC, students completing the walk keep donors engaged.
Here are their Virtual Event Details:
Date & Time: Walk, run or roll about 3,500 steps between June 7th and June 13th, 2020.
Location: You can complete your steps anywhere! At home on the treadmill or stationary bike and local hiking trails are all great options.
Livestream Broadcast: Join us on June 13th, 2020 for a live broadcast celebrating all the accomplishments of our walkers and the BCLC community!

6. Children's Miracle Network Hospitals Extra Life Campaign 
This one is big. It's an outlier, meaning we're not going to tell you, "It's easy! You can do this in 20 minutes with your smartphone!"
Backed by Twitch.tv, the annual Extra Life campaign is already partly virtual. But COVID-19 led Children's Miracle Network to turn the 2020 fundraising campaign into a 100% virtual event.
Extra Life unites thousands of gamers to play games and heal kids by fundraising for local Children's Miracle Network Hospitals across North America.

7. Youth Unlimited (YFC Toronto) Walking on the Greener Side
Youth Unlimited (YFC Toronto) supports youth in the Greater Toronto Area by connecting them with mentors who can help them achieve their full potential and transform their lives.
Even though they are unable to host their annual spring golf tournament fundraiser due to Covid, it didn't stop them from taking everyone to the green to "walk the course".
Their virtual fundraiser: "Together for Transformation" virtual golf;
Duration: Runs between March 31st to May 12th;
How their supporters can participate: By virtually walking the golf course and "taking a shot" in the form of one or more donations. Donors who give $250 and over receive various golfer's swag. Every day, an update is provided on which hole they are walking, and the total amount raised to date;
Their fundraising goal: $90,000, They have raised over $71,500 so far.

8. National Health Services 100 Laps
And over in the UK, Captain Tom Moore is walking 100 laps in his garden before he turns 100 to raise funds for the National Health Service Charities.
His campaign is called: 100 laps before 100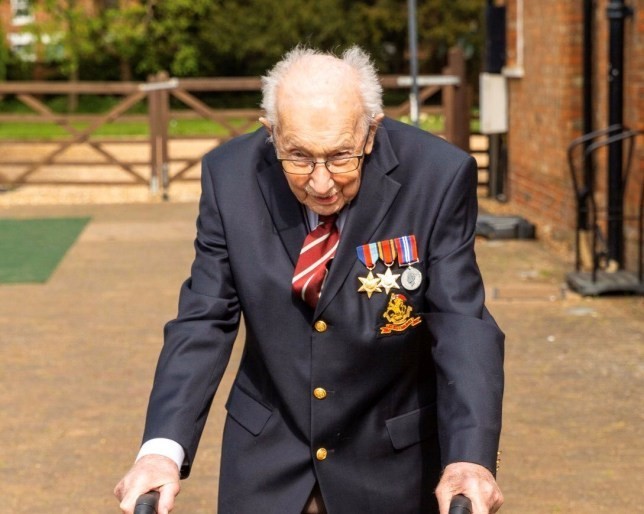 The 99-year-old World War II veteran Captain Tom Moore wanted to raise funds for NHS Charities Together, a UK-based charity supporting the work of the National Health Service, by walking 100 laps of his 25m long garden before his 100th birthday.
He quickly broke through his original target of £1,000 ($1,200), and thanks to media coverage has now raised more than £14 million with donations from more than 64,000 people.
All these nonprofit fundraising ideas sprung out of a need to innovate and get creative during the Covid crisis. We hope it inspires you!
See Complete List of COVID-19 Resources for Nonprofit Here.