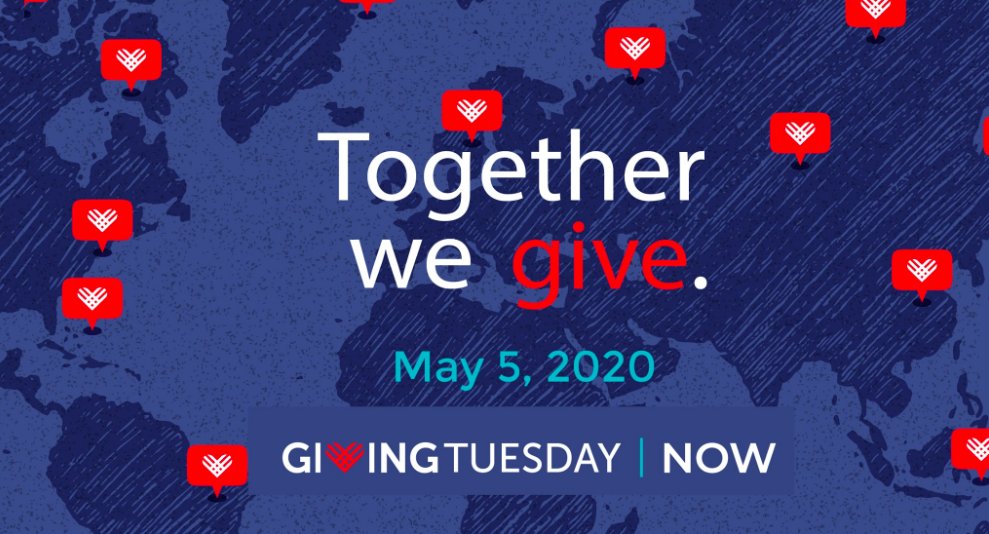 #GivingTuesdayNow was created to respond to COVID-19 and the urgent needs nonprofits have for revenue at this time. It's happening on Tuesday, May 5th, 2020. Here are three steps to create a successful digital fundraising campaign, so you can get your campaign up and running fast!
#1 Your message
The messaging you need to use for your #GivingTuesdayNow digital campaign is very similar to what you would say during GivingTuesday in November, but there are a couple things you should be sure to incorporate:
What is #GivingTuesdayNow
The biggest appeal of #GivingTuesdayNow is the opportunity for donors to be part of a global movement. Make sure you're telling your audience about the event, what it means and why it's important.
When: Tuesday, May 5th
What: A global movement of giving and generosity
Why: Emergency response to COVID-19 and the unprecedented need it has created
What is your need
This isn't your average giving day, it's been created specifically to respond to COVID-19 and you need to integrate that into your #GivingTuesdayNow digital campaign.
Boys and Girls Club of Canada has launched an Emergency Relief Fund to respond to the need created by COVID-19. They are clearly communicating the impact that COVID-19 is having on the organization.
They also have a blog with a video message from their President & CEO which supports the message of their emergency fund.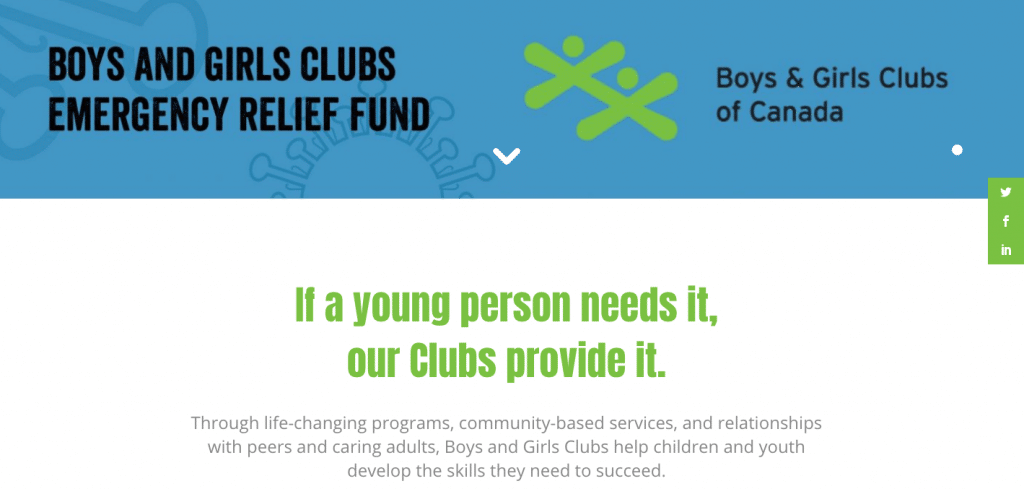 Re-create this for your nonprofit by asking yourself these questions, and sharing the answers with your donors.
Is your nonprofit seeing increased demand for your services because of COVID-19?
Are you facing a revenue shortfall due to COVID-19 because of cancelled events and a decrease in giving?
If you answered yes to either of those questions, make sure to incorporate that into your #GivingTuesdayNow campaign messaging. Here's an example from POWER (The Pennsylvania Organization for Women in Early Recovery):
"Our most vulnerable clients are not getting the help they need right now because of COVID-19."
You can read about this organization's success with their COVID-19 email appeal in this case study.
#2 Engage with your community
Use multiple channels to engage with your community before, during, and after #GivingTuesdayNow.
Social media
Get your #GivingTuesdayNow message out to your followers and supporters using social media.WWF Canada's Facebook page is a great example of social media content that is relevant and entertaining during COVID-19. Their recent virtual CN Tower climb posts set a good example of regular engagement and updates during a digital campaign.
Checklist:
• Post regularly on your channels about your #GivingTuesdayNow digital campaign
• Use paid ads on Facebook and Instagram to help spread the word
• Make sure your ads have a strong call to action to donate now
• In your organic posts use a mix of posts with a strong call to action and posts meant to engage
Email
Email is a key channel for your digital campaign because email has the highest return on investment out of all the digital channels.
Here's a great example of an email request for donations from The UN Refugee Agency (UNHCR)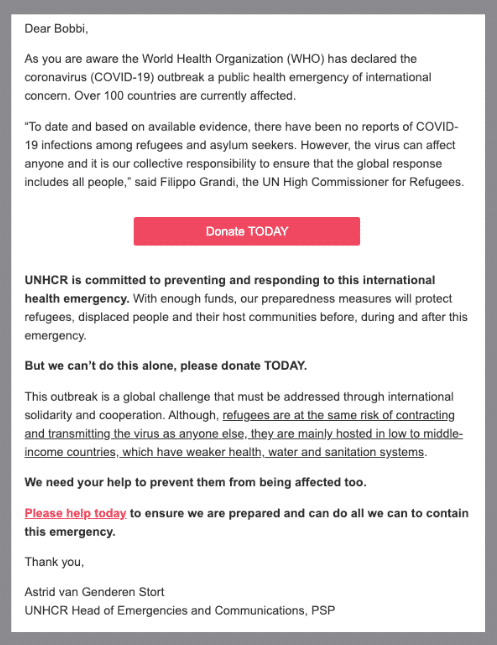 You can find another COVID-19 email appeal example from POWER (The Pennsylvania Organization for Women in Early Recovery), in this case study.
Checklist:
• Send multiple emails throughout the campaign to maximize the reach, your whole list isn't going to open every email
• Ensure your emails have a strong call to action to donate
• Say thank you! Make sure you have a meaningful thank you email for #GivingTuesdayNow
Make sure you're following email best practices like these 5 Tips to improve your email marketing during your #GivingTuesdayNow campaign.
Website
Don't forget about your website! Make sure it's updated with the message for your #GivingTuesdayNow digital campaign so anyone visiting your website will see it.
When you visit the Redwood City Education Foundation's website, for example, their COVID-19 campaign is the first thing you see and this message carries through to the donation form.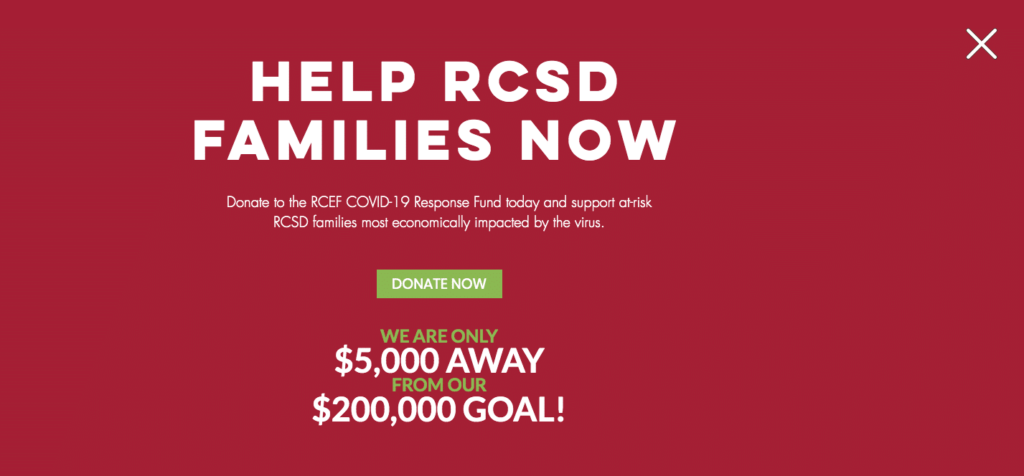 Checklist:
• Update your homepage so that your #GivingTuesdayNow digital campaign message is the first thing someone sees on your homepage
• Make sure your Donation form content that is consistent with your campaign messaging
• Share updates and messages from your leadership about the campaign
#3 Go beyond individual donors
GivingTuesdayNow isn't just an opportunity to engage with individual donors, you can bring in other members of your community.
Matching gift
Approach your major donors or corporate partners with the opportunity to provide a matching gift for #GivingTuesdayNow.
This will help with the success of your campaign because a matching gift offer will appeal to your potential donors. But it's also an opportunity to leverage your #GivingTuesdayNow to build a relationship with these higher-level donors in your major and corporate portfolios.
Partners in Health used a matching gifts program for a previous GivingTuesday campoaign.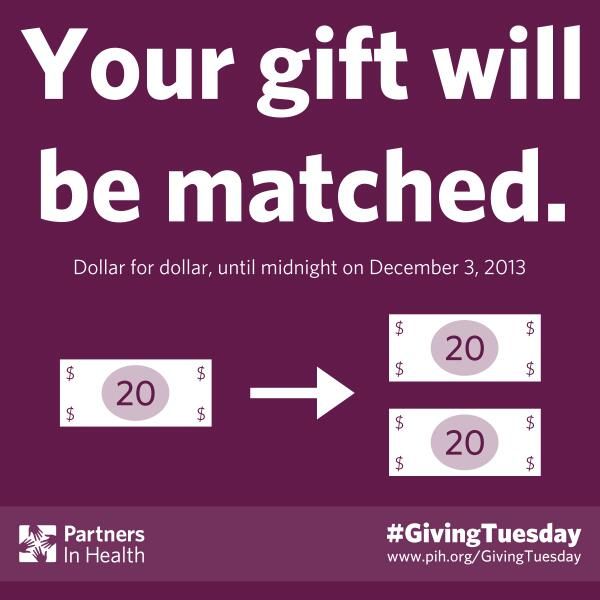 Peer-to-peer
Can you leverage your peer-to-peer fundraising platform and have your community fundraise for you? Leveraging peer-to-peer for #GivingTuesdayNow will expand your campaign's reach and revenue.
Charity: water is an organization that does peer-to-peer fundraising really throughout the year. Check out the messaging they use and come up with something similar for your nonprofit. For GivingTuesdayNow, make sure you're relating it to COVID-19.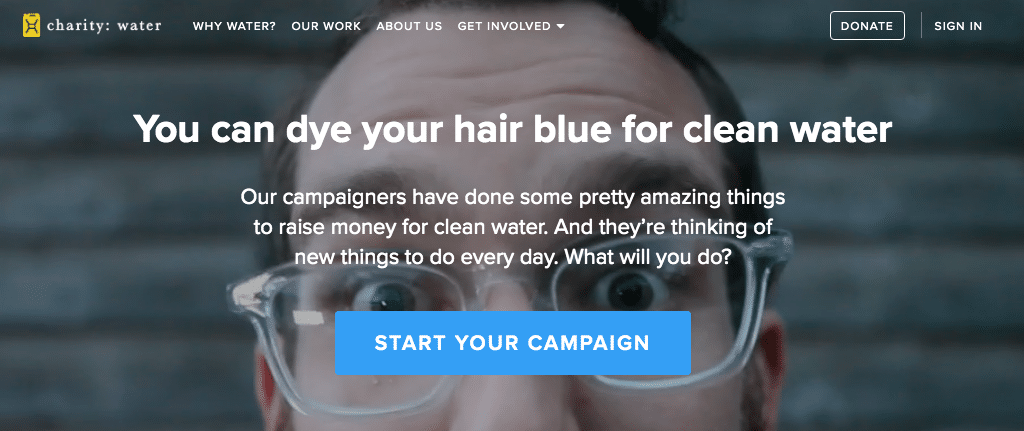 Volunteers
Turn your volunteers into your #GivingTuesdayNow digital campaign ambassadors. Ask them to spread to the word by posting about your campaign on their social media accounts as well as sharing any of the content you post.
If just a handful of your volunteers share the campaign one time, that's an expansion in your reach by hundreds of people.
These are unprecedented times and nonprofits around the world are having to adapt. #GivingTuesdayNow gives people worldwide an opportunity to come forward to support the causes they care about and will help you communicate with your donors about giving during COVID-19.
See Complete List of COVID-19 Resources for Nonprofit Here.
Need to manage your nonprofit's data, contacts, and programs from home? We're here to help! Contact us, and we'll get you up and running fast with a database you can access from anywhere!