Fundraising during Covid has been a challenge for many nonprofits. Because of social distancing, fundraising events are being cancelled, and nonprofits are forced to find alternative ways to raise funds for their nonprofit. Here are three ways to continuing fundraising during Covid with examples from inspiring nonprofits: 
#1 Hold a virtual event
Fundraising during Covid means getting creative. Instead of cancelling your event, move it online! It might be hard for you to imaging at first but here are some ideas:
Turn your gala into an online event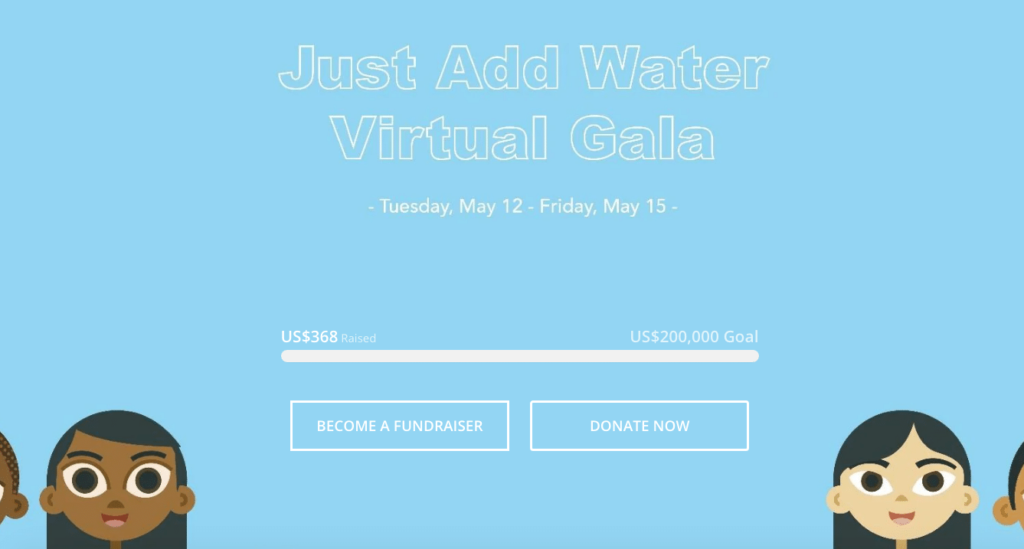 This virtual gala hosted by Splash is a great example of an online event, encouraging participants to raise money online instead of ticket sales. And promises lots of engaging content and surprise announcements! Need help moving your gala online? Check out: How to Hold a Virtual Fundraising Event Using Zoom.
Turn your walk/run into a virtual event!
Canadian Cancer Society ran a 'Relay at Home' event.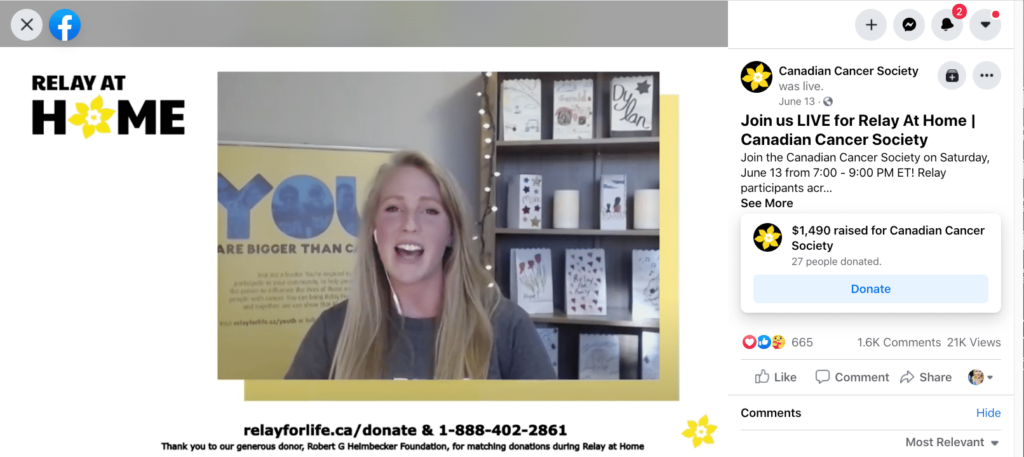 They also encouraged Relay for Life supporters to use their Fundraising Tools during Covid to take their peer-to-peer fundraising online. Here are some tips:
Engage with your participants on event day through social media, do live broadcasts using tools like Facebook Live
Reach out to your most engaged participants about filming a short video of themselves that you can share on event day
If you had corporate sponsors lined up for event day, reach out and offer opportunities to engage with the virtual event
Third-Party events
You could also encourage your donors help your nonprofit with fundraising during Covid by creating a third party event, sometimes known as a host your own event. If you don't already have a platform for third party events, your supporters can use a tool like Eventbrite for nonprofits to create and sell tickets. People are now hosting their birthday parties, game nights, and even movie night online so why not turn some of these into third party events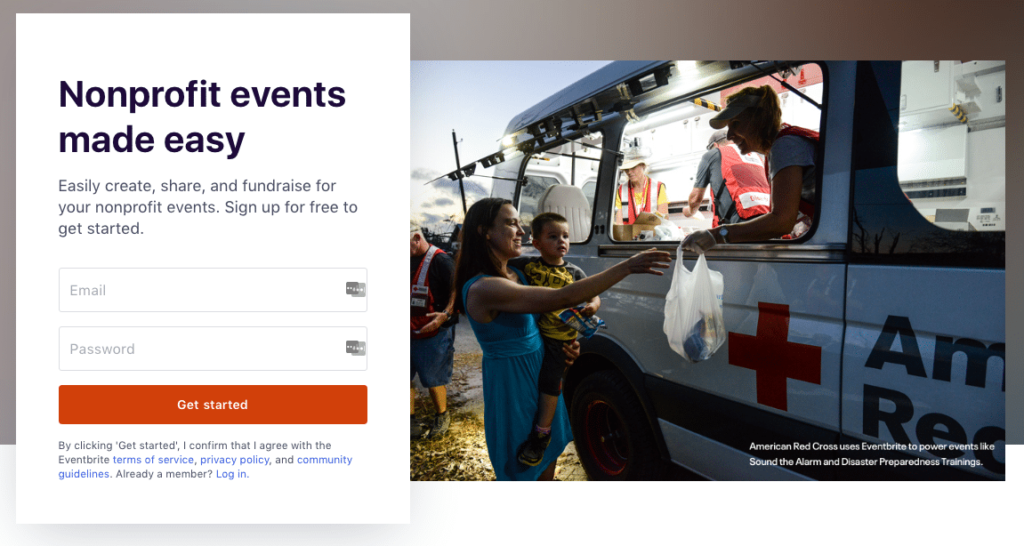 #2 Leverage Other Revenue Generating Opportunities
Fundraising during Covid means shifting our mindset to explore other revenue generating opportunities. If you were planning to hold a fundraising event this year, your donors had already planned to donate to your cause during your fundraising event, so now it's about directing that generosity through another channel.
Urgent digital campaign
Tell your donors about cancelled events, the impact on your revenue,  and the shortfall in program funding this gap creates. Check out this appeal from POWER (The Pennsylvania Organization for Women in Early Recovery) that raised $6,000 over the weekend, so they could continue their services. Read the whole story here.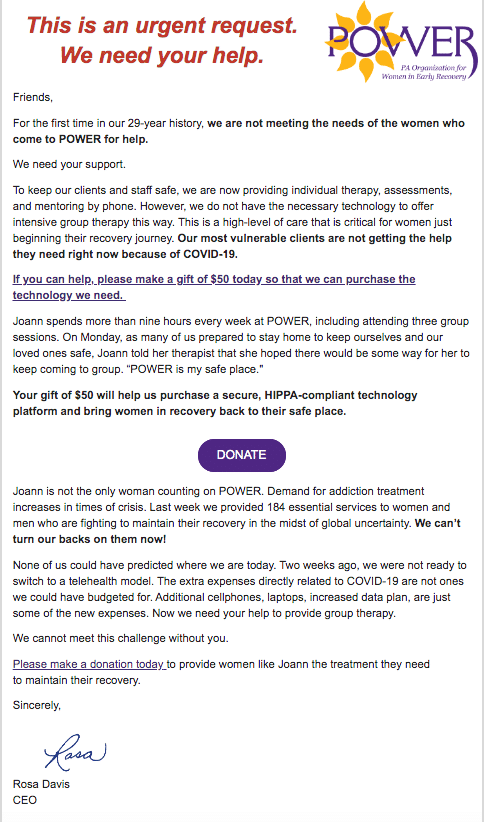 Monthly giving
Your monthly donors among the most committed people to your mission
Send monthly donors an urgent appeal that references their generous recurring contributions and that you are reaching out to them specifically because of their dedication
Encourage your one time gift donors to make their donation monthly to provide sustainable long term funding
Direct mail program Now is not the time to scale back on your direct mail. Revenue is likely to slow, but cancelling your direct mail pieces now is going to do long term harm to your revenues. Check out: Why Direct Mail is Your Best Option to Raise Funds Right Now (With Examples).
#3 Connect With Your Donors
Having to cancel fundraising events because of Covid is also disappointing for your donors. Make sure they know you're still here and offer some much needed distraction from the Covid news.
This live Q&A session hosted by Charity: water is a great example of a timely and engaging social media broadcast to your audience that can help engage donors and continue fundraising during Covid.
Use social media
Connect with your donors through social media outreach
Share updates from staff on your programs and activities, your donors still care about your mission and want to hear about it
Post just to check-in with a motivational quote or a simple message of "we're here for you." Encourage supporters to leave a comment and connect with each other
Get on the phone
Call your supporters in a thankathon/wellness check
Engage a telemarketing vendor to do a voicemail blast from your CEO or another member of your leadership
Reach out through text messages using an SMS marketing platform
Connect with video
Use a tool like ThankView to send out personalized video messages
Set up a private webinar or video conference with your leadership and your top donors to provide an intimate and live update
Upload a video message from your CEO or another member of your senior leadership to social media
This video message from the President & CEO of the YMCA of Greater Dayton is a great example of a COVID-19 video update from leadership.
For more help, see How to Talk to Donors and Keep Fundraising During COVID-19 & Now Is Not the Time to Stop Fundraising: Brilliant Examples of Fundraising During Covid. Covid has made fundraising more challenging for nonprofits, but just because you've had to cancel your fundraising events doesn't mean you have to stop fundraising. We hope these ideas with examples help you continue to raise the money you need to support your mission. 
See Complete List of COVID-19 Resources for Nonprofit Here.