Nonprofit fundraisers are always looking for ways to attract new donors, increase the gift sizes of current donors, and improve the number of donors who give each year.
Moves management is a system that can help by streamlining the fundraising process in order to engage new and renewing donors in a meaningful way and generate increased revenue.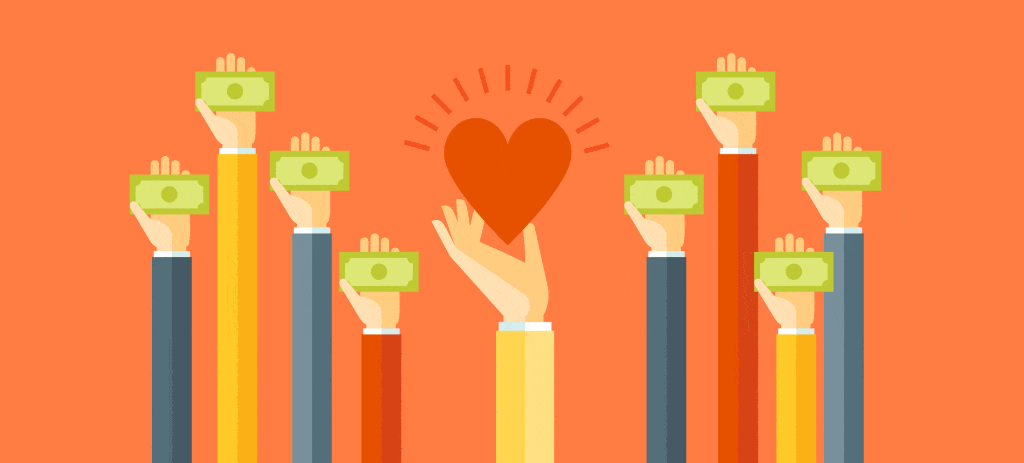 What is Moves Management?
Moves Management is a systematic donor cultivation process that is donor-centric, sustainable, effective, and a central part of your fundraising plan.
Implementing moves management as a system helps you move donors from the initial stages of interest (when they've just learned about your organization) to engaging major donors who give significantly each year, and all of the stages in between.
The moves management system—which can be thought of simply as a sales cycle for donors—allows you to put in place a replicable process that streamlines fundraising efforts.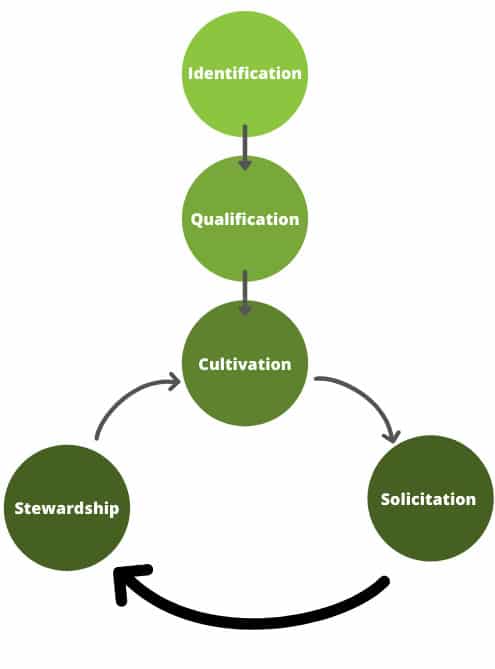 The idea behind moves management is a simple one: all fundraising activities focus on ensuring donors have meaningful experiences with your organization, and those experiences, or "moves" allow them to become more engaged. 
The cycle begins the first time a constituent is introduced to your organization and allows you as a fundraiser to strategically move them from interested prospective donor to invested stakeholder.
"Moves" relates to the donor lifecycle from an individual to prospective donor to first-time donor and on — hopefully to an upgraded, renewing, or major donor. "Moves" are the actions and touches your organization takes to establish these relationships and move prospective donors closer to your cause and mission.
What Counts as a Move? 
If you're not sure if your actions are part of the moves management process, ask yourself:
Is this action donor-centric?
Does it increase engagement or involvement of my donors?
Does it improve understanding of my organization?
Has it resulted in a gift or major donation?
How well your nonprofit does at moving donors through the gift cycle plays a role in your donor retention and donor engagement efforts. The better you do at this process, the more engaged your donors are, and the higher your donor retention rate will be.
As you get started with moves management, it's important to define your donor life or gift cycles and what each tier means and how donors and prospective donors can move from one level to the next.
Moves management stages takes focus away from donation amounts and shifts it onto the donor.
Moves Management Stages
Typically, moves management is divided into five stages:

#1 Identify
An individual is identified as a potential donor through prospect research, introductions from board members, and volunteers, or because they've given a small amount in the past.
Consider using a prospecting tool like Wisely to quickly find donors who are likely to give a generous gift in a specified timeframe.
#2 Qualify
It's important to make sure that an identified donor prospect has the capacity, interest, and connection to become a donor to your organization. To qualify a donor, take into consideration how much they give to other organizations, their interest in your work, and any connection they have to your organization.
#3 Cultivate
Cultivating a donor is one of the most important parts of a successful moves management system! Regular planned outreach allows donors to pursue their interest with your organization and gives you the opportunity to forge a strong relationship with them.
Consider using donor management software as this makes it easy for you to segment donor communications, note preferences and cultivate relationships effectively.
#4 Solicit
It's imperative to plan when and how a donor will be asked for a gift, and to ensure that they move from "cultivate" to "solicit!" For every donor in your moves management system you should know how much you are asking them for, and when you will make the ask. Perhaps some donors will receive an annual appeal letter while other donors will be asked in person.
#5 Stewardship
The moves management process does not end when a donor is asked. The stewardship phase allows you to thank them for their investment and –just as important–to report back on the impact it had on your organization. Once a donor has made a donation, spend the next year stewarding them, until it is time for another solicitation.
Moves Management Cycle
An effective moves management cycle includes:
Actions your team takes to cultivate and steward donors: Calling donors regularly, scheduling meetings with key members of the team, keeping the updated on your organization's impact and sending timely thank-you notes for any donations received.
A strict timeline and calendar of 'moves': Depending on your goal, your moves management timeline could be anywhere between two months to two years. Moves management steps usually work better over a longer period of time since you don't want to bombard donors with constant messages and asks.
A feedback loop after each completed action: A clear system of accountability with fundraisers assigned to individual donors and managers assigned to a team of fundraisers. Use a spreadsheet, a CRM or a moves management steps template to record all interactions with donors. Teams must work together to identify issues and discuss the impact of each moves management step.
Benchmarks for next steps: Fundraisers should have a clear plan and and responses to each moves management step – whether it's received positively or negatively.
Moves Management Steps and Donor lifecycle
It is useful to look at moves management fundraising alongside a donor lifecycle. Donors can be categorized into first-time donors, renewals, major gifts, and lapsed donors.
If you choose to target donors from more than one category – you'll need to develop separate 'moves' for each phase of the donor lifecycle. Remember – the moves management process is all about catering to individual donors and their needs! 
Moves
Management Record Template
Use this moves management steps template to get started on your strategy and record the moves you make. These moves management steps take you through all stages of the fundraising cycle so you'll never miss a move!
Click the image below to download the moves management steps template.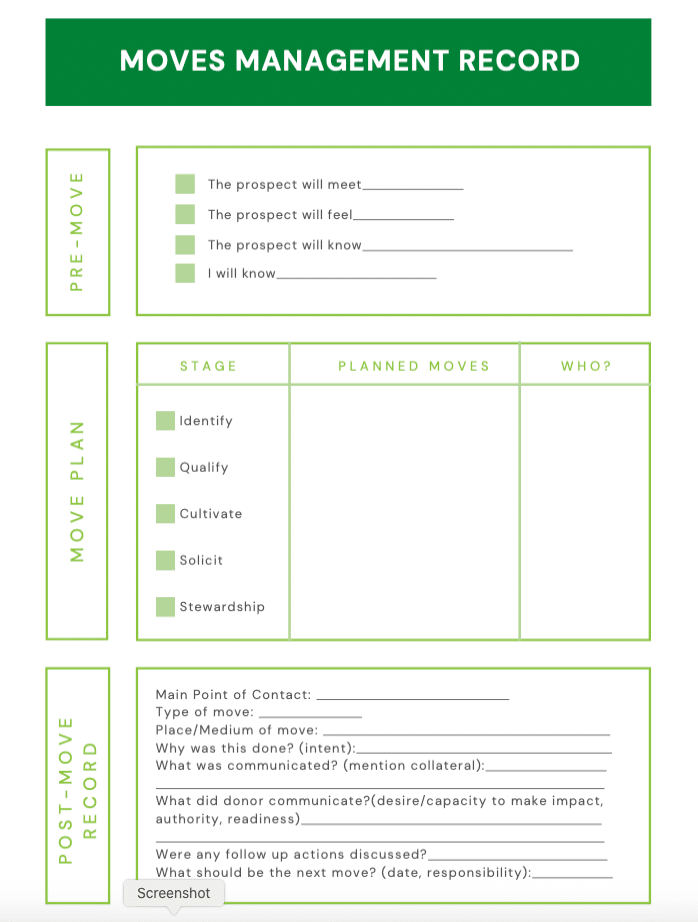 Why Use a Moves Management System?
Engaging donors can be difficult and messy – moves management stages give fundraisers a clear process to follow and ensures key elements aren't missed
Provides staff with a strategic process for cultivating deeper and more rewarding experiences with their prospects and donors
Improves accountability of fundraising teams
The focus is on the donor rather than the donations, allowing you to effectively manage and cultivate meaningful long-term relationships with valued supporters
It's a good way to involve your board members
Long-term committed donors help contribute to your nonprofit's sustainability
Defines and documents the current state of donors' relationships with your nonprofit – a good moves management chart will show you all prospective donors, their level of readiness and how much they might be able to give – all good things to know!
It helps you measure effectiveness of 'moves' and identify what's working
Makes donors feel appreciated, valued and engaged
A moves management system is not for your entire donor pool. Since the focus is on customized planning it is generally used for capital campaign gifts or major gifts donors.
But you can also use a moves management process to identify other categories of donors that are currently neglected and design a communications campaign to engage them further.
Tips for a Successful Moves Management Cycle
If you have never used the moves management system before, the first step in implementing the process is getting organized.
Manage and segment your donor database
Sort through your existing donor database to identify donors for your moves management system. Besides donors who've given large amounts in the past, search for those who have recently jumped from one giving level to another. If you're finding it difficult to get new donors, target those instead. Don't limit yourself only to donors in your database – think of prospective donors who have made contributions to similar causes, or others who might be interested in supporting you. If you've developed a donor persona you can even use characteristics from there to search for new donors with similar likes and habits.
Use your database to code and track each potential donor and where they are in the moves management cycle, from identification to stewardship, upgrading or disqualifying them as necessary. (You may find that some donors, after qualifying them, aren't such a good fit after all! Don't spend any more effort on them — simply mark them as disqualified and focus on other prospects.)
Understand your donors
Develop distinct donor profiles: information on donors can be key to a successful moves management process – information such as a donors family members, employment history, giving capacity, donation behaviour, philanthropic ties and personal history (where they went to school, cities they've lived in etc.) can personalise your interactions with them. While gathering such information can be critical, it doesn't have to be immediate.  Don't go overboard with this tactic however, the key is to make donors feel remembered and valued while understanding their giving behaviour and preferences. You don't want to make donors feel like you're invading their privacy!
To gather relevant information, talk to coworkers or board members. Search for common connections and networks you have in common.
If you're developing donor personas look for commonalities between donors at each level and significant characteristics that stand out. This will help you design communications material keeping their particular interests and passions in mind. Donor personas are only helpful when you're looking to communicate with a particular giving level or category of donors – for major donors you'll need to develop a customised record for each donor.
Select the right donor for your moves management stages
Focus on the top 20% of donors. It is likely that your entire database of donors and constituents will not be successfully upgraded to a major gift. Use the moves management system to make sure that lower-level donors are solicited and stewarded appropriately, and then look at those donors who make the most significant gifts. Often the top 20% of donors are responsible for 80% of revenue. These are the donors that should make up the bulk of your moves management focus.
Put more focus on major gifts donations since donor retention levels are dropping in the  small and medium gift levels. Major gifts donors will also allow you to recover your cost, since the moves management process is time-intensive. If you have only a few major donors, look at ways to upgrade your mid-level donors into major donors and create separate moves management steps for them.
Make a detailed plan
Ensure your moves management system has a vision, overall goals, specific objectives and established accountability before you begin implementation
Develop standard actions for moves management stages. These could include:

Mailed Annual Report
Birthday card
Call from a Board member
Volunteer opportunities
Lunch with your Executive Director
Tour of your premises or a field trip
Special Donor reception or invitation to a gala

Create a calendar of cultivation moves. Besides the annual fundraising letters, newsletters and reports you can include personal outreach such as handwritten thank you letters, phone calls, and dinners as part of your moves management steps.
Tailor each 'move' in the moves management system to an individual donor, to ensure they feel heard. If a donor mentions how they hate postal appeals, sending them a printed copy of your annual report or a fundraising letter is most likely to backfire!
Follow up
Be consistent in your moves management processes. Use your database to generate a portfolio of each donor and their moves status, and sit down weekly or monthly with your team, Executive Director, or Board Directors and review each constituent and what the plan is
for moving them to the next level. This consistent strategy makes donors feel connected to the organization and brings you closer to obtaining their gift.
Schedule regular follow-up meetings with your team to understand what worked, what didn't, and how you can work together to strengthen your moves management plan. Don't expect your plan to go smoothly – the idea behind the moves management process is to develop and refine an understanding of key donors over time, so don't expect to have everything figured out on your first attempt!
8 Elements of a Successful Moves Management System
Focus on developing donors rather than securing donations
Be genuine and authentic – don't just use donors to get what you want
Make sure your have accurate and clean data before starting
Use a gift range calculator to figure out how much you need from each donor to reach your financial goal
Remember, every action is meant to educate your donor about your cause and cultivate your mutual relationship
Use time-intensive moves sparingly
Recognize and document interactions between you and your supporters – use a nonprofit CRM or a spreadsheet.
Be flexible – change your strategy according to the needs of your supporters
Success With Moves Management
Implementing a moves management system may feel cumbersome to begin, but it should ultimately be a fairly organic experience that allows you to give each individual donor a personalized experience, leading to larger gifts and a more robust donor base.
You likely have donors in your database with the capacity and interest to give significantly more. Starting your moves management by researching your donor base and creating a portfolio of 25 to 50 prospects, and then planning tactical outreach for each donor will not just ensure that donors are engaged. This process will allow you to get valuable input from donors, grow your revenue, and make sure that you are not leaving money on the table.