Since the 2020 COVID-19 pandemic, we have seen a rise in the need for digital first strategies for organizations, and this also applies to nonprofits. Digital fundraising is no longer an option for nonprofits, it is a necessity to secure future fundraising success.
Total online revenue in 2020 increased by 32% and since then, more and more donors have gone online to make their donations, and have come to expect a seamless experience from nonprofits while donating to them.
Your nonprofit also needs to leverage digital marketing channels to reach your donors and new prospects where they are spending time and engaging online on social media and the web.
All of these digital fundraising ideas can be overwhelming, especially if you're not familiar with digital marketing and digital fundraising for nonprofits, you're probably wondering where do you even begin!
You won't become a digital fundraising expert overnight, but that's okay, you don't have to be an expert to get started with digital fundraising for your nonprofit.
Here are some quick wins and digital fundraising ideas that you can implement now to get started, and some tips for taking these digital fundraising tactics to the next level when you're ready.
1. Get a Branded Donation Page
The most important thing you can do to get started with digital fundraising for nonprofits is to make it easy for people to give online!
This probably seems pretty obvious, however, to really maximize on online donations you need to go beyond just having an online donation form you need to have a great online donation form.
In 2021, an average of 0.8% of nonprofit website visitors made a donation and the average gift for desktop users was $80. While 0.8% doesn't look like a lot, if you get 100,000 website visitors in a year and those who donate give an average of $80 that's $64,000 of revenue to support your mission!
It's definitely worthwhile to invest the time into building a great online donation page for digital fundraising to convert as many online donors as possible.
Digital fundraising ideas for your donation pages:
Match the look and feel of your website. A donor's alert system for online fraud will go off if your donation page doesn't look anything like your nonprofit's website
Tell your story with impactful copy and images that showcase the impact of donations
Match your gift array to your supporter audience, a really high gift array can discourage donors who can only give $10 or $20, but an array that's too low could leave money on the table from donors with a greater capacity


Do some competitor research and look at your donor types and giving history to determine the right array for your nonprofit
If you need a solution to provide online donation forms, Sumac CRM has the ability to create custom  pages for donor management. And it's really great because the donor information flows right from the donation page into Suman CRM!
The National Youth Orchestra of Canada is using Sumac's custom online donation pages to give donors a great digital fundraising experience. Their donation form is branded to their website using their colours and is easy to navigate.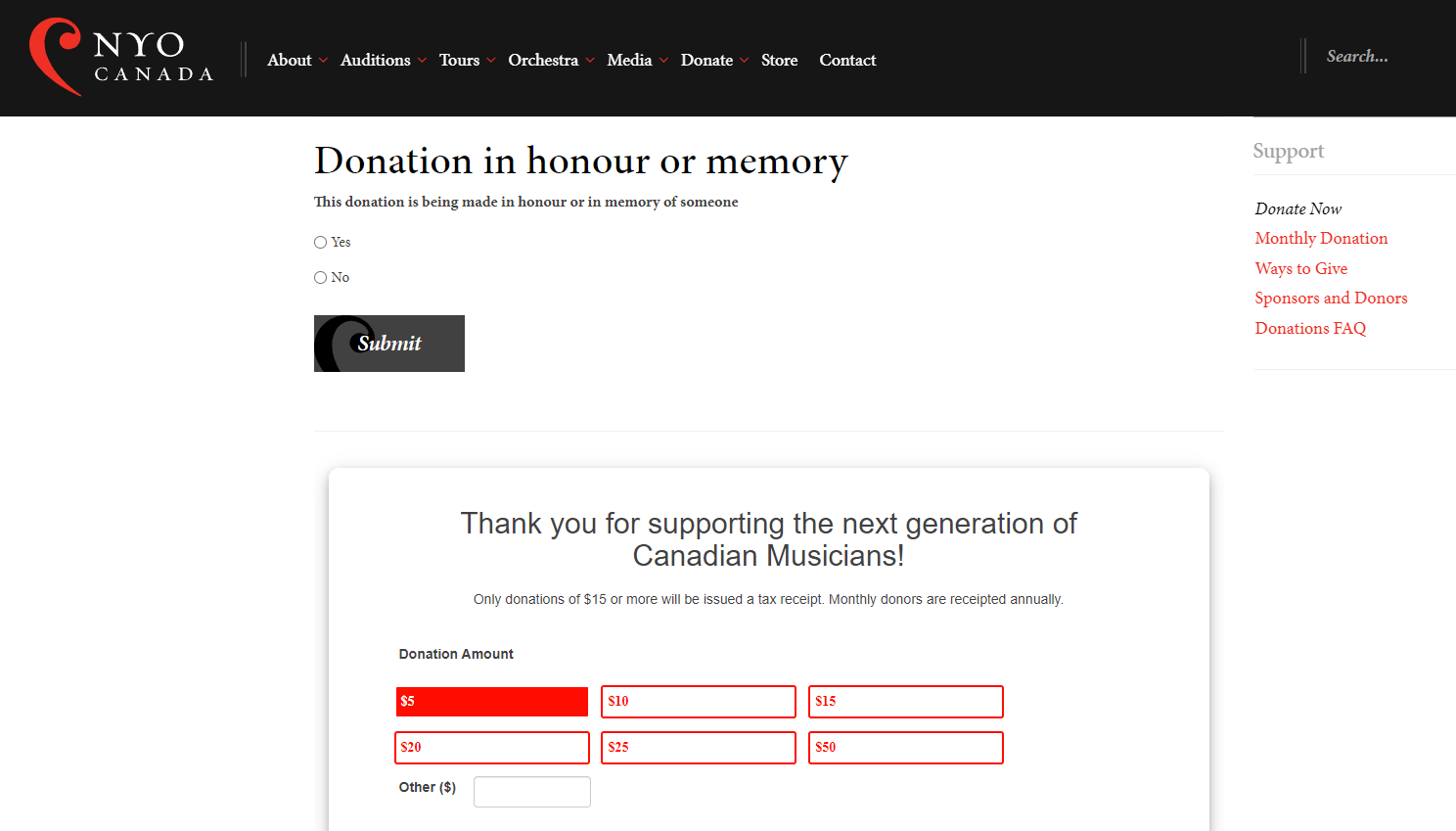 Take it to the next level!
Once you've got your donation page set up and it's bringing in donations, here are a few digital fundraising ideas you can add on to take it to the next level.
Add a digital fundraising thermometer to donation pages track fundraising goals for campaigns
Offer designations so donors can choose which are of your nonprofit's mission they want to support
Run A/B testing to see what elements of your donation form could be optimized like the suggested gift amounts and even different types of digital fundraising content
2. Integrate Offline and Digital Fundraising
To get started with digital fundraising there's no need to reinvent the wheel when it comes to your nonprofit's fundraising! It's a great digital fundraising idea to use any offline fundraising materials and campaigns that you have as a jumping off point.
Create online donation forms for direct mail appeals. You can set up a direct URL like

nonprofit.com/springcampaign

to make it really easy for your donors to give online.
Use the content from your direct mail campaigns on your website and main digital fundraising donation form. This will keep the content consistent for people who come to give online and people who didn't receive your direct mail packages will see your awesome campaign!
Leverage creativity from offline campaigns to create digital fundraising campaigns. This increases the presence of your message and it saves you time and money developing new creative.
3. Make Your Donate Button Stand Out
Once your online donation page is all set up for digital fundraising the next quick win is to make sure people know where you find it!
Most nonprofit websites have the donate button in the navigation ribbon, located on the top right of the page.
You should put your donation button in the same place because that's where most donors are used to finding it.
Make your button stand out:
Choose a bold colour that will stand out from the rest of your website.
Make sure it's clear, you may be tempted to use language like "Support Our Mission", but the best thing you can do is clearly label that the button is for donating online.
Instead of putting the button text as "Donate" try "Donate Today" to create some urgency.
Take it to the next level!
Once you've got your donate button placement down here are some additional digital fundraising ideas to take your digital fundraising to the next level.
Place donate buttons on other areas of your website where people are engaging with your mission
Consider adding a light box pop-up to promote digital fundraising to your website visitors at key times of year
4. Promote Your Digital Fundraising Everywhere
It's great for your digital fundraising to make sure you're talking about giving online as often as you can in your website content.
Quick win digital fundraising ideas for website content:
List online donations on your "ways to give" page and link to your donation form.
Create an impact section to tell people about the importance of donor support.
Tell people why they should give to you on your donation pages and in your Get Involved sections.
Present a digital fundraising donation ask wherever you have website content about your nonprofit's outcomes. It's great to share success stories, but your website visitors should also understand that donations are critical to keeping those success stories going.
Here's an example from UNHCR where they have included a donate button at the end of a story about a family fleeing Ukraine.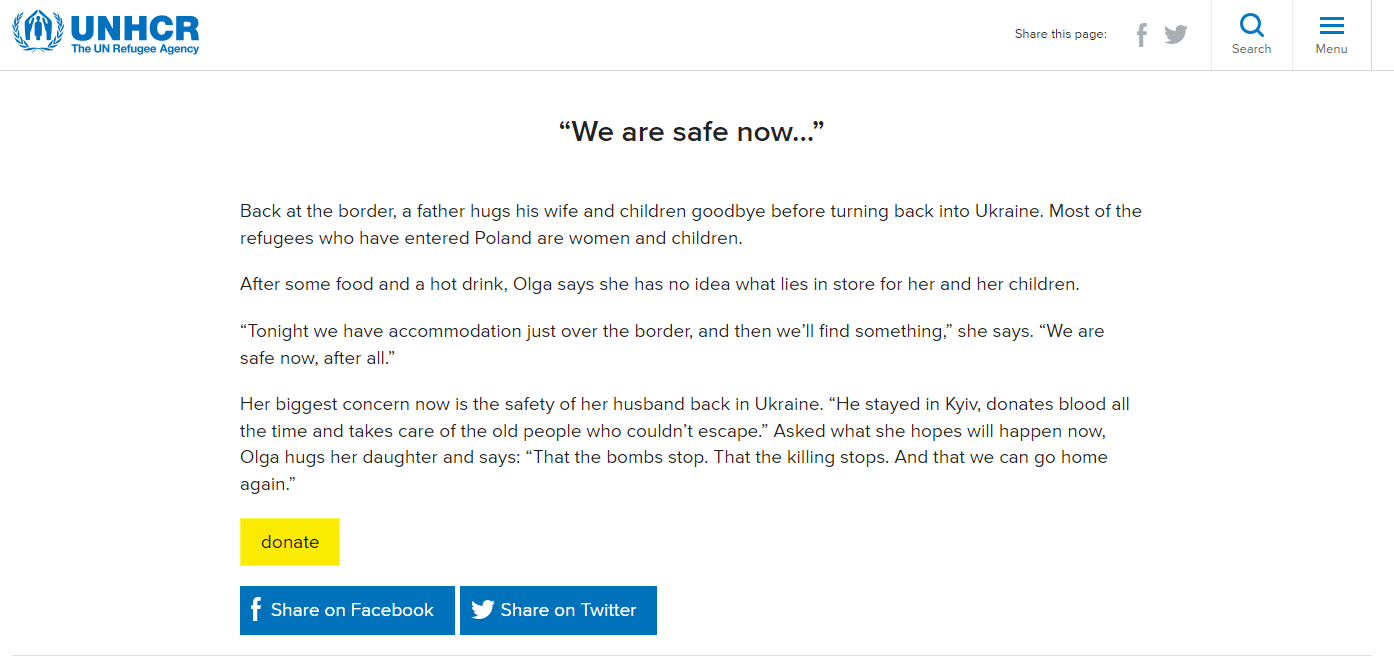 5. Launch Remarketing Ads
A powerful digital fundraising for nonprofits tool is paid digital advertising on social media and through other platforms like display advertising.
Digital ads can help keep your nonprofit top of mind, raise awareness, and raise money. But when you're just getting started, you want to go for the digital fundraising ideas that will give you the best return on investment.
That's where remarketing can come in. Remarketing, or retargeting, ads are the ones that follow you around online after you visit a brand's website or online store. They keep your nonprofit's name top of mind for potential donors and remind them about donating.
You can use remarketing ads to remind people to donate, a shocking 82% of potential donors will abandon their donation before completing it. That adds up to a lot of lost revenue over time and remarketing ads help your nonprofit get some of these donors back!
Remarketing ads are not as hard to set up as they sound and you don't need a lot of budget to get started. This is a great way to reach an engaged audience with digital fundraising and secure donations from potential prospects.
Take it to the next level!
Digital fundraising ideas to level up your remarketing strategy:
Test out messages on this engaged audience with A/B testing
Offer a special matching gift to your remarketing audience to help motivate them to donate
6. Utilize Social Media Giving Tools
Did you know that Facebook has giving tools for nonprofits? If you're eligible for these tools, this is an easy digital fundraising idea to get started because your nonprofit probably has Facebook and Instagram profiles already and a following on those channels.
And these aren't the only two social media channels with digital fundraising tools for nonprofits, YouTube also has some giving features you can leverage.
Here's what you can do with social media giving tools:
Add a donate button to your profile, posts, and livestream content
Facebook fundraising allows supporters to start peer-to-peer fundraisers on Facebook for your nonprofit, this is especially valuable if your nonprofit doesn't have its own peer-to-peer fundraising platform
Children's Hospital Los Angeles is using Facebook giving tools to place a donate button on their profile.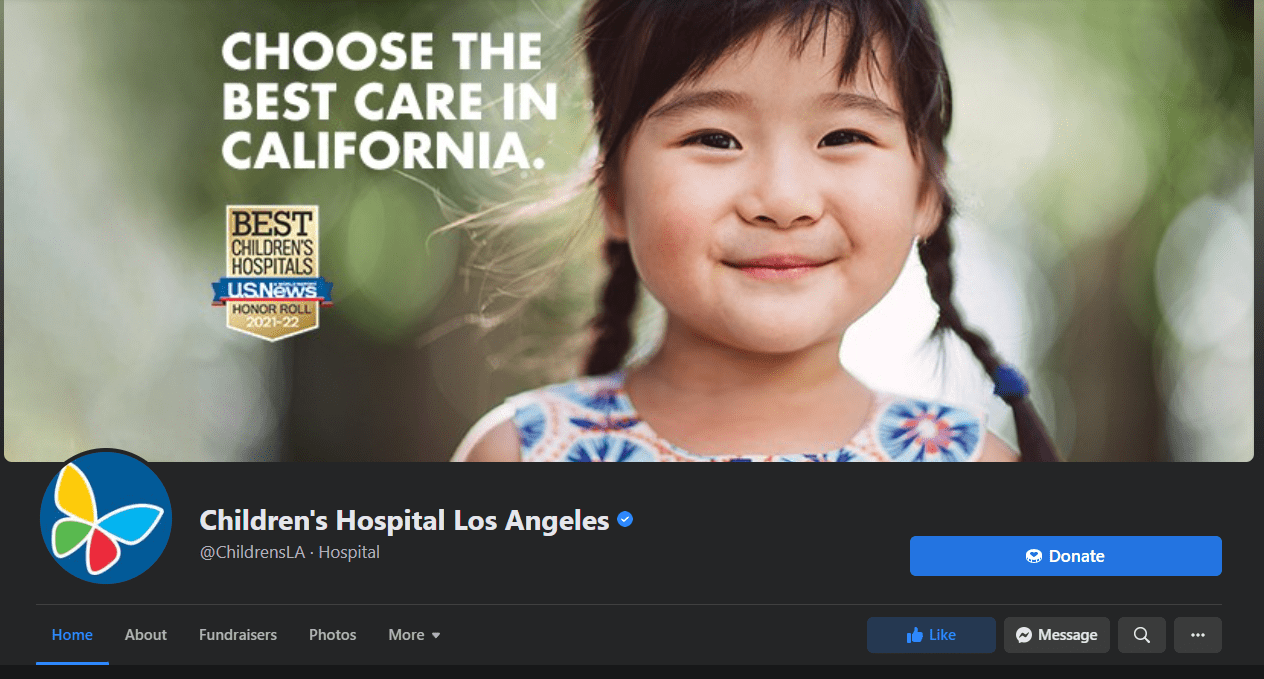 There are also numerous Facebook fundraisers for CHLA by supporters of the hospital which is a great way to engage supporters and find new ones.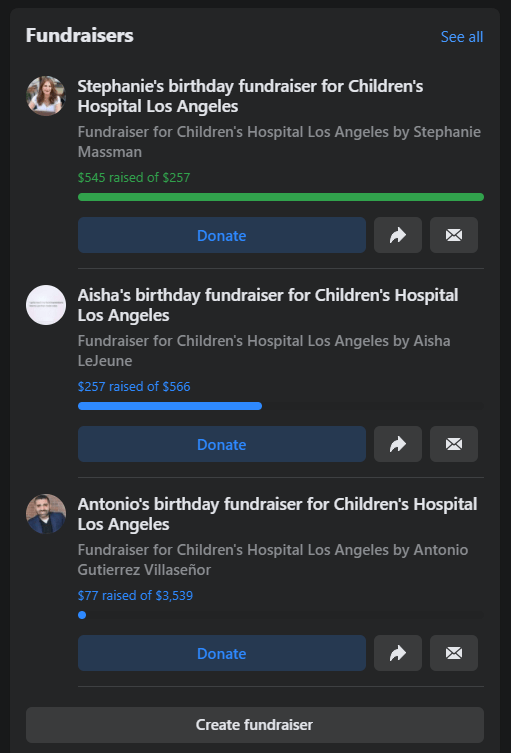 Social media giving tools are powerful for digital fundraising for nonprofits, in 2019 Facebook announced that $2 billion had been donated through their giving tools. This is a great way to get started with digital fundraising as these tools are easy to set up and growing in popularity with donors.
7. Leverage Your Email List
Using email is a key part of digital fundraising for nonprofits, if you aren't asking your email list for donations regularly then you are leaving money on the table! Your email list is made up of people who are engaged and interested in our nonprofit's mission, they are a great audience for digital fundraising.
During the pandemic closures, nearly all email metrics for nonprofits like open rate and clickthrough rate increased – and this increase includes an increase in response rate from email.
Email is still one of the best digital fundraising channels when it comes to return on investment, so leveraging this channel is a great digital fundraising idea for your nonprofit.
To get started with digital fundraising in email you don't need to put together anything fancy and, depending on the type of email communications your nonprofit is already sending, you may not have to create anything new at all.
Integrate digital fundraising into newsletters and other email content that your nonprofit sends regularly
Add email touch points to existing fundraising strategies, like an email follow-up to a direct mail campaign
Plan a digital fundraising email communications strategy that leverages existing content and adds fundraising appeals to the communications calendar
Take it to the next level!
When you're comfortable with digital fundraising by email here are some digital fundraising ideas to take your email communications to the next level.
Use segmentation to send different digital fundraising content based on supporter type, for example content for someone who has given before vs. a person who has never donated
Set up automated email drip campaigns like a welcome series for new email subscribers that includes digital fundraising content
Conduct A/B testing to optimize and improve email fundraising, there are many things to test from the subject line to design elements and content
Getting started with something like digital fundraising for nonprofits can feel overwhelming, but remember you don't need to become an expert immediately. Implementing these seven quick wins will put you on the path to mastering digital fundraising in no time!