Have you ever looked at a product online, a pair of shoes for example ,and next thing you know those shoes are following you everywhere?  If so, you've been hit with retargeting ads! 
What are Retargeting Ads
Retargeting ads are the ads that "follow you around" after you've looked at a certain product. You visit a retailer's website and look at a variety of products, or maybe just one or two. Then you leave the website without buying anything.
Later on, when you're visiting other sites or social media, you see ads for the store and even for the specific products that you looked at.
These ads are pretty standard practice for retailers, but nonprofits can also engage donors with retargeting ads. This retargeting ad from Soi Dog Foundation pops up on Facebook shortly after a user visits the Soi Dog website. It's a great example of how retargeting ads can work – this one by creating urgency with a limited time offer and showcasing impact with an emotional story.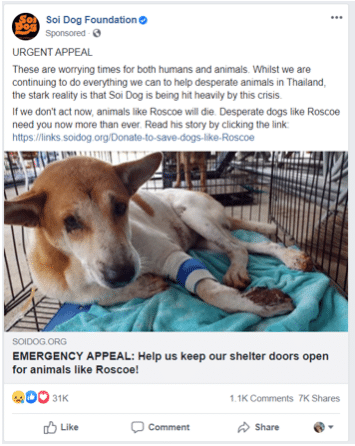 Imagine the ability to increase the conversion rate by 43%, that's pretty incredible. That's what can happen when you engage donors with retargeting ads. Retargeting ads, also known as remarketing ads, are one of the most powerful tools you have in your digital fundraising toolshed.
How do Retargeting Ads Work
The advertiser tags their site with a piece of code commonly called a pixel. When a user visits the website, the pixel leaves a cookie in the user's browser.
This cookie is what tells the ad platform to serve that user retargeting ads, in hopes that they'll be lured back to your website.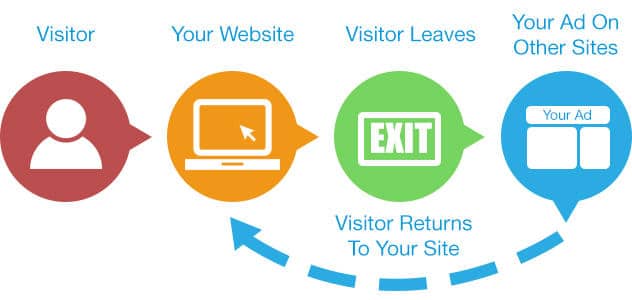 Why Engage Donors With Retargeting Ads
The rates of abandonment for nonprofit online transactions is pretty shocking. This cart abandonment data shows that nonprofits have an 82% abandonment rate for donation transactions.

This means that 82% of your prospective online donors do not finish their donation! That's huge. If 100 people visit your donation form, 82 of them leave without making a gift. If your average gift is $50, you're losing $4,100 for every 100 people who start to make a donation.
But when you engage prospective donors with retargeting ads you can get some of those abandoned donations back! According to Adroll, that it can take 56 touchpoints for the average consumer to make a purchase online. And retargeting ads will help you make those touchpoints.
When you engage donors through retargeting ads, you are engaging with people who have visited your website and shown an interest in your nonprofit.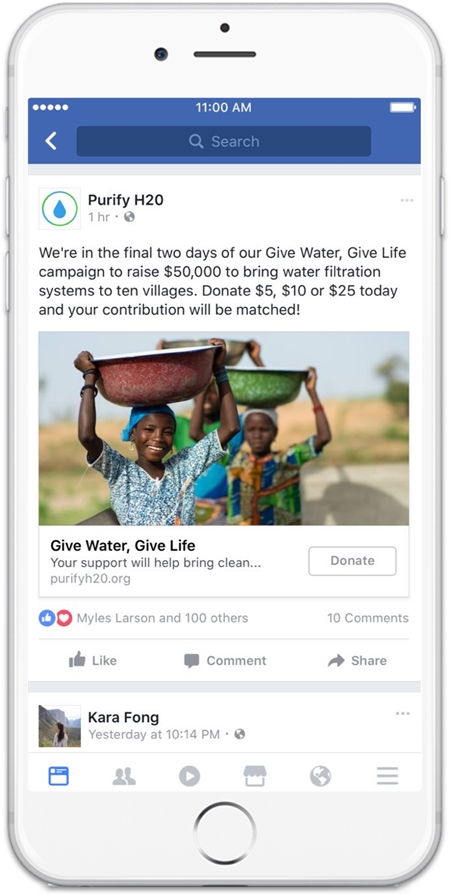 This is a warm audience that is more likely to donate, over a cold audience that has never heard of your nonprofit.
Creative Considerations
When you start to engage your donors with retargeting ads, you'll want to keep these creative considerations in mind as you put your ad copy and imagery together.
Be subtle
Although retargeting ads are an effective way to engage donors, they do have a tendency to make some users feel uneasy. There is data that shows only 25% of consumers like to see retargeting ads.
This doesn't mean that the other 75% hate retargeting ads and are instantly turned off by them, it just means you should tread carefully. A retargeting ad that is too specific, or too pushy will rub donors the wrong way. Whether a donor feels put off or not is all in how you frame your message. Here's a subtle retargeting ad I got from Jasper's Market: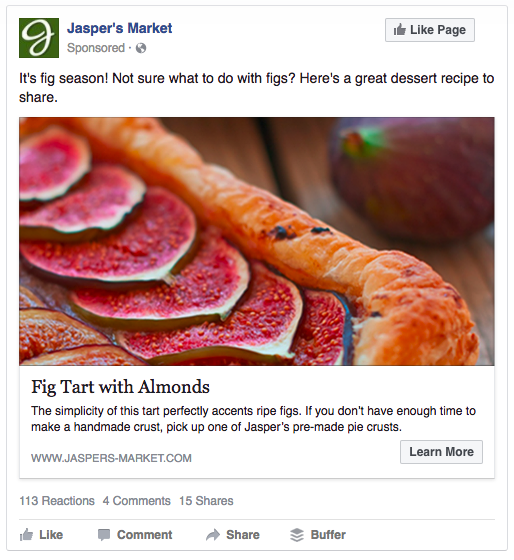 The Dos and Don'ts of retargeting ad creative:
Don't reference anything too specific about the actions the donor took on your website
Do use donor-centric language
Don't assume anything about your donor
Do use effective storytelling techniques to communicate the importance of giving
Don't call out your donor for not making a gift
Do emphasize the impact of a donation and centre your nonprofit's mission
Do your own research, visit the websites of some of your favourite nonprofits, or even your competitors and see what kind of ads you get afterwards.
Offer a unique opportunity
While many users can feel "creeped out" by retargeting ads, 47% of consumers say that they are okay with having their information collected, if it means they can get a better deal.  In other words, the positive experience of saving money or getting more value outweighs the negative feelings of being tracked online with pixels and cookies. Here's an example from LeadPages.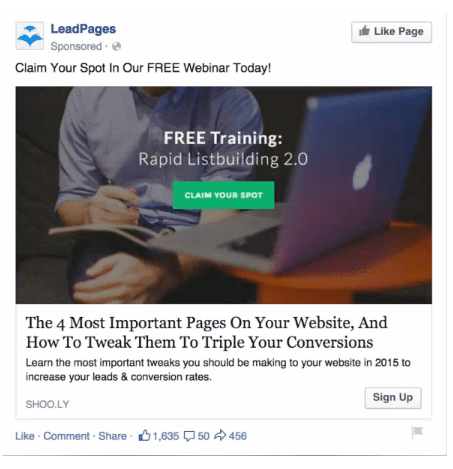 Here's another example:

The user is going to feel less put off by these retargeting ads because there's an offer to save 25%. Of course, you can't offer a donation for 25% off, but you can still offer some extra value when you engage donors with retargeting ads.
Add value with a matching gift offer
Create urgency with a limited time special fund
Showcase impact with an emotional story
While retargeting ads can feel creepy to some users, donors will be more open to it when they're offered something special and the ad feels like a natural extension of their donor journey. Start engaging your donors with retargeting ads and see what happens! You'll be surprised by how easy it is to get set-up and this is a cost-effective way to reach your donors with digital advertising.