Mid-level donors are the backbone of your annual giving program and the pipeline for your major and planned giving portfolios.  While most nonprofits are engaging with their mid-level donors through a combination of specialized direct mail programs and personal solicitation, you can take your mid-level program to the next level by engaging with mid-level donors online with digital integration.
Here are 6 ways to engage your mid-level donors online.
1. Host a virtual event
Engaging mid and major donors in luncheons and salon events is not a new concept, but you can engage your mid-level donors online, and continue offering this social experience through the COVID-19 pandemic, by hosting a virtual event on a platform like Zoom. For example, Zoomtopia had all the trimmings of a real-life ball; there was a well-designed invitation, a guest list, performances, signature cocktails, a host committee, and 100 percent of ticket sales went directly to The World Health Organization and International Medical Corps.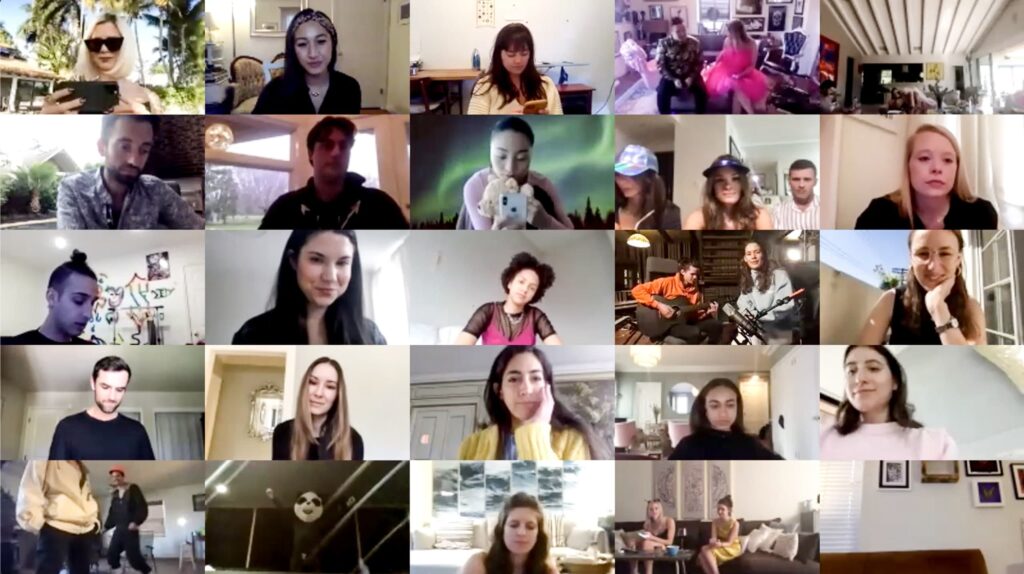 Include a save the date card in your direct mail packages with instructions for how to RSVP. It would be easiest for you to collect RSVPs online, but not all of your donors may be comfortable with that. So include a phone number they can call for directions to access the event.
For an added bonus, extend the invitation to major donors and planned giving donors or prospects that you're trying to cultivate relationships with. This is a good opportunity to engage multiple donor groups online without having to plan multiple events.
2. Make Online Giving Easy
Most mid-level programs have direct mail at their core, with personal solicitation layered in. The direct mail packages offer both engagement and the vehicle for donors to give, by sending their gift in the mail.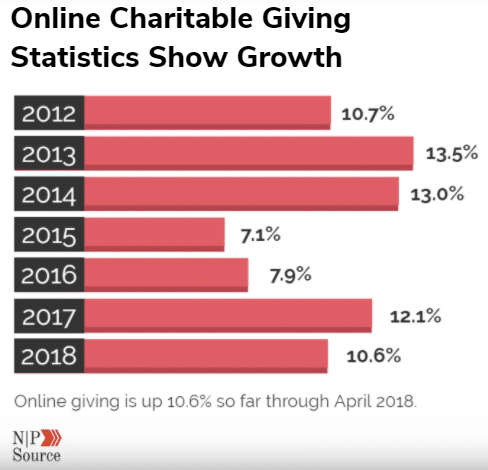 However, you can engage your mid-level donors online by introducing digital elements, like a URL to a donation form, into your direct mail packages.
Your mid-level donors are probably already giving online, or they want to, 51% of high-wealth donors prefer to give online. A donation form specifically for your direct mail campaign is going to offer your donors a cohesive journey to making their gifts. When they go to this page, they'll be able to read more about the offer online, rather than landing on an unrelated donation form on your website.
Some CRMs like Sumac, allow you to create several donation forms so you can tailor them for different giving levels.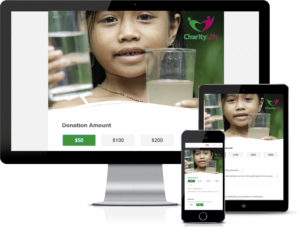 There's an added benefit for your nonprofit as well! When your mid-level donors give online, they're going to have to give you an email address and will likely opt-in for your emails, helping your grow you mid-level donor email list.
3. Mid-level Giving Web Page
Engage your mid-level donors online and encourage them to visit your website by creating a VIP web page for your mid-level donors. Populate this page with content that will appeal to your mid-level donors:
Impact information
Results from your latest campaigns
Your current campaigns/offers
Beneficiary stories, this is a great opportunity for video
An opportunity to sign up for email updates (keep building your mid-level email list!)
Useful information like other ways to give that this donor group may be interested in: bequests, gifts of securities, etc
Save the Children's Leadership Circle page is a good example of a mid-level giving webpage that includes almost all of the above.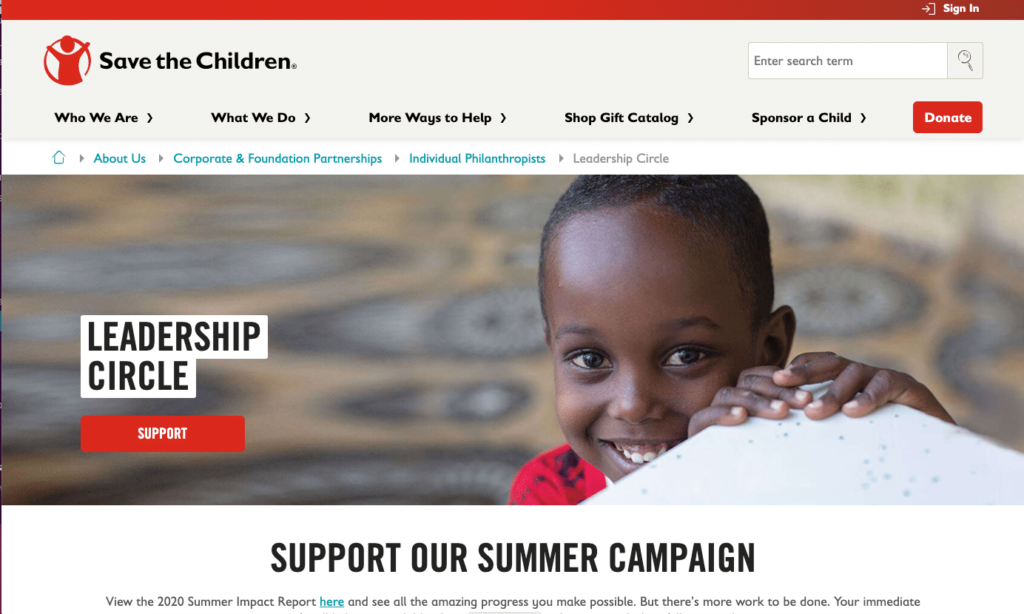 Make sure you're updating this section with each mid-level appeal so the content is always relevant. And include a link to a donation form! Integrate this page with your direct mail appeals by including the link in packages. Make it appealing so your donors want to visit the page.
4. Social Media Ads
Integrating digital ads with direct mail campaigns has been shown to lead to a 28% higher conversion rate than direct mail alone. Use ads on social media to create a multichannel communications journey for your donors by serving them with Facebook ads at key times.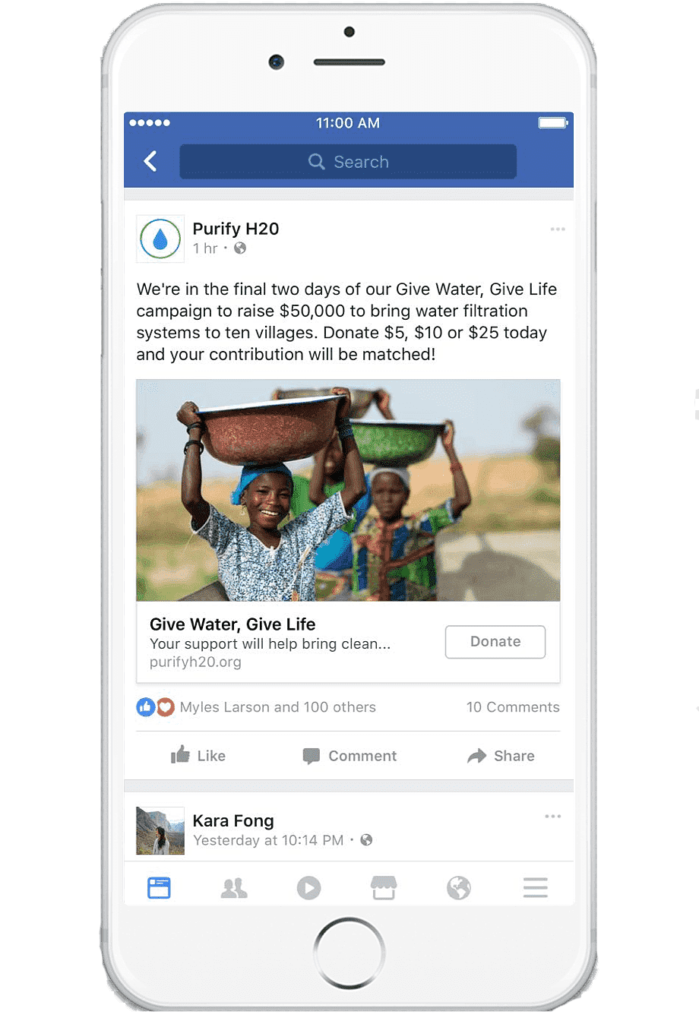 Here's how:
Step 1: Upload your mid-level audience into Facebook's ad platform to create a custom audience
Step 2: Create your ad campaign, use the messaging from your current direct mail campaign, it can take seven or more impressions to convert a donor so take advantage of your donor's screen time to capture some extra impressions
Step 3: Launch your campaign and watch the results come in!
5. Mid-level E-newsletter
A specialized e-newsletter for your mid-level donors is a great way to connect with them between direct mail campaigns. Consider introducing a monthly or even quarterly e-newsletter specifically for your mid-level donors.
The goal of the newsletter is to engage with this group of mid-level donors online and make them feel special. Here are some ideas to tailor this newsletter for mid-level donors:
Results from your latest mid-level campaigns
Exclusive content like Q&As with program staff
Beneficiary stories, or stories from other donors
Make sure that you are managing this e-newsletter within your nonprofit's overall communications strategy. If you already have a general e-newsletter, create a segment specifically for mid-level donors.
This will ensure that all of your communications are working together to cultivate your mid-level donors, rather than offering confusing and competing messaging. Competing messaging that is repetitive and irrelevant leads to unsubscribes, instead of engaging your mid-level donors online.
6. Personalized Video
A personalized letter or phone call is sure to make your donors feel special, but personalized video? That's going to blow their minds!
Use a tool like Thankview to easily record and send personalized videos to your mid-level donors. Use these videos for stewardship, to ask for upgrade donations and more! Personalized video is a great way to engage with mid-level donors online.
If you still aren't convinced that you need a digital strategy to your mid-level donors, consider that marketing campaigns that use both direct mail and digital channels have a 118% higher response rate than campaigns that use direct mail alone.
Whatever you do to engage with mid-level donors online, make sure that it is highly personal and offers them exclusive content that's not available to your other annual donors. That is the point of your mid-level program after all!