What is an infographic?
An infographic is a collection of icons, images, charts, etc. and the use of minimal text to facilitate an easy-to-understand overview of a topic.
Why nonprofits should use infographics?
The biggest challenge for nonprofits is limited resources. So one of the best ways to promote your cause is using infographics to communicate issues that you and your audience care about, or to clearly explain a problem and solution.
The importance of having a good nonprofit CRM is to transfer your rich data into a simple infographic so that it delivers, inspires and informs all your donors, your website visitors, and your grant makers, or even your target audience.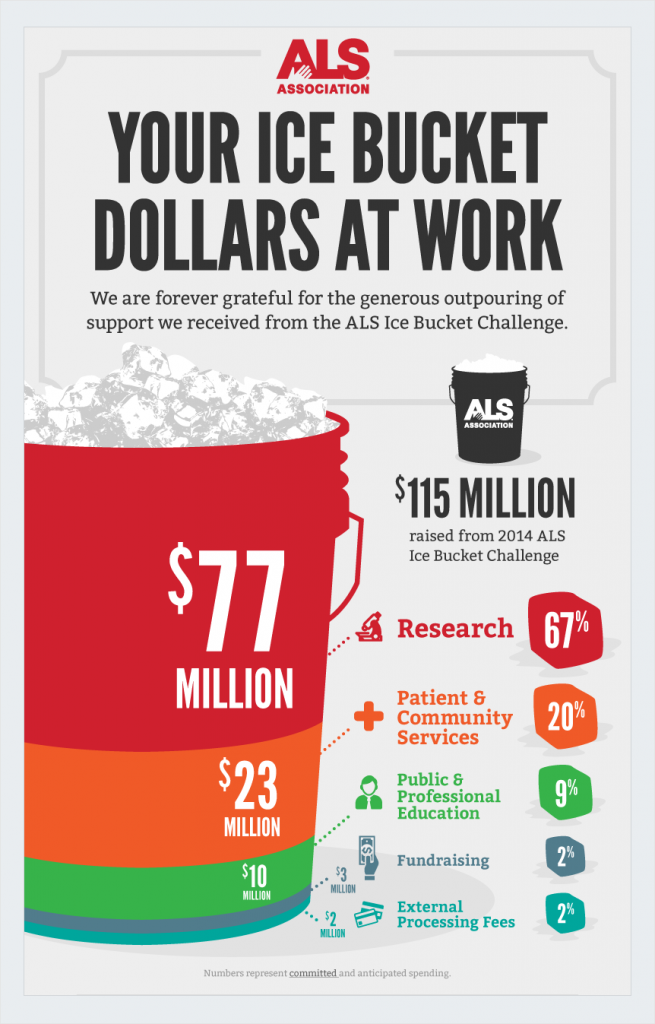 Remember a picture is worth a thousand words. So think of Infographics as a visual representation that you can use to present your data to your target audience so that they understand the information presented to them quickly and clearly.
For example alongside, is an infographic that is striking, and visually engaging?
Where can you use infographics?
The versatility of infographics allows you to use them in a variety of ways in various media, or platforms as illustrated below: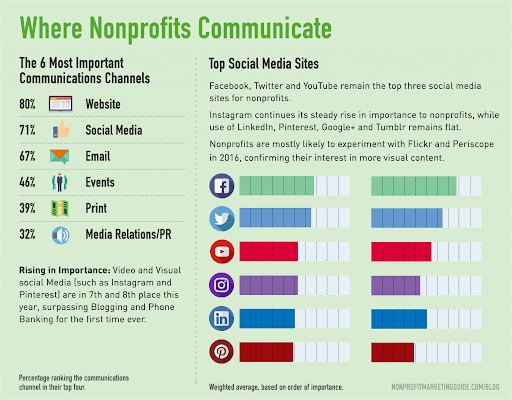 How can someone design nonprofit infographics without any design experience?
The answer to this question is simple. Even though you may find many infographic providers when you search online, here are the ten most popular ones that are easy to use and highly effective. I have included some basic information about each one of them:
10 Tools
Price: Free
Paid options:
Freemium purchases: On the free plan, you have the option to buy premium templates, icons, images, and more for a more custom look.
Canva for Work for small and medium sized businesses. Starts at $12.95 per team member, per month.
Canva for Nonprofits gives eligible nonprofits free access to all Canva for Work features.
Noteworthy feature: Their free plan gives you a lot of options.
Canva is one of the powerful online design tools and infographics makers that will allow you to create a variety of designs even if you do not have any previous design knowledge. You just select a template, drop in your data, change colours and graphics as necessary, and you're done in about 30 minutes!
Canva also has a vast range of templates and infographics for you to select from based on your design need — from social media banners, ad graphics, to email graphics and much more.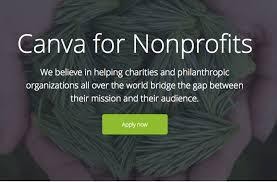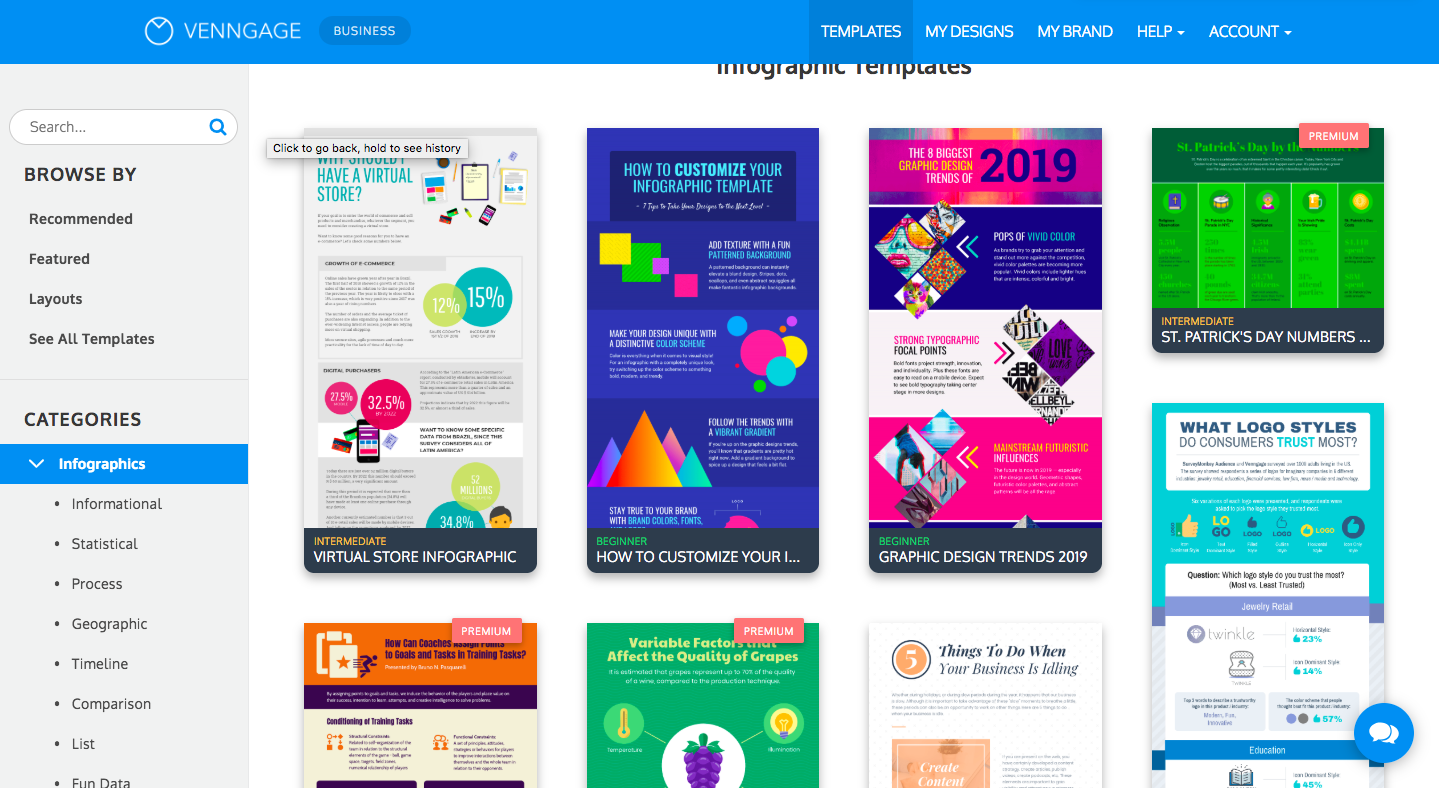 Price: Free for students only.
Paid options:


Premium (for individuals) starts at $19 per month.
Business (for businesses & organizations) starts at $49 per month.
Nonprofits get 50% off all plans.
Education plans with 35 accounts for the whole class start at $29 per month.

Noteworthy feature: A great gallery of ideas for design inspiration, that is updated almost daily
Like Canva, Venngage offers you many different design options to pick from with templates for reports, posters, promotions and more.
Within their infographics section, are additional options to pick from that deal with particular topics and categories like:
Statistical
Informational
Process
Comparison
Timeline
Geographic
Charts
Tutorial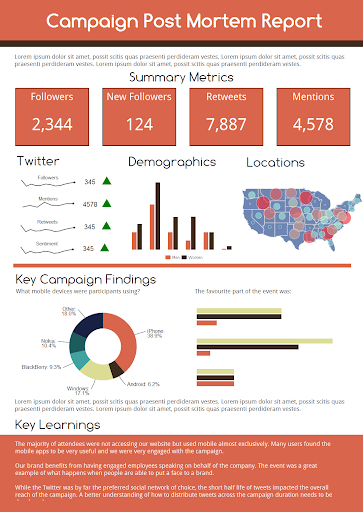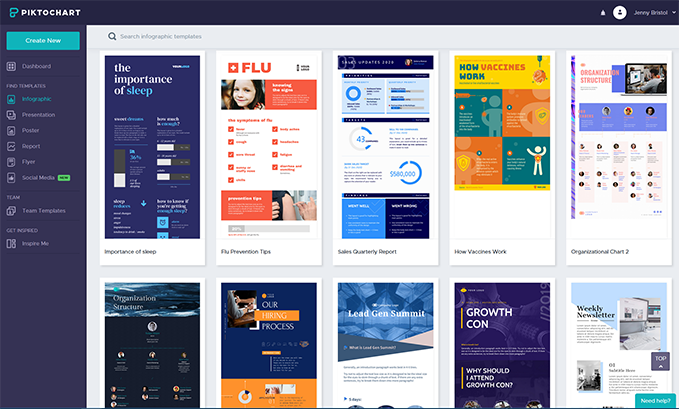 Price: Free
Paid options: 


Lite: $12.50 per month
Pro: $24.17 per month
Pro Team starts at $43.33 for 2 users per month.
Nonprofits: $39.99 per year for individuals and $79.98 onwards for team plans
Education: $39.99 per year for individuals and $79.98 onwards for team plans

Noteworthy feature: Great step-by-step tutorials
Piktochart is another fine option that helps you create different types of infographics, and designs. You can pick different formats, including a traditional infographic size (tall and skinny), presentation size (for slide decks), poster, and report. You can also create your own infographic from scratch or select one of their templates (some are free and others require you to either have a Lite or Pro plan).
Here's an example of a twitter template: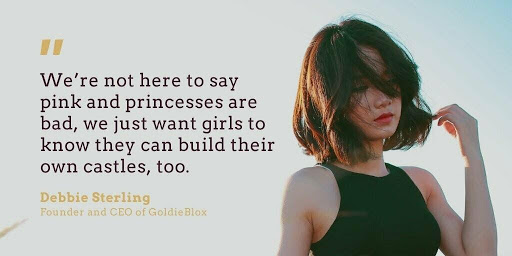 Price: Free or Pro Account starting at $4/month
Paid options: Called "Pro Accounts"


Businesses and Nonprofits: $5 per month
Teachers: $4 per month
Students: $2 per month
Enterprise: Pricing on demand

Noteworthy feature: Free design sandbox you can play in without even registering for the service
Easel.ly makes it really easy for you to create infographics. All you need to do is pick one of the many templates they offer on their main page. They also provide a way for you to search their library of templates, images or icons by category.
Here's an example of one of their templates: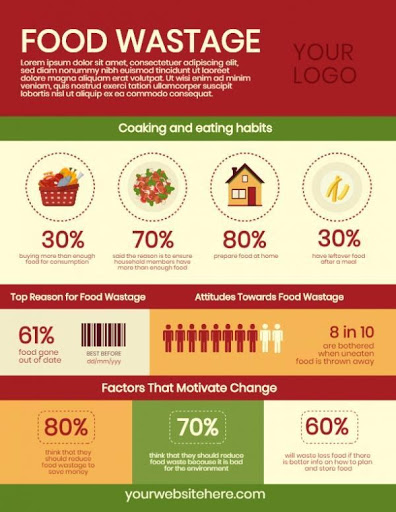 Price: Both free and paid plans
Paid options:


Standard: $19 per month
Complete: $39 month
Team: $117 per month for up to 3 users
Enterprise: Price available on request
Student: $30 per semester
Teacher: $60 per semester

Noteworthy feature: Make interactive infographics with links, animations and pop-ups
Visme is a multi-faceted design tool that was developed specifically with the marketer in mind. It allows you to create presentations, animations, mock-ups, banners, and of course, infographics.
It even helps you create email popups on your website. In your first month, you can create up to 5 projects for free, and if you move forward with a basic plan, you can design up to 15 projects per month for just $14.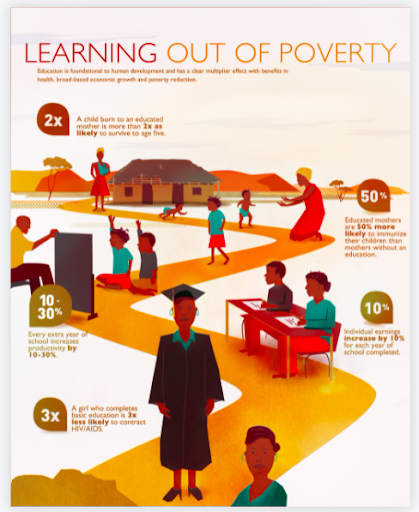 Price: Free and paid plans
Paid options:


Pro: $25 per month
Business: $79 per month
Team: $170 per month starting with 3 users
Enterprise: Multiple teams, starting with 10 user
Price available on request.
Noteworthy feature: Paid versions of the tool offer SQL connectors, data analytics, link tracking and engagement analytics – nearly no other competitor offers such in-depth metrics.
Infogram is a design tool for those who love numbers and data. Infogram's strong data visualization tool helps you create simple infographics from complex data sets. However, from a design point of view, it is a bit limited, because if you're a free user, you will have fewer choices.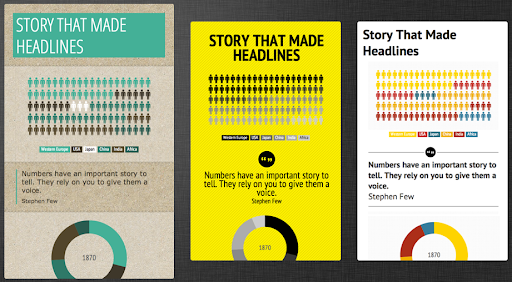 Price: Free
Paid options: None. It's really, really free!
Noteworthy feature: Specializes in building visual resumes
Vizualize.me is a different type of infographic maker. It helps you create an "infographic resume." Just log in and start creating your resume, as you'd do in a Word template. You can even connect to LinkedIn to populate some of the information automatically.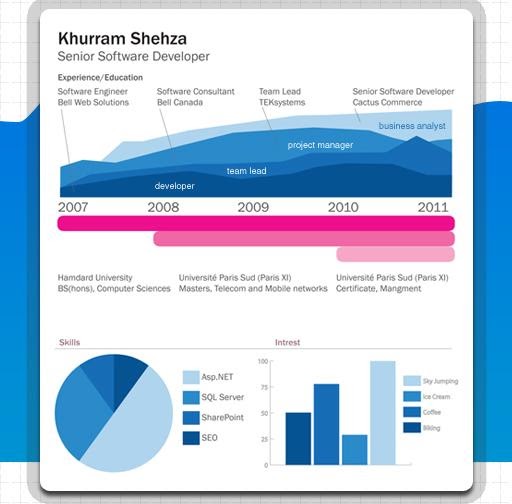 Price: Free
Paid options:


Pro: $15 per user per month
Team: $30 for 5 users per month

Noteworthy feature: Surprisingly feature-rich, even for free accounts
Snappa is a versatile little design tool that offers bare bones functionality. With Snappa you get nearly all the features of paid accounts with the free plan, but with limited downloads per month for free users.
Price: Free and paid plans
Paid options:


Personal: $19 per month
Start-up: $35 per month
Business: $59 per month

Noteworthy feature: Build richly animated infographics without a digital video professional
Animaker is really an animated video development tool. They do however offer the option of building animated infographics. With a built-in library of animated characters, scenes, icons and images, so that users can pick and choose their own story elements to build an animated infographic step by step.
For example here below is an animated video for Spotify.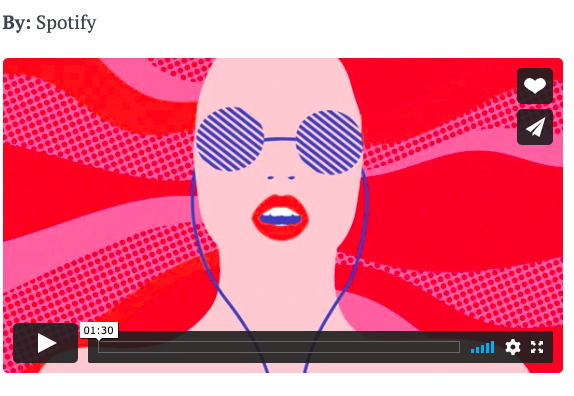 To check out this video here's the link: https://vimeo.com/207359607
Price: Free and paid plans
Paid options: BeFunky Plus is available at $6.99 per month.
Noteworthy feature: Superb photo editing capabilities with a free library of images and expert-level vector graphics.
 
BeFunky is a tool that helps non-designers create professional looking designs and edit photographs like trained pros. It uses the same drag and drop interface as the rest of the providers. However, with over 1 million free stock images it is also great for cropping and resizing images, turning photos to art, removing backgrounds, editing photos, retouching images and more.
Here is an example of the many images available on BeFunky's library under the subject flowers: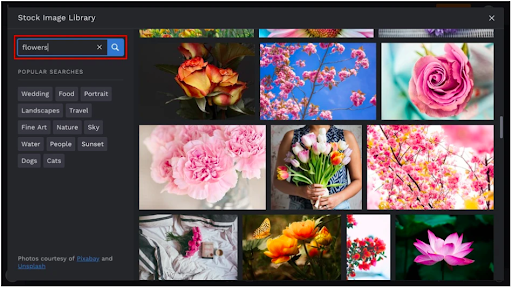 How to use infographics for your non-profit?
1. Infographic allows you to tell a story. Storytelling makes things come to life.
Putting a personality or an issue behind lifeless statistics helps convert them into a problem or an issue story.  A good story will connect with your intended target audience. So think: people, not statistics.
Example: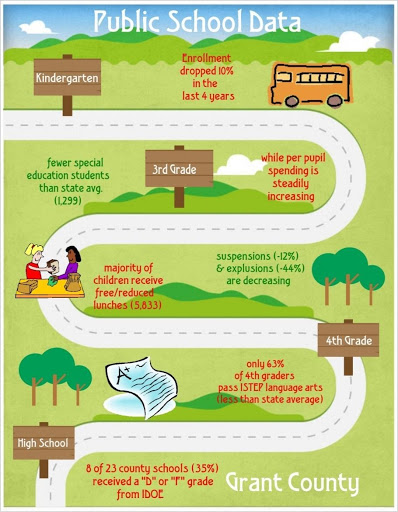 2. Infographics brings dry statistics to life.
One great way to get your point across is to transform your statistics to visual images or icons.
For example: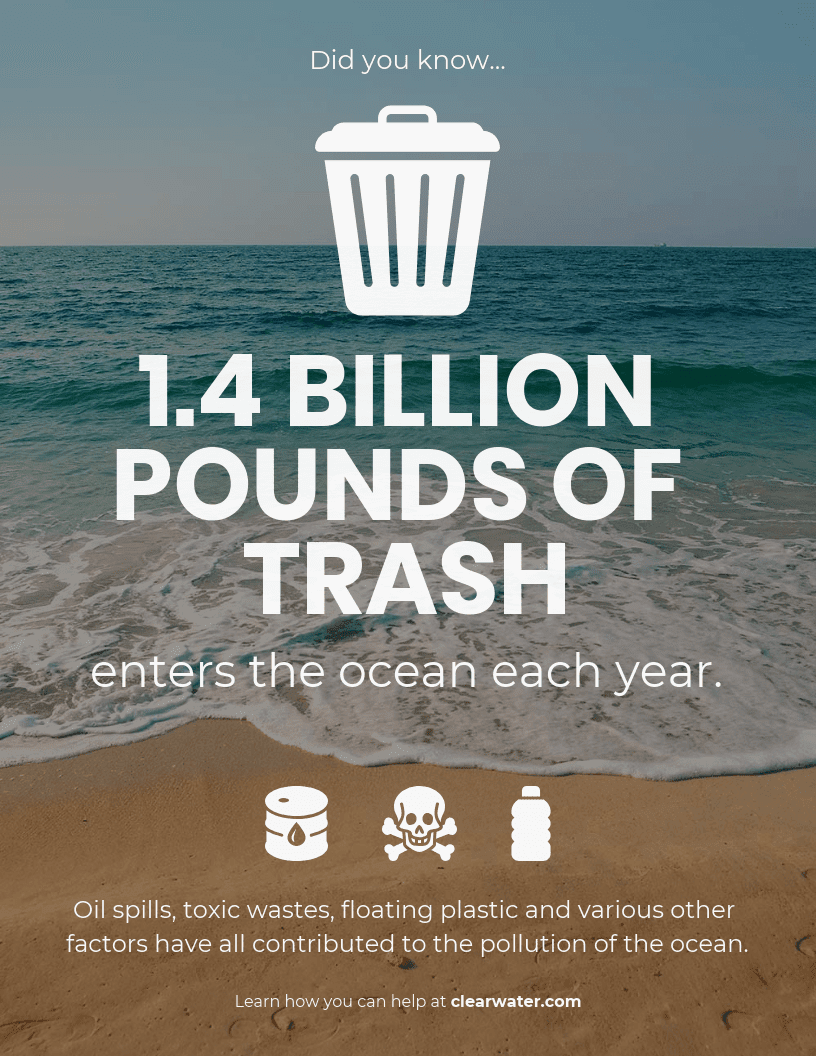 3. Inspire your target audience with infographics.
Nothing convinces people more than graphics that illustrate a point or involves them.
For example, here below are two examples of illustrating why people should donate on Facebook or Instagram.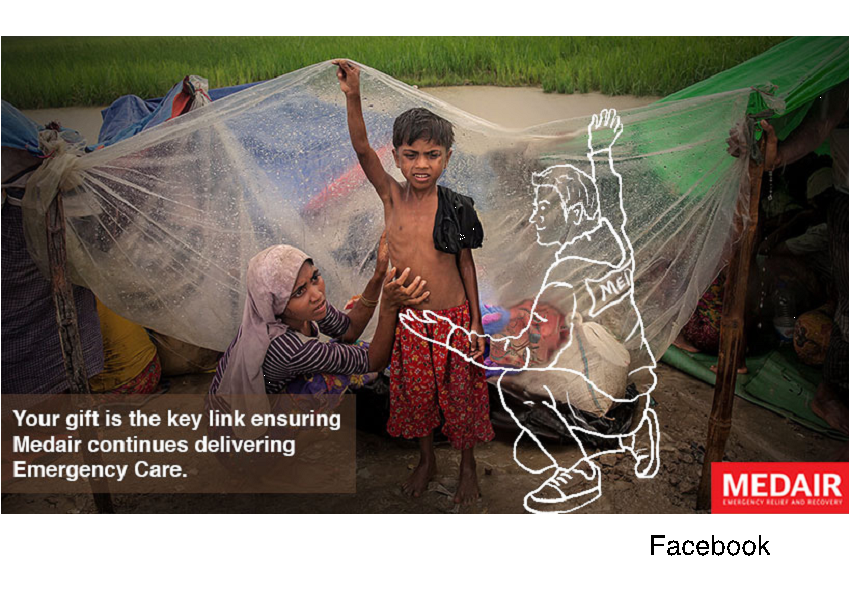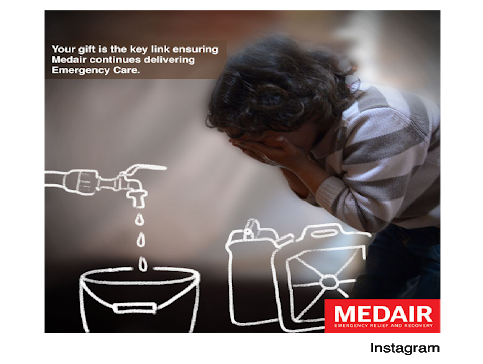 4. Showcasing your achievements with infographics.
One of the best ways to show your donors where their hard earned money has gone is by using icons that clearly show your achievement. This can be done on social media, email or any other platform.
The example below is from Heart House Hospice's Annual Report: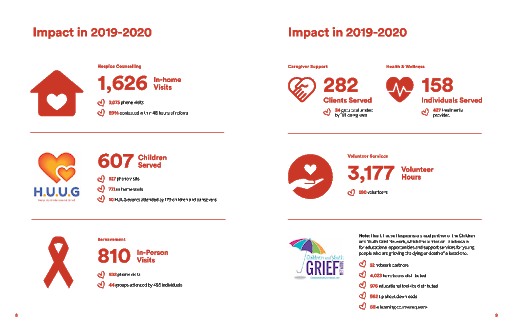 5. Stressing a dire need with infographics.
Nothing says urgency more clearly than when the need is dire, as illustrated by the simple infographics example below: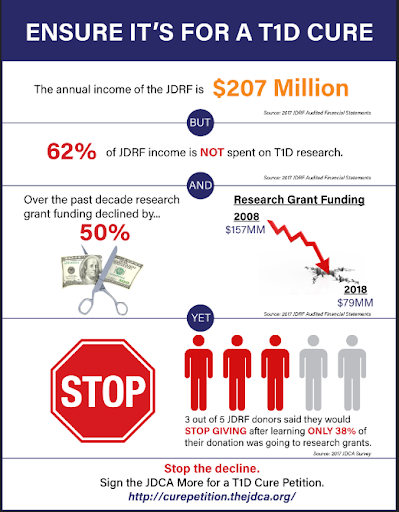 Finally, some helpful tips for using infographics effectively:
Keep it simple.  Because infographics share a lot of information in a visual way, don't get too over the top. Keep plenty of white space in the infographic so that it is clear, not confusing, so that your target audience can scan and digest it.
Get to the point quickly. Infographics are not blog posts or direct mail appeals. Keep the info short and simple; only include as much text as necessary.
Focus on design and colour palettes. The old saying is true: 'Too much colour is no colour at all.' A common design flaw is a cluttered feel; you don't want to make it unpleasant to view. Match your colours to the other elements like your website, your appeals, and your branding guide.
In Conclusion
Infographics are an important tool that you can use as part of your marketing campaigns. They can help your material stand out not only on social media, but also help you create original, shareable content that is easily understood by your audience. Use infographics effectively to get more shares or to generate new leads, and create a high quality end product that leaves a lasting impression in the minds of your target audience.
About the Author: Sumac is part of the Silent Partner Software family, a company dedicated to providing exception software and services to nonprofits. With over 25 years of service, Silent Partner has helped organizations manage over 3 million donors and contacts across the US, Canada, UK, and Europe. Learn more.