"In 2023, the number of global email users is set to grow to 4.4 billion users, up from 3.8 billion in 2018." – Statista
The last couple of months of the year are hectic for everyone. For nonprofits, it's all about preparing for their year-end campaigns, because this is the time when donors give the most!  In order to make sure you meet your year-end campaign goals, here are some "holiday don'ts" to keep in mind when it comes to email marketing:
1.    Don't Overlook the Subject Line
The emails that get opened as soon as they are seen in an inbox are the ones whose subject lines grasp the viewer's attention. It should be short (MailChimp recommends 50 characters or less), while still informing the recipient why the email matters and why it matters NOW.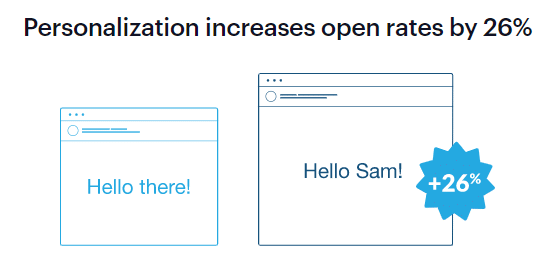 The reader should feel enticed to open it in a matter of a few simple words. If done ineffectively, there's a greater chance that the email will remain unopened. Or worse, it will be marked as spam.  Not only will this hurt your year-end holiday campaign, but it will affect the rest of the year as well. Future emails will continue to go into spam folders. In turn, a lower subscription rate will show a decrease in funds raised.
Tip: If you are able to personalize the subject line, (for example, with the recipient's name), then all the better! According to Campaign Monitor, "Emails with personalized subject lines are 26% more likely to be opened".  
2.  Don't Neglect Mobile Users
"Roughly half of all emails are opened on mobile devices. But, if you're not optimizing for mobile you could be losing nearly 85% of your audience." – Optinmonster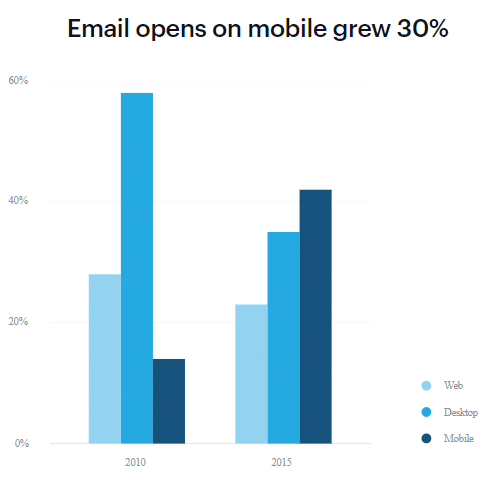 Everywhere you look, you see people with their cellphones in their hands, and more people are checking their emails on their phones than ever before. This is why it is important to make sure all of the emails you send are mobile-friendly.  And it can be a tad tricky.
There are several different devices and each one runs differently. Apple iOS, Google Android, the list goes on.  Optimizing emails for each one would take a lot of resources and time.
Having the proper nonprofit software can help you with templates that will accommodate both desktops and mobile devices. This will allow you to focus on the message and the content of the holiday email.  If your software hasn't been set up yet, here are a few things you can do:
Use responsive templates. This resizes the email according to the screen it is viewed on while still providing important information.
Use templates with only one column rather than multiple. This way, the recipient won't need to scroll from left to right in order to see everything. Instead, they can simply scroll down for an easier read.
Use the proper photos. Make sure they load quickly. Many people close an email if it takes too long to see the content!
Test it! Do trial runs of the emails using various devices. See if they run smoothly before sending out the official holiday giving emails.
Tip: No matter if it's seen on a desktop or mobile device, make sure your call to action is clear.  Whether it's a "Donate" or "Act Now" button, make sure the template is interactive to allow donors to support the cause easily.
3.  Don't Overdo The Holiday Theme
The holidays bring joy to many. Naturally, you will be inclined to use festive colors and graphics. It's a wonderful idea! At the same time, it's important to keep a few things in mind. 
Not every donor/possible donor celebrates the same holidays. Keep the graphics as "neutral" as possible. Personalize each email appropriately as best you can but in any case, always be mindful.
The holidays aren't full of cheer for everyone. Many individuals are handling loss, grief and hard times. Be sensitive and understand that this time of year can be hard on some.
To summarize, it is more than okay to use holiday themes to attract donors. It simply needs to be done in a delicate manner. Many donors will appreciate the thoughtfulness you have incorporated into your marketing.  Check out these free holiday email templates to help you nail the right balance.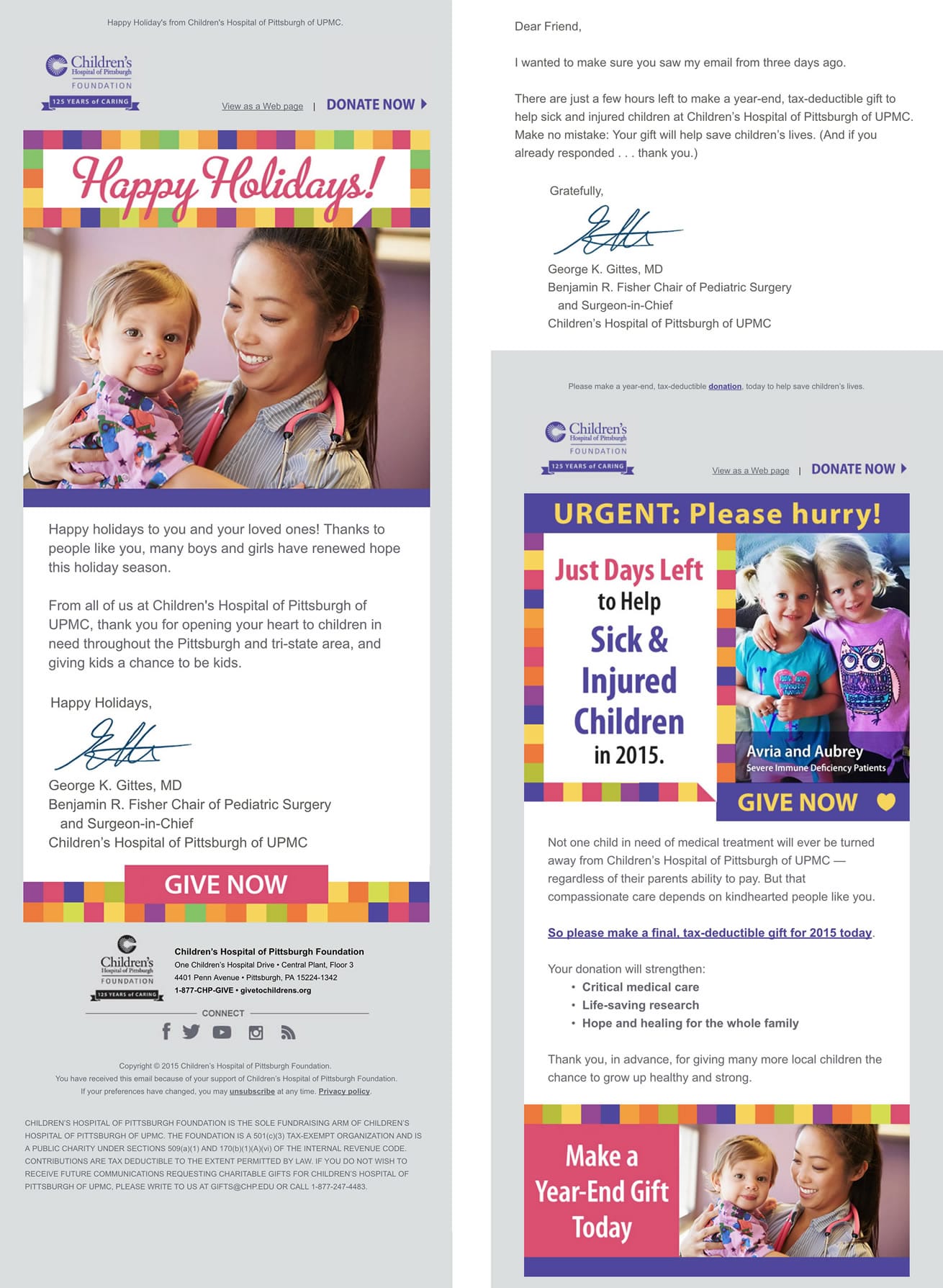 4.  Don't Forget to Analyze Your Holiday Email Impact & Performance
Keeping track of how your emails are performing is important to do several times a year. Doing so during the holiday season is also critical. 
Look at the open and click through rates, for example. Are the emails being opened? Is the call to action being clicked on? If not, what do you think needs to be changed? This information can show you how you can alter your strategy if need be.
If you send out multiple emails that go unopened, don't ignore that fact! Maybe you need a better subject line for your holiday campaign email? If you aren't getting the donations you expected, maybe you need to consider a more creative year-end appeal campaign? 
Getting bombarded by email can be one of the reasons recipients unsubscribe from your email list. Or, perhaps they donated already, and immediately afterwards they received another email asking for a donation. This can be a sign you need to do a better job at segmenting your lists using your nonprofit database. 
By looking at all of these don'ts, you learn more than just what not to do. You also get a better idea of what CAN be done to make sure your email marketing is successful. 
It may take some time to find the tactics that attract the most amount of donors. In the end, you will see higher open and click through rates along with donations. You will also have proof that any necessary tweaks and changes were worth it. P.S. Once the donations start coming in, here's some help with your donation thank-you emails.