The days are over when providing your supporters with some dull stats will suffice as your annual report. Now, the pressure is on to make annual reports interesting, engaging, and visually stimulating. One trend that feeds into this kind of thinking, and we hope will stick around, is creating themes for annual reports.
The title of the report usually lays out the theme, and it's carried through the rest of the report. It is reflected in the section headings, and in the design and feel of the report. Here are three stellar annual report themes worth considering for your non-profit:
1. Making Donors the Star
According to Katya Andresen, non-profit marketeer, a great theme that is showing up lately is putting donors at the centre of the report; making them the hero of your story, and the star of your show. Giving donors the credit, says Katya, makes for an incredibly effective annual report, because you show them that their support really matters. This Annual Report from the Austin Children's Shelter does a really good job at doing just that!
2. Showing Impact
Another theme showing up is impact reports. Impact reports are not about reporting your financials or your donor list. Instead more value is placed on what matters most – the impact your non-profit has had on the world around you. The impact report is shorter than the annual report and focuses more than 50% of it's pages on programs. We see them replacing Annual Reports more and more often, not always in the title but in the content, and they are incredibly effective at engaging donors, and instilling trust so they will continue to give.
Heart to Heart International's Annual Report is a great example of showing impact. ActionAid's Annual Report is another great example.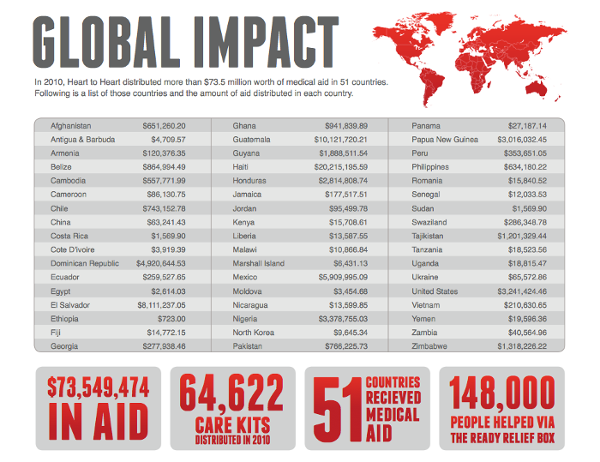 3. Story Telling
Another theme you might want to consider is using case studies to tell stories. Ensuring there are active 'voices' in your document (service users, volunteers, staff, partners etc) can really help give character to your annual report. It helps demonstrate the impact and value of your organization and the difference you make to people's lives.
Think about how you can communicate their experiences. You can use quotes, images and multimedia – perhaps a podcast or short video. This Annual Report from Crisis does a really good job at story telling and is worth a look.
Don't Overdo It
While the examples above include animations, custom layout, and custom graphics, don't feel like you need to go to these lengths in order to produce a quality, themed annual report. While larger organizations can get away with spending big bucks on the presentation of their annual report, in smaller organizations, most donors would see this as an unwarranted extravagance.
You can certainly get the message across on a much smaller budget. And if you need some help with creating infographics, easelly is a really great free tool. Also, you can check out these 50 great designs compiled by blogger Francesco Mugnai to get some inspiration.
Final Notes
On top of making the report interesting, engaging, visually stimulating, you also want to ensure it's easy to access, easy to understand the numbers, and is available in multiple formats. We recommend having it available online, as well as mailing the full version to large donors and at least a postcard version to everyone else.
5,2,1