Salesforce has a fantastic program for nonprofits that includes 10 free licenses. It also offers robust functionality and a wide selection of apps that integrate with the CRM.
Many nonprofits, however, greatly underestimate the amount of time, money, and effort involved in the setup, training, and customization required to get Salesforce working for their nonprofit.
If you're a larger organization with the time and resources to invest in getting it up and running, Salesforce might be a perfect fit, but for smaller organizations that don't have the same time and resources to dedicate, there's an alternative: Sumac CRM.
Here's a comparison of the two based on cost, configuration, reporting, and website compatibility, so you have all the information you need to make the right choice for your nonprofit:
1. Cost Salesforce for Nonprofits
Salesforce is very appealing to nonprofits because they have a great program that offers 10 free licenses (user logins) to eligible nonprofits.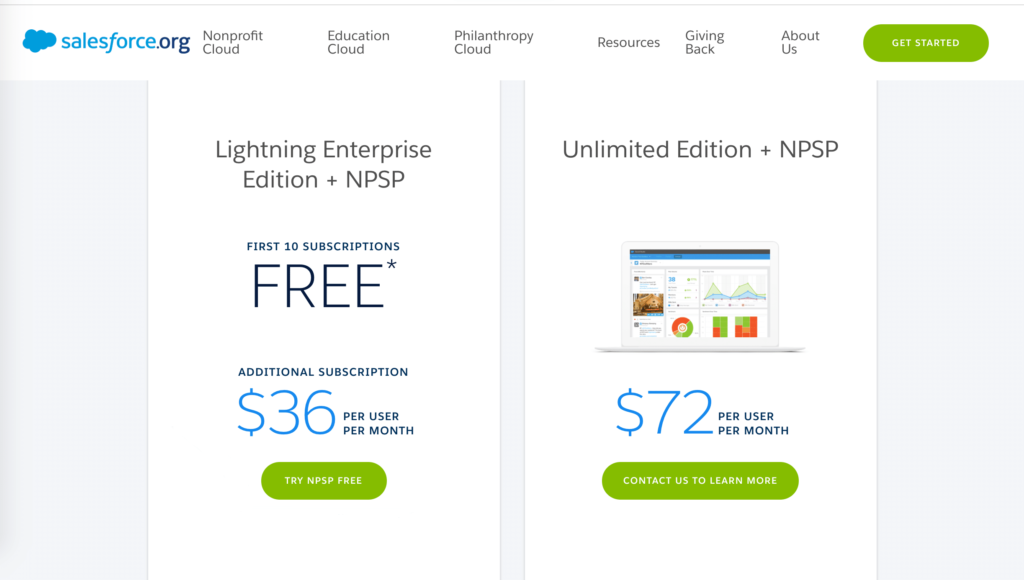 The problem is, nonprofits assume free licenses = free, and that's not at all the case. As the saying goes, Salesforce is "free like puppies." 
What this means is that while it may appear free upfront, there are many costs associated with it.
For starters, your nonprofit will need to hire a consultant or dedicated Salesforce administrator to set up the CRM. Salesforce consulting firms charge anywhere from $30,000 – $40,000 for smaller projects, $40,000 – $80,000 for mid-range projects, and $100k + for complex, large-scale implementations.
On top of this, you have to consider the costs for:
Ongoing administrator training
Apps to get standard functionality like payment processing, gift receipts, donation forms, and Quickbook integration working
Ongoing support, development, and customization
Sumac CRM
With Sumac CRM, there are no setup, customization, or support costs. You can purchase the Basic CRM with all these support services included for one monthly fee, ranging from $35-$250/month.
The Basic CRM comes with all the standard functionality you need built in, including contact management, donations, event management, QuickBooks integration, and receipting.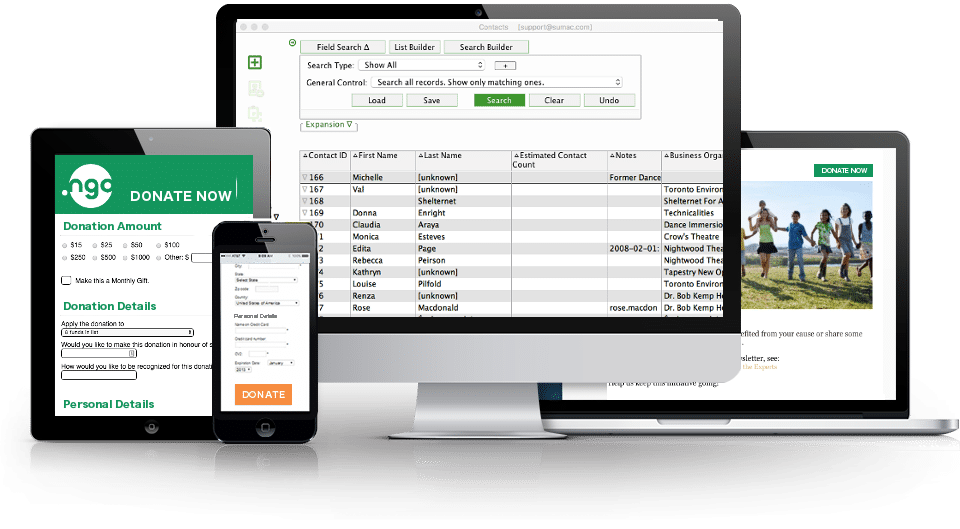 And if you have unique programs and data, Sumac also offers a wide range of Add-ons ranging from $60-$120/month, including a Custom Add-on that we will configure to meet your exact needs at no additional cost.
All updates are installed automatically, and are always free for all users. Training, and unlimited live phone support are also free for all users.
2. Setup & Configuration
Salesforce for Nonprofits
When it comes to setup and configuration, an important distinction to make is that Salesforce was built specifically for sales, not nonprofits or fundraising. What this means is that it will require a lot of customization to get it up and running for your nonprofit.
The good news is, any amount of configuration, and integration is possible. In fact, one of the attractive things about Salesforce is the AppsExchange that allows for almost any conceivable software integration.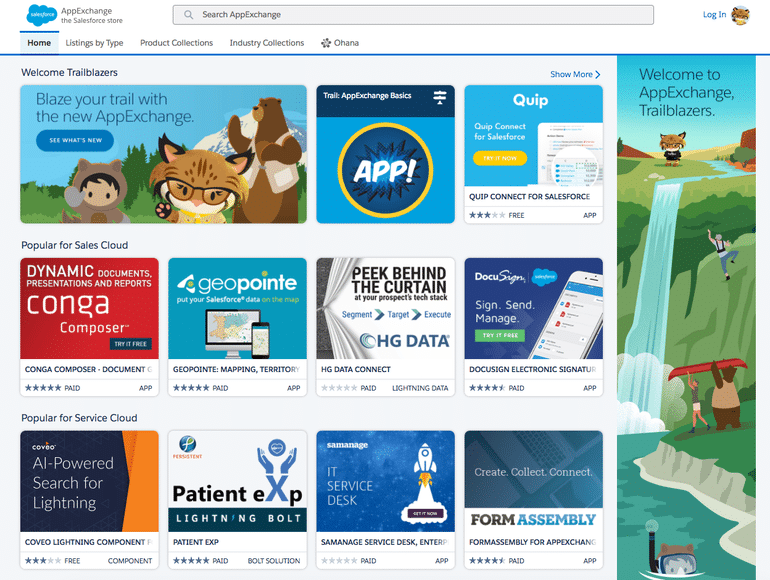 Salesforce for nonprofits is not, by any stretch of the imagination, an out-of-the-box solution that you can start using right away, but if you've got the time, expertise, and money to spend, you really can make it do just about anything.
You just need to be aware of what you're getting into; you are essentially building and customizing your own CRM.
Even with Salesforce's Nonprofit Success Pack (NPSP), which is the most widely adopted by nonprofits, there is a 57 page report to explain how to make it work for nonprofits. 
Sumac CRM
Sumac, on the other hand, was designed specifically for nonprofits, and is an out-of-the-box solution that you can start using right away.
It comes with the basic integrations built-in: Quickbooks, MailChimp, and our own Donation Pages. Besides the basic nonprofit functionality like: contact management, donations, events, campaigns, and receipting, Sumac also offers 10 Add-on options, including Case Management, Memberships, and Course Registration.
Every single part of Sumac already works together seamlessly without costly consultants and integration work. 

For nonprofits with specialized needs, setup and configuration is still much faster and streamlined than with Salesforce. Sumac offers a lot of configuration options, and Sumac's Gurus will configure your CRM for you during the Data Migration process, if you opt for that service.
And if you have unique programs and data that fall outside of the standard Add-on options and configurations, Sumac CRM offers a Custom Add-on that can do just about anything! Here are just a few examples of Custom Add-ons we have configured for nonprofits with unique needs:
Track food recipients for a food bank
Track interventions for a family counselling organization
Track clinical records for a hospice
Track bookings for facilities
3. Reports
Salesforce for Nonprofits
Salesforce offers powerful reporting tools. However, like almost everything in Salesforce, it's going to take some effort to get them working for standard nonprofits needs.
If you do opt for the Nonprofit Success Pack (NPSP), there are some very nice reporting options for nonprofits.
There are consulting websites featuring training sessions on how to find, format, and customize these NPSP reports. 
Sumac CRM
Because Sumac was built specifically for nonprofits, there are hundreds of standard nonprofit reports built right in.
Sumac has also just released Insights Dashboards, a powerful analytics tool that lets you create customizable dashboards, and striking, interactive visualizations of your data in seconds.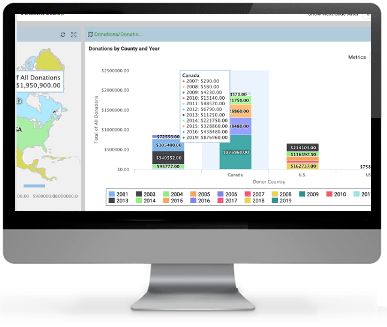 Insights comes free with every installation of Sumac CRM, and the reporting is designed specifically for nonprofits.
4. Donation Pages & Website Compatibility
Salesforce for Nonprofits
A great CRM solution shouldn't just offer internal tools, but integration with donor-facing forms, and donation pages that live on your website.
When it comes to these webforms, Salesforce does have a lot of integration options.
Soapbox Engage, for example, offers a donation app that integrates with Salesforce. According to their website "Using the Soapbox Engage platform, you can quickly and easily create a customized donation page for your organization, increasing your online conversion rates through some of the best practices we've built into our Donations app."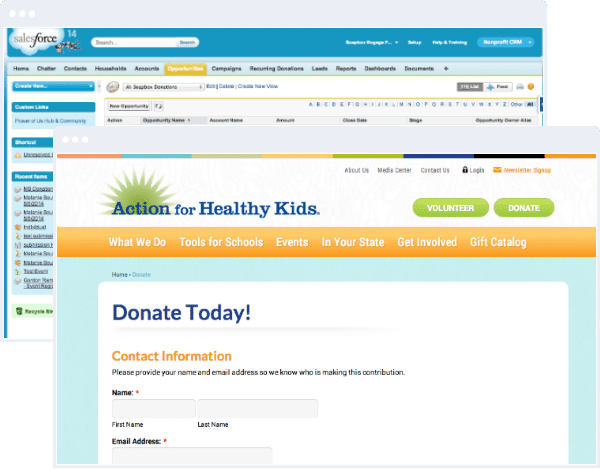 The app costs:
$49/month +
$500 platform activation +
$1,000 customization to match the look of your website +
1.9% on top of standard credit card processing fees
If you want any other webpages, like signup forms, it will cost another $49/month. Sumac CRM
With Sumac, you don't have to worry about finding a donation page that integrates. All our Webpages work seamlessly with the Sumac CRM, and are available in one package for $85/month.
We take care of the customization, so the pages have your logo, colours, and match the look and feel of your website, and there are no set-up or customization fees.
We also don't take any processing fees on top of the standard credit card processing fees. It's our way of giving back to charities, and maximizing the funds that go to their causes.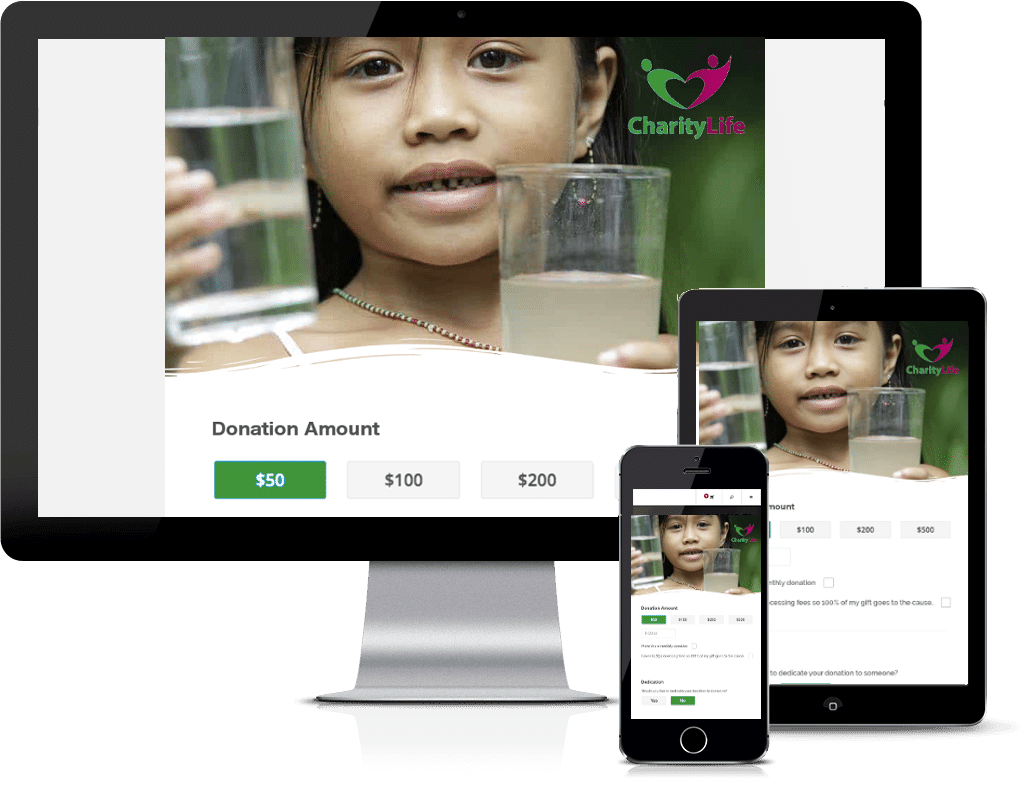 When someone comes to your website to make a donation or fill out a form, all the information is automatically captured in your database without you doing a thing.
You can also set up receipts to send out automatically to donors from your database when someone makes a donation.
Conclusion
If you're a smaller nonprofit, without the time and resources to invest in building, and customizing a CRM solution, before you get persuaded by the 10 free licenses, and jump on board with Salesforce for Nonprofits, consider Sumac CRM. It might just be the better option for you!
Learn more in Choosing a CRM for Your Nonprofit: A Complete Guide 
Request a Demo of Sumac