With Giving Tuesday approaching, this is one of the busiest periods for most nonprofits.
Somewhere between planning the campaign, defining campaign goals, building momentum around your cause, and managing donor relationships, one tends to overlook one of the key drivers of campaign success — internal communication.
According to a Stanford Social Innovation Review article, "good internal communications aren't an after-thought; they require the same strategy, planning, and execution that go into external communications."
A lot of teams are still working remotely, which is why it is important to ensure that you communicate the Giving Tuesday campaign plan to your team effectively.
Don't rely on verbal or written communication. Use visuals to make information more engaging while getting your message across.
Let's take a look at the five types of visuals you can use to align your team on this year's Giving Tuesday campaign plan.
1.  Send out an internal memo
Imagine launching your Giving Tuesday campaign and having the larger team come to know about it through external channels? That is just poor internal communication.
After narrowing down on the campaign plan, the first thing you should do is send out an internal memo to the entire organization, informing them about the campaign plan, purpose, and strategy.
Make sure you don't send out a memo filled with large chunks of paragraphs because there's no way it's going to be read. Instead, use short and descriptive headings along with bullet points to make the information easy to scan and read.
You can write the memo on your nonprofit letterhead to keep the branding consistent. Here's an example of a memo template you can use.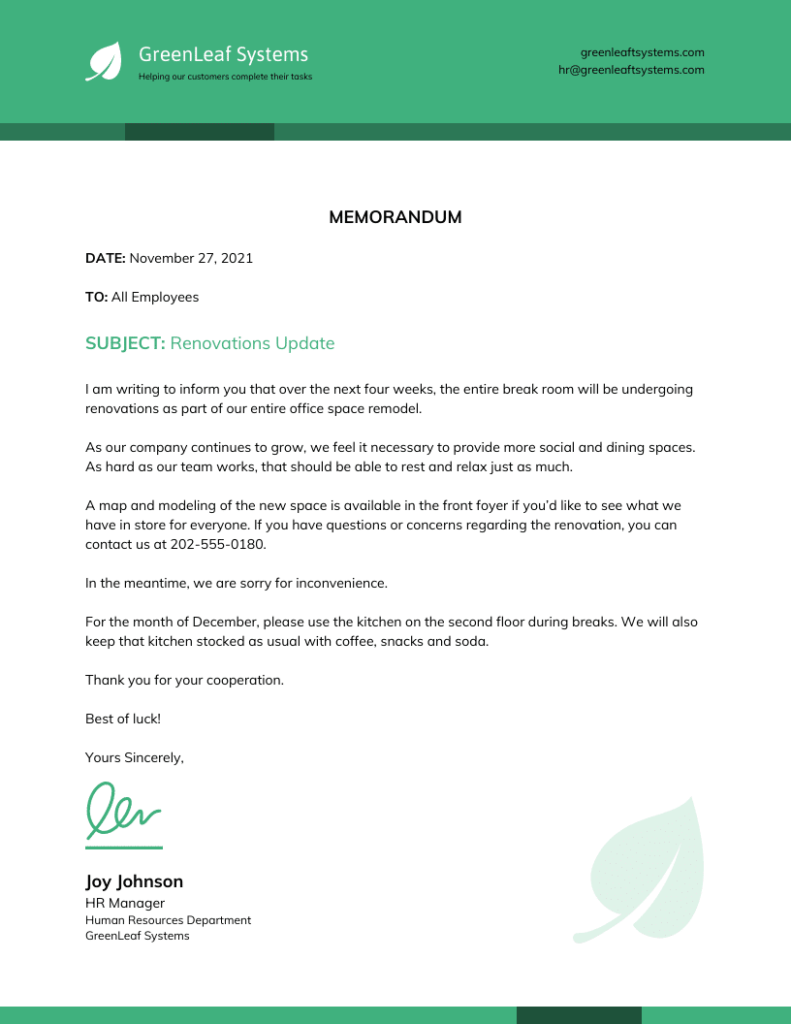 2.  Create a roadmap for your marketing plan
From content marketing, social media, and email marketing to partnerships and public relations — your Giving Tuesday marketing plan is sure to have several components.
The best way to present this information to your team is by creating a roadmap. You can break down the strategies into different time periods while giving a detailed view of the entire plan.
This organized way of communicating the marketing plan makes it more approachable and easier to tackle.
Take a look at this marketing roadmap workflow. Notice how it categorizes the tasks month-wise and goes into the details without overwhelming the reader.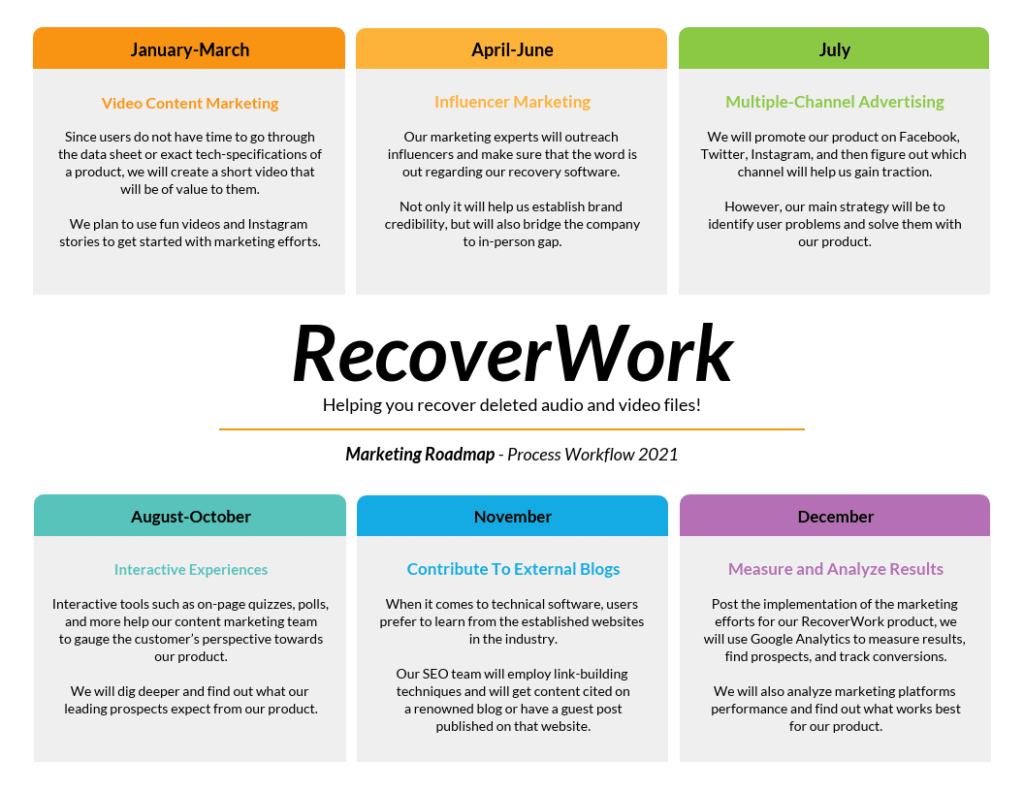 3.  Highlight individual responsibilities with an organizational chart
One of the biggest reasons why projects fail is the lack of accountability which comes from not defining the roles and responsibilities of every team member clearly.
"Building a community where team members are accountable can instill the right values across the board and inspire continued growth," states a Forbes article.
The last thing you want is project delays and your team pointing fingers at each other during a crisis.
Creating an organizational chart is a smart tactic to create a team structure and communicate individual responsibilities. This helps everyone understand the chain of command and take accountability for their respective actions.
Here's an organizational chart template you can use. Instead of writing their designation, you could mention the tasks they are responsible for such as creating social media posts, designing the Giving Tuesday landing page, sending the event invitation email, doing PR outreach, etc.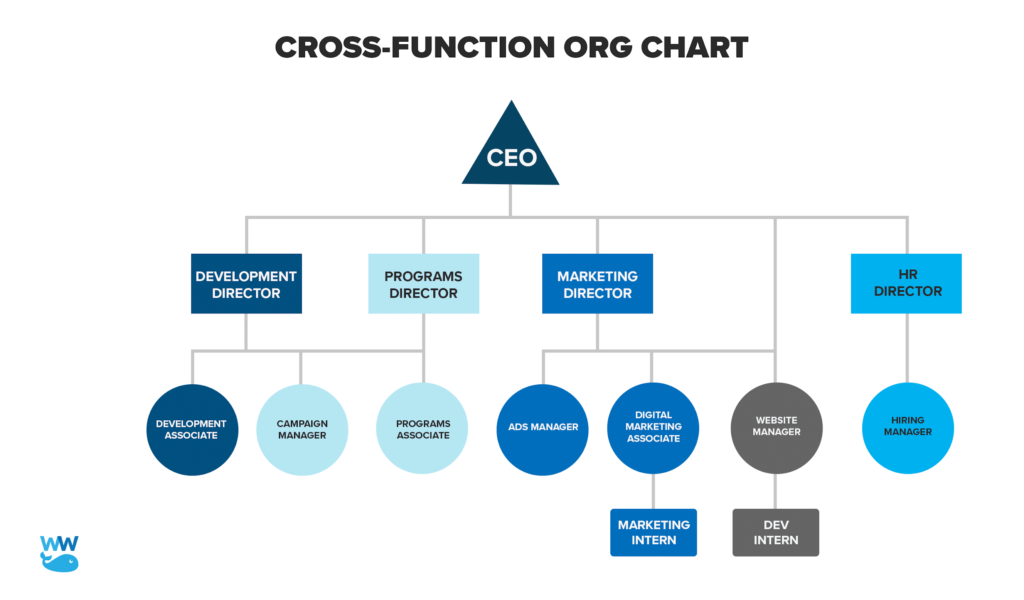 4.  Use a timeline to track progress
Running a critical campaign such as Giving Tuesday is never easy. With limited time and several moving parts, what can help improve collaboration and ensure success is having an organized approach towards tracking your team's progress.
Create a timeline and sum up the tasks leading to the final day. It serves as a guide from project inception to completion and gives the team a clearer view of the tasks that need to be completed week after week.
Here's an example of a timeline template.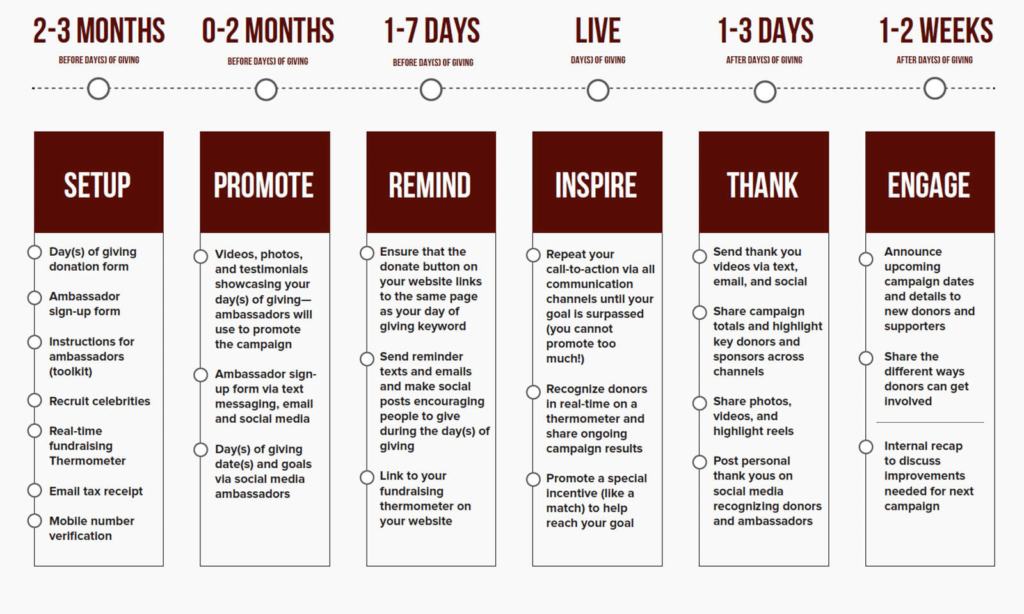 5.  Visualize reporting with a project status report
As Giving Tuesday progresses, you will have donations pouring in. Make sure you identify the metrics you want to track and report these metrics to the larger team regularly.
Not only does this let you see what's working well but it also motivates the team to keep moving forward.
It's a good idea to create a project status report to visualize reporting and communicate impact. You can also compare the week on week performance metrics to understand how you can improve the strategy to reach your goals faster.
Here's an example of a one-page project status report you can create to keep everyone informed and charged up.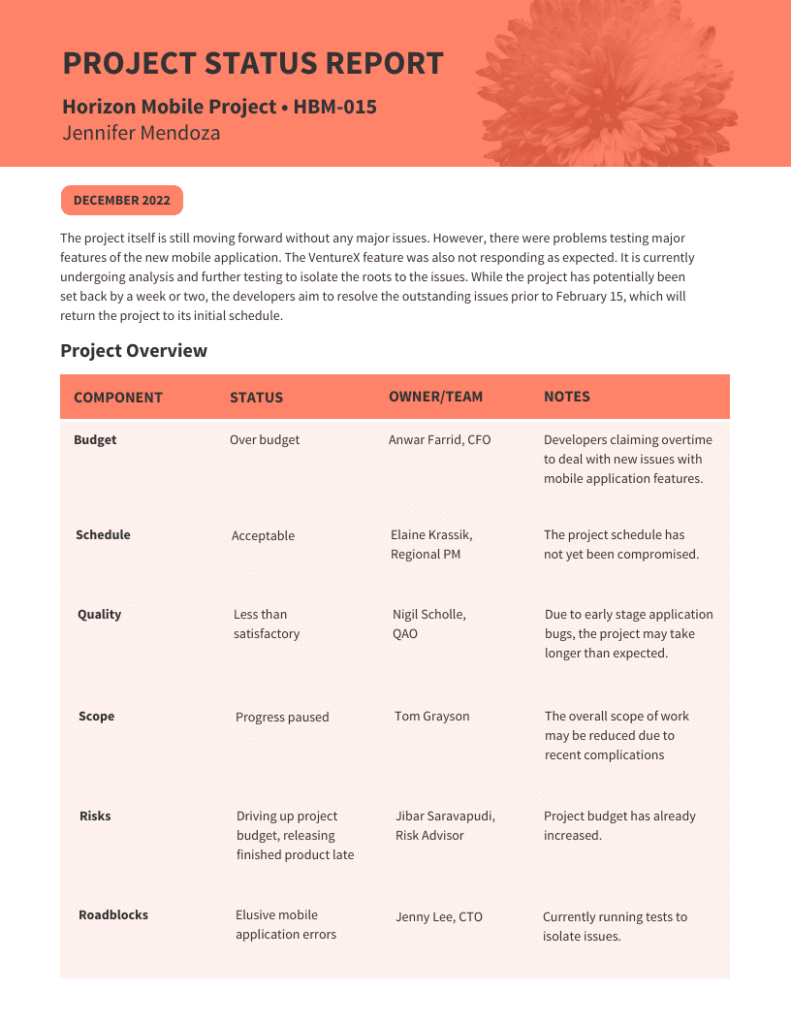 The takeaway: master Giving Tuesday team communication with visuals
The success of your Giving Tuesday campaign largely depends on how aligned your team is and that stems from effective team communication.
Implement these visual tactics to communicate with your team and provide clarity at every step of the way to keep them motivated and improve collaboration. Looking for more infographic tools? Check out: 10 Tools for Creating Nonprofit Infographics