In 1994, when Friends of the Earth's litmus paper billboard changed color to highlight the effects of acid rain, it certainly got my attention. It was the first time that I paid heed to Ambient (or Guerrilla) marketing.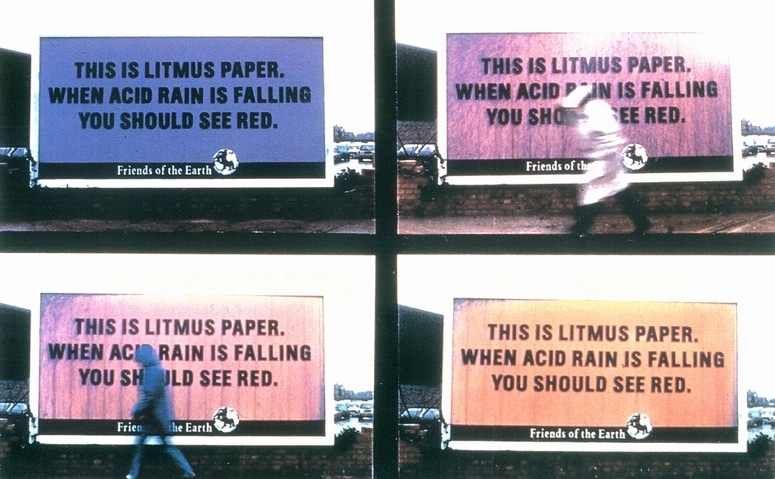 The central idea behind ambient marketing is to generate a conversation, to cause a stir, so awareness can spread either by word of mouth or through social media and even regular media. In a digital world where people love to share, this is something we should all pay attention to.
Ambient marketing uses stealth, increases buzz and is part of ambush tactic to gain publicity for a product or service so that it can go viral online and be in the news. Best of all it is a relative cheap way to get attention for a nonprofit.
Well here are a few other ideas to get you inspired:
1. Parkinson's Victoria used "Skill Tester" in malls
The slowness and shaking limbs often associated with Parkinson's disease can make simple, everyday tasks virtually impossible. For non-sufferers it's difficult to comprehend an existence where opening a carton of milk or using a telephone is an impossible task.       
To help people experience for themselves this lack of physical control, an arcade style skill-testers with everyday objects were placed around Melbourne, collecting $1 coins to also help fund Parkinson's Victoria's research.  The Result: In the first 12 hours, they collected over $5000 and raised awareness for the cause.
2. Alzheimer's Germany handed out maps to people
The maps had no street names. Alzheimer's Germany did this to show what it feels like to be perplexed when one loses one's memory. These maps were placed in hotels, bars, tourist information posts.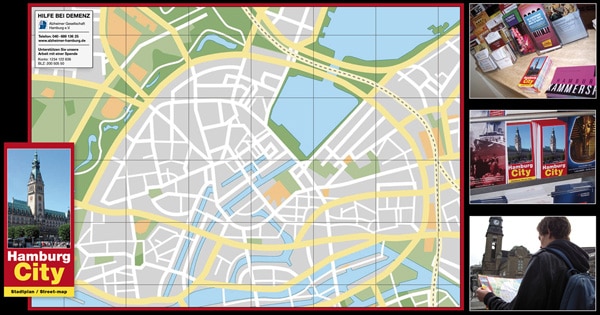 The Result: A 19% increase in calls and a 5% increase in donations.
3. An Anti-Drinking & Driving Campaign got people's attention
A charity called HELP in Malaysia, along with its advertising agency, took parts from a car that was wrecked in a drunk driving accident and fashioned a wheelchair out of the parts.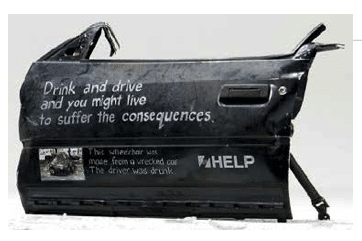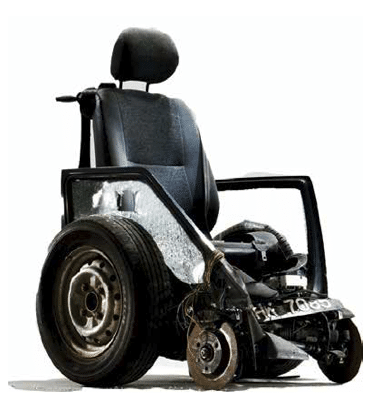 They then displayed it at a college where this hard-hitting message caught the attention of students.
The Result: They put up pledge board alongside the above items for students to sign. In one month, over 10,000 signed the pledge.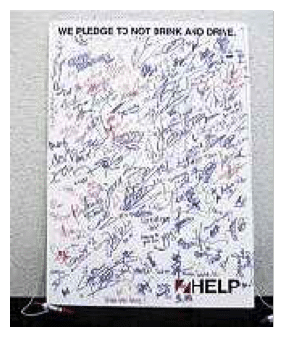 4. Refugee Aid, Belgium, changed the law
In 2009, Refugee Aid Belgium was concerned about the arbitrary criteria the Belgian government was using to decide which refugee could stay and which refugee had to be expelled. Due to a lack of legal guidelines these life changing decisions were based on no more than appearances of the people applying for asylum
To show the absurdity of this law, the charity asked local citizens to be the jury and experience the inefficiency and absurdity of the procedure.  They placed five real refugees in a glass house in the centre of Brussels.
Passers-by were then asked to participate in The Refugee Game Show and vote for their favourite refugee.
Only the chosen could stay in Belgium, the others were to be deported. Just like the government officials, the passers-by had to make snap judgments based on just a few simple facts: name, age, place of birth and most important of all—looks.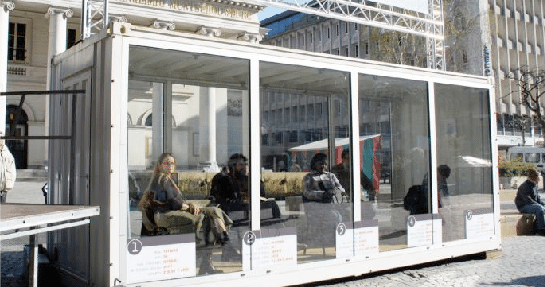 People were asked to vote on the website, the website got flooded with votes but also outraged emails. The glass house appeared on every news broadcast, made every newspaper and hundreds of blog-sites.
The Result: The media pressure was so strong that during the formation of the new Belgian government in 2010, the first policy all parties agreed on was the urgent reform of the Belgian immigration policy. They nonprofit couldn't have asked for more.
5. Israeli Food Bank demonstrated food waste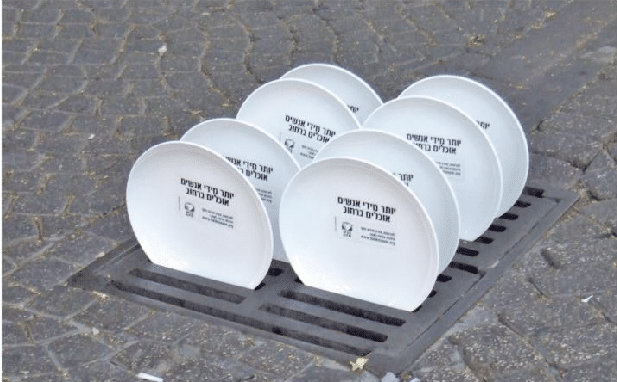 Israeli Food Bank wanted to demonstrate the cruel reality that good food is being wasted daily.  They placed plates in steel sewer grates "Plates in drains" on main streets with a message to that effect.
The Result: The campaign created an enormous buzz; it led to a huge increase in the number of visitors to the website and in the amount of donations made to the organization.
6. Global Angels:  Asked for help for someone far away
This campaign was created by students. Everyone helps someone nearby, but not always someone far away.
This was the premise of success for the Gold Young Lions winners in Film at this year's Cannes International Festival.
In under 60 seconds with no more than a Nokia N8 camera, each team recorded students walking through town with grocery bags and falling in front of bystanders. The bystanders were quick to help and then they were thanked with a card with the Global Angel message.
Here's the video.
7. The Bridal Uniform highlighted the problem of child marriage
The charity used a fashion show to highlight the problem in Pakistan where 25,000 school girls become child brides every year.
Here is the video.
8. Women's Aid – London proved that, if you can see it, you can change it
The idea behind this powerful campaign: don't turn a blind eye to domestic violence. It only takes one person to notice the problem to start making a change.
This London campaign used the power of technology. Using facial recognition technology, it could detect when someone is looking at the poster and when they do the bruises begin to heal. The more people looked at the poster, the more the face began to heal and return to normal.
This poster raised awareness of domestic violence and the role of Women's Aid and showed people in a really clear way that they have the power to end domestic violence.
The Result: Everyone in proximity to the poster received a message via WEVE that encouraged them to donate to the nonprofit.  
Here is the video.  Women's Aid from Ocean Outdoor on Vimeo.
9. Fashion Revolution – Berlin showed that people care when they know
People want fashion for a bargain. But this campaign wondered if people would still buy things if they really knew how it was made, so a T-shirt booth was set up in a central square in Berlin selling T-shirts for €2.
When shoppers inserted money, images of the women making the cheap clothes appeared on the screen showing their poor working conditions and the low pay they receive.
The shopper were then asked if they still wanted to buy the T-shirt or wanted to donate the money instead to help these workers. This is a good example of influencing consumer donation behaviour by tapping in to the shared compassion and humanity we have for one another.
Here is the video:
10. A bus shelter highlighted domestic violence
Amnesty International placed an eye-tracking camera in a bus stop with a poster of a happy couple. When no one was looking the image of the couple changed to a scene of domestic violence.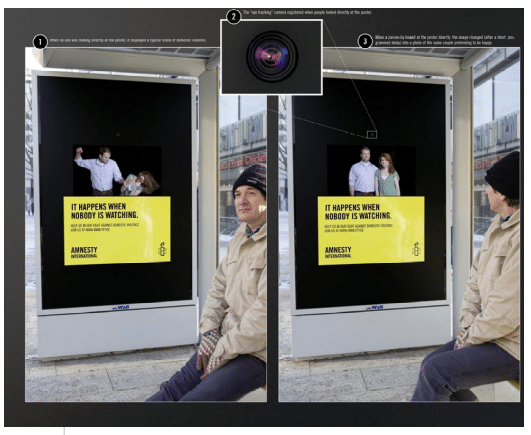 When people felt that the image changed in the corner of their eye, and looked at the poster again, the image changed back to a happy couple after a pre-programmed time.
The message: Domestic violence happens when no one is watching  
11. Swedish Childhood Cancer Foundation got attention
In 2014 a Swedish subway ad for a shampoo got a lot of attention by showing a woman's hair blowing in the wind whenever a train arrived. This inspired another attention-grabbing display by the Swedish Childhood Cancer Foundation. I'll spare you any spoiler alert. 
Here's the video.
In conclusion: Today, traditional advertising methods are unaffordable to many charities and they don't work nearly as well as they used to. This should make Ambient a compelling strategy for driving targeted engagement, and getting your message across.
Its relative newness to the array of marketing choices means that trial and error are inevitable, but as charities experiment and adopt more advanced targeting techniques to reach new donors, since acquisition of new donors is getting harder, this type of outreach will continue to make strides, so I recommend it highly.
Finally, because it's harder than ever to capture today's younger audience's attention span for more than a split second. So perhaps Ambient is the solution.