Get better online fundraising results from your nonprofit website with these nonprofit website design best practices.
We've included several examples of nonprofits who are leveraging their nonprofit websites for online fundraising.
1. Prominent Donate Button
To increase your online fundraising, ensure that a 'Donate Now' is in a prominent place on your website and is easy to see.
Most nonprofits have their donate buttons in the top right of the navigation bar and donors are conditioned to look there, so this would be the best place to put your button when designing your nonprofit website.
Using contrasting colors is a great way to draw attention to your donate button. Second Harvest Food Rescue, for example, made their donation button red so it really stands out, even though their brand colors are green.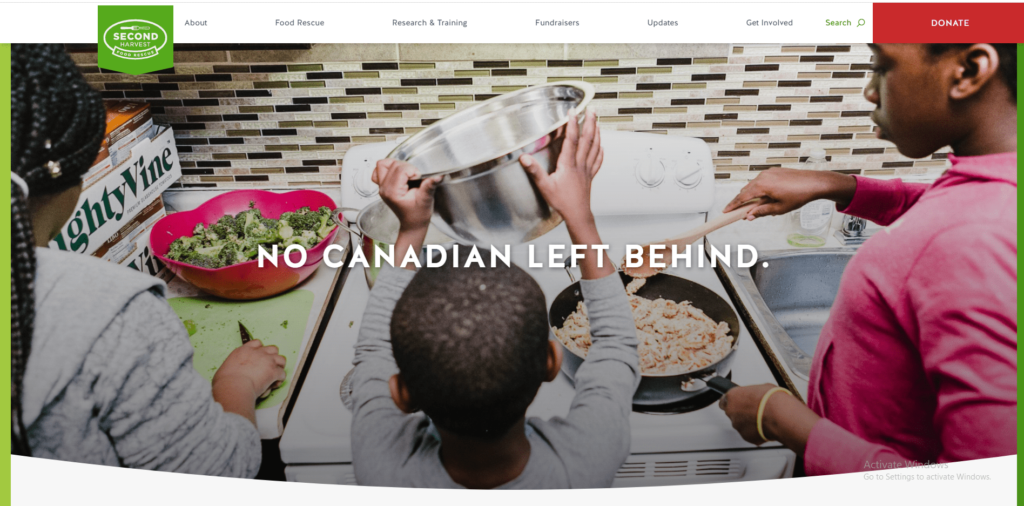 2. Showcase Security
When it comes to online fundraising, trust and security are really important for donors. According to Interac Canada, 60% of Canadians are more worried about fraud than ever before, and this trend is present in other countries as well.
When donors come to your nonprofit's website, they want to know that their transaction is secure.
Here are some easy nonprofit website design best practices to showcase trust and security to increase online fundraising:
Include your charitable registration number on your nonprofit website and donation pages
List any accreditations or trust markers associated with your nonprofit
Call out transaction security on the donation page
See how the Charity: Water donation form has secure payment and privacy markers right under the donate button.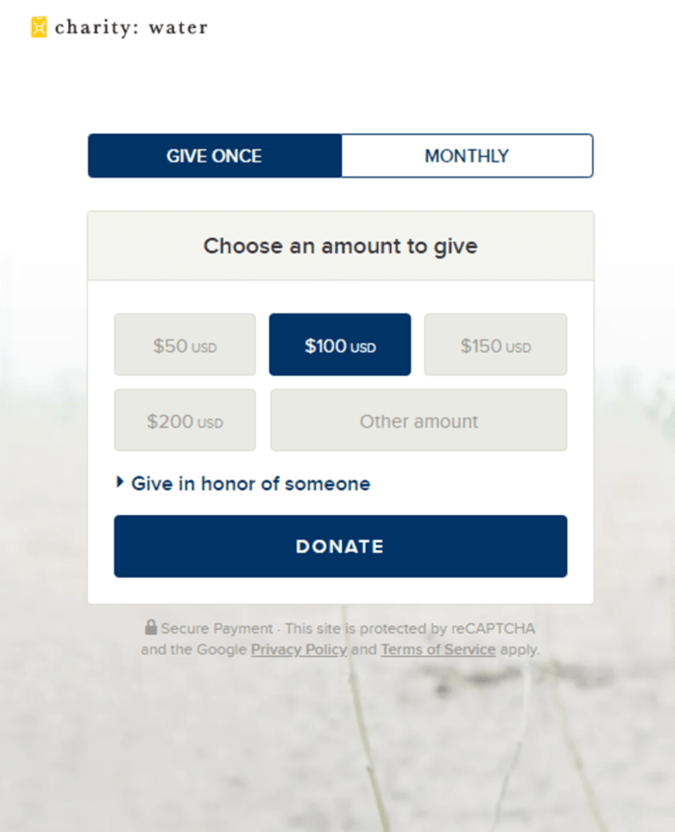 3. Lightbox Pop-ups
You can use lightbox pop-ups on your nonprofit website to direct attention to online fundraising.
A lightbox appears while a user is browsing a web page, it fills the whole screen and requires the user to close it before they can continue.
Lightbox pop-ups are a powerful nonprofit website design tool to increase online fundraising, because they are impossible to miss.
Here's a great example of an urgent call to action from The Humane Society of the United States aimed at increasing online fundraising.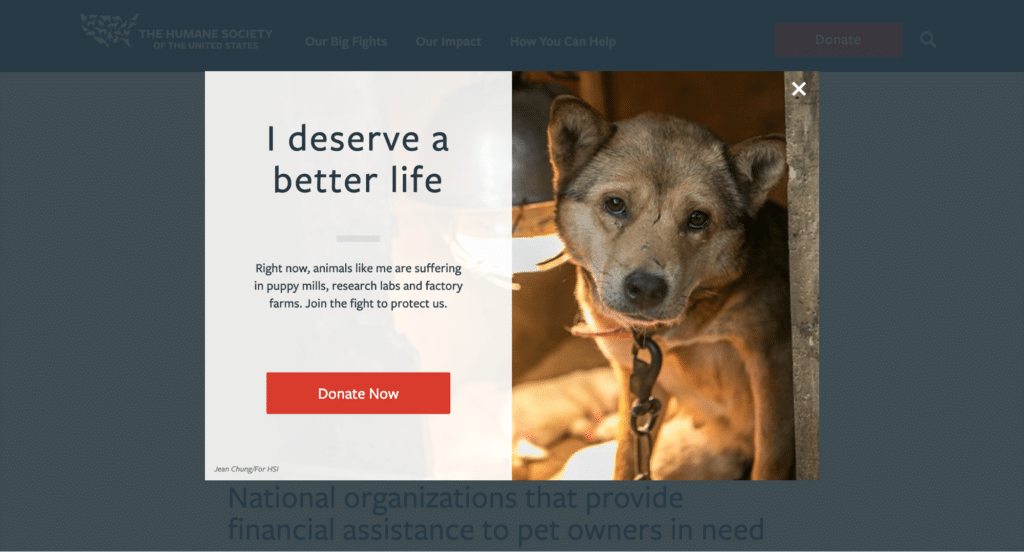 Lightbox pop-ups are ideal for urgent situations. Here are some occasions when you would want to employ an online fundraising lightbox pop-up as part of your nonprofit website design:
Important online fundraising campaigns like year-end
Special offers like a matching gift campaign
During emergencies that your nonprofit is responding to like natural disaster relief
Just remember that pop-ups on your nonprofit website can be annoying if they are overused. This is a nonprofit website design tactic that you want to use sparingly for special offers and for a limited time.
4. Integrated & Branded Donation Form
One of the best nonprofit website design best practices to increase online fundraising is to use an integrated and branded nonprofit donation form that matches your nonprofit website and eliminates friction.
Here are some nonprofit website design best practices for limiting friction on your donation form to optimize online fundraising:
Define pre-set giving amounts to make it easier for donors, but also give them the option to enter a different amount
Don't send donors away from your website to make their donation. Donation forms that are embedded on your website like Sumac's convert much higher than donation forms that live on a third-party website like PayPal.
Make sure it looks like your nonprofit website pages and not a third party by using similar language, colours and images on your donation form that you have on your website
Brand the form with your logo, your colours and your messaging
Showcase your mission through impactful copy and images so it's clear the donations are to support your nonprofit's mission
There's no doubt that donations made through this form are supporting Doctors Without Borders: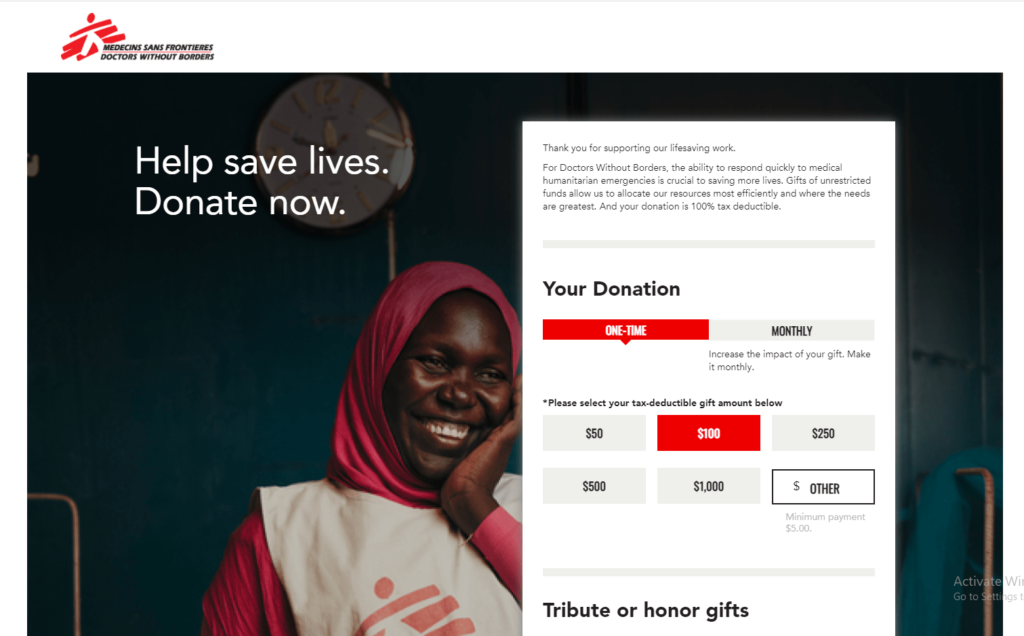 Depending on the online fundraising platform that you're using, making your donation form look like your nonprofit website design can be challenging. Using a platform like Sumac donation pages is a great way to overcome these challenges.
Sumac integrated donation pages give you the ability to customize the appearance of the donation form so it matches your nonprofit website and brand. These donation pages integrate with Sumac CRM, so online donation information is captured instantly and receipts are sent out.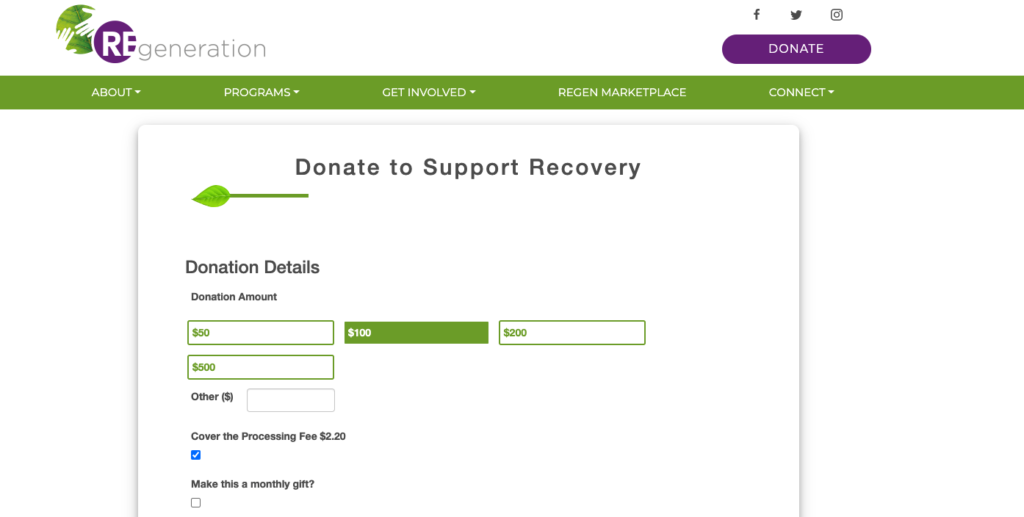 5. Use Your Blog for Online Fundraising
If your nonprofit website design includes a blog where you post mission-related content, you can use this content to promote online fundraising. Make sure the fundraising ask is related to the content to have the most impact.
Here's an example from UNICEF. This is a blog post about the Earthquake in Haiti and they have linked an online fundraising ask on their nonprofit website.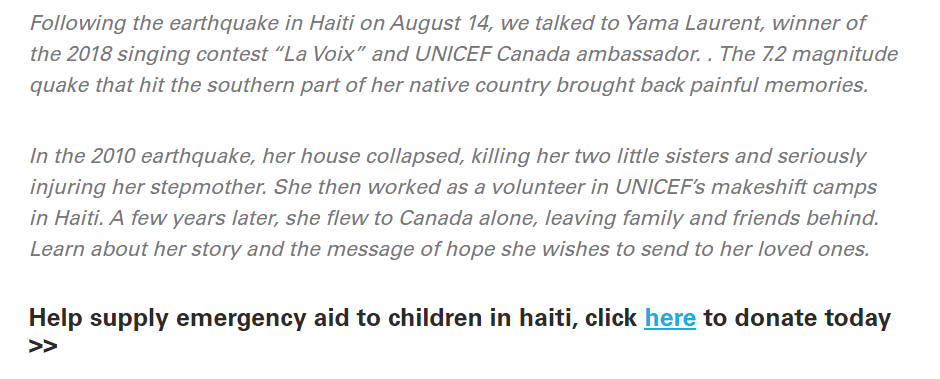 An even better nonprofit website design best practice is to pull in the source content to the donation form so the donor can support the area of your mission that they were just reading about.
That's exactly what UNICEF did with their nonprofit website and donation form.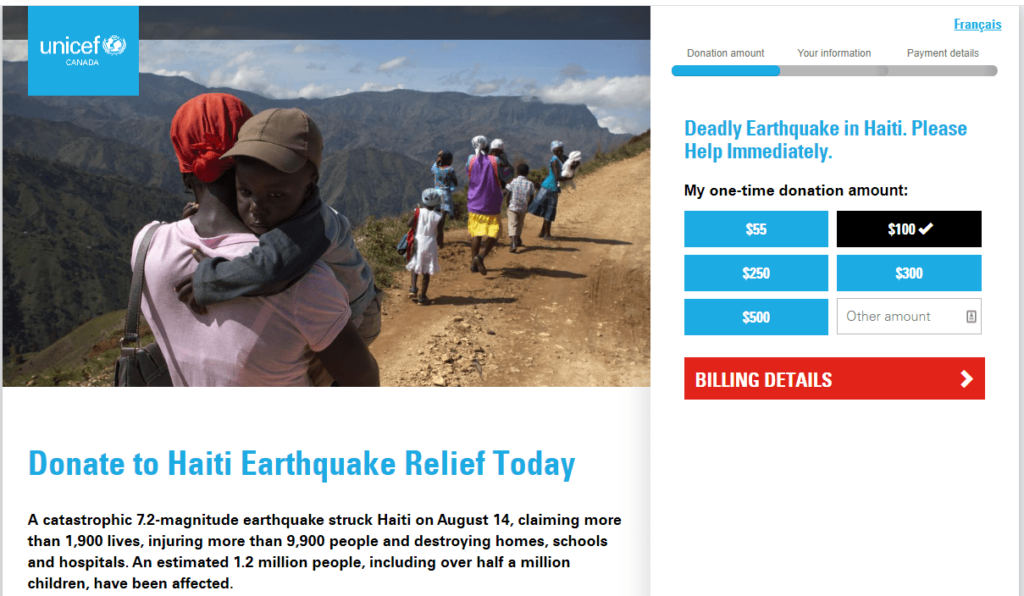 With these nonprofit website design tips you'll be ready to give donors a better online fundraising experience and happier donors mean more revenue to support your mission.