FREE TOOLS
Free Board Meeting Minutes Template
Download and use this free nonprofit board meeting minutes template to help with taking meeting minutes at all of your board meetings.
If you want more free board templates like this, sign up for a free My Board View account. This super simple board portal is 100% free for nonprofits and includes lots of really useful board templates.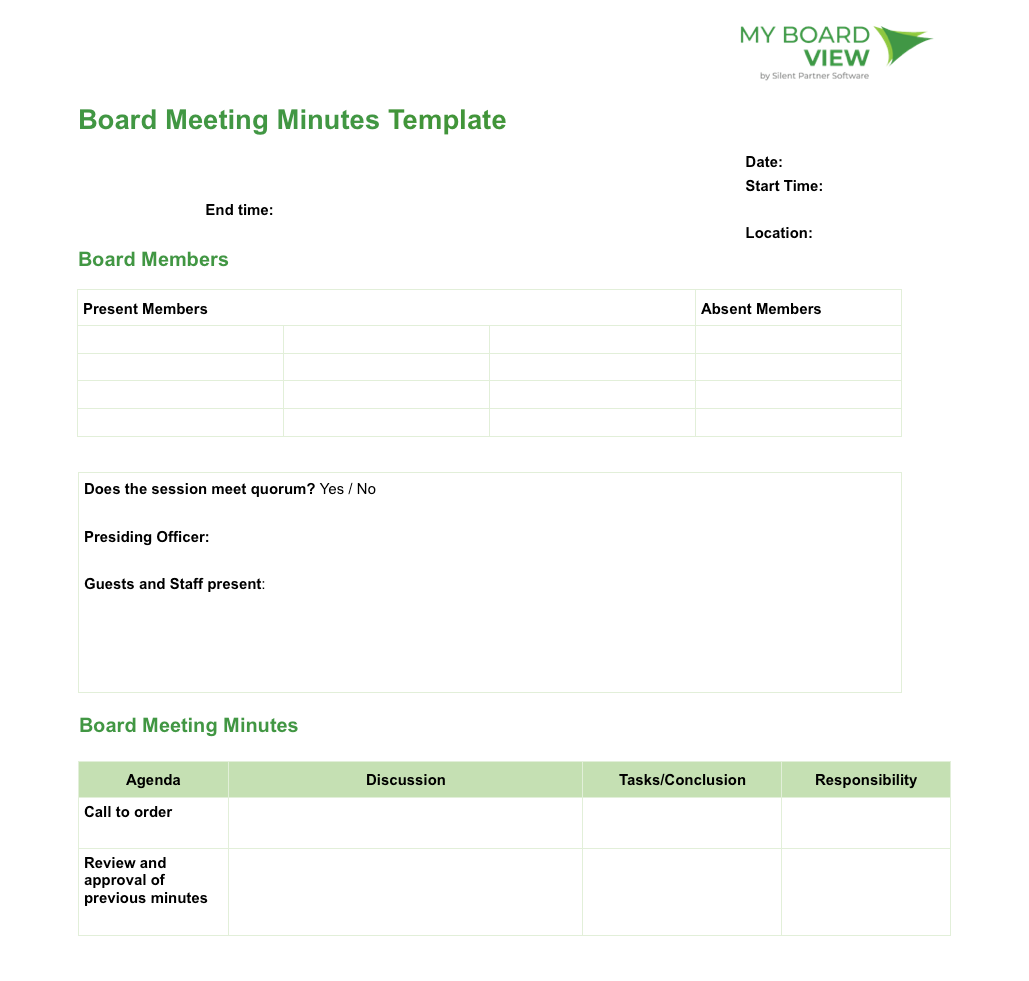 Get more free board templates in My Board View!
How to successfully record Nonprofit Board Meeting Minutes
Minute-keeping is critical to the success of nonprofit board meetings. But if you've ever taken minutes – you'll know it's a thankless job that's often overlooked!
Learning how to effectively record minutes at board meetings is worth the time and energy, though.
To help make things easy for your next meeting, we've put together this guide, which includes best practices and tips to make your minute-taking more effective than ever. What's more, we've also created a nonprofit board meeting minutes template so you can speed up your note-taking, and easily capture important updates.
(Click here to download our nonprofit board meeting minutes template and get started right away!)
Here's what we'll cover:
What are Board Meeting Minutes?
Board meeting minutes are a legal record of what occurs during a board meeting – usually noted down by the Board secretary or an employee appointed for the purpose. Minutes capture decisions regarding the organization, motions passed and key deliberations associated with items on a board meeting agenda.
Board meeting minutes don't record every interaction, but only document and summarize key discussions during the meeting. They also serve as a guiding document for your Board during planning and future decision-making for your nonprofit – so making sure your minutes clearly and succinctly capture agenda items is key.
Minutes also act as documentary proof that your Board has followed procedures, complied with relevant laws, and aligned their decisions to your organization's mission.
Once meeting minutes are drafted, they need to be circulated to board members and directors, signed by them, reviewed by a legal team, and safely archived for future reference.
How to take minutes effectively at Board Meetings
Minute-taking requires a ton of focus. Not only do you have to listen to everything going on in the room, you also need to take notes, record precise voting numbers and summarize it all in a way that captures key outcomes and discussions.
To make things easier, here's a few tips to make your minute-taking even more effective:
Be consistent
Board meeting minutes aren't just shared within your organization but also with external partners, shareholders, investors and regulators. This makes it even more important that organizations follow a consistent format, timeline and process for recording minutes. A nonprofit board meeting minutes template is one helpful way of recording everything consistently – and also makes sure you don't leave out critical details!
Do your prep!
Create or choose a nonprofit meeting minutes template well before your Board meeting and make sure you read through it carefully. You can also enter information you already know (like the date, number of members and agenda headings), so you don't have to fill in these details on the day. In fact, entering the agenda items beforehand can help you quickly make notes under the respective headings, and make it easy for you to sort through later. Finally, familiarize yourself with any additional tools (like audio recorders or tech systems) you might need during the meeting. Don't waste time figuring it out on the day!
Click here to download our Board Meeting Minutes Template!
Sit next to the meeting chair
If possible, try and sit as close to the board chair as you can. This will help you get immediate clarifications or quick details from the Chair – without disrupting the flow of your board meeting. Gathering key details during the board meeting will pay off in the end, helping you reduce the risk of inaccuracies and post-meeting back-and-forth. Of course, try and interrupt as little as possible – and only for a few key details!
Actively listen
Listening during the meeting is the most critical thing of all – don't assume you can take it easy if your board permits you to use a recorder (many won't). Even if you're allowed to record the meeting, paying close attention while you're there will help you compile your notes quickly and easily. Recorders also won't be able to capture the number of votes during decision-making and might not record every member clearly so you could end up missing critical inputs during presentations, discussions, and Q&A sessions. Try and avoid distractions as much as possible – for example, make sure your phone is on silent and refrain from looking at it during the meeting.
Get third-party validation
After you've drafted your board meeting minutes, ask a third party (ideally, someone who isn't on the board) to tell you whether you have been biased or included language that isn't objective. To ensure you're not disclosing any sensitive or confidential information to those who shouldn't have access to it, ask your executive director or a staff member to validate your minutes.
Best practices for Board Meeting Minutes
Here are five best practices you should follow while taking board meeting minutes:
1. Capture key points for future planning and decision-making
One of the key purposes of nonprofit board meeting minutes is to easily recap what happened earlier. This helps to reduce the time spent reviewing old business and learning what happened in past meetings as well as provides clear action items and conclusions for planning and implementation.
Your board members are there to make decisions that will affect the health and future of your nonprofit – so you want to make this as easy as possible. Make sure your minutes effectively capture what was addressed in the meeting, the designated next steps, and those responsible for upcoming projects. You should aim to create minutes that succinctly capture your board's focus and decisions, with enough context to be clear to anyone referring to past meeting notes.
2. Start gathering information before the Board meeting
Before the nonprofit board meeting begins, make sure you've already compiled (and entered) information about attendees, guests, and any speakers or special presentations. Make sure you receive presentations well before the board meeting to make sure there aren't any technical glitches at the last moment. You'll also need to review the past meeting's minutes and gather any documents relevant to previous meetings. Finally, you should also note action items and decisions to review and make sure they are part of the agenda for the current meeting.
3. Get the same person to take minutes
Make sure there is one person (usually the Board secretary) who will take minutes for all your nonprofit board meetings. This will almost always lead to stronger, clearer board meeting minutes, since the person will be familiar with the process. Having a single person for all meeting notes is also an easy way to ensure consistency in the minutes. Make sure the person is well prepped before the meeting and has all the tools, information and any training they might need before the meeting starts. You might also consider appointing a backup in case of emergency.
4. Write as objectively as possible
Nonprofit board meeting minutes must always be written objectively – especially since such meetings often include controversial issues or contentious votes. In attempting to summarize these debates and arguments, you must be careful to avoid inserting your own opinion or inadvertently adding unnecessary comments or judgments. While proofreading make sure you weed out any emotional statements and stick to the facts.
5. Share minutes promptly and securely
Aim to proofread and validate the minutes as quickly as possible so nonprofit Board members receive the minutes while the meeting is still fresh in their memories. Doing this quickly will make sure you compile the notes more effectively and receive pertinent feedback. Board members often have multiple responsibilities and are more likely to be responsive (and stay engaged with your organization) if they receive minutes in a timely manner. Make sure your meeting minutes are easily accessible to nonprofit board members for future reference – think about using a secure cloud storage platform. Since meeting minutes often contain confidential information, it is important that they are stored with an appropriate level of security.
What you should record during Nonprofit Board Meetings?
Here's a few things you must record in your nonprofit board meeting minutes template:
The date, time, and location of the meeting
Note if it was a regularly scheduled or special meeting
A list of the presiding officer, directors, staff and any other attendees, including nonvoting participants with their names, titles, and reasons for attending
Whether a quorum does or does not exist.
A statement of whether the minutes of the previous meeting were read and approved
Mention any presented materials for discussion or review
An overview or summary of the meeting with key decisions and next steps
When the meeting was called to order and when it was adjourned
A record of motions, seconds, and whether or not the motion passed
Here's what you don't need to include:
Don't record discussions verbatim
Don't go into great detail about documents referred to during the meeting so members don't have to rifle through excess information when going through the minutes. Instead, note where they are obtainable (and include links if possible)
Don't include how individuals voted as this might cause board members to hold back.
Refrain from including small talk or political banter and unnecessary legal terms
Don't record side discussions or off-the-record comments. If there's an issue worth clarifying, note that directors took the time to discuss items that weren't on the agenda.
Bonus: Sumac's Nonprofit Board Meeting Minutes template
One of the easiest ways to make sure you stick to the best practices we've just outlined is to use a minutes template – especially if you're new to the process.
A standard board meeting minutes template will help ensure consistency, accuracy and create a document that's easy-to-read and actionable for decision-makers.
Click here to download our Nonprofit Board Meeting Minutes template!
Feel free to adapt the meeting minutes template above to suit your board's needs, since every organization is unique and may need to prioritize different information.
Between documenting key discussions, Q&As, voting decisions and writing this all up in an easy-to-read, presentable format – writing nonprofit board meeting minutes can be tough. If you're unsure where (or how) to start, use the nonprofit board meeting minutes template above to make it easy!
Discover all of the Silent Partner Software Solutions