For many organizations, having a fully integrated phone system is not in the budget. A solution some are starting to consider is voice over IP (VOIP) phone systems. VOIP phones allow you to make a call anywhere as long as you have an internet-connect phone or computer.
Main Benefits of VOIP Phones
Once configured, it is easy to add phones and remove phones. Many nonprofits grow quickly or scale back to it's easy to adjust as the size of your organization changes.
Features, features, and more features. VOIP software enables your organization to have all the elements of a normal phone system and more: auto-attendant, personalized voicemail, call queues, conference calling, voicemail transferring, voicemail transcribing, and more.
VOIP phones are configurable for different working styles. If you have an employee that prefers a hard phone, you can configure a Polycom or Avaya phone. If you have an employee that works on site or mobile, they can download a soft phone onto their computer or cellphone. Both work as long as you have a strong wifi connection.
Most VOIP software will save you lots of money!
Top 5 VOIP Services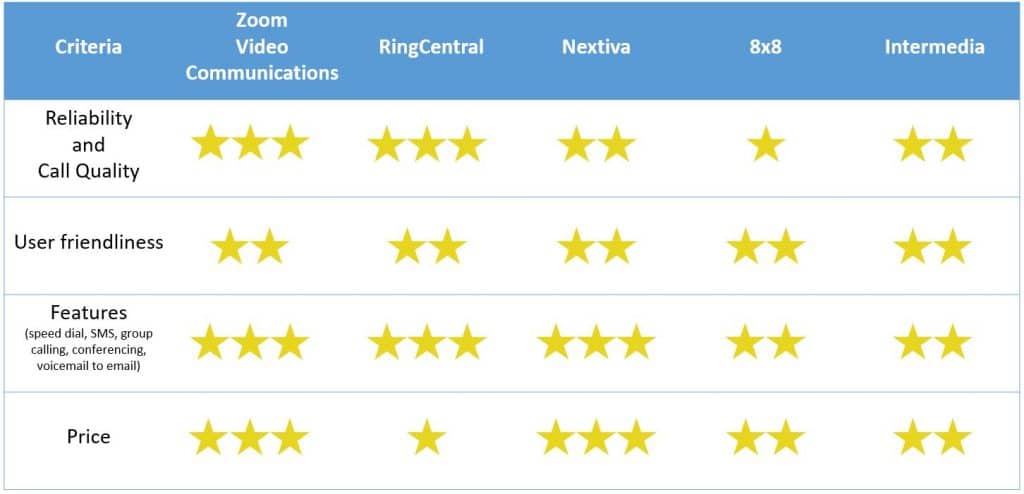 Let's break down the ratings that stand out in this chart.
8×8
Like why does 8×8 have one start for reliability and RingCentral have have one star for price? 8×8 is a reliable cloud-based phone system that can be used by small and larger organizations. The quality of phone calls are not always the same and many customers have complained of dropped phone calls or voicemails. 8×8 also lacks some key queueing features however, their admin portal is easy for all levels of management to use.
RingCentral
RingCentral and Nextiva often competed for the best rated VOIP service on blogs and other comparison sites. In our research, we've found that RingCentral hits all the marks except for pricing. Known for their reliability, features, scalability and aggressive selling tactics, the best way to get the price you want is to find other quotes and ask them to price match. Price matching is a common practice at RingCentral that can get you one of the best services for the best price.
Netiva
If you're in a rush to get up and running with your VOIP service, Nextiva can get your phone system working within minutes and is very affordable. The company has very few bad customer service reviews as well. However, if you're not a very tech savvy person, getting used to Nextiva's portal might take some time and training to navigate.
Intermedia
Intermedia falls right in between RingCentral and Nextiva. They can be a little more on the expensive side and are missing call center features. However, many reviews say how easy it was to deploy and implement Intermedia unlike a lot of VOIP transitions and companies.
Zoom
The front runner here is Zoom Video Communications. Most other VOIP service comparison sites don't even include this company as a contender. The communications company only started offering the Zoom phone in December 2018 which may be why they haven't been indexed yet. They previously were on the road to overtaking Skype's sales for business video conferencing solutions.
Zoom expanded their value past video conferencing so they could tackle the whole business communications industry. Thus far, the online feedback on Zoom's pricing, reliability and integratedness has been promising for the company. If you're already a Zoom video conferencing user, the phone application is completely integrated and has the same interface making it easy to onboard employees and volunteers.
This brief breakdown is not enough to base your decision off of. You'll still have some homework to do if VOIP phones seem like the right fit for your organization's operations and budget.
Steps To A Smooth VOIP Transition
Research: Read as many online reviews for all your alternatives as you can and ask other organizations for referrals. Who are they using and why?
Prepare before inquiring: Make a list of all the requirements, questions and concerns your organization has before inquiring.
Gather all your prices: By gathering initial quotes, you can go back to your top contenders and ask them to price match.
Ask for a demo period: They are selling you a service, so don't be shy to ask them to prove why their service is the best and meets all your needs.
Overly preparing for porting: If you are porting your existing phone numbers away from a current carrier instead of getting new phone numbers, plan! While you shouldn't have an interruption in phone service, inform your employees and volunteers and have a communications plan if clients or donors won't be able to reach you for a certain period of time.
About the Author: Sumac is part of the Silent Partner Software family, a company dedicated to providing exceptional software and services to nonprofits. With over 25 years of service, Silent Partner has helped organizations manage over 3 million donors and contacts across the US, Canada, UK, and Europe. Learn more.