At the end of every fiscal year when reporting season arrives, nonprofits begin to worry about annual reports, and not without reason!
An engaging annual report is a powerful fundraising tool. It gives you the chance to highlight your nonprofit's wins, express gratitude to supporters, and inspire potential donors into action.
But summing up an entire year's worth of activities and programs can be a daunting task.
That's why we're here! We'll walk you through the key sections needed for annual reports, include some examples for inspiration, and link to some great nonprofit annual report templates you can use to get started on your own.
7 Must-have Sections for Nonprofit Annual Report Templates
Here are 7 key sections you must include when creating your nonprofit annual report template. Depending on the kind of organization you are, you may have a few unique sections to include, but make sure you don't forget any of the ones listed below.
#1 Message From Your Founder or Executive Director
Start your annual report with a message from the Executive Director, CEO or Founder of your organization.
Most annual reports include this message to set a tone for the report, summarise the year, direct the reader's attention to special highlights and deliver an inspiring message. If your annual report has a specific theme or is celebrating a special occasion (like the 25th anniversary of your nonprofit), this is a good place to introduce it and give readers some background information.
Some annual reports might include multiple messages from the Board Chair, Directors of Departments and even the Financial Officer, who would typically present a report from a fiscal perspective. If possible, try and limit the number of opening messages you include.
Example
BRAC, one of the largest international nonprofits in the world, created a really innovative online annual report. Instead of presenting all their programming and reporting information at once, BRAC's interactive report allows you to click through to subjects or campaigns of interest.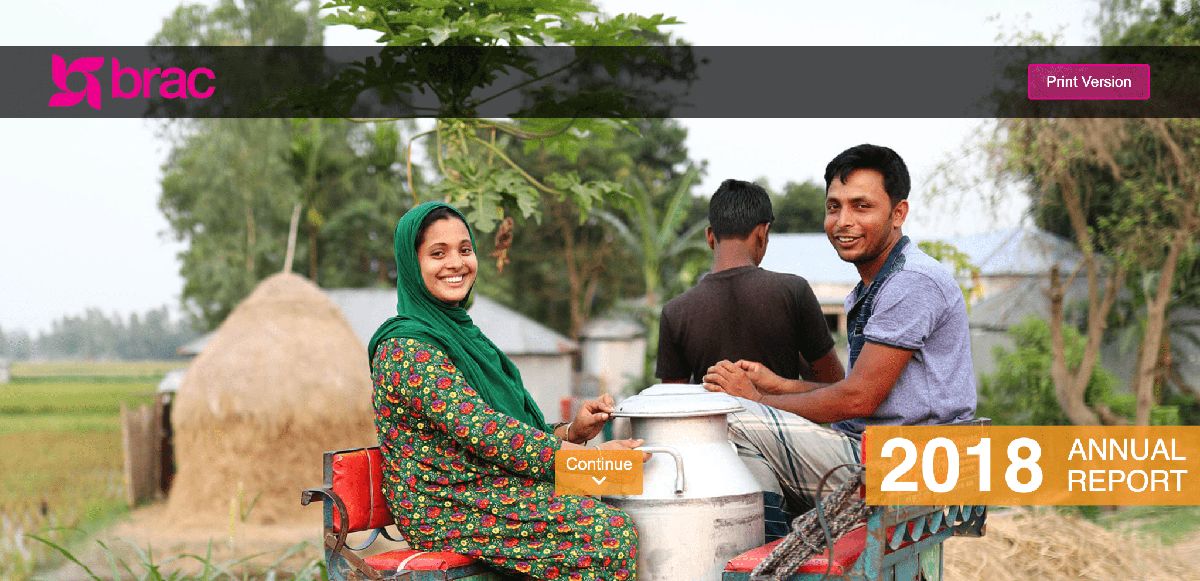 Take a look at the Chairperson's Foreword and ED's message.
Tips for writing an effective message:
Your Founder or Director may not have the time to write this message themselves, so it's a good idea to write a first draft yourself and then ask for edits or changes. You could also write an outline of points for your ED to make it easier for them to write
Don't include too many welcome messages in your report as this can get a bit tedious to read – aim for one strong opening message or write a combined message from your Founder and Board Chair. Only include others if absolutely necessary
Don't forget to acknowledge the efforts of your staff – it's a great way to keep morale up!
Template
Use this nonprofit annual report template, to get started with a really great opening message.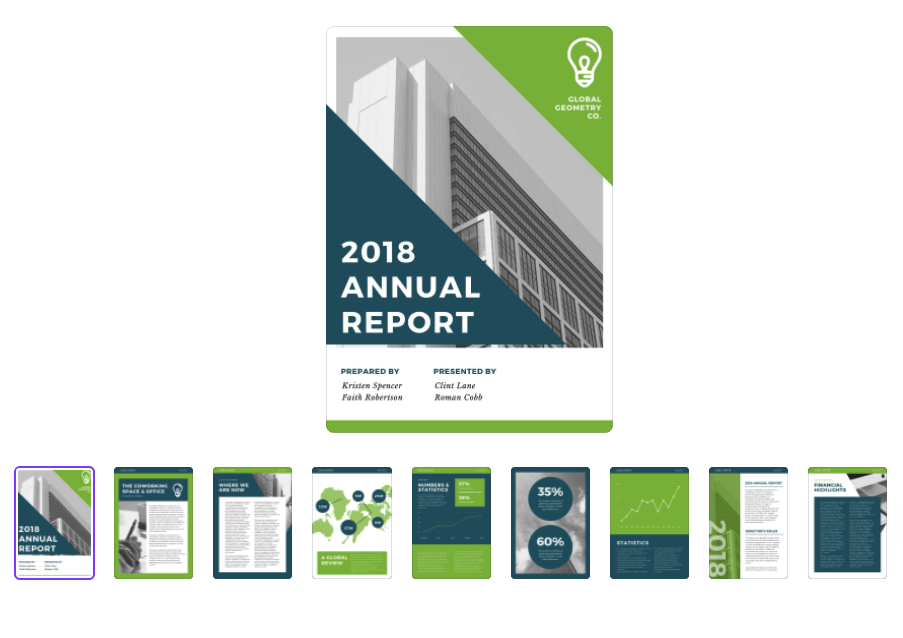 #2 Your Mission and Vision
This is an easy section to include, so don't forget to add it in! Your mission, vision and values are an important way to highlight what your nonprofit stands for and where you're headed in the future.
Ideally you should feature this section as early on as possible, since it helps set the tone for your report and you can link back to it when highlighting your programs, activities and impact. This subtly conveys to readers that your activities tie in with your overall mission and your program design keeps your mission and vision in mind.
Example
Feeding America, highlighted their mission by using a full page spread on their annual report. View the complete report here.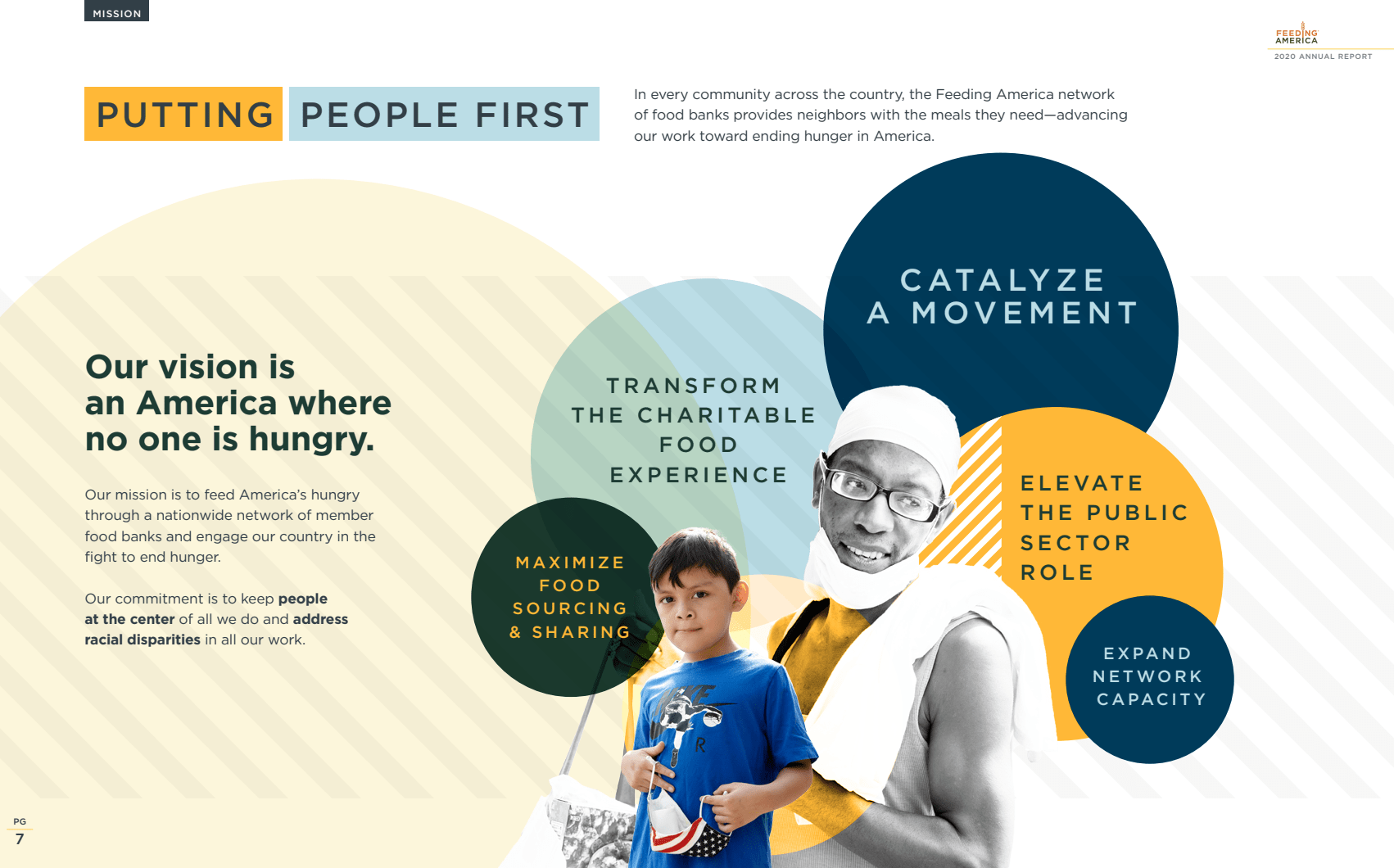 Template
Use this template to create your own mission and vision section.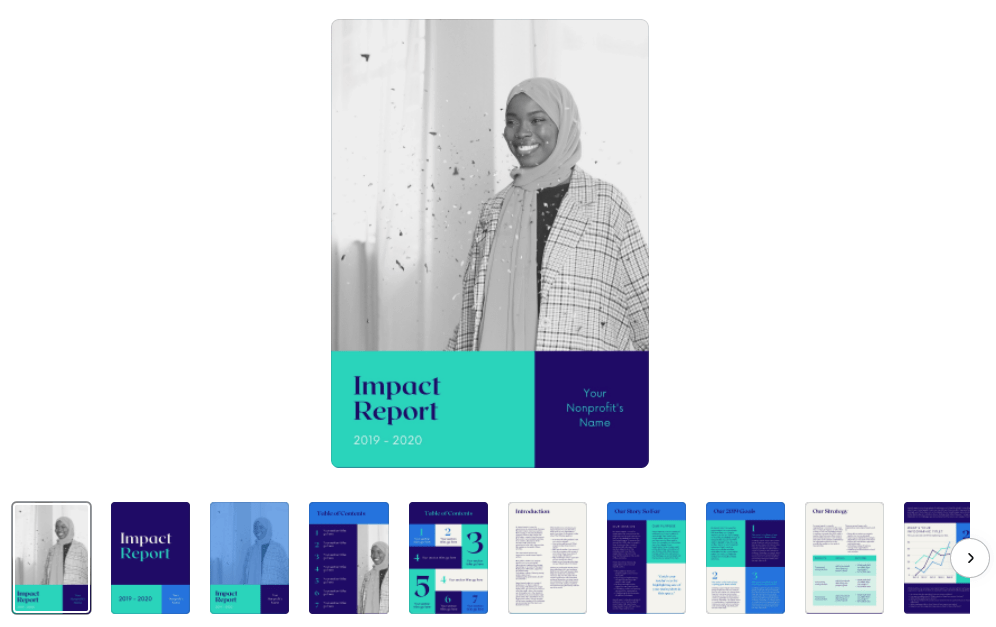 #3 Program Activities
Your program activities are one of the most important aspects of your annual report. This is where you highlight your impact and tell readers what your organization has been working on throughout the year.
Remember to keep your activities and updates concise and interesting. You don't need to list every project your organization worked on. Instead stick to a few key outcomes with stats that highlight your best work and projects that generated big results.
Having trouble getting stats on your programs to add to your report? A good nonprofit CRM will give you access to real-time data on programs and key metrics that won't just help with annual reports, but with reporting back to major donors and funders. Schedule a demo of Sumac CRM to see just how easy gathering program stats can be.
Example 1
Statistics and impact numbers clearly communicate the impact of your work and people love to see reliable data! Charity: Water did this really well in their 2018 annual report. Here's how they summed up their entire year in numbers with 3 key statistics.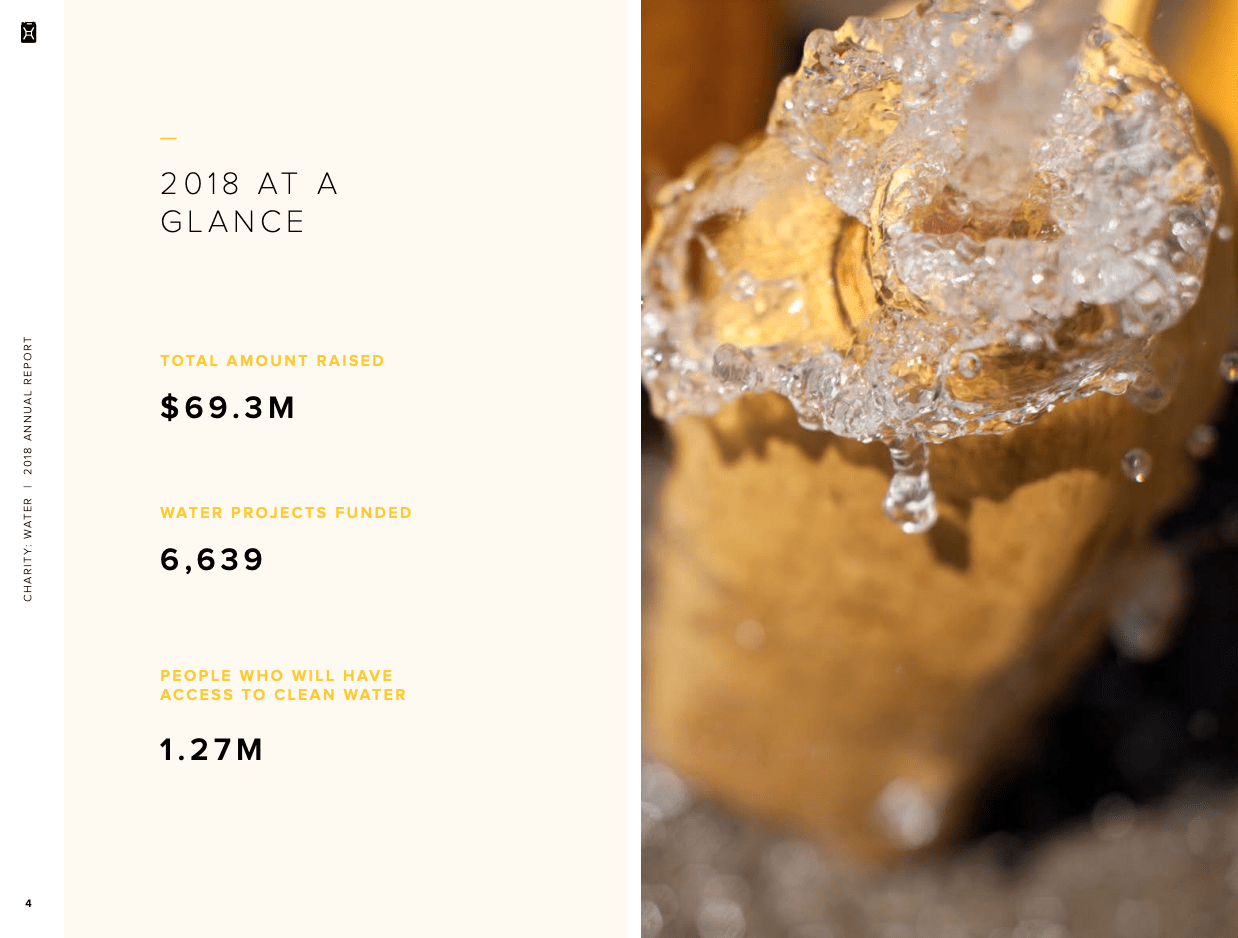 Example 2
If the year was exceptionally challenging you might want to talk about the issues you faced. For example, COVID-19 impacted many nonprofits' revenue streams and ability to implement their programs. Talking about this may be useful since it helps to demonstrate a need for the upcoming year. Take a look at how the San Diego Foundation did this in their 2021 Annual report.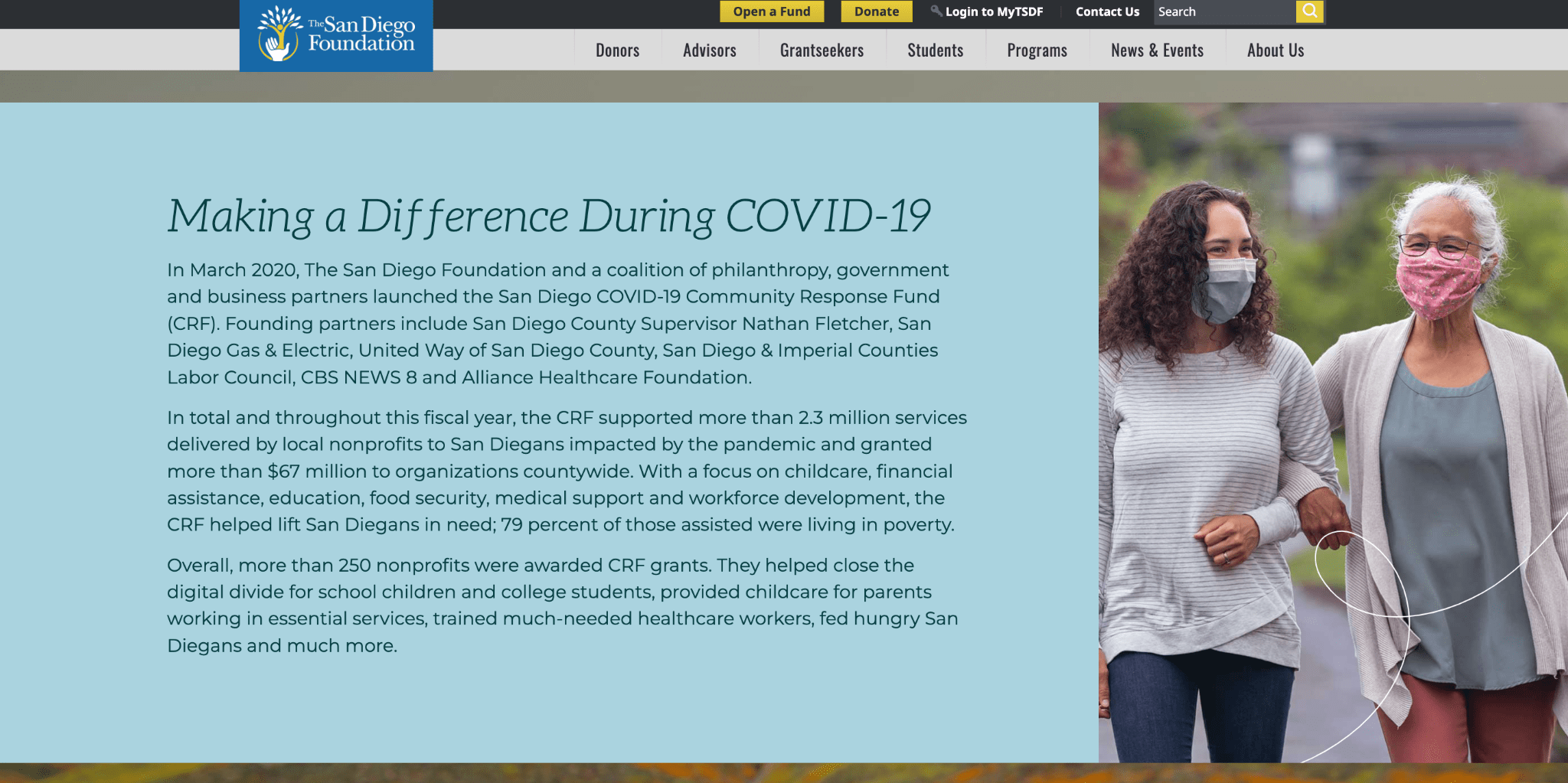 Template
Create your own program activity highlights using this template.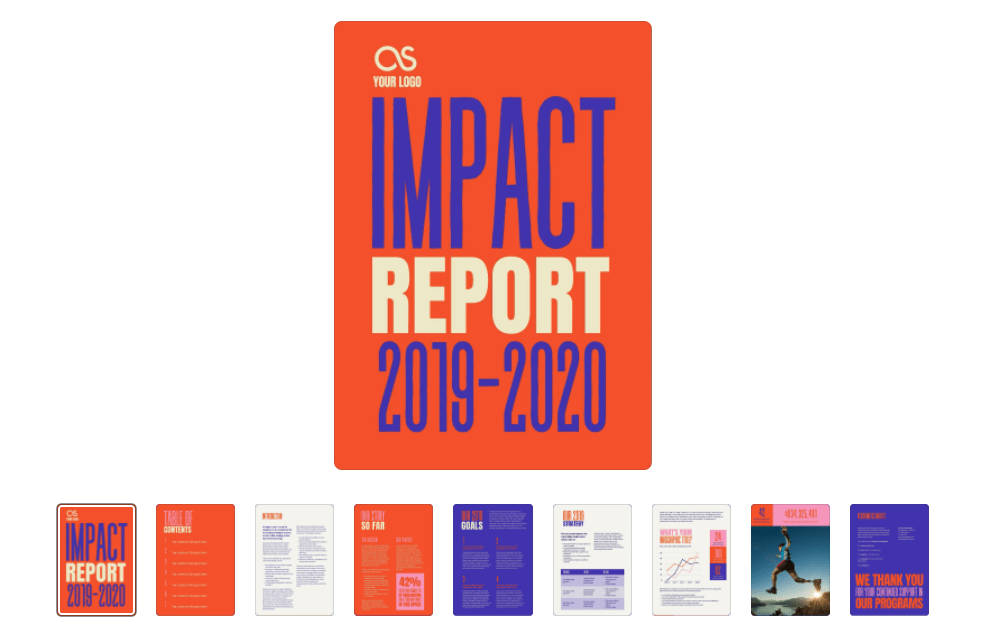 #4 Stories of Change
While you could look at stories of change as part of your program activities, it's helpful to think of this as a separate section when gathering and planning your nonprofit annual report template.
Stories of change are a powerful way for you to connect readers with your beneficiaries and communicate impact. While numbers and program activities give people a sense of the big picture, case studies and stories bring your mission to life, giving readers the opportunity to emotionally connect with these stories and learn how your nonprofit is working to improve lives, which will encourage them to donate!
Example
Habitat for Humanity knocked it out of the park with their 2021 Annual Report, which featured simple drawings and stories from children who lived in Habitat-funded homes. The whole report is story-focused and puts beneficiaries front and centre.
Other parts of the report, like financial statements and donor lists, are listed as separate files and attachments so as not to distract from the impact of the children's stories. They also released an online version of the report which includes a video!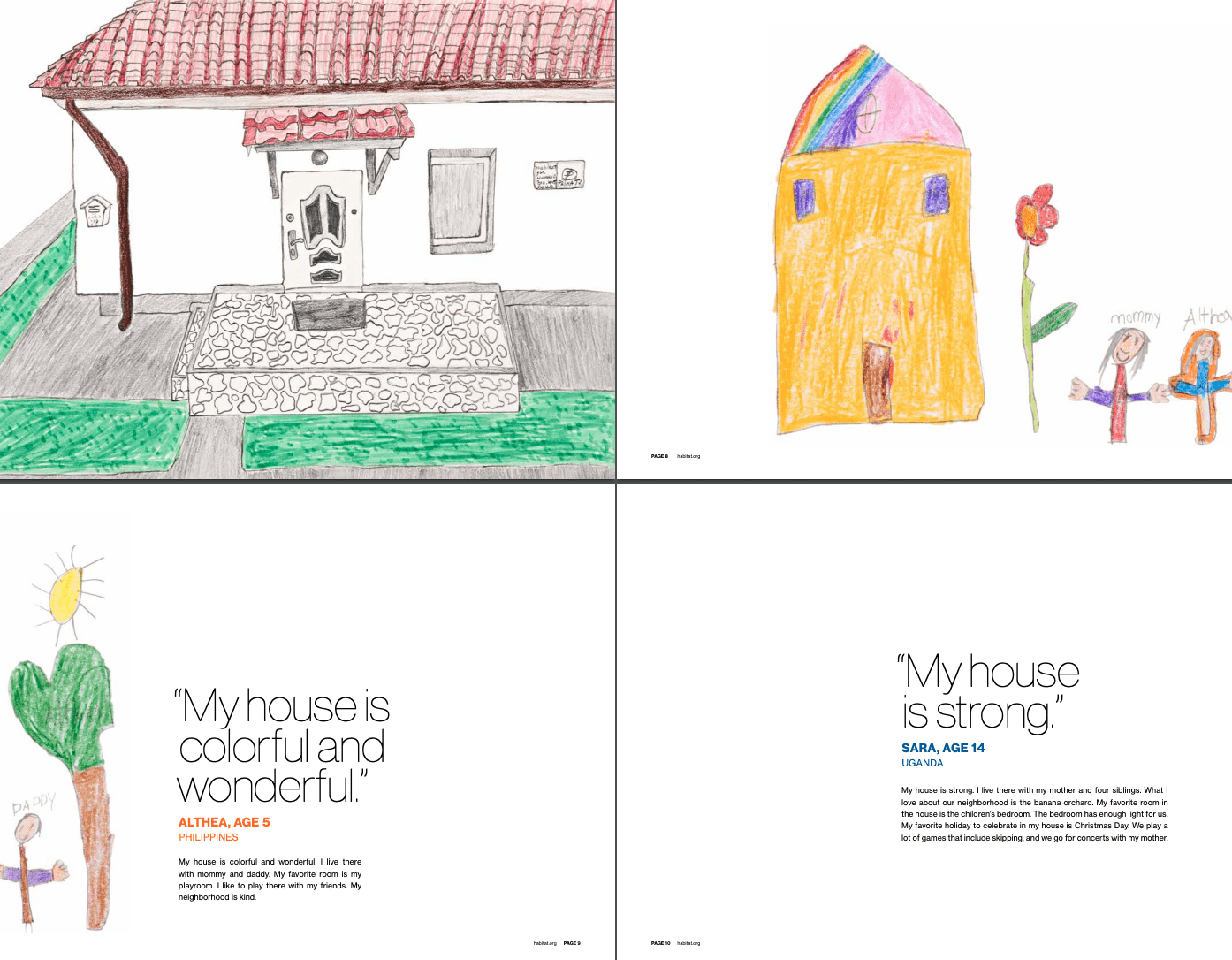 Template
Create your own compelling stories of change with this nonprofit annual report template.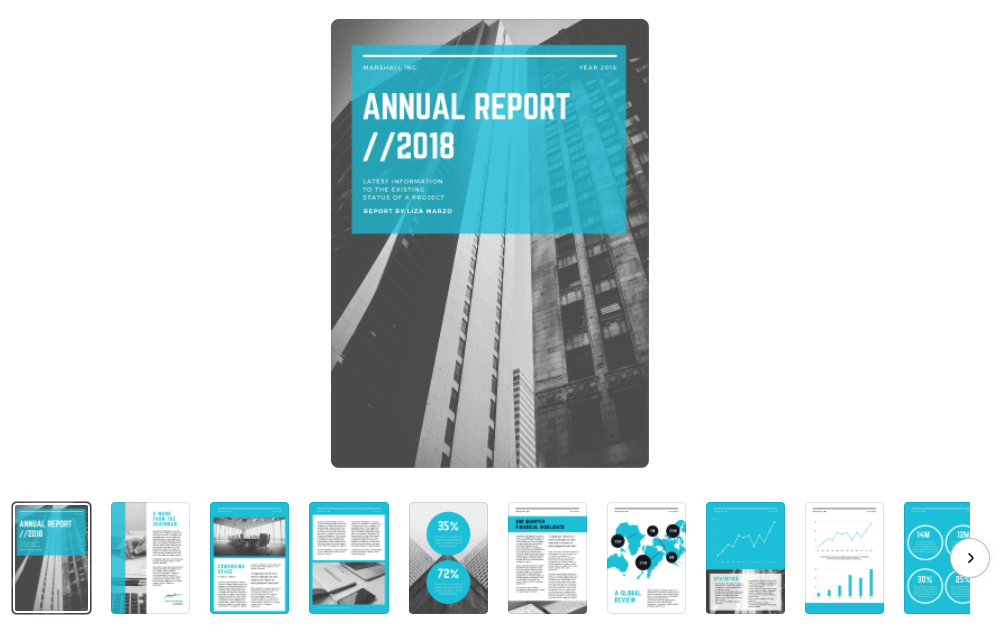 #5 Financial Statements
Disclosing your nonprofit's revenue, overheads and expenditures is one of the best ways to build credibility and trust by showing you are transparent about your spending.
Most nonprofits publish annual reports alongside their annual filings (which are required by the IRS) and include these audited financials in their annual reports. You can choose to include important numbers or complete financial statements.
Either way, you should highlight significant figures and include short explanations that explain how they illustrate your successes or setbacks. You might also add financial goals for the coming year to give readers a sense that you have a concrete plan for the future, and encourage them to contribute to making it a reality!
If you use a nonprofit CRM like Sumac, you can easily generate financial reports from the data already in the system and even compare financials from the years before to create comparative summaries for your nonprofit annual report template.
Example
The San Diego Foundation does this really well in their annual report by not only highlighting existing numbers but also providing those interested with a comprehensive financial report for each category.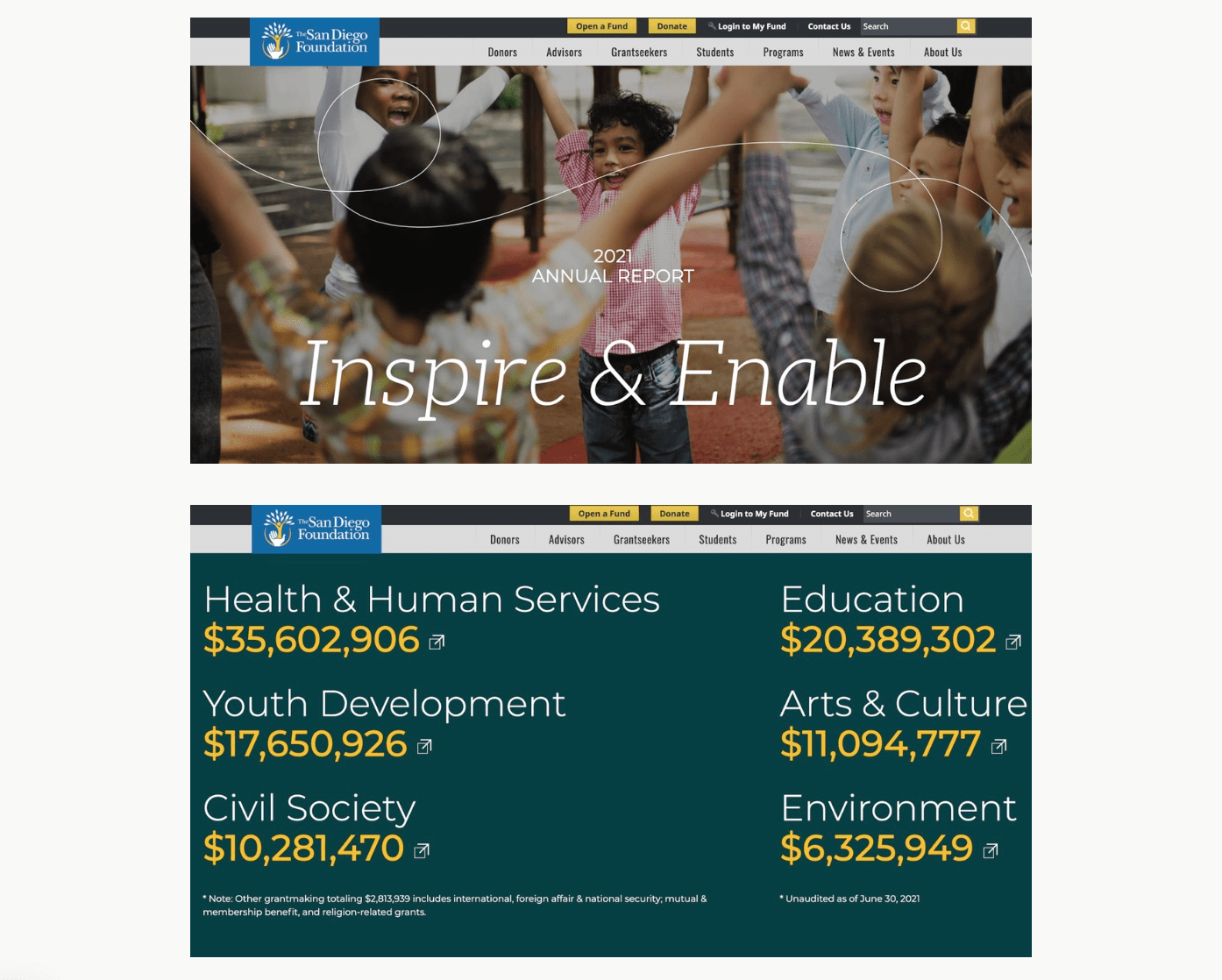 Since their report is a web page, those interested can click on a category to open up the corresponding financial statement. For example, when you click on Youth & Development, you can see the expenditure for the year: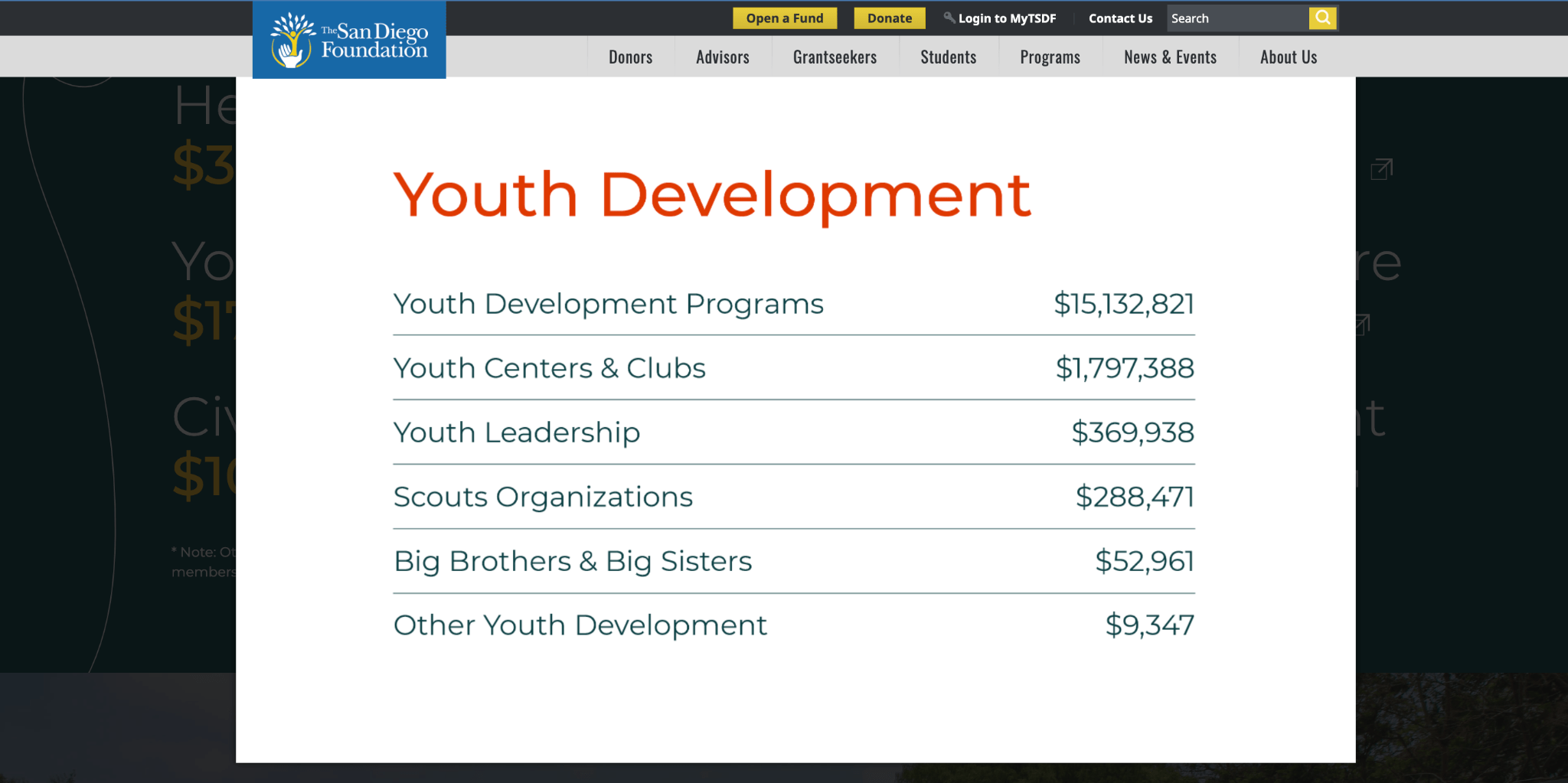 Template
Create your own financial statement using this template.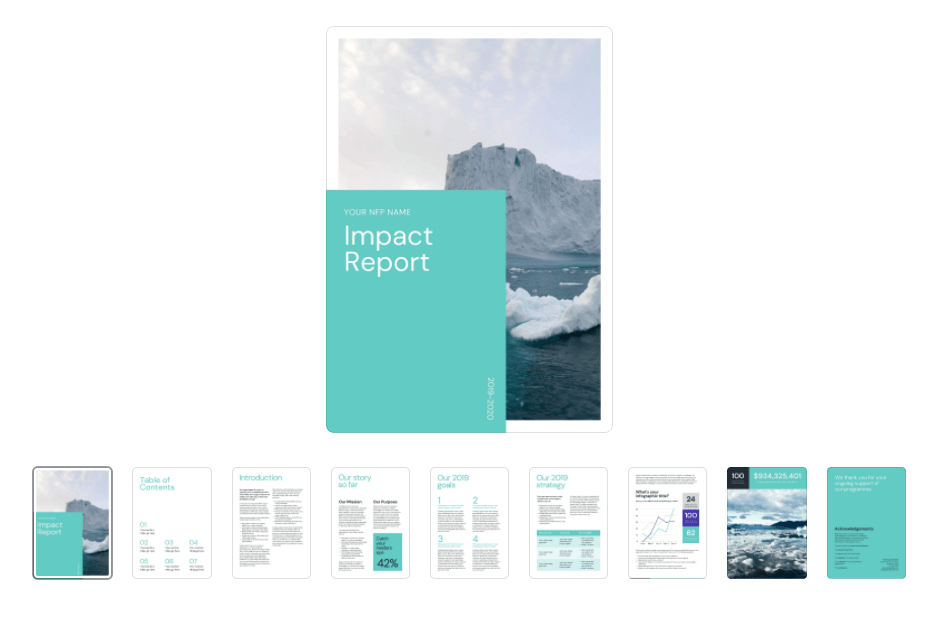 #6 Special Mentions and Thank Yous
Your nonprofit annual report is possibly one of the most visible pieces of content your organization will publish, making it the perfect place to highlight the contributions of people and other organizations who have helped you achieve your goals.
Compose a sincere message of gratitude to your supporters, volunteers, donors and staff. You may also want to thank major donors and corporate sponsors by name.
Some tips for your special mentions section:
If you can, try and include thank you messages from your beneficiaries for even more impact.
You can include a list of individual donors in the appendix, but don't list them in the main body of the report as this can make the report unnecessarily lengthy. Instead thank key contributors by name and include a general message for other donors.
Example
Here's how CalNonprofits did a special mention of organizations and donors who have been supporting them for the past 25 years: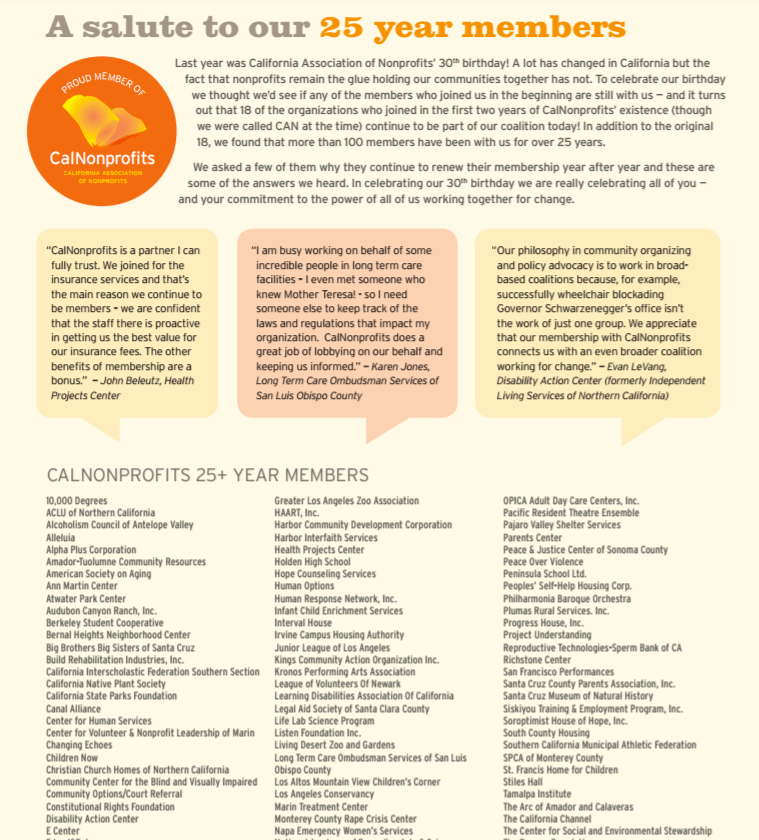 Template
Use this template to create your own special mentions or acknowledgements section.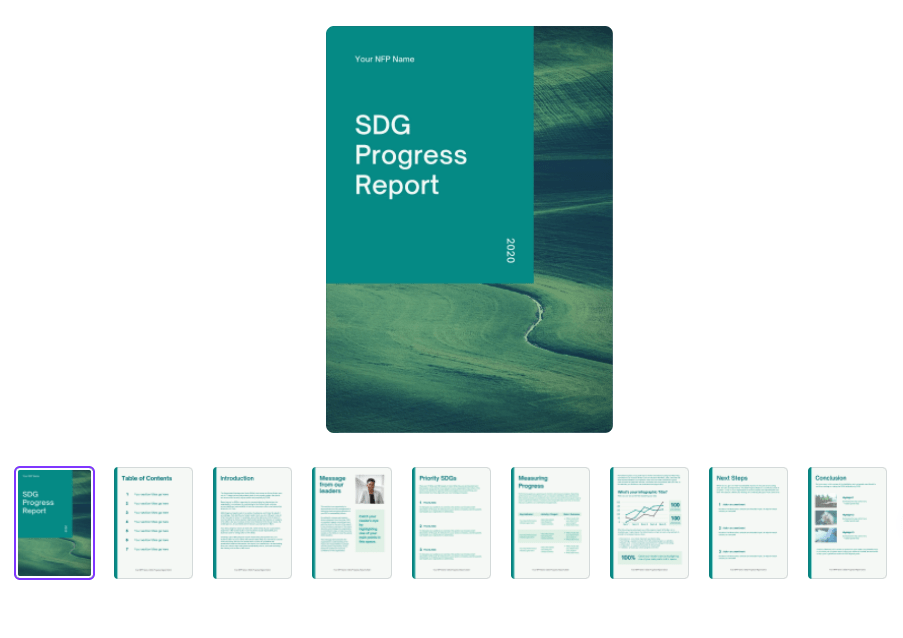 #7 Future Goals
End your nonprofit annual report by looking towards the future. Once you've shown everyone what your nonprofit has achieved over the past year, it's a good idea to show them where you're headed. This will give readers a sense of direction and purpose.
Be sure to include upcoming changes, goals, and your plan for the year ahead. Don't forget to mention how this ties into your organization's overall vision.
By highlighting future plans, you give donors a clear path for what's next. While you shouldn't include a direct ask in your report, you can subtly highlight the ways in which readers can contribute to support your future goals.
Even if you aren't soliciting donations within the report, annual reports serve as a great document to circulate to donors before following up with a direct appeal. So including your goals for the future is critical!
Example
Girls Who Code combined an appeal for future funding with their vision for the next year in a compelling letter that closed their annual report. This is also a great example of a truly interactive report. Check out the online version here!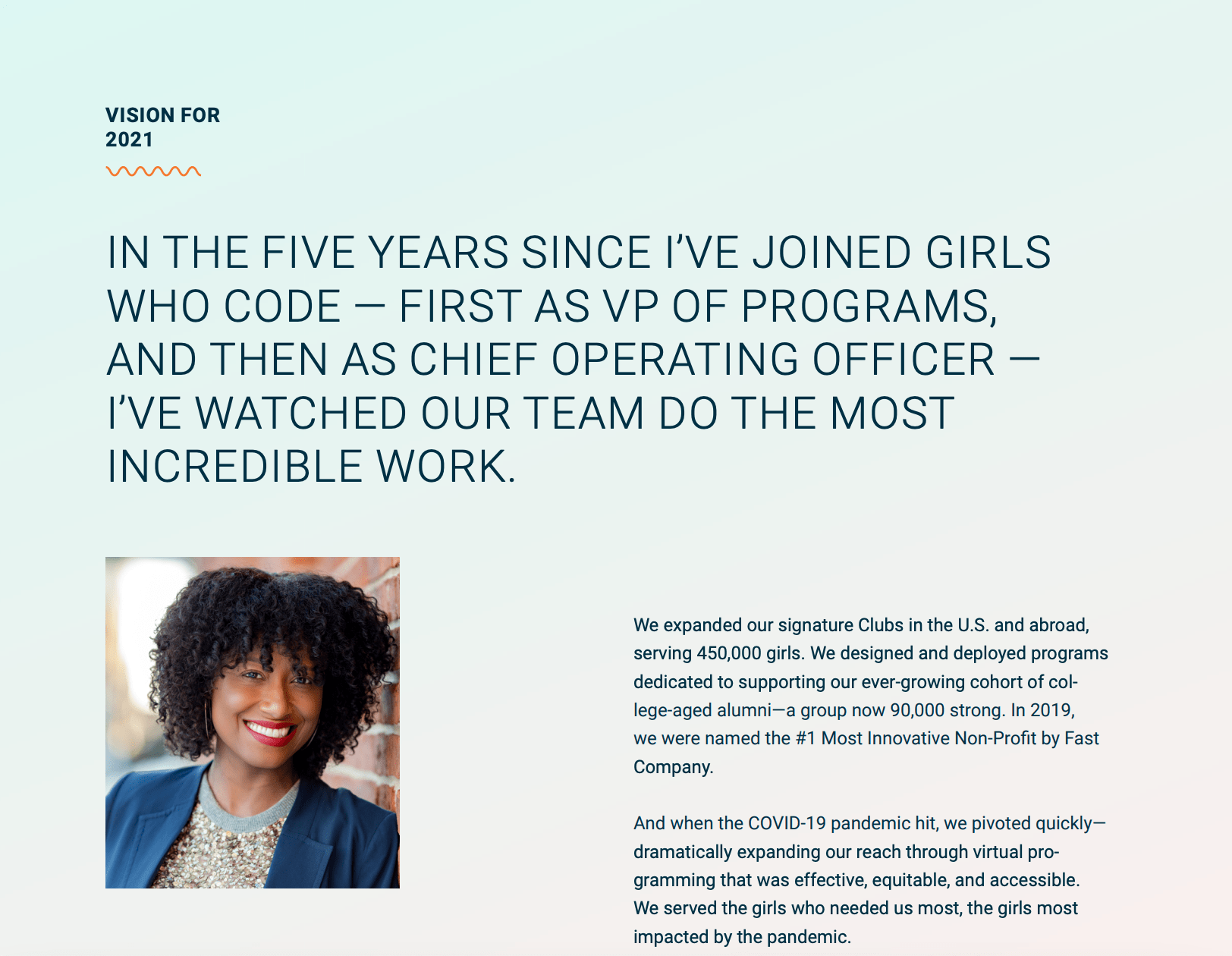 Template
To write your own future goals section, use this template.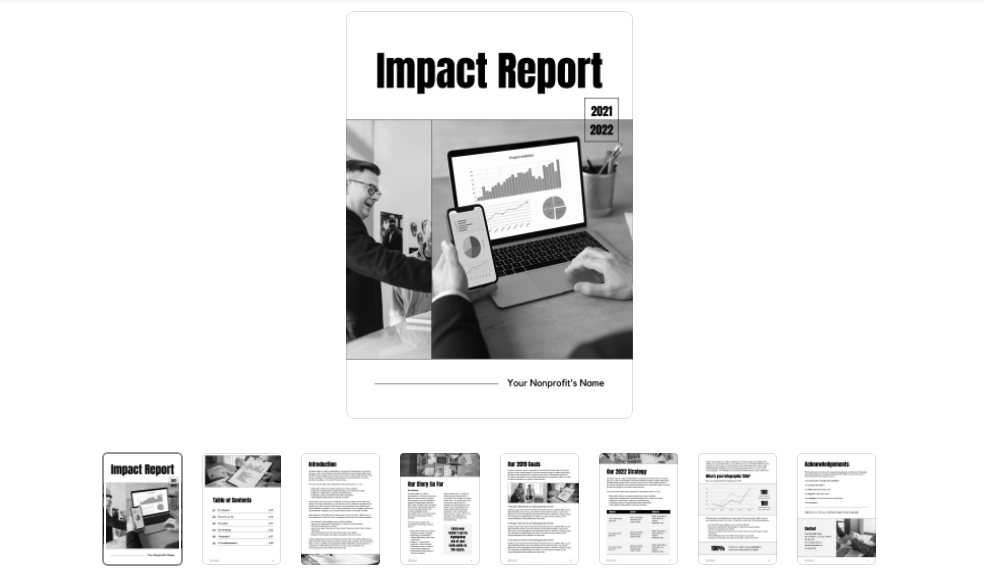 Do You Need a Nonprofit Annual Report?
Before we get to the annual report sections, let's talk about why annual reports are so important. While they're not an IRS requirement, which means you won't get in legal trouble if you don't publish one, they're important for a ton of other reasons.
Annual reports are a way to build trust through financial transparency, feature the year's major accomplishments and successes, inspire readers with your mission, and thank donors for their support. They're also a great tool for cultivating new partnerships with major donors and sponsors.
Before you get started on your own, you might want to think about your goals for the report – do you want to increase donors or engage existing stakeholders? Having a clear goal, or even a few top priorities can help you select, organize and edit your nonprofit annual report template easily.
Choosing a Format for Your Nonprofit Annual Report Template
Once the information is ready, you'll need to think about how to design and present your report.
As we have seen in some of the examples above, many nonprofits today choose to publish a web report as well as a printable book version of their annual report. This gives readers a seamless experience wherever they choose to read your report. Website reports are quite popular since they're easily shareable, and present an opportunity to create an interactive experience for viewers. But interactive websites aren't your only choice. You could also create a video report, an infographic, a postcard or a one-pager with only your key stats for the year.
Of course the format of your nonprofit annual report template will also depend on your budget, bandwidth, the size of your organization, and your key audiences. If most of your donors aren't internet-savvy, creating a website for them won't achieve much.
Here's a few things to think about when deciding whether to go print or digital:
Digital Annual Report (Website)
Printed Annual Report (Book or PDF)

Pros

Digital reports provide an easily accessible and interactive experience
Can use to tell your story with images, videos, and animations
Easily shareable across social media

Cons

No hard copies, a separate report will have to be designed
Can be expensive and requires a high level of expertise to create

Pros

Can be designed in relatively less time and even with fewer resources (team members can use easily accessible nonprofit annual report templates to create one)
Physical printed copy can be distributed at events and conferences to showcase your work

Cons

Expensive to print and distribute
Social media sharing might not be a seamless experience
In general, a combination of hard copy and digital annual report materials will reach the widest audience, but it's up to you to decide which format best suits your nonprofit.
Make sure you're conscious of each supporter's level of interest and provide an appropriate type of report for them. You could break up your main report into one-pagers or send out an email with highlights to supporters who aren't as invested. Printed reports should only be sent to high-level donors and funders who would want to read your report in detail. (This will also save you the cost of printing hundreds of reports that people might not even read!)
Regardless of the format you choose, make sure your annual report is an easily digestible and engaging document.
How to Write a Nonprofit Annual Report in 5 Easy Steps
Here's a few tips on how you can get started writing your annual report.
01. Define Your Impact
Start by listing out your accomplishments and the impact you made during the year. What changed in your community or field as a result of your work over the last year? List out 3-5 major activities and events and gather numbers and stats to back up your overall accomplishments for the year.
02. Conduct Interviews with Beneficiaries
Make a list of beneficiaries who will probably have something great to say about your nonprofit. You can aim to compile a bunch of quotes to sprinkle throughout your annual report or do an in-depth Interview with 1-2 people and turn these into case studies for the report.
03. Make sense of your Financials
Even if you choose to include the full financial statements for the year, summarizing and putting these numbers into context is critical! Set up a meeting with your finance officer and work with them and the auditors to present a clear and comprehensive big picture view of your financials. Consider using graphs, pie charts and other graphics to represent your data visually.
04. Compile Lists of Key Contributors and Board Members
Annual reports must include a list of your Board of Directors and executive staff. You could also choose to include a list of key donors and corporate sponsors (set a minimum donation level to make this list more manageable). If you use a nonprofit CRM you'll be able to pull out all this information with a click of a button!
05. Design your Report
Choose how you want to publish this information, and work with designers or web developers to design the report. If you have the budget, consider hiring a design firm to do this for you – but free nonprofit annual report templates will also work well. Don't forget to include a ton of photos to make your report visually appealing!
Your nonprofit annual report is your chance to get your impact in front of potential donors, corporate partners, and others interested in supporting your cause. Remember, you spent all year doing the hard work – now's the time to celebrate your successes and build momentum for a more impactful tomorrow!