So you're writing a one or two-page grant proposal, otherwise knowns as a mini grant proposal.
The good news is – you only need to write a couple of pages. The bad news is that you'll need to incorporate a huge amount of information in just one or two pages of prose.
And no, you can't narrow the margins and make the font tiny! You'll need to stick to those 1 inch margins, and keep your font at a comfortably readable size. In fact, the more readable your proposal is, the happier your reviewers will be. And happy reviewers are more likely to say "yes" than reviewers with eye strain.
In this post, you'll find everything you need to write a winning one or two page grant proposal, including the parts of a grant proposal, sample grant proposal text for nonprofits, one and two-page grant proposal templates, and grant writing tips.
By the end, you'll be ready to write a solid, practical, and focused plan – a grant proposal reviewers will believe in.
Part 1: The Ask
Who is asking for the grant? Here's where you put the name of your non-profit, or your name if you're an individual seeking a grant.
How much money do they want, over how much time? List the full amount you're requesting, and the period of time over which the money will be spent.
Example
"The Do Good Organization seeks a grant of $2,500 from the Give Away Foundation for a two year family fitness and nutrition program entitled "Families Feeling Fine."
Part 2: The Case for support
Why do they want the money? This is your case for support. In as much space as you have available, explain why this project is important. Include any statistics, details, or other information you have available, but keep it very, very brief.
Example
"48% of families in the Do Good community suffer from obesity and related problems such as diabetes, high blood pressure, and heart disease. When surveyed, 72% of families stated that lack of knowledge and experience with exercise and healthy cooking were major obstacles to weight control. The Families Feeling Fine program will teach family groups how to make exercise and healthy cooking a fun, fulfilling part of their daily lives."
Part 3: Goals and Objectives
What will you achieve? Setting goals and objectives shows you have a clear, actionable plan to solve the problem.
In this section, describe one of your program's goals, then narrow it down into specific, detailed objectives.
Follow the SMART method while developing objectives, be realistic, specific, and set a deadline.
Example
Goal: Decrease the rate of obesity in the community
Objective 1: Educate 10 families a week on nutrition by preparing healthy mals through cooking classes and workshops.
Part 4: Project Description
How, exactly, will they handle the work? Where will these programs take place? How often will they run? What will the programs involve? Will there be follow-up?
Who will handle the work involved in the described project (personnel)? Provides names, titles, and one-line bios for each person involved with the project.
Are they qualified to do the work they've outlined? If you're starting up a health and fitness program, you need someone with experience in that field. You may also need people with experience in reaching out to families, working with families, and so forth. Make it clear that the people who are working on the project have, as a group, the required skills and experience.
How do we know that the money and the project will be well managed? Provide details about the people/person who will be managing the money and the project.
How will they assess the success of their project? Some form of evaluation is important to most funders. A pre-post program survey, for example, may be a good choice. If at all possible, show how you will quantify the impact of the program.
If our grant won't cover the entire cost of the project, where will the remaining money come from? If you're asking for $2,500 for a $5,000 project, mention that you'll be seeking additional funds from specific sources.
Will the impact of this project continue after our funding is gone? Many funders want to know that you don't plan to come back them year after year to fund the same programs.
Example
"The Local Church has pledged to donate space, including a large parish hall and kitchen, for use by the Families Feeling Fine program. Each Saturday morning, up to ten families of 3 – 6 people will gather to learn about nutrition, take part in a fun fitness activity, learn to prepare a tasty, nutritious meal, and enjoy a meal together. As they leave, families will take away weekly packets with recipes, shopping tips, and exercise ideas to try out during the intervening week.
The FFF program will be managed by Joe Smith, Director of Programs at the Do Good Foundation, with support from Jane Jones, a nutritionist, and Bill Brown, a personal trainer. Several Do Good volunteers will also assist at each week's program.
To assess the outcomes of the program, Mr. Smith will distribute a pre-program survey and repeat the survey at the end of the program. If successful, FFF participants will leave knowing at least three new recipes, three new fitness activities, and seven new, healthy ways to buy and/or prepare food. In addition, participants will feel empowered to lose weight and live healthier lives.
The project will cost an initial $5,000 for development of program materials, activities, and recipes. We are requesting $2,500 from your foundation, and we are seeking an additional $2,500 from other foundations. Once the program is underway and materials are in place, it will cost only $500 per session to run the program. We anticipate charging a nominal $5 per person for future programs, and seeking additional minimal funding from local community foundations and philanthropies."
Part 5: Project Budget and Sustainability
How do we know that the money and the project will be well managed? Provide details about the team/person who will manage this. A well-formatted budget makes it easier for the grant program officer to judge the financial sustainability of your proposal.
If the grant won't cover the entire cost of the project, where will the remaining money come from? Mention you'll be seeking additional funds from specific sources if this is the case.
Will the impact of this project continue after the grant funding is gone? Many funders want to know your plans for sustainability, i.e. making sure your organization is well-funded with multiple revenue streams so that the survival of your organization is not dependent on receiving a single grant.
Carefully read through your project description noting instances where your organization will need resources. Do the necessary research to accurately estimate the cost of your project. Make sure you take into account expenses such as:

Personnel and travel costs
Equipment and supplies costs
Indirect or overhead costs

Use your nonprofit CRM software to easily create budgets from your existing financial trends and donor data.
Example
Here's a grant proposal budget template of a budget created by a student applying for a research grant from UNC Writing Center.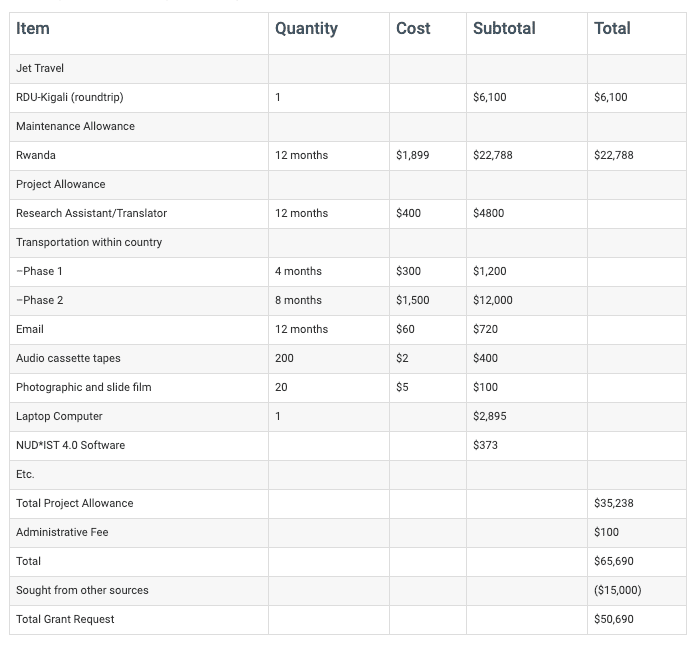 Additional documents
Apart from your one or two-page grant proposal, funders are likely to want to see additional documents like your tax-exemption certificate, a list of your board of directors or your organization budget – so make sure you have important documents ready to upload.
One-Page & Two-Page Grant Proposal Templates
Now take a look at the mini grant proposal example you've just read. It includes every detail requested, provides a solid case for support, explains who will do what and why they're qualified. And it does it all in just a few paragraphs!
You can download these one-page and two-page grant proposals templates in Word format here:
One-Page Grant Proposal Template
(Click image to download in Word format)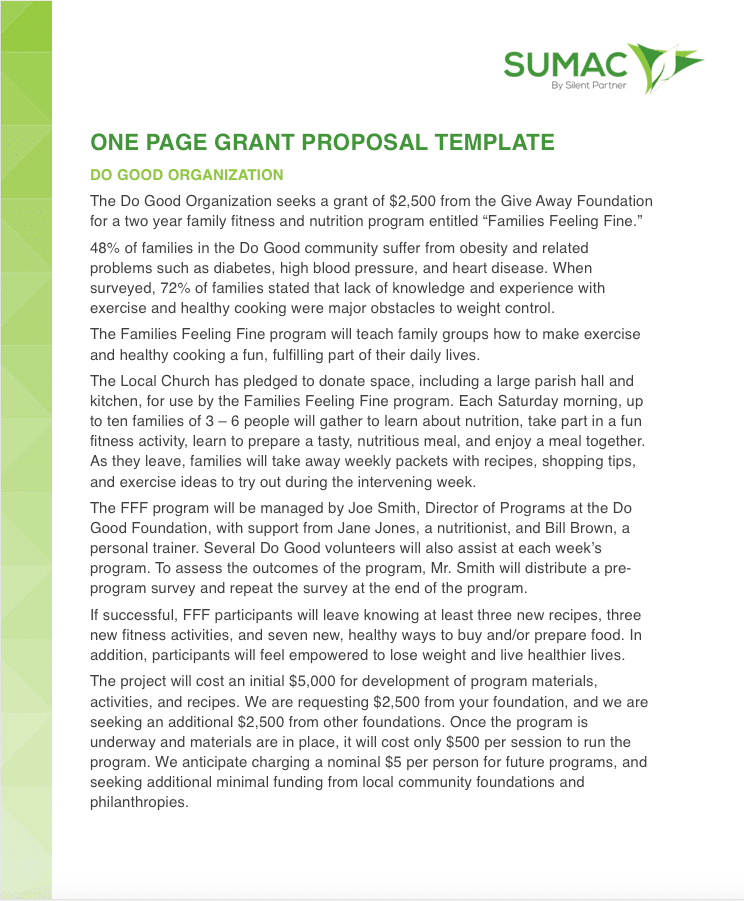 Two-Page Grant Proposal Template (Click image to download in Word format)
Sumac's mini grant proposal examples allow you to easily adapt and replicate sections for your own needs. You can find more grant proposal templates here:
JotForm's template can be used for mini grant proposals and includes a section on mission and vision as well as a strong cover letter
Proposable's grant template includes a nice grant proposal budget template and a well-designed cover page
Proposals for NGOs grant proposal example is a more comprehensive version of the two-page grant proposal template and includes sections on beneficiaries and timelines. Use this if you want to write more detailed grants.
Do you feel confident about writing your own mini grant proposal now? Scroll for even more resources to help you with your funding proposal.
Tips for Writing a Winning Grant Proposal & Applying for Grants
There are so many foundations out there wanting to support the work of a non-profit like yours. However, there are a lot of other worthy organizations competing for the same funds, and the prospect of having to outshine them in your funding proposal can be daunting.
But by following these top 8 tips when you're applying for grants or funding, you'll maximize your chances of making sure your organization stands out above the rest.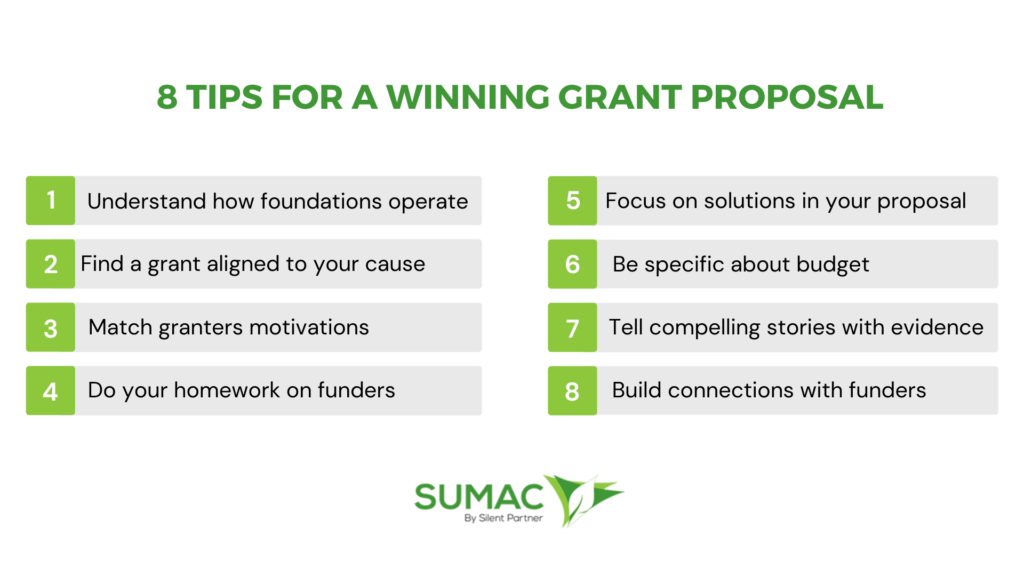 1. Understand How Foundations Operate
Not all foundations or funding schemes are alike. Understanding how different foundations operate can help you decide if they are the best match for your non-profit.
Independent foundations are private foundations usually owned by one source, like a family, or an individual's bequest. It's important to note that in most cases, individuals give more than any other type of foundation.
Company-sponsored grants are usually given in the form of cash or products from a corporation, but corporations give considerably less than individuals.
Private operating foundations are foundations that spend at least 85% of its income (or its minimum investment return), on its own operations. They use a bulk of their income to fund and organize their own charitable programs, and make few grants outside of their organization.
2. Find a Foundation Aligned to Your Cause
Unfortunately, the 'one size fits all' approach doesn't work when applying for grants and funding. Don't try to align what you're doing to fit the funder's goals, find funder's that align with your work! You'll know you've found the perfect match if you can easily demonstrate how your mission aligns with their focus.
If you don't qualify, don't apply. Approaching foundations that are not aligned to your goals will waste your time and effort.
Also consider local grant funding sources first since they increase your chances of success
3. Match The Granters Motivations
Different types of foundations are motivated to give money for different reasons. Independent foundations are usually motivated by philanthropic goals, and want to support organizations addressing the issues they care about through an objective process.
Align your proposal to the grant-making organisation's goals.
Corporations are more likely to donate to a project or organization who aligns with their corporate social responsibility policy or corporate ethic strategy, and generally want to support projects or organizations that will boost their branding and public image. Private operating foundations generally donate to projects that address similar specific issues to their own work.
4. Do Your Homework on Granting Bodies
Having a well-written grant proposal won't be enough for your organization to stand out amongst competition; you must prove that you're well-researched too.
Show them that you've done your homework and learned about the goals of the foundation, their stakeholders, what they have previously funded, and why they're the right match to help your organization address the needs of the community. Most importantly, make sure to follow application guidelines exactly. 
5. Make Your Grant Proposal Solutions-Focused
Never start by outlining the needs of your organization. Grant writing shouldn't be about your needs and how much the funding will help progress your work. Instead, focus on the needs of the community in which you're working, and outline how the work you do is essential for this community, and what sets your work apart from competitors. Keep it solutions-focused; donors will be more persuaded by the outcomes of your work, not the process that gets you there.
Ensure the benefits you generate if you receive the grant are tangible, measurable, and benefit a wide spectrum of the community. 
6. Be Specific About Budget
While project-specific funding is by far the most common, foundations do provide grants to help fund specific campaigns and operational costs. No matter what you're seeking funding for, ensure that the work is measurable.
Know how much money you want from a potential donor, and include a breakdown of the budget, so they can see you've got a solid plan.
7. Show Evidence & Tell Stories
It's not enough to tell a potential donor about how great your work is, you have to show them. Provide a clear rationale of what the projects achieves and why it needs to be done. Grab reports from your nonprofit database software to support your request
They want evidence that you have a sustainable fundraising strategy, that your project has well-define objectives, and you have strong leadership. Things like case studies are a great way to show evidence.
Write compelling stories that draw the reader in. Grant proposals with engaging stories about real people you've helped are more likely to get funded than grant proposals full of jargon and numbers.
8. Build a Connection With Funders
You don't need to know someone to secure a grant… but it can certainly help get your foot in the door. If you're thinking of applying for funding from a foundation that you've never interacted with before, it can help to first build a bit of a connection with them.
Get to know who you're talking to over a phone call or by sending a brief email. Ask questions and clarify doubts with the funder before submitting your application. Building a relationship with the team beforehand can help your application stand out!
Even if you've built a strong connection with a particular foundation, don't go straight to them with a new funding proposal. Start by sending a letter of intent, to introduce a new project and see if they want more information.
Bonus Tips
Don't Give Up
Unfortunately, it is rare to be accepted for a grant without an existing relationship with the foundation, and like all types of fundraising, a 'no' might mean 'no right now.' It's important not to give up, and maintain a relationship with funders either way.
Plus you never know, even if they have never given you funding before, if you build and maintain a strong relationship with a foundation, they may turn to you if extra funds become available.
If your proposal has been declined – ask for feedback! Understanding why your proposal was rejected can help you strengthen future grant proposals.
Don't Rely on Grants Alone
Unfortunately, you can't rely on grants and funding from foundations alone. Sometimes you'll be waiting months between applying for funding and hearing an outcome, and if this is you primary source of funding, it will only lead to further stress and unwanted pressure. Grants should be incorporated as a part of a more diversified fundraising plan, otherwise, if a major grant falls through you risk sinking your entire organization. Any single donor should not represent more than about a quarter of your revenue
Conclusion
The next time you're preparing a short proposal, just pull out this mini grant proposal guide and templates to use You'll find that your ideas will fit nicely into the same sections.
Your nonprofit CRM can also help you write the budget section, giving you a clear picture of your organization's revenue stream over time. If you're short on details, do a little research – but don't skimp. Every specific bit of information adds another plus to your reviewer's list!
If you find yourself tackling too many grants at a time, you may even want to hire a grant writer.
Even if you're still searching for relevant grant opportunities, having a funding proposal template handy can save you a lot of time and effort in the future!
Grant writing can be a challenge, but starting early and working on one section at a time will make it easier, and result in a compelling application. Don't give up! With careful planning and hard work, your nonprofit organization is sure to win grants to support your mission.