By: Lisa Rupple, nonprofit communications professional with over 15 years of experience crafting messaging for nonprofits, and community foundations.
Figuring out the impacts of the global coronavirus outbreak and what it might mean for your nonprofit can change in just 24-hours. Whether you are the director of communications, or communications is just one part of your job description, here's some advice and a roundup of resources to help you.
Cancel your scheduled content right now
Cancel all scheduled social media posts, emails, newsletters. You definitely don't want to send invites for an event in April that was cancelled last week.

Need some coronavirus-related templates for print and digital communications? Canva has your back.
Get familiar with crisis communications
Communicating in times of crisis is different than your day-to-day work.
Here is a comprehensive set of fill-in-the-blank email, text, and social media messages for your Coronavirus donor communications strategy..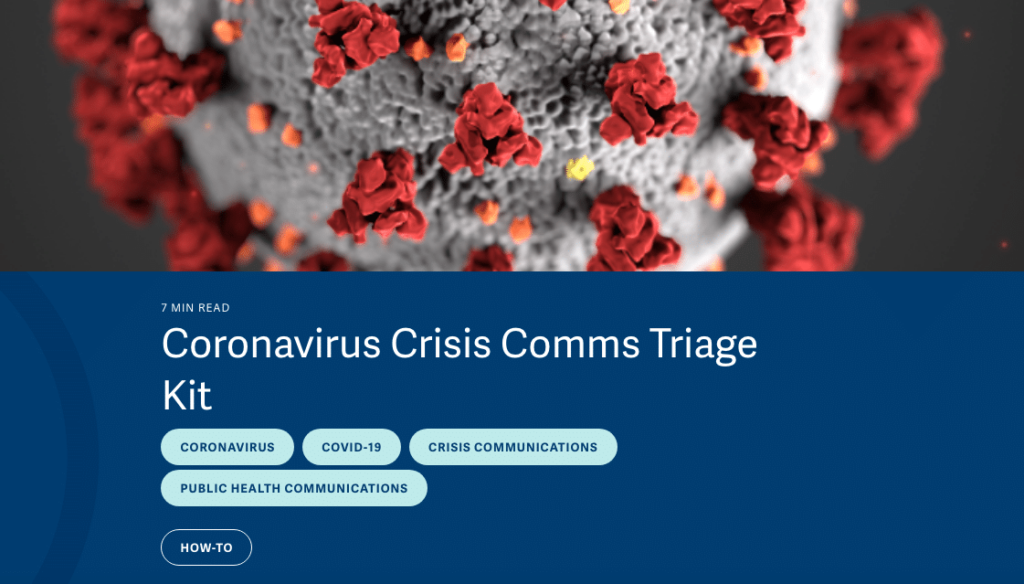 The Communications Network has compiled a triage kit for nonprofit communicators. It includes messaging for situations you might be facing right now and in the weeks to come.
Check in with your funders
You may not be the point person with your nonprofit's primary funders, but these resources are easy to share with your program officers or executive director.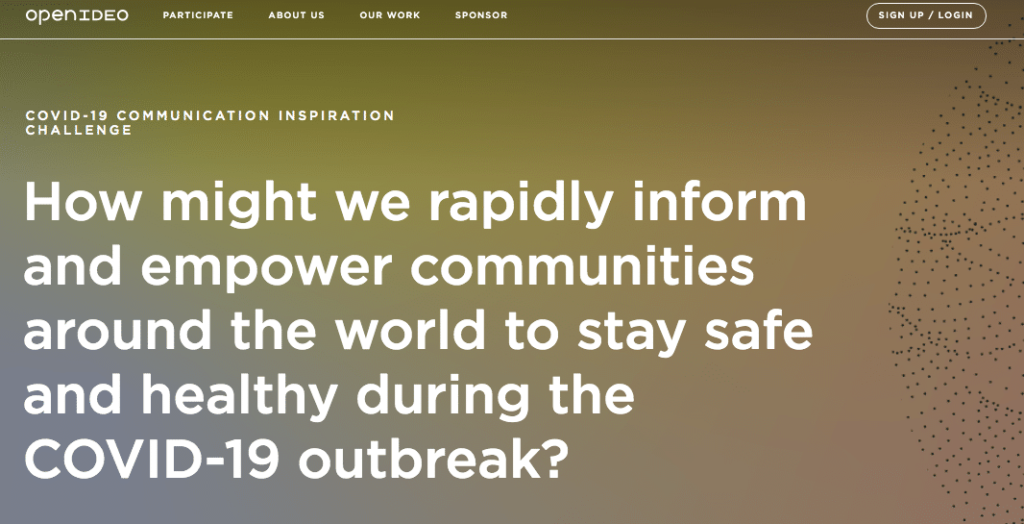 Foundations are also coping with the scope of this and what to do next. The Rockefeller Foundation is sharing this open call for input from Openideo.com.
Foundations are rising to the challenge, with many announcing special funds in response this crisis.
Talk to your local community foundation, they are geographically focused on the community your nonprofit serves. TAG (Technology Association for Grantmakers) recently polled its member foundations for how they are responding, check out the community foundation response!
What more can #philanthropy do in light of #COVID19? Add operational funding, release restrictions, and create rapid response funds. Bravo to #communityfoundations leading the way in building local capacity. pic.twitter.com/GBrP8O16SG — Technology Association of Grantmakers (@tagtechorg) March 17, 2020
Sign up for webinars for nonprofits on responding to the coronavirus outbreak
You may be reading this after these have aired live, but you can still sign up to view the recordings or check back once they post them.
After you've canceled your event, think about all of 2020
Most fundraising and program events by now are canceled for March and April. But it's probably a good idea to look at the remainder of the year and make contingency plans.
If you have to cancel your event, here is guidance for possibly converting ticket sales into donations.
Got an in-person program that's now a webinar? Here's a guide for running an online workshop.
Know how to talk to your donors about coronavirus
In times of crisis, the act of doing can be a great way to relieve anxiety. Help your donors funnel this energy to action. Your nonprofit's expertise can position you to educate them in light of the impact of coronavirus. For instance, if your mission is food insecurity then share how panic buying can affect the folks around them.
When stocking up for #SocialDistancing…If you see something labeled "WIC" please chose another brand. People who rely on WIC products to feed their kids cannot. We're all in this together 🙏🏾 pic.twitter.com/3OwhR650m4 — kerry washington (@kerrywashington) March 16, 2020
Just checking in with your donors is critically important right now. Here is a call script from Pamela Grow to help.
Help your donors understand that demand for the services you provide is about increase exponentially and they can help you scale to meet that need. Donating to your organization online (instead of dropping off food at the foodbank for instance) is a far more flexible, immediate way to help and perfect for social distancing.
Figure out your home office
If like many, you are new to remote work, you might be working from the kitchen table for now. The good news is there are tons of virtual office resources out there.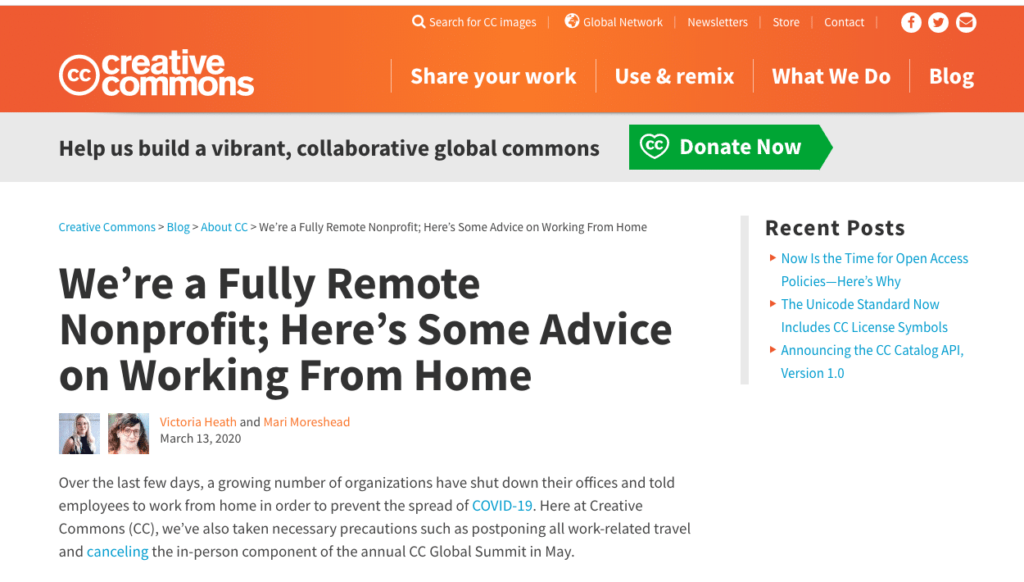 Your LinkedIn newsfeed is probably full of folks offering to share advice and even photos of their home office setup. You can also search these hashtags: #remotework #nonprofit #nptech #virtualteams
Get up to speed on managing virtual teams
With the all this social distancing, you might want some book recommendations.
Remote: Office Not Required by Jason Fried, David Heinemeier Hansson, the team that created Basecamp, SaaS project management software.
The Unashamed Guide to Virtual Management, by Ben Bisbee and Kathy Wisniewski, for managing virtual employees. Ben Bisbee has an extensive background in the nonprofit sector and offers a lighthearted approach to this new normal we are all figuring out.
Carve out some time for professional development
Been meaning to catch up on the latest advice for Google Ad Grants for nonprofits or digital strategy? The generous folks at NTEN have offered space for presenters from its now-canceled conference to post their presentations. All for free.
For everything else, here are mega lists for COVID-19 and nonprofits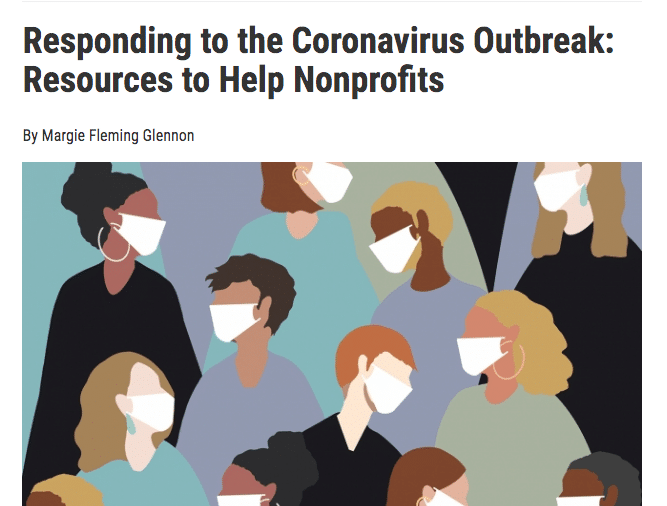 As always, check out the Sumac blog and subscribe to the monthly newsletter for more great tips and resources for your nonprofit.
Be well, stay home if you can, and we will make it through this together!
About the Author: Lisa Rupple is a nonprofit communications professional with over 15 years of experience crafting messaging for nonprofits, and community foundations.
See Complete List of COVID-19 Resources for Nonprofit Here.