On the lush tropical art school grounds of J.J. School of Arts in Mumbai, where I first learned my craft, is a big old house that is the Dean's residence now.
On the front of this house is a polished brass plaque that says: "Rudyard Kipling lived here."
Rudyard Kipling is the author of 'Jungle Book', 'Kim', 'The Man who would be King' and many other books and poems. So, every time I passed the house I was reminded of a delightful poem that he wrote:
"I keep six faithful serving men
Who teach me well and true
Their names are What and Where and When
And How and Why and Who. "
Rudyard Kipling and Nonprofit Direct Marketing
I have never forgotten that remarkable house, the brass plaque and especially the little verse. It has helped me understand that to be effective in direct marketing for the nonprofit sector one must use these same six faithful men:
Who are my best donors?
Where can I find more of them?
What did they want in return for their donation?
How can I improve results?
Why are repeat donors important?
When is the best time to reach them?
Why Direct Marketing Still Matters
Reason 1: Older people still prefer receiving direct mail over other marketing methods

According to DMA: The response rate for direct mail is 3.7% compared to 2% for mobile, 1% for email, 1% for social media and 0.2% for internet display.
There are more Baby Boomers in Canada today than ever before and the percentage will keep on growing for quite some time. The 2016 census from Statistics Canada shows that the proportion of those aged 65 and older climbed to 16.9 per cent of Canada's population.
Baby Boomers are generous donors. The average amounts donated increase with age, where those in the 65+ category give on average $643 annually.
For the next 10 to 20 years, direct mail will continue to become an increasingly important fundraising tool for nonprofits.
Reason 2: It takes two to tango, and digital alone can't cut it
Currently many charities have abandoned direct mail and have ended up sending donors emails and Facebook appeals, because that's the in thing to do. Some may have got a slightly above average click-thru rate or maybe not, but mostly they have ended up with a long list of dead-end leads.
Most digital campaigns aren't breaking through—why? In the effort to master digital, these charities have neglected the donor's journey. While digital plays a key role, the journey includes direct mail, segmenting your donor file, hospitality, incentives, social engagement, web targeting and immersion experiences.
Reason 3: We all know the 3 basic marketing communication principles— reach the right person, in the right place, at the right time
Most communications channels today are pretty good at accomplishing the first. Reach the right person.
Some outdoor mediums, emails, social media and other targeted channels are good for the first two. Reach the right person in the right place.
While Advertising, TV, video, internet display and radio work well for Reach the right person at the right time.
But there is only one medium that can do all three effectively. And that's direct mail.
Understanding the customer journey is vital for the nonprofit sector. Knowing how to move prospects from consideration to engagement and how to convert them to donors or volunteers or advocates, is vital.
Reason 4: Research is proof that direct mail works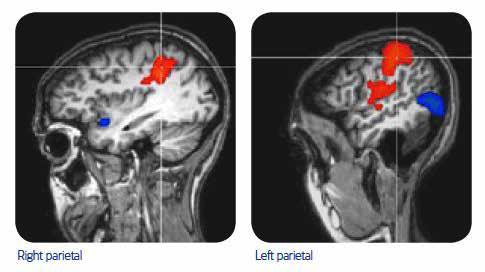 Research by Global research agency, Millward Brown, discovered that "tangible materials leave a deeper footprint in the brain."
The red area in the images above on the right of the brain represents greater oxygenated blood flow and hence activation stimulated by physical material versus on-screen on the left.
Yep, paper edges out pixels each time.
Mail makes a lasting impression. Mail is memorable, helps build customer relationships and brand equity and drives actions.
Let's not forget that as the Canadian population ages, planned giving will become another important point that nonprofits should start gearing up for, because there is a gold mine worth $30 trillion waiting out there.
The New York Post reported that Baby Boomers (born between 1946 and 1964) are the richest generation in history. They control 70% of all disposable income and while aging they are preparing to transfer an estimated $30 trillion through their wills and estate plans in the next few decades.
This money will be distributed among their children, grandchildren and their charities of choice.
Now, more than ever before, nonprofits need to develop robust bequest or planned giving initiatives to receive these assets from their loyal donors. And once again direct mail can play a major role in helping them with this opportunity.
Reason 5: Finally, digital and physical are not mutually exclusive
 No, I am not making a case against digital or social media efforts. Each of these is a vital element and plays an integral role in the customer journey. But only when strategically sequenced do they jointly drive real donor outcomes.
Need a solution to help you implement donor engagement and retention best practices? Silent Partners Software helps you increase donor engagement and retention with less effort.
About the Author: Billy Sharma is a brilliant direct marketing consultant and author and a regular contributor to the Sumac Blog. Sumac is part of the Silent Partner Software family, a company dedicated to providing exceptional software and services to nonprofits. With over 25 years of service, Silent Partner has helped organizations manage over 3 million donors and contacts across the US, Canada, UK, and Europe. Learn more.
Looking for a single CRM to manage your entire nonprofit? Check out SUMAC: