By: Ella Patenall – Content Manager for Tech co, a global resource for tech news and reviews. She writes on CRM strategy, email marketing, and content marketing. In her spare time, she writes a music blog and plays guitar in an acoustic duo.
Content marketing should be a central part of your overall marketing strategy. It is important as it allows you to share your mission and cause with your audience, demonstrate the good work you are doing, and ultimately, where their money is going or could be going.
It also helps your SEO (search engine optimization), which allows people to find your website on Google by typing in key terms relevant to your website. Furthermore, content can be shared and repurposed, which can help you access new audiences.
You want to create content that both nurtures the relationship with your current donors, as well as reaches new audiences. When coming up with your strategy, you'll need to think who your main audience consists of:
Where do they congregate?
Are they more likely to be on Instagram or Facebook?
Will they respond better to email or mail marketing?
Then target the right platforms.  All of your marketing efforts should reinforce your key messaging that aids your overall mission. 
Here are seven pieces of content marketing that you should have in your strategy to promote your nonprofit:
1. Newsletters
Your newsletter is a great way to share with your donors and subscribers what's going on within the charity, the latest work that's been happening, and generally showing your donors what their money has gone towards.

Example from charity: water
  This could be sent as an email using email software, such as Mailchimp, which allows you up to 2,000 free contacts before you have to pay a subscription, as well as offering discounts for nonprofits.

Using these programs is beneficial as you can send to large lists of people at once and view statistics, such as how many opened your email and how many clicked on the links within it. You should have a button on your website, on your socials, and in your email signatures to prompt people to sign up for your newsletter. Once they do, they will be automatically added to your mailing list.
Alternatively, you could use direct postal mail. Direct mail has a 42% open rate, which is double that of email, and those receiving mail marketing are 28% more likely to make a purchase. However, it is more costly and time-consuming than email. It may be a good option to use for larger newsletters sent out annually or biannually and sticking to email for the monthly updates.
2. Blogs
Having a blog helps your SEO. It shows Google that you regularly update your content, helps Google bots to understand what your website is about, and in turn, gets you more traffic. It's important to create content based on your key terms. Furthermore, it demonstrates that you have expertise and are 'thought leaders' in your field to help promote your nonprofit.
3. Case studies
Donors will spend 19% more at a company they trust, which goes to show howso instilling trust in your donors is one of the most important things to do in your marketing –, particularly in a climate where trust in charities is falling.   
Case studies are a great way to do this. Case studies should be about your long-term project work and in them, you should cover the following: The goal/ goals of the project, who took part and how, and the outcome.
Give as much information as possible and accompany case studies with images and/or videos to provide a visual element and make them more engaging. Here is some advice on how to write case studies.
4. Videos and images for social media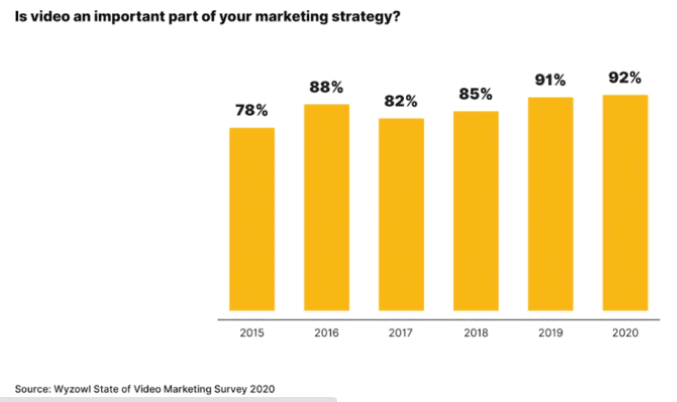 92% of marketers say that video is important for their marketing strategy and 95% plan to increase their spending. Nowadays having a variety of media to push to your social platforms is crucial, and video is an engaging form of content as it uses motion and noise, which catch our attention.
The trend nowadays, influenced by social media platforms like Instagram, Snapchat, and TikTok is towards short bite-sized clips. You could take advantage of this trend through promo videos that can give your audience a quick overview of your work.
Here are five ways to use video to promote your nonprofit.
5. Certificates
Once someone has donated, they can receive a certificate acknowledging the contribution they've made. This is a nice gesture for your donors and is very simple to carry out. You can find free certificate templates on Canva that can be edited to contain the name of the donor. These can be emailed or posted out.
6. User-generated content
The best form of marketing is when your audience does it for you, and this is exactly what user-generated content is. Every time someone posts a photo on Instagram and tags your charity or writes a review, this all aids your marketing.
Encourage people to share. Always include a call-to-action to share your social posts or to prompt your donors to share photos with their certificates. Other ways of encouraging sharing include carrying out social media competitions whereby people are prompted to tag a friend, shareable attractive infographics, and starting your own hashtag for a certain campaign or fundraiser. Always include your website address on your marketing collateral and a call-to-action wherever possible.
7. Infographics
Infographics are a visual way to present data in an attractive, appealing, and clear way. They are a collection of imagery, charts, and minimal text. They are great to include in your marketing collateral as they can give bite-sized information about your cause, giving it context and meaning in a simple way. They can also be shared easily.
There are a number of free tools out there such as Infogram, Canva, and Data Wrapper which can help you put together attractive graphics simply at no to very little cost.
There you have it, seven ways to promote your nonprofit by using content. As they say, Content is King and should be an instrumental part of your strategy, and this is even more true with a nonprofit that relies on sharing information and building trust with your audience.