Competition for donation dollars and donor attention is fierce. If you're looking for inspiration to help your organization meet or exceed your Q1 fundraising goals, here are some tried and true nonprofit marketing tips to grab donor's attention.
1. Nonprofit Storytelling and Emotional Appeal on Your Website Homepage
There are nearly 86 thousand charities in Canada, and 91% of them have ten or fewer full-time paid staff. That means a lot of outreach from competing causes like major television, magazine, and social media campaigns. How can you compete with the different environmental societies, hospitals, and international humanitarian groups that have a large budget to support their campaigns?
Well-timed stories that appeal to your donors hearts, minds, and budgets, can inspire them to want to be a part of accomplishing something meaningful.
When it comes to storytelling, the best stories have a theme and characters donors can relate to. Nonprofits who present themselves, and their donors, as the heroes of their story have the best chance of success.
The Hospital for Sick Children's VS campaign is an excellent example of the power of storytelling campaigns. The Sick Kids' Hospital Foundation turns themselves and their patients into characters that donors can relate to and what to help.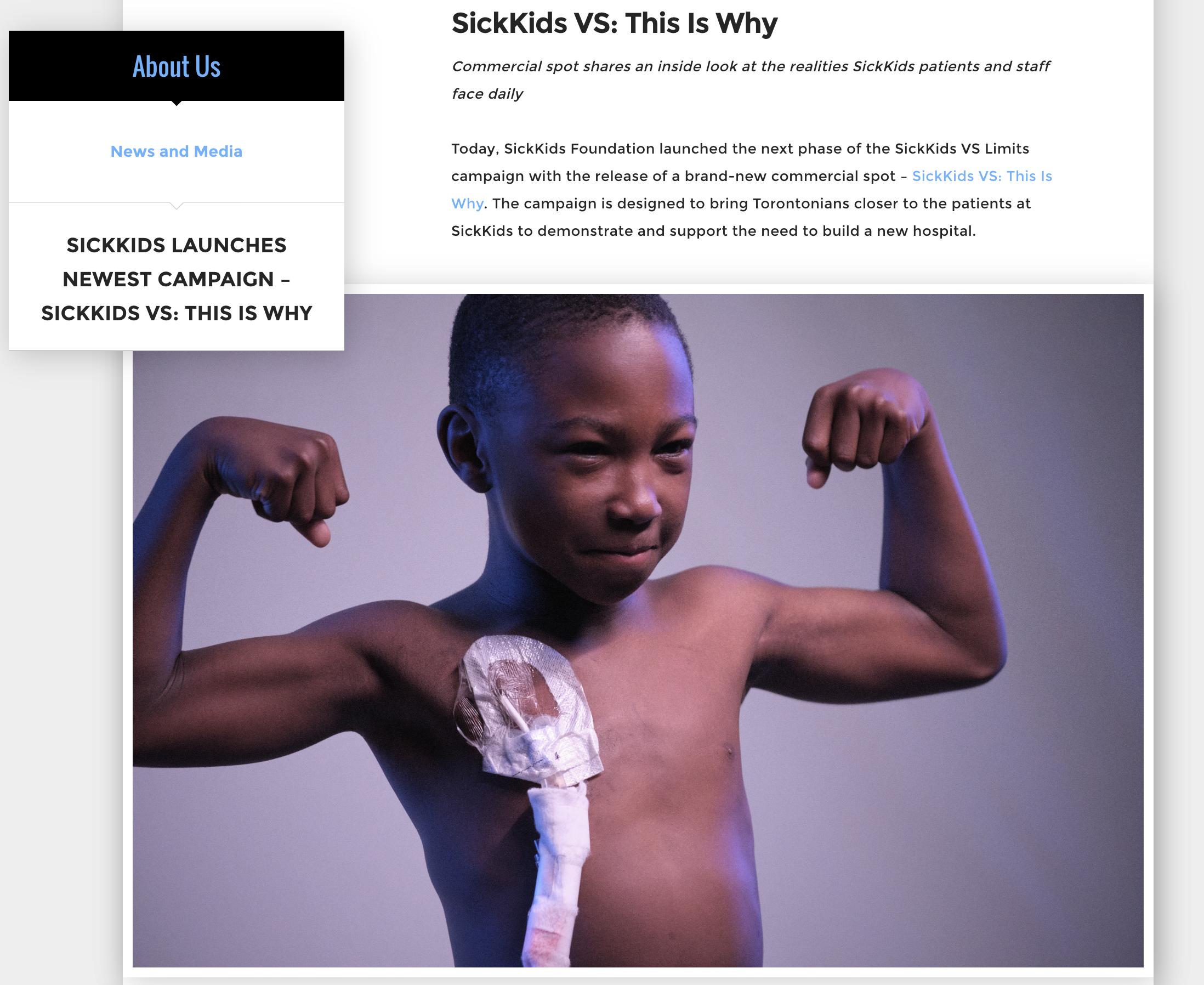 It's important to showcase how valuable donations are and the impact they have. There are many ways that organizations can do this on their website to entice feelings of empathy and gratitude.
Use a rotating carousel of stories as a banner on your website homepage or landing page. The website homepage/landing page is the first impression a website visitor gets when they visit your website. Rotating images with headlines like "learn about Charlie's fight", "how last years donations helped Ana finish Grade 10" or "how your holiday donation can help save the rainforest" are catchy and call on visitors to research more and hopefully donate too.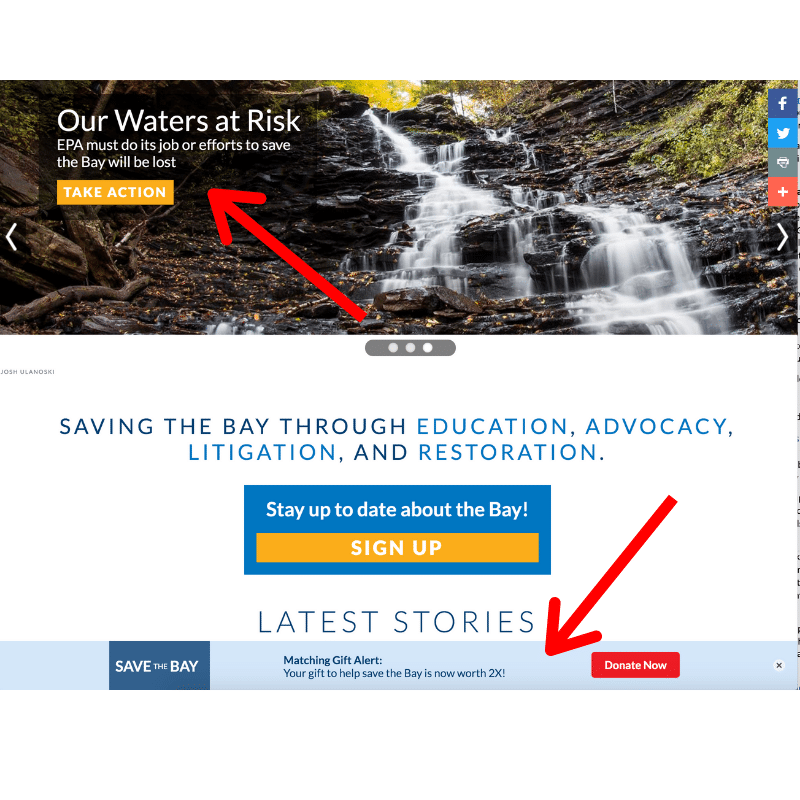 Implement donation shout outs. Recognition is one of the best ways to help tell stories. On your home page, consider a news feed sidebar or banner that highlights the effects of specific donations. For example, "Georgia from Tennessee just donated $20 which sends school supplies to 10 students in Burundi" – Recognition and marketing all in one!
Use pop-ups after 1 minute of exploring your website. Sometimes pop-ups can come off as annoying, but they do work to get your visitor's attention. Whether it's subtly on the side or floating over the center of the window, pop-ups are definitely a strategy worth testing.
2. Nurture Donor Relationships with Email Marketing
Reduce clutter so that your donation button stands out. You want one call-to-action (learn more, donate) to stand out in your email and on your website. You can do this by creating contrast with color and using action words that speak to the donor's desire to give, like "Save a koala now" or "Send a child school supplies now". Always remember how powerful action words are. Sumac offers sleek donation forms that live on website your website.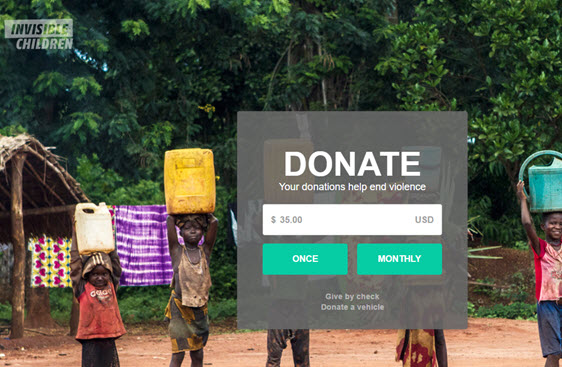 Use powerful images that evoke emotion. Use images that show those who benefit from your cause to help encourage donors to give.
Track your open rates and other email metrics to improve them with every email blast. Understanding how much donors give throughout the year, and in previous years can help you better understand the sort of personalized campaign messaging to send their way in an email or in other communications. Donor Management Software can help your organization track your interactions throughout the year across email marketing campaigns, phone conversations, and in-person events.
3. Personalize Your Nonprofit Messaging by Making your Campaign Donor-Centric
Understanding your audience can help you identify the best channels for outreach, and a personalized appeal will make your messaging resonate better with potential donors.
For example, when approaching a younger audience, you probably don't want to ask for a large one-time donation, but rather smaller monthly donations. The Giving Report found that 35% of donors who made monthly donations continued to support a charity for between 3-5 years.
How to personalize your end-of year digital communication even more: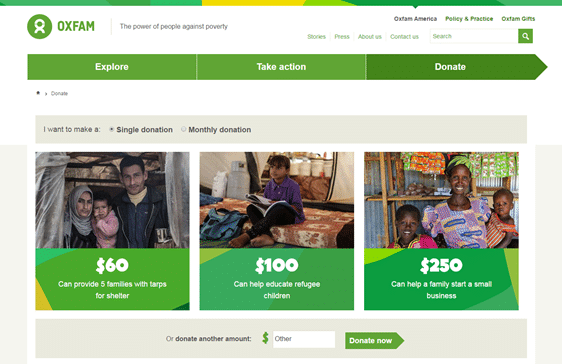 Ask for a specific amount, to minimize the amount of thinking a donor has to do ($5, $10, $20, $50, $100, custom).
In all communications, including emails, websites, and social media, use conversational language to make it more genuine.
Appeal to last year's end-of-year donors. Propose your donation as a tradition they stick to every year that bonds them with a cause, a reason for giving over the holidays.
Keep your end-of-year message and call-to-actions short and sweet by linking to stories on your blog, videos and other content.
Video is an incredibly powerful tool for nonprofits. There's no better way to stir emotions and draw people in to tell them a story about your need than a carefully crafted video. Here's a great example from TippyTap.org: 
This video is incredibly powerful. It shows how simple saving thousands of lives can be by investing in the tools needed to build a Tippy Tap. Find more great fundraising videos here.