In this article you will find tips on how to write the perfect thank you letter as well as a sample letter to help you put the tips into context.
Make it fresh & friendly
Write the letter as if you were speaking with a friend. Don't worry about writing perfect sentences. If it's difficult to write or taking too long, you're thinking too much. Let the words flow from you. The last thing you want is for the letter to sound like it was mass produced by a bureaucracy.
Make it personal
You never ever want to address your letter: "Dear Supporter." Instead, use the person's name. Also include the gift amount and any other details that will make the donor feel like the letter was intended for them, not just some random supporter.
Create continuity
Be sure to coordinate the thank you letter with the original appeal. For instance, if the original appeal asked for money to save the whales, the thank you letter should mention how much this is going to help the whales. See How to Write the Perfect Fundraising Letter for the original appeal that coordinates with this sample thank you letter. It's all about creating continuity for the donor.
Show appreciation
This one seems pretty obvious, but showing appreciation is about more than just saying "thank you." It's about letting donors know that their donation is going to play a vital role in allowing you to do good and that your organization wouldn't be able to continue its valuable mission without generous people like them.
Tell donors how their donation will be used
You want donors to be able to visualize their donation at work so that they can get real gratification out of the act of giving. For that reason, be sure to tell donors how their donation will be used and reassure them that it will be used as they intended. If you can include pictures showing their donation at work, all the better. It will increase the likelihood that they will donate again.
Make it authentic
Be sure to use a real signature from someone of importance in the organization and whom donors will recognize. On the envelope, use real stamps and labels. Labels work better than peek envelopes which appear mass produced. If it's possible, include a personal hand-written note. Long-time donors will really appreciate this.
Invite the donor to connect
Keep the conversation going by inviting the donor to call or visit the organization. Donors will appreciate this as you are showing an interest in them and their connection to the organization as a donor and partner.
Get it out fast
Try to send out thank you letters within 48 hours of the donation. For some organizations this will be impossible, but remember that sooner is better. Donors not only want to feel appreciated soon after the act of giving, but they want to be reassured that you got their donation.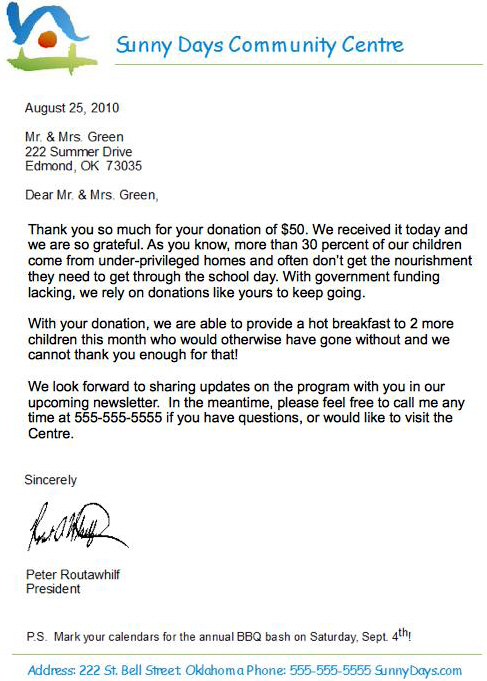 Want to automatically personalize thank you letters with donor information like name, address, salutation, and donation history?
Find out how you can here.