Google Ad Grants for nonprofits are easy to acquire and are incredibly beneficial for nonprofits. If you haven't yet applied, you should! Here's everything you need to know:
What is a Google Ad Grant
Google Ad Grants is an in-kind programme that gives nonprofits $10,000 per month in free advertising on their Google Ads platform.
Nonprofits can use the grant to run unlimited awareness and donation appeal campaigns based on keyword phrases of their choosing.
Google Ads always hold the coveted top three or four results in a Google search and the ads generate over 300 million clicks per day, so this is a grant that can help tremendously with your marketing efforts!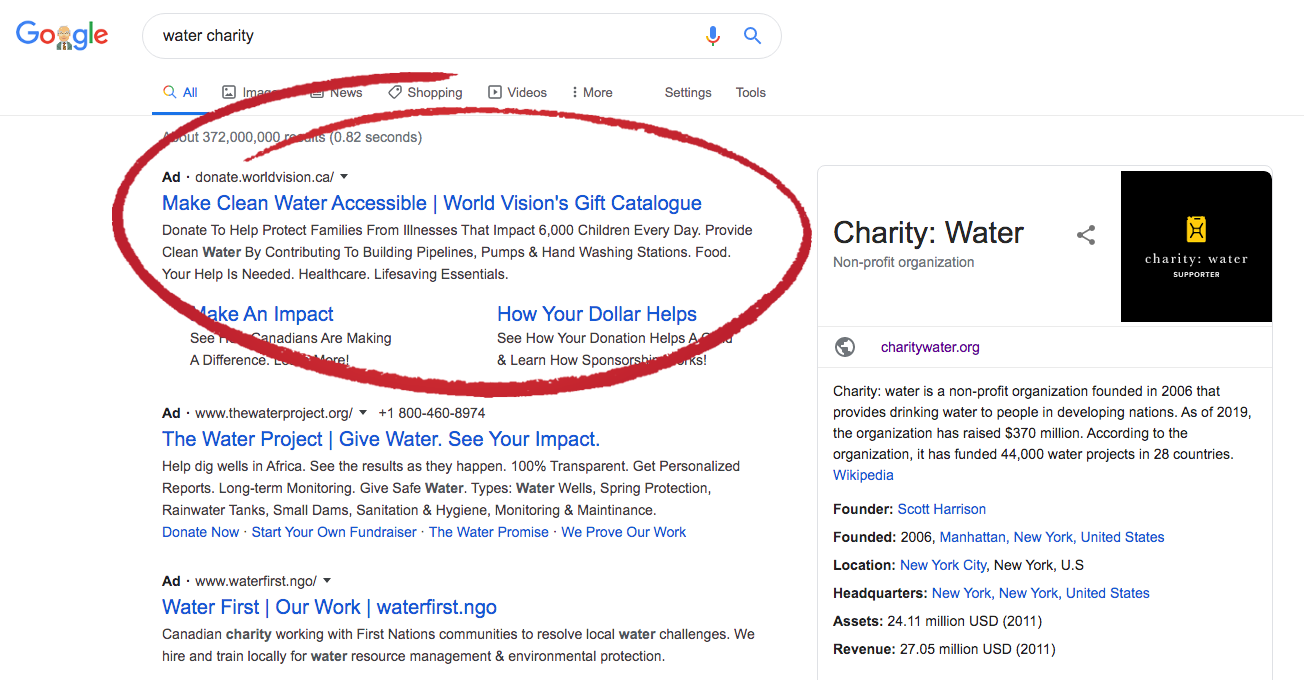 Application Process
Getting approved for Google Ad Grants is much simpler than most of the other grant programs. You don't have to fill out a lengthy application to apply for the Google Ad Grant; all you have to do is register with your local TechSoup partner, fill out a quick form, and upload proof of your nonprofit certification.
All nonprofits (with a few exceptions around hospitals and schools) are eligible, so you're not competing with other nonprofits for a limited pool of funding. Start the application process here.
Eligibility
In order for your nonprofit to be eligible for the program, you must:
Hold valid nonprofit status
Agree to Google certifications, and terms of service
Direct all proceeds from product sales to their philanthropic efforts
Have a quality website which meets Google assessment criteria (see the page linked above)
Pass a Google pre-qualification process
Healthcare organizations, government entities and educational institutions aren't eligible. Their philanthropic arms, such as foundations may, however be eligible. Applying for the program does not commit your organization to any binding terms. Check your eligibility here.
Making the Most of Your Google Ad Grant
According to Canadian digital agency ConnectAd, many nonprofits only use up about $330 of the $10,000 grant allotment because their ads aren't set up properly. The reason is that Google Ads can be tricky to setup if you don't have this expertise in house.
PPC campaigns that are set up and managed by Google partner agencies, on the other hand, use an average of over $5,000 of their monthly grant allotment. Because Google Ad grants provide ongoing free advertising, it might be a good idea to spend some money upfront on a consultant to make sure your ads are set up correctly and are working to drive traffic to your website.
If you decide to do it yourself, Digital Charity Lab offers a guide for nonprofits on maintaining Google Ad campaigns.
If you decide to go with a consultant, we suggest one with a proven track record for success in the nonprofit sector like ConnectAd.
Looking for more? Check out: 5 Tips to Get the Most Out of Your Google Ad Grant
Tips for Setting Up and Managing Google Ads
ConnectAd offers some general tips from the pros on setting up and managing your Google Ads:
#1: Ensure you are using keywords your target audiences are using to find organizations like yours. Don't use industry lingo, acronyms, or competitor names.
Use the Keyword Planner in Google Ads to gain insights on the sort of long-tail and broad match keywords which people are using to find nonprofits like yours.
#2. Google Ads can be paused, stopped, and restarted based on factors like seasonal demand. You can do keyword AB testing to ensure you have the most effective ad messaging.
If you have a global or regional addressable audience, testing and targeting your campaigns accordingly is the best strategy. Don't just "spray and pray."
#3. Consider selecting long-tail keywords which are broad, but not too broad. You may recall a time where you are searching for something, like a new desk. You may not have thought to search for an ergonomic stand-up desk yet search results may inspire you to look at them. Only text ads are eligible for this program, not Google Display Ads.
#4. Make sure the landing page (meaning the page which is linked to your ad) is relevant to the Google Ad copy. It might seem logical to send a user to your "Contact Us" page, yet if a potential donor can't find the information which was promised in your ad, they may become disillusioned by the experience.
#5. If your nonprofit is only regional, it's important to make sure you target your ads accordingly. Google Ad Grants are pre-set for $2 Google Ad bids, for a total of $330 per day. Your ads should be as specific to your nonprofit as possible to narrow the number of "competitors" you are up against when vying for visibility.
#6. Use negative keywords – meaning words aren't relevant to your nonprofit but use them sparingly. For example, if your organization supports entrepreneurs, but not multi-level marketers, you could add "NOT MLM."
#7. Monitor your ad performance. Not only is it a good idea to change your campaigns or keywords every once in a while, but it is also a requirement to remain in the program.
#8. Don't focus all of your ad campaigns on donations, even if donations are your end goal. Awareness, volunteerism, events, and community are generally more successful for generating traffic.
Tips for Getting More Clicks on Your Google Ads
Let's take a closer look at ways to get your ads to appear more often, and to get more clicks on your ads: 
#1. Offer valuable content such as guides or webinars which position your organization as a thought leader in your area of specialty. On the landing page for this rich media, encourage visitors to subscribe to your email newsletter.
#2.Use AB testing to "tweak" and optimize your results over time. Google favours active marketers over those who set up campaigns and hope for the best.
#3. You have the option to prioritize clicks or impressions when setting your ad. Choose "Clicks" to position your ads more selectively, but to browsers who have a higher propensity to go to your website.
#4. Before you launch a Google Ad campaign, make sure your website content reads well, is mobile-friendly, and loads quickly. Much like you wouldn't want your offices to be in a disarray during a special event, your website should look and work as professionally as possible.
Google will be reviewing your website, so it should reflect well on your organization. Google's algorithms and employees seek out credible nonprofits which "embrace" the internet and digital marketing as a business channel.
#5. If your nonprofit's constituent relationship management or donor management system offers website integration for self-service, it will save you a lot of time and minimize manual data entry errors. This is particularly valuable in terms of collecting: Email addresses, Donations, Volunteer or member information, Event or course registrations.
Learn more about affordable digital marketing for your nonprofit in How to Create a $150,000 Digital Marketing Campaign for $125.
About Sumac: Sumac is part of the Silent Partner Software family, a company dedicated to providing exceptional software and services to nonprofits. With over 25 years of service, Silent Partner has helped organizations manage over 3 million donors and contacts across the US, Canada, UK, and Europe. Learn more.