Holiday donation letters are critical for year-end fundraising campaigns.
The fact that direct mail still remains the most popular channel for fundraising appeals, year after year, proves that holiday appeal letters work. So, if you've ignored direct mail in the past, now's the time to get started!
A good holiday donation letter feels personal. It's your chance to talk about your values, remind donors of their vital importance, thank them for their support and get them excited about contributing again.
If that sounds daunting, don't worry, we're here to help.
This holiday appeal was created by Haven Toronto (Formerly The Good Neighbour's Club) and the results were amazing! We hope it will inspire you to think outside the box this year.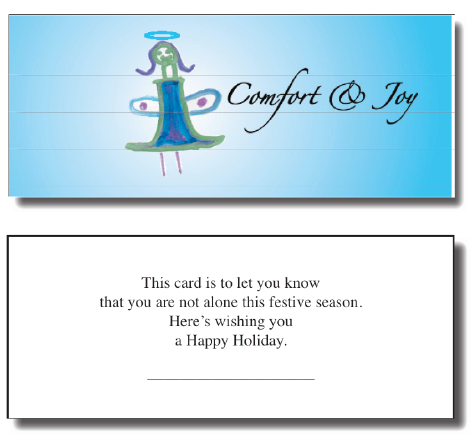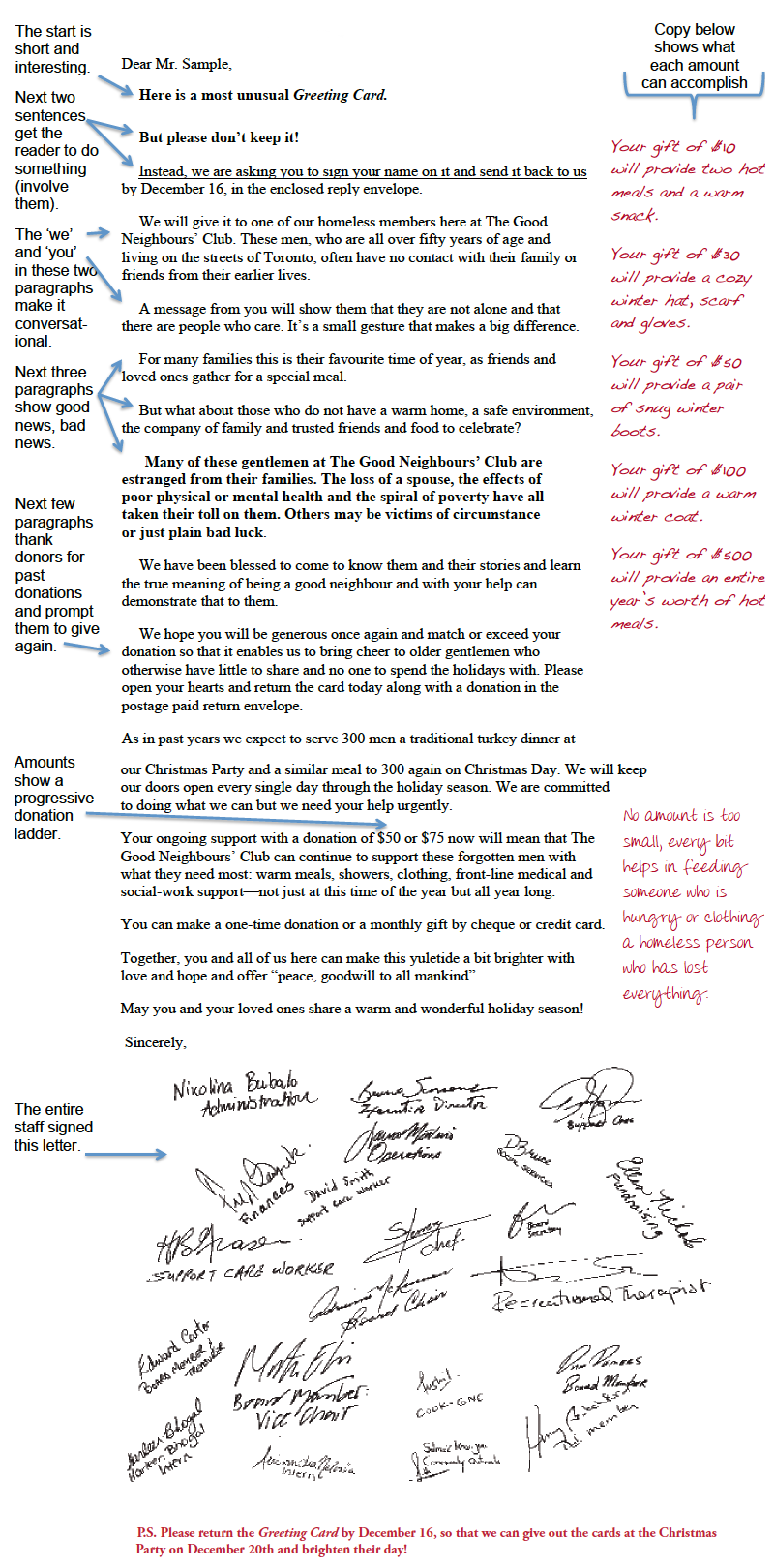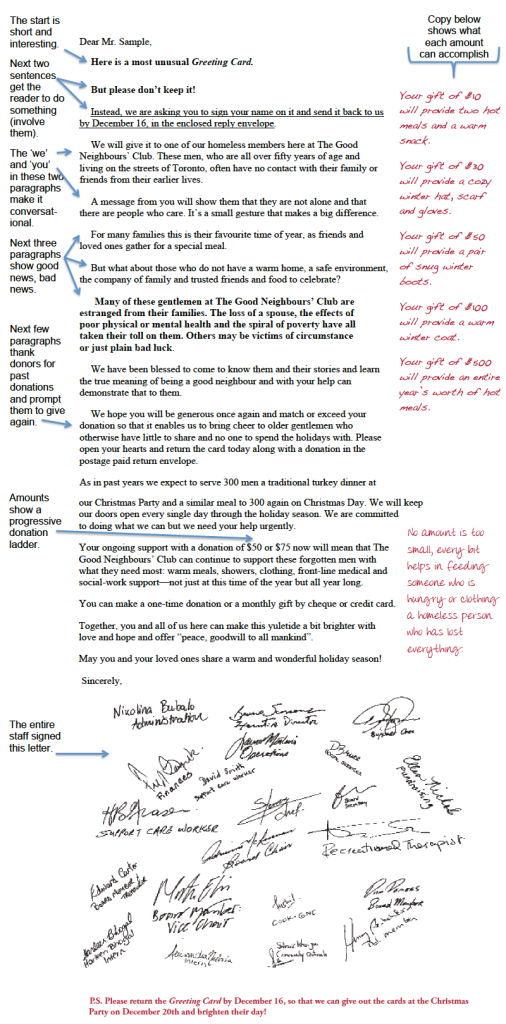 One of the key elements that made this appeal so successful, was that it asked donors to respond. The result: this piece generated enough funds to feed 2,810 homeless men. It achieved a ROI of over 875% and raised twice the amount as the previous year. And, best of all, it got some great feedback from donors: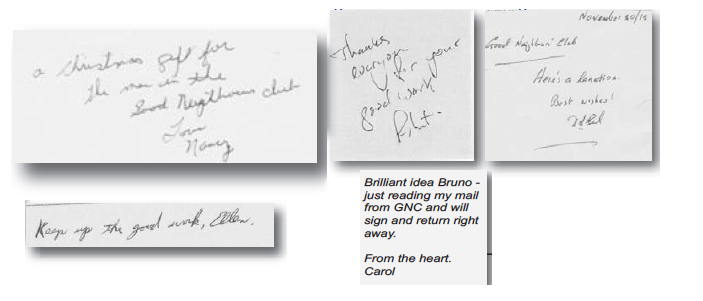 Holiday Fundraising Letter Templates
You might also want to check out these additional fundraising letter templates for future campaigns. While these letters aren't written specifically for end of year fundraising, they can easily be customized to include a Christmas theme. Here are two holiday appeal letter samples for new and long-term donors:
Christmas Theme for New Donors Template
Holiday Theme for Existing or Long Term Supporters
Creative Holiday Fundraising Letter Samples
Let's take a look at some more examples of successful holiday donation request letters:
#1 St. Anthony Holiday Donation Appeal
This letter from St. Anthony created by Direct Axis is a great example of a well-designed holiday appeal. It uses compelling visuals to draw the reader in and includes a tear off at the bottom to make donating easy.
They've also included a special note about their situation during the COVID19 crisis, making their appeal timely and relevant – and they've not forgotten that all-important outer envelope (see tips further down).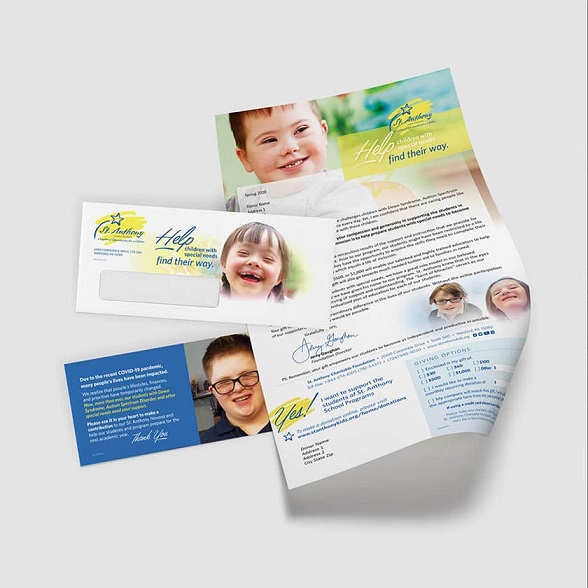 There's no getting away from this holiday appeal letter from Water for Guatemala because the visuals grab your attention. This has much less text than your usual holiday appeal letter, but the space is used really well to highlight the water crisis, and the entire letter can be read in one quick scan. This sort of fundraising appeal is most effective for new or first-time donors.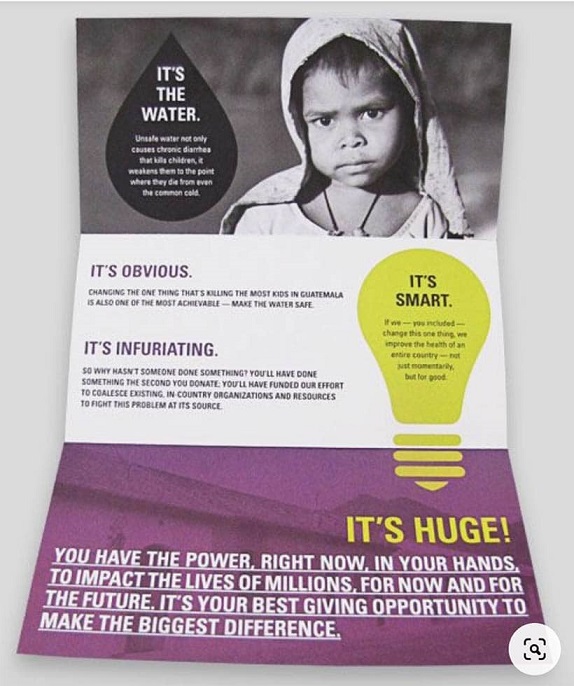 #3 Commtouch/Acumen Fund Postcard
We talk about the importance of using non-standard sizes in the tips further down. Commtouch is a perfect example of why this works.
They used postcards to tell their customers about their work with the Acumen Fund. The campaign followed an integrated marketing approach, which meant that the same photo and story was circulated on their social media, emails, and company newsletter.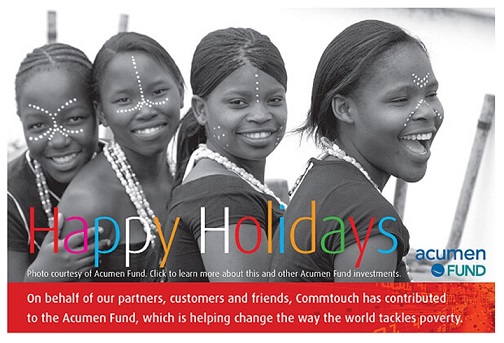 #4 Christie Refugee Welcome Centre's Advent Calendar Companion
We're cheating a bit – this campaign was digital. But it's so ingenious and easily incorporated into a Christmas donation letter that we couldn't resist!
The Christie Refugee Welcome Centre used this simple Advent Calendar as a game that offered a stark look into the basic privileges many of us enjoy. For example, donors were asked to give five cents for each room in their home or 10 cents for each box of cereal in their cupboard. Why not include a custom game or advent calendar printed on the back of your next holiday donation letter?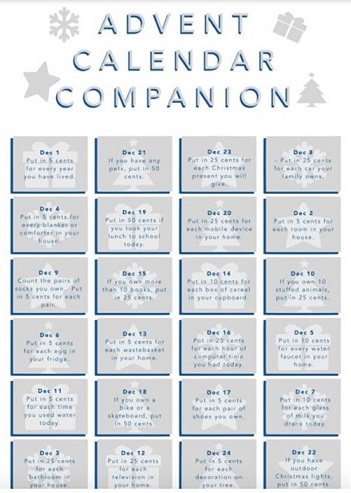 Two Very Good Reasons To Write A Holiday Appeal
Nearly one-third of annual giving occurs in December. And 50% of nonprofits receive a majority of their annual donations in the last three months of the year – from October through December

A recent survey by Leger Marketing reported that more than half (62%) of Canadians said they would donate to a charity over the upcoming holidays.
The high donation volumes during the months October-December means nonprofits should leverage all possible channels to maximize incoming donations – especially if a large chunk of your annual budget is received during this time.
If You're A Small Nonprofit
If you're struggling with your marketing budget, it's easy to cut costs by leaving out holiday donation request letters and sending emails instead. Printing and postage costs can run quite high for direct mail campaigns, but don't let this discourage you! Follow these tips to ensure you don't lose out on valuable donations:
Create a budget you are comfortable with: We understand you don't have ready cash to invest in mailing campaigns, especially if this is your first time and you aren't quite sure of ROI. However, ignoring this opportunity to communicate with your donors could be a lot costlier in the long-term, so set aside what you can.
Decide on a number: You don't need to send holiday appeals to everyone! Based on your budget, decide on how many people you will be able to mail this year. This will help segment your campaign
Focus on existing donors: Once you know how many you can afford, segment your list. Look at small-to-midsize donors who've previously given or long-time supporters who are older and would appreciate a Christmas donation letter. The idea is to spend your time and resources on donors most likely to give.
Make the donation easy: Don't forget to include a pre-addressed reply envelope or a link to your online giving form. Smaller NGOs may also benefit from nonprofit CRMs that keep track of holiday appeal responses automatically since it saves time and effort.
When To Send Your Holiday Appeal
Generally, nonprofits start planning their outreach for the giving season in August – some even begin in January!
Of course, this depends on the size of your staff, the number of appeals you will send and your nonprofits' overall fundraising strategy.
Remember, a holiday donation request letter is usually only a part of your larger end-of-year fundraising campaign. That said, starting a month or two in advance will give you enough time to plan, design and post your holiday appeals.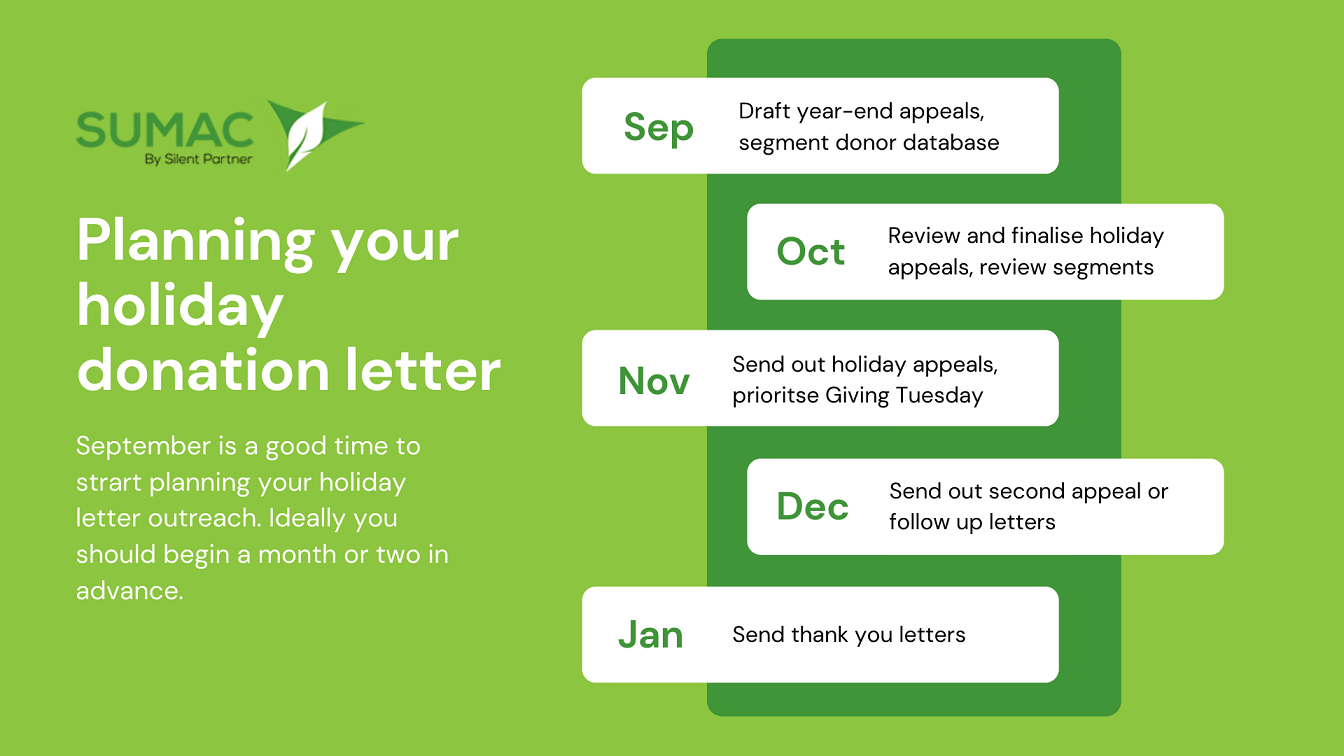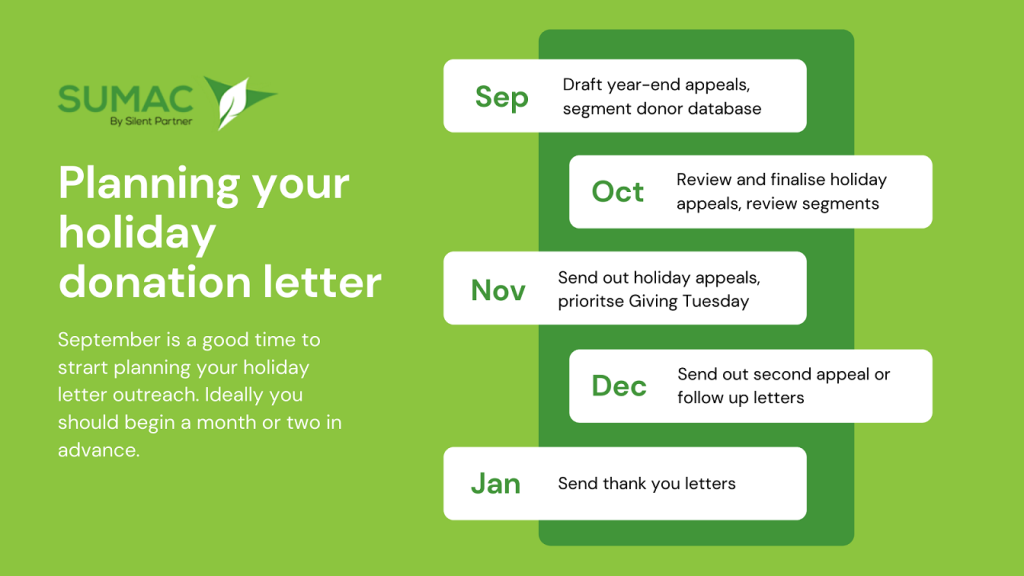 November is likely too late to put together (not to mention post), a holiday appeal letter in time. September or October are good months to start planning.
Here's a timeline you can use as a starting point. Depending on your strategy you may want to allow more or less time to get things done.
Additional tip:
You could plan to send a holiday appeal as part of your #GivingTuesday campaign instead of posting a Christmas donation letter. The great thing about Giving Tuesday is the sense of urgency it creates, which encourages people to give on the day itself!
Tips for Writing A Successful Holiday Appeal
Starting an appeal letter is like starting a conversation. You're breaking the silence. Some hints: a) Keep it short—long run-on sentences are daunting; b) Try to include the word "you." Remember the WIIFM rule: what's in it for me?c) Arouse interest at the start—you have a few seconds to capture your reader's interest, e.g. "Jonny is going to see his Dad today. And he is terrified."
Make the letter as personable as possible. It's a conversation so it should be full of "you" and "our" and "we" and "your." Use active verbs to convey an upbeat tone, e.g. "Give today and you'll help 500 puppies" vs. "Giving today will help 500 puppies."
Focus on the donor. We know you want to talk about what you've achieved in your holiday appeal, but focusing on donors gets them involved. Remind supporters why their donations are valued and what their support has accomplished – this is a nice way to focus on them while talking about your impact as well.
 Don't just ask people to donate. Instead use words like 'join,' 'support,' 'build,' to create a sense of community – appeal to their emotions first and not their wallets.
Tell a story; give some new news. That has the strongest reader appeal.
Make your letter easy to read. Write with a warm and personable voice. Double spacing helps legibility.
Add a sense of urgency. Even informing your donors that this is a special year-end package adds a sense of some urgency and prompts them to act.
Acknowledge and thank them for their past support, e.g. Because of friends like you, we have been able to provide…
Nudge your donors to give a bit more. Start the giving ladder with their last donation amount and give them higher options.
Make it visual. High-quality photos can go a long way to showing your impact and lend credibility to your cause. Photos can also break up the monotony of text.
Show what each amount will accomplish. Showing what each amount can accomplish gives them a sense of what their donations can do.
Allow them to give online. Of course you'll want to include a donation form in your package, but you should also give them the opportunity to give online. Tell them where on your website they can make a donation and make sure your donation form connects to your nonprofit CRM.
Tell donors their contributions are tax deductible, since many people are also assessing their year-end finances during this time.
Present a problem (bad news) but balance it with how it can be solved with the donor's support (good news). Bad news raises more funds than good news. Neuromarketers even have a name for this phenomenon; they call it "counterfactual reflection". According to them the reason it works is because just like in the movie, It's a Wonderful Life, it shows how businessman George Bailey shifts from despair to intense motivation when an angel intervenes to show him how much worse off his town would have been without him. Most of us don't have a guardian angel named Clarence to show us alternative histories, but it turns out that imagining a what-if scenario is a powerful tool in fundraising.
Don't forget the P.S., It's your final plea for action. More than half the people read the postscript.
Don't Forget Your Outer Envelope: The outer envelope is the first impression you make – you may have written the most amazing holiday donation request letter of your life but that won't matter if no one even opens your mail. Spend some time deciding how to design your envelope – and what to include on the outside.
Remember you will be competing with every other charity so consider a different size envelope than a standard No. 10 envelope to stand out from the others. An invitational or a 5" X 7" envelope will not cost you much more in postage then a No 10 envelope.
Paper thickness and colours: Thicker envelope stock, or non-standard envelope colours can help your appeal stand out in the mailbox. For special donors you can also include a handwritten note on the outside, to make it really personal.
Fundraising Letter Checklist
Download and print this fundraising letter checklist to make sure you stay on track of everything and don't forget anything important. Good luck with your end of year fundraising! Download the checklist here.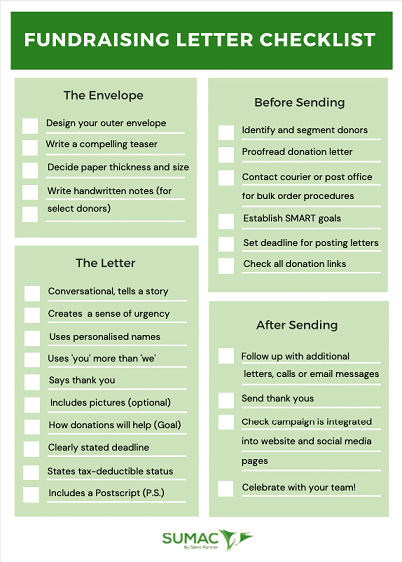 Before Sending Your Holiday Appeal
Identify and segment your appeal. Customizing your holiday donation request letters based on previous donations, donation frequency, campaign preferences, or a multitude of individual donor attributes is critical to a successful campaign. Start by drawing on the information stored in your nonprofit database, if you use one. Asking a donor who's donated $5000 in the past for $25-50 is a huge potential loss.
Personalize your message. People can tell when holiday letters aren't personalized, and tend to ignore these. For bigger donors, adding handwritten notes or signatures or following up with a call can really boost your ROI. At the very least make sure you personalize their name and donation amount (offer a range based on previous donations). You can also take this a step further by crafting custom holiday donation appeals relating to specific segments like major donors, lapsed donors or those who've never given before.
Establish SMART goals. Use previous reports as a baseline and decide how much money you hope to bring in through your year-end appeal letters. How much money do you need to raise to cover operational expenses?
Check and recheck links. If your holiday letter includes a link, make sure your donation system and landing pages are in top shape. Ask members of other teams to check as well – you can never be too careful!
After Sending Your Holiday Appeal
Follow up. A timely follow up after sending your end of year fundraising letter is critical to long-term success, makes donors feel valued and incentivises them to keep coming back. These can be in the form of additional mail, postcards or emails.
Thank donors! Literally every expert will say this, but it cannot be said enough. There's no better way to boost donor retention than thanking them properly. No matter the size of the gift, make sure you send out timely thank yous that reiterate the impact of their donation and how you will use it.
Create an integrated experience. Make sure your donors are seeing the same story no matter where or how they're interacting with your nonprofit. This means the story (and language!) in your holiday donation letter should also be featured on your website, social media channels and newsletters.
That's it! We're confident that these guidelines will help you create a stunning Christmas donation letter and holiday appeal.  With our strategies (and holiday appeal letter samples!) you'll be well on your way to crafting a letter that grabs attention and gets those all-important end-of-year donations flowing in!