From managing paid staff members to volunteers, nonprofit human resources staff have a lot of tasks, paperwork, and people to keep track of. Nonprofit HR software can help alleviate some of the heavy lifting when it comes to onboarding and managing employees and volunteers.
This is why your organization needs Nonprofit HR software: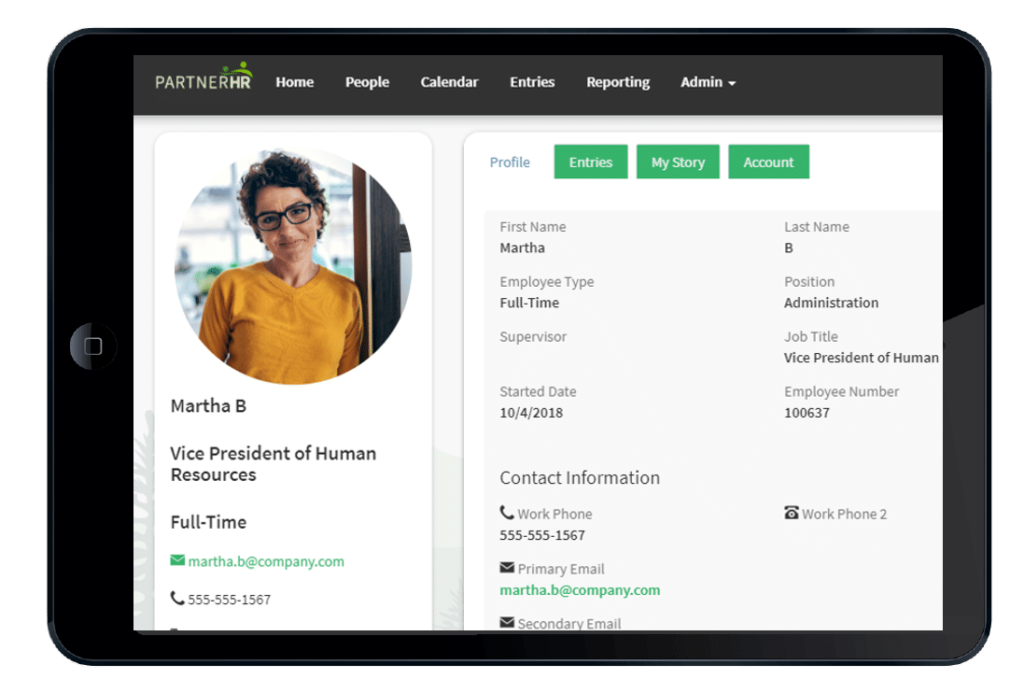 Improve Efficiency
Efficiency is the number one reason that nonprofits need HR Software. Nonprofit professionals are used to getting by and doing more with less whether they are HR, program staff, or fundraisers, but nonprofit HR software can make nonprofits more efficient by:
Organizing documents
Automating reminders
Improving task management
Streamlining onboarding and training
Automating reminders
Better workflow with access levels
Managing time-off requests and policies
Giving employees control (self-serve)
Document Storage
Nonprofits also need HR software so they have a centralized, secure place to store important employee and volunteer documents, like background checks, annual reviews, and contracts.  Other benefits:
Find documents quickly. Find the document, form, or policy that you need without sorting through dozens of file folders.
One version. Centralized document storage means the most up-to-date versions are readily accessible and not saved on someone's hard drive or inbox.
Maintain organization and processes through turnover. Staff or volunteer turnover can often leave confusion over where certain documents are saved and which are the updated versions. Document storage centralized in an HR software means the documents are easy to find, clearly labelled, and always up-to-date so staff or volunteers can find what they need when someone has left your organization, or in short-term situations like when your HR person is sick or on vacation.
Go paperless. Keeping documents in a virtual library cuts down on physical storage space and paper usage.
Task Management
Nonprofit HR Software, like Partner HR, also offer a built-in task management tools where managers can schedule and track their team's responsibilities.
Built-in task management helps managers:
Quickly assess project status
View the team's workload and project pipeline
Manage timelines and deliverables
With built-in task management managers can efficiently schedule and track projects, giving them more time to focus on growing your nonprofit!
Onboarding and Training
With lots of new volunteers coming and going, it can be overwhelming for nonprofit HR staff to onboard new staff on top of their other important tasks.
Nonprofits HR software be used to streamline that onboarding process. Set up a list of action steps to complete for new volunteers and employees so new hires have filled out necessary forms, and are up and running quickly with any policies, benefits, user permissions, and equipments needed to get started.
Streamlined onboarding not only leaves new hires feeling well supported, but they will see how organized and smoothly the process was carried out and feel good about their decision to work for your nonprofit.
With nonprofit HR software, you'll also be able to track training for your employees to see where they are in their training and set reminders for when certifications are coming up on renewal.
Automated Reminders
When your organization uses Nonprofit HR software, you can set automatic reminders so you never miss an important deadline or milestone.
Set reminders for:
Renewal of background checks for employees or volunteers
Performance evaluations
Certifications that expire and need to be renewed
Milestone check-ins for employees who are on probation
Automated reminders will keep your nonprofit's HR tasks running smoothly:
Set it and forget it! No more reminders clogging your calendar or to-do list.
Never miss a step, even after turnover. The reminders are saved in the HR software, so if someone moves on from your organization you don't need to go through their documents to find out when things are due, the system will automatically remind you.
Avoid rushing and last minute requests. There is nothing worse than that sinking feeling when you've forgotten something until the last minute, automated reminders will make sure tasks aren't left until the last minute.
Never miss a deadline. Missing the deadline for something like renewing an employee's or volunteer's background check can impact their ability to continue working, or put your nonprofit at risk, but automated reminders will ensure you never miss a deadline.
Time-off Requests
Nonprofit HR software can also manage staff time-off requests for vacation, sick days and more. With online time-off request tracking you will always be able to easily track employees' vacation time and other time-off requests like sick days. And you can see a calendar view of vacation requests.
Employee Self-serve Portal
Reduce the workload on HR staff or volunteers by giving employees the ability to manage their own profiles and access information through HR software. With an employee self-serve portal:
Employees can request their time-off within the software
Employees can see their own time-off balances and approved requests which means they won't need to ask their manager or HR for this information
Managers can approve request within the HR software so it's very efficient to approve time-off requests
Managers can see their team's time-off requests and approved time-off in one, easy to navigate place
HR software can take the tasks that take up a lot of HR staff time to do manually, like updating addresses, or processing time-off requests, and streamline the process by giving employees the ability to perform those tasks themselves.
Employee self-serve portals, like the one offered by Partner HR, put the power in the hands of your employees to update their contact information, create time-off requests and more.
With nonprofit HR software, your volunteers and employees can:
Manage their own profile

Update contact information after a change of address

Update emergency contact information so it's always current
Submit time off requests for vacation or sick days
Search the employee directory to connect with their colleagues
Security
If added efficiency is the number one reason nonprofits need HR software, then security is a very close second!
HR staff handle some of the most sensitive information at your nonprofit, next to your donor and constituent data. Everything from addresses, to salary, and benefit information, and without secure HR software, that information could fall into the wrong hands.
There are multiple ways data could be breached if you're keeping sensitive information in your inbox, or saved on your computer:
If an HR employee's computer is stolen
Their email and cloud-based documents are hacked
An employee is accidentally granted access to HR drives and folders
And it's even possible one of your HR staff could accidentally attach the wrong file to an email if you're keeping HR information in an application like Microsoft Excel – mistakes happen!
Here's how an HR software keeps your employee information safe:
Password protected, even if an employee's computer is stolen the thief won't be able to log in to the HR software
In order to access the information in the software you need to invite that staff member and set their access level, it's not possible for someone to be accidentally granted access
Nothing is stored in files or documents on your computer so it's easy to avoid mistakes like attaching a spreadsheet that contains sensitive information
Employee Records
Storing employee information in HR software means no more file folders on your computer's hard drive or paper files stored in filing cabinets. All the documents and information for your employees are securely stored in one centralized place.
Employee profiles make it easy and efficient to store and track all of your employees' information and documents:
Resumes
Background checks
Performance evaluations
Contact information and address
And, as mentioned above, with automated reminders, you'll be able to schedule and track tasks like renewing employee background checks and certifications.
Volunteer Management
Nonprofit organizations tend to have a lot of volunteers, and whether these are people who help out every now and then at events, or more regular volunteers who offer critical support to your mission, you need a way to effectively manage them.
Just as nonprofit HR software can help manage your employees more efficiently and securely, it can also help you efficiently store, track, and manage volunteer information as well.
Here's how nonprofit HR software can help your nonprofit with volunteer management:
Streamline and manage volunteer onboarding and training
Track volunteer hours
Store important information like contact information and certifications in volunteer profiles
Set automated reminders for volunteer background checks or certifications
Give volunteers access to self-serve portal to update their contact information
Access levels allow you to give volunteers who are assisting with HR tasks access to the information they need to access without seeing any sensitive information
When it comes to HR, nonprofit workers experience some challenges that for-profit employees do not, like wearing multiple hats and managing unpaid volunteers.  Just like organizations need nonprofit CRM software to manage donors and clients, nonprofits also need HR software to efficiently and securely track employee and volunteer information, training and certifications, time-off, and more. Looking for a comparison of nonprofit HR software to find the one that's right for you? Check out The Top 5 Nonprofit HR Software Solutions.