With a large number of employees and volunteers to manage, nonprofits need HR software.
We took a look at 5 of the most popular nonprofit HR software solutions. We've done extensive homework on this topic, so you don't have to.
1. PartnerHR
If you are looking for HR software that is tailor-made for nonprofits, you've found what you are looking for. Silent Partner Software developed and designed PartnerHR based on over two decades of experience working with charities, faith-based organizations, education institutions and associations to understand their challenges when managing employees and volunteers.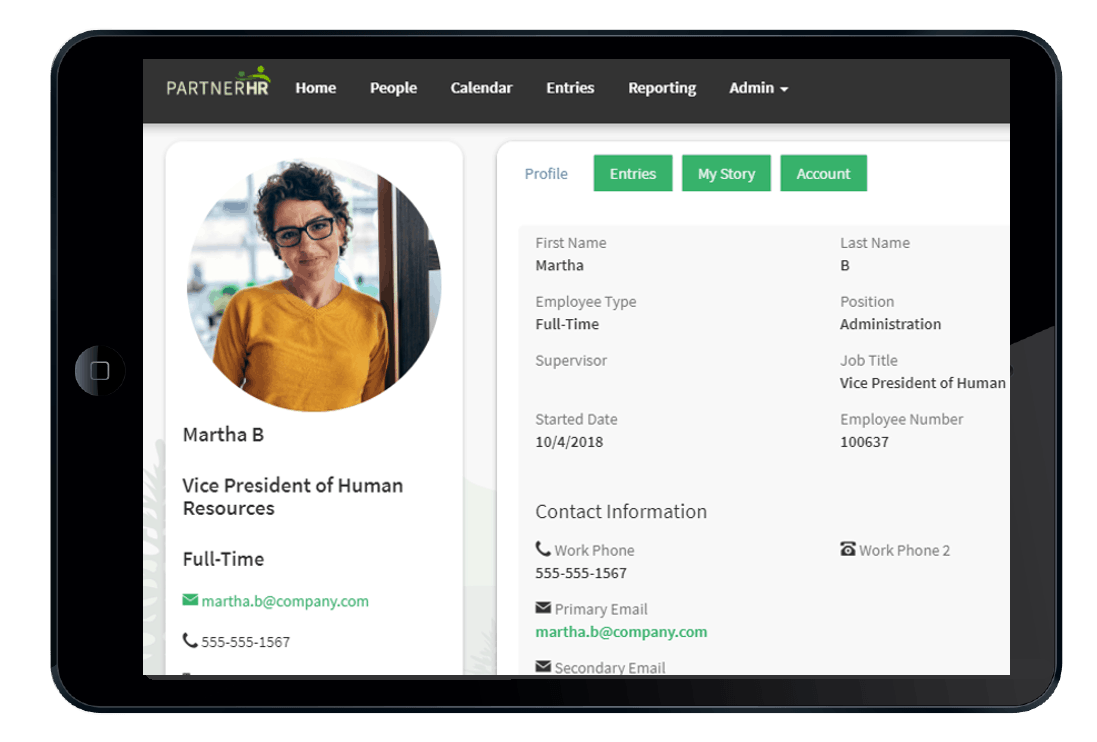 PartnerHR is a Software as a Service (SaaS) which enables nonprofits to manage their people-centric data and documents in a secure, easy-to-use application.
The software enables nonprofit executives and HR staff to access reports through PartnerHR. They have visibility to the skills and abilities their team has currently, and to assign training to-dos to get new and existing staff up to speed. PartnerHR has a reputation for being easy for users and administrators.
Does your charity work with children, the elderly, or other individuals with different needs? PartnerHR can track background checks, store documents, and send reminders when checks need to be renewed.
The PartnerHR self-service portal enables employees and volunteers to securely request time off, see upcoming events that are on the calendar, and see what training requirements they need to complete for onboarding and skills refreshing. Employees, volunteers, and recruiters can store resumes, training certificates, and other pertinent records.
Pricing: PartnerHR is exclusively available for Sumac CRM, Partner Web, or Partner DMS customers
Support: Online, phone
Languages: English
Suitable for nonprofits of any size and social services organizations.
2. BambooHR
BambooHR is used by companies, institutions and organizations for functions like:
Applicant tracking and online applications
New hire onboarding
Time tracking
Performance tracking
Employee satisfaction surveys
HR reporting and analytics
Employee records
Although the BambooHR online platform was not developed for nonprofits specifically, they do offer a couple of case studies on their website for charities.
They offer two pricing tiers for companies or organizations to choose from, mostly depending on whether or not an organization needs features like hiring/onboarding functionality, integration with other applications, or custom tabs and fields.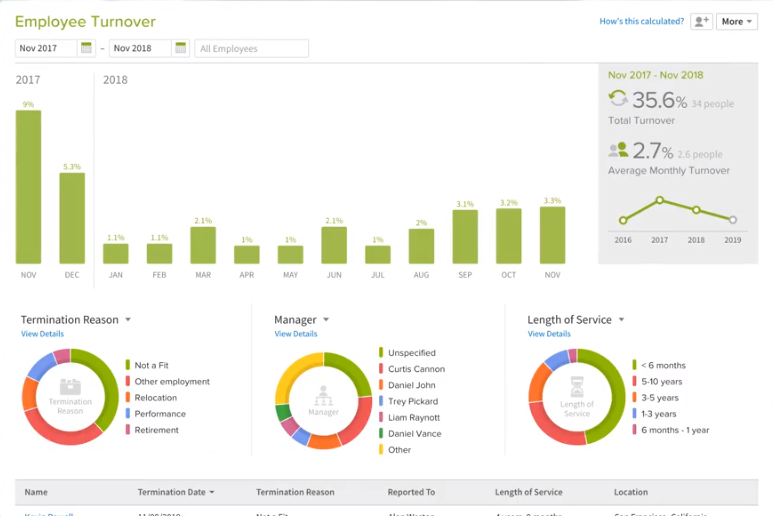 To manage volunteers separately, you'd need to opt for the higher-end Advantage edition. They offer add-on modules for reminder alerts and employee performance reports.
Pricing: Contact BambooHR for subscription pricing
Support: Online, phone (with Advantage edition)
Languages: English, French Canadian, German, Spanish, Brazilian Portuguese, Dutch.
Suitable for small, medium, and large businesses, and some nonprofits.
3. BreezyHR
BreezyHR is an online HR software solution which is available for nonprofits, and they have a couple of church organizations on their website. This service is promoted primarily as a recruiting and applicant tracking system. You can even use their "Bootstrap" service for free to search for candidates across over 50 job boards.
If you want to interview or assess candidates online, manage candidate scorecards, or integrate with other core HR applications, the BreezyHR Business Edition is required. That is their most popular service which offers functions like background screening and automated reference checking.
BreezyHR would be a service you would have in addition to a service like PartnerHR for the pre-hire and offer phases as opposed to managing onboarding and existing employees.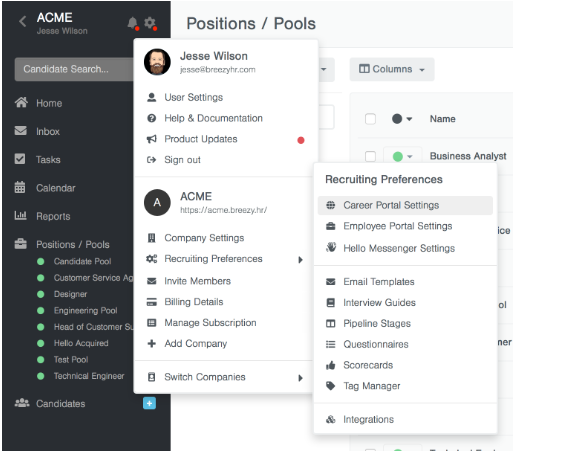 Pricing: The Business Edition of the BreezyHR service starts at $479 per month, or you can prepay for a year and get two months for free.
Support: Online, phone (with Advantage edition)
Languages: English, French, German, Spanish, Portuguese, Swedish, Russian, Finnish, Italian, Polish
Suitable for small, medium, and large businesses, and some nonprofits.
4. ADP Workforce
ADP is a company name which is synonymous with HR software. They offer businesses of all sizes, government institutions, social services organizations and nonprofits tools for:
Payroll
Time and attendance
Performance management
Onboarding
Recruiting and hiring
Time and attendance tracking
Analytics
The ADP Workforce Now HCM suite is very comprehensive and has rich features, however their reviews do call their applications out to be challenging to implement and use. Others mention the SaaS service is built on legacy architecture, and there are too many upgrades.
ADP tends to be for larger, multi-tiered organizations like government, healthcare and corporations, though they do have services for nonprofits. Nonprofits with a long list of requirements including payroll management would benefit from this software.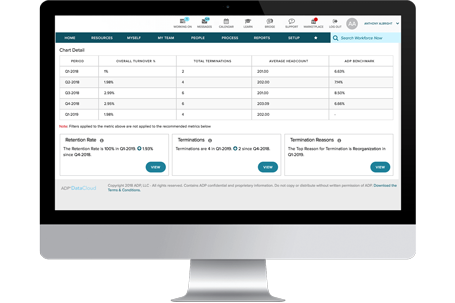 Pricing: Contact ADP for subscription pricing
Languages: English US, English CA, Spanish US
Support: Online, phone, knowledgebase
Languages: Suitable for small, medium, and large businesses, and larger nonprofits.
5. Zoho People
Zoho People is a cloud-based human capital management service which offers more functionality as far as core-HR services. It is primarily marketed for industries like healthcare, media, IT, education, and finance. Their feature set and pricing models, however are more inline with some of the other nonprofit HR software solutions listed here.
Zoho People offers a broad spectrum of modules and features for different needs. Nonprofits looking for a PartnerHR-comparable functionality set including self-service portals, reporting, document repository, analytics, performance tracking and time/attendance tracking should consider the Premium service option. Zoho People does get good reviews for ease of use and administration. They only offer one non government organization as far as a success story though.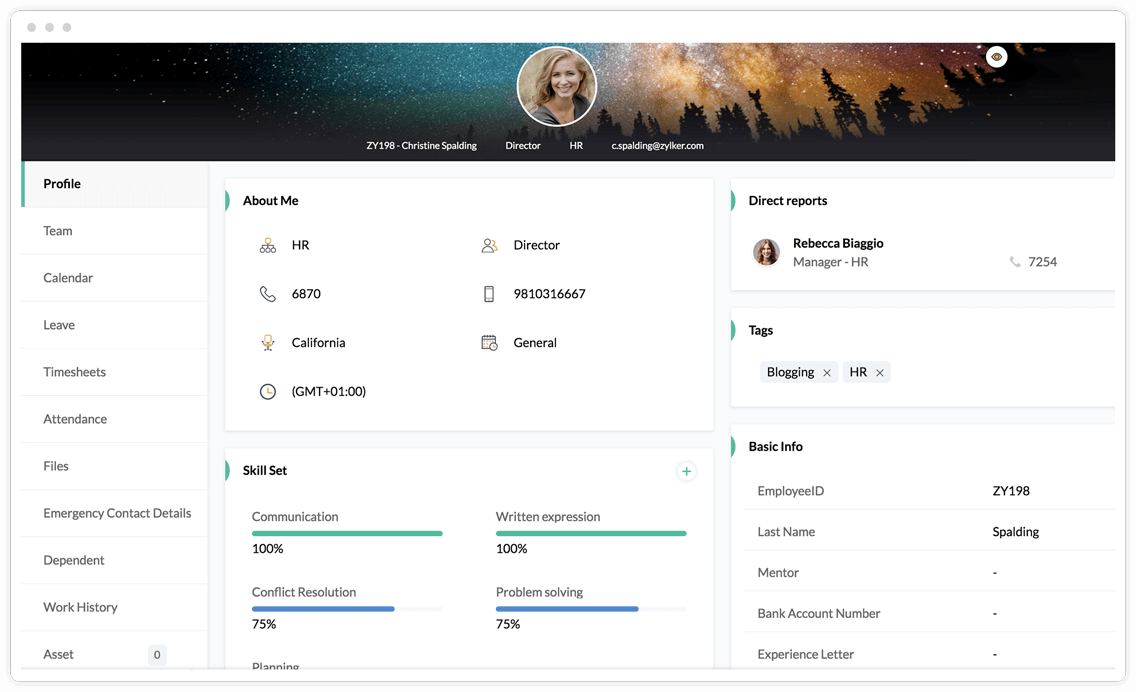 Pricing: Starts at $150 per year for Premium service for the 5 user minimum plan
Support: Online, phone, knowledgebase
Languages: English (USA), English (UK), French, German, Dutch, Swedish, Portuguese, Italian, Korean, Spanish, Russian, Chinese, Vietnamese, Hebrew, Turkish, and Arabic.
Suitable for small and medium-sized businesses and NGOs
Takeaways
These are five of the leading SaaS Nonprofit HR software solutions. For nonprofits that are looking for an online service which is purpose-built for nonprofits, PartnerHR is the clear, and only choice. The PartnerHR team can provide you with a PartnerHR demo, and show you how they can help you better manage your most valuable assets: your employees and volunteers. If your organization is looking for functionality to address payroll or the recruiting process, services like ADP Payroll or BreezyHR can compliment the HR information and file management functionality which PartnerHR offers.
Looking for more nonprofit software tools? Check out: 200 Nonprofit Software Tools That Will Transform Your Operations
About the Author: Sumac is part of the Silent Partner Software family, a company dedicated to providing exceptional software and services to nonprofits. With over 25 years of service, Silent Partner has helped organizations manage over 3 million donors and contacts across the US, Canada, UK, and Europe. Learn more.