Any non-profit organization which needs the time, energy and hard work of volunteers to accomplish its goals faces many ongoing challenges. To attract and retain the calibre of volunteers who can deliver what the organization needs to accomplish is daunting, to begin
with. Then there is the work required to keep volunteers engaged, energized, and focused.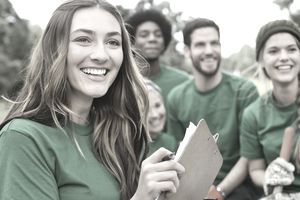 We'll assume are an executive leader of a non-profit organization. or maybe you are a seasoned volunteer yourself and were called upon to discover ways to recruit and inspire others like you.
Either way, we hope that by identifying five of the most common volunteer management challenges, and painless ways to solve them, you'll realize you are not alone.
Others have experienced your frustration, persevered, and overcome these obstacles:
1. Recruiting and Onboarding Motivated Volunteers
It could be that your non-profit's mission is to improve the lives of children, the elderly, or those who live in poverty overseas. Or perhaps you provide shelter for single mothers or the mentally ill in your home town. All of these causes require the hearts, minds, hands and feet of many
people who want to make a difference.
One of the best ways to recruit volunteers is to simply ask, in a sincere way. Perhaps you are already campaigning for donors, and are talking or corresponding with a large group of people. Some people may not be able to afford to donate money to your organization, but they may have the time to contribute.
Consider reaching out to:
High school or post-secondary students who may have volunteer or internship requirements to meet or just time and energy to dedicate to your cause. Non-profit experience is a great way for job seekers to gain experience in a cause that they care about.
Canadian businesses like TELUS, TD Bank, Westjet and Cenovus Energy have programs which reward their employees for volunteering. Habitat for Humanity and Junior Achievement have been successful with leveraging volunteer days to inspire ongoing volunteerism.
Retirees often have idle time on their hands which they would prefer using for a good cause like yours. Their experience and enthusiasm should not be overlooked.
Staying in touch with the people your non-profit has helped is a great way to recruit volunteers to your cause. Their friends and family are likely some of the most inspired to support your cause that you will find.There are many types of people listed above, and a "No" today doesn't mean forever. Using a CRM or Volunteer HR Management system which can track your current and prospective volunteers will keep you on top of your recruiting and onboarding activities.
2. Keeping Volunteers Engaged and Active
Your volunteers are no doubt inspired, fulfilling, and highly motivated when they first start working with your organization. Yet that positive energy is like a fire which needs to be regularly fuelled, stoked, and fanned to keep the flames burning bright.
Try these ideas to keep your volunteers motivated:
Have online or in-person gatherings of volunteers, and don't make it just about your cause. A connected community of volunteers can inspire each other through stories of what they've accomplished. Closed Facebook or Instagram groups are ideal here.
Have an awards program to celebrate the significant contributions of high-performing volunteers. Awards don't have to be expensive or even tangible, the recognition is often enough.
Share the stories of milestones your organization achieves. Volunteers like to see the "fruits of their labour." Maybe it's stories about people who have been helped by your organization or photographs of your volunteers at work in your community. Reports and data visualization of Impact Metrics is a great way to share how volunteer work is producing results.
Many of us are constantly in search of "like-minded individuals" to build our circle of friends. If your organization is the source of that fellowship, you will undoubtedly find it much easier to keep your volunteers motivated. Check out The Top 10 Volunteer Retention Techniques.
3. Ensuring Volunteers are Available When Needed
Scheduling enough "person-power" to work at events in the community or in your offices can be difficult. A volunteer and employee self-service portal can enable your team to request time off, see when they are needed, and schedule their lives accordingly. An online portal will also help you know what sort of scheduling work needs to be done in advance, as opposed to scrambling at the last minute. Sumac can help with this.
4. Tracking Volunteer Strengths and Weaknesses
Some managers in non-profit organizations hesitate to evaluate volunteer work, and try to be content with whatever unpaid work they can get. Yet by maintaining a profile of their volunteers, it can create coaching opportunities which help charities get the most from their volunteer crew,
and empower the individuals to get the most from their experience.
5. Encouraging Advocacy for Your Organization
Your volunteers have personal and professional networks, both in the physical world and online. Motivating them to share information about your organization is a great way to boost donor campaigns and canvas for more volunteers.
Instead of leaving your volunteers to create their own messaging to share on social media, or hope they will tell their network about your work, make it easy for them. Have your marketing team or volunteers create digital content and physical handouts they can share. You'd be amazed at how a promotional T-Shirt or hat worn in the community can spark conversations and build awareness. Check out 3 Easy Ways to Turn Your Volunteers Into Brand Ambassadors.
At Silent Partner, we understand that building and sustaining a successful non-profit organization which relies on volunteers is challenging. Yet by following these strategies to attract, retain, and inspire your team should alleviate some of the frustrations and stress you may be experiencing.
Our solutions help non-profits and their volunteers reap the rewards of setting and pursuing goals which prioritize people and planet over profit. Contact us to see how our services can support you in meeting your goals.
About the Author: Sumac is part of the Silent Partner Software family, a company dedicated to providing exception software and services to nonprofits. With over 25 years of service, Silent Partner has helped organizations manage over 3 million donors and contacts across the US, Canada, UK, and Europe. Learn more.