If you're a jack-of-all-trades fundraiser at a small nonprofit then you're managing it all, prospect research, major gift proposals, direct mail, digital fundraising. WOW, how do you do it? A lot of blood, sweat and tears, and probably a few dropped balls.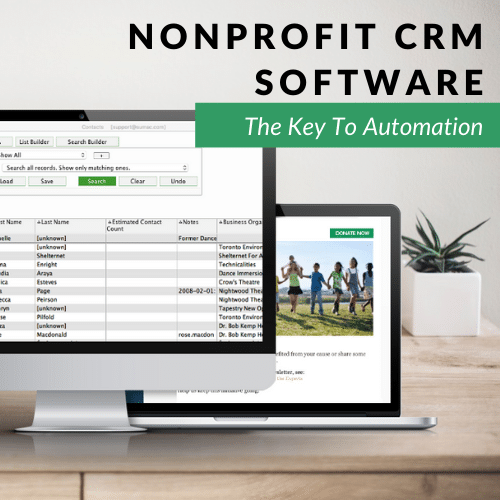 But what if you could make your fundraising program almost automatic? With the right nonprofit CRM software, it's actually possible to automate a lot. In fact, your nonprofit CRM is the key to unlocking automation that will make your fundraising program run smoothly, help you save time, avoid errors, and raise more money.
What is Automation?
There are two kinds of automation: 1. Full automation. You set up a process and away it runs with almost no further interventions needed from you. An example of this is a report that is sent to you every month by your nonprofit CRM, you set it up once and it runs on its own from there.
2. Semi-automation. These are functions that may require some time or effort every time the process is run, but with your nonprofit CRM, you'll be able to have such a smooth process in place that it will feel automatic.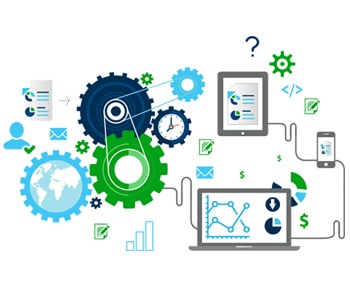 Why Automation?
Automation helps fundraisers save time, avoid errors, and cultivate more donors. There's a lot to keep track of. While you might need to slow down with some donors after they've made a gift, taking them through stewardship and cultivation, with others you might need to ramp up and re-engage them with another solicitation.
While there are fantastic fundraisers who can keep track many information points and relationships, it's just not possible to manage all of that without the help of nonprofit CRM software.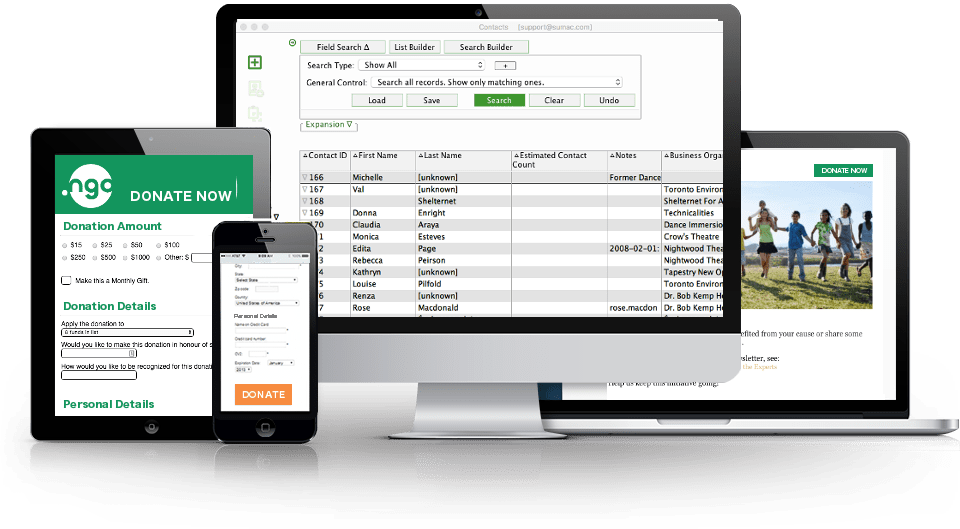 The right nonprofit CRM will take some of the manual efforts out of your fundraising program, like processing donations, sending receipts, renewing memberships, prospecting, running reports, and setting reminders – and adjust for the speed you're going for different prospects. 
Automations That Will Transform Your Fundraising
Before setting out on your automation journey, consider what are the most critical parts of your fundraising that could be automated to completely overhaul your fundraising program using a nonprofit CRM.  And if you're just starting out, even if you can't create a fully automated process, you can still use a nonprofit CRM to lighten the load!  Here are some automations to consider:
1. Online & offline integration
The data flow between online donations and donor records can be a pain point for nonprofits. If this is something you would like to have a more automated process for, look for a nonprofit CRM that offers one of the following features.
Donation pages that integrate directly to your CRM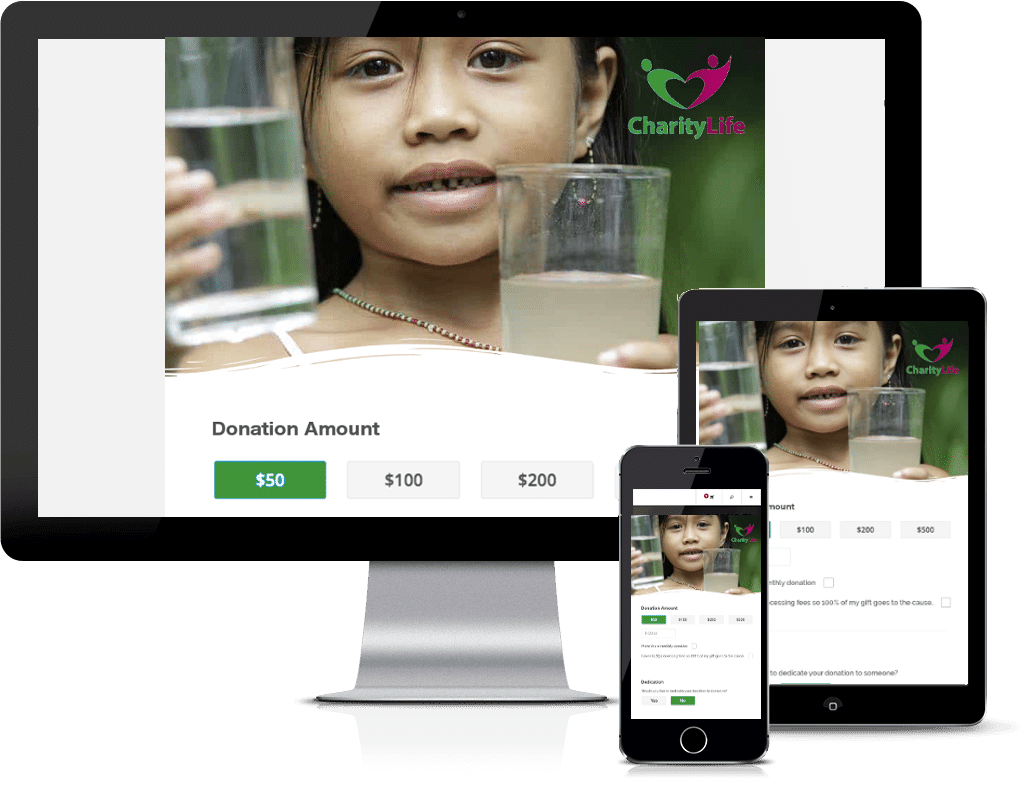 Look for a nonprofit CRM that offers integration donation pages.
When a donor makes a gift online the information passes through the payment processor
Then the information flows back into your nonprofit CRM and the donation is automatically recorded in the donor's record
The CRM also sends out an instant confirmation email with a tax receipt attached
2. An automated connection between your online fundraising platform and your nonprofit CRM
If you don't want to use integrated donation pages, or you need more from our online fundraising, like peer-to-peer fundraising, then you may consider an automated connection between this platform and your CRM.
This may require a third party connector software like Omatic 
When a donor gives through your online fundraising platform their payment is processed, information is collected, and the receipt is issued all from this platform
When the connector software runs its process the donor's information is exported from the online platform and imported into your nonprofit CRM
3. Tracking donor journeys
This is possibly one of the hardest things to track without a system in place! As a fundraiser, you have so many donors and corporate partners at different stages of the donor lifecycle. Who needs a thank you call from the CEO? Who is due for a 6-month impact report? Do you need to follow-up on any recent proposals?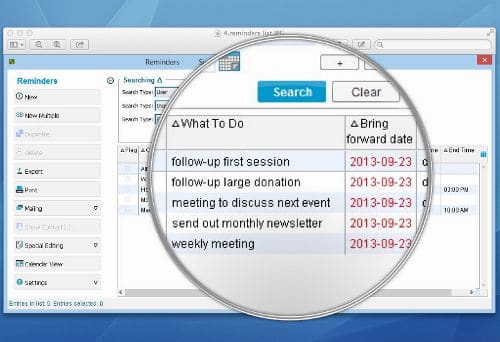 While this is the hardest thing to track without a system, it's one of the easiest things to automate with the right system in place. Most of the time you're going through the same steps over and over, you're just doing them all at different times with different donors.
Keep it all straight in your nonprofit CRM with automated journeys that will even remind you when it's time for action!
Automating your donor journeys with your CRM can look like this:
Set up multiple templated journeys for each donor type you have
When it's time to start the journey you add that plan to the donor's record and make any adjustments or personalizations you need to the plan
When it's time for the CEO to make the thank you call, your nonprofit CRM will remind them
6 months later when you need to start preparing the impact report, you won't forget because you'll get a reminder for that too!
At any point, you can check in the donor's record and see where you are in the journey with them
4. Turnkey reporting and queries
Accessing your data for easy reporting and list pulls is one of the ways a nonprofit CRM can really automate, or semi-automate, your fundraising.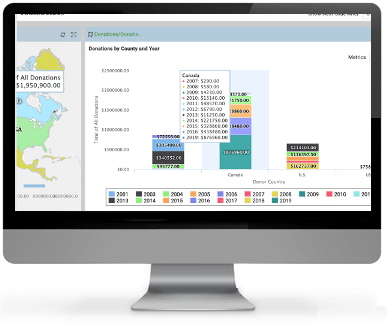 Here are some reporting and query features you'll want to consider:
Large gift alerts
Define what is a large gift for your nonprofit, every fundraising program is different!
Receive automatic alerts when a gift of that size is processed
Or receive a regular report, maybe weekly, of all the gifts in that dollar range
This automation from your nonprofit CRM will help you stay up to date on who needs a special thank you call or letter without manually pulling reports over and over
Easily query using multiple criteria
Easily query based on different criteria like volunteers, donors, email subscribers to get exactly the data you need
Build comprehensive data lists to accurately steward donors, donors within a certain time frame or to a certain campaign
Easily compile data lists for mailings, email campaigns and other marketing activities to export from your CRM
Save frequently used queries to run again and again, a semi-automation, in your nonprofit CRM so you don't need to re-create them every time — saving you lots of time!
5. Revenue reports
Use your nonprofit CRM to keep track of your revenue reporting to make sure you are hitting your goals. Reporting tends to be one of those tasks that gets put off when you just don't have the time! But knowing where you are in meeting or falling short of your goals is crucial for your fundraising success.
Automate reports of all types, from total revenue, to the total expected amounts you have in proposals
These important reports can be sent to you on a regular basis automatically or you can set them up semi-automatically so you can run them at the touch of a button
6. Integration with financial software
All of your revenue information has to make it from your nonprofit CRM to your financial software for all of your accounting processes. Exporting all of this data can be a real challenge for you and your finance team, so it's the perfect candidate to look at for implementing some automation.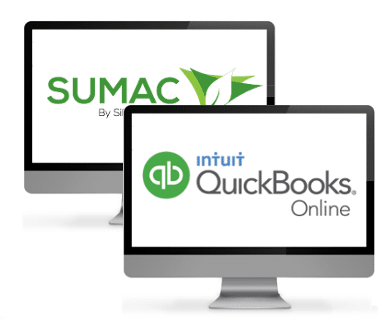 Look for a CRM that offers a connection with a financial software, for example Sumac has an integration with Quickbooks 
Or see if there is a third party connector software, like Omatic or Zapier, that will work with your nonprofit CRM and your financial software
Once the data is set up to flow automatically between your nonprofit CRM and your financial software you'll have a bit more time back to focus on fundraising!
7. Email Marketing
With the automated queries that were described above it should be a breeze to pull your email lists out of your nonprofit CRM, but what about importing them into your email marketing platform?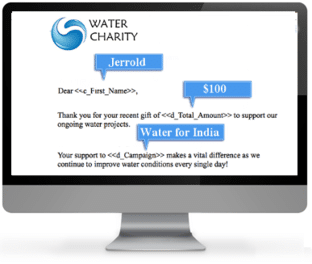 Building your email audiences
Set up queries for all your email audiences in your nonprofit CRM like e-newsletter subscribers, people who want to receive solicitations by email
When it comes time to send out an email you'll be able to export your data with just a few clicks
Integration with email marketing platform
Integrate your nonprofit CRM and your email marketing to make the data flow between the two systems better
Make sure you are also looking at the data flow from your email marketing platform to your nonprofit CRM because you probably want to record some of that data in your constituent records
An easier, more turnkey, fundraising strategy is in your reach! Unlock your automation potential with the right nonprofit CRM and get more time back to focus on fundraising, running your programs, and changing the world.
If a nonprofit CRM doesn't offer intuitive tracking and reporting features, as well as the ability to handle all of your fundraising channels in one spot, then you may find that it uses up more of your time than it saves.  
Why the Right Nonprofit CRM Software Matters?
Your nonprofit CRM can be a dream come true, or your worst nightmare! Finding the right CRM is critical in automating and streamlining your entire entire fundraising program.
Choosing the right nonprofit CRM will require some research and meeting with different nonprofit CRM companies to discuss your specific needs, and what you would like to automate. Check out our free guide on choosing CRM for your nonprofit: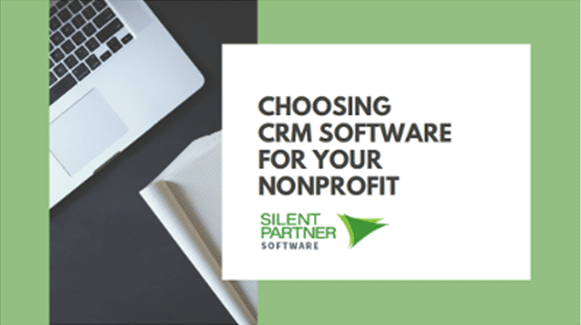 You should prioritize what automations and integrations you need from your nonprofit CRM, so you can be prepared to narrow down your list based on which solutions meets your requirements and which don't. 
If you already have a nonprofit CRM, consider if there are any automated processes or tools that you're missing. If your current nonprofit CRM doesn't offer them, consider switching to one of The 5 Best Nonprofit CRMs for Managing Your Entire Nonprofit.
Learn more in Choosing a CRM for Your Nonprofit: A Complete Guide