A recent tweet from fundraiser Denise Casement said: 'Every Direct Mail campaign we've done since March (right thru to yesterday) has been getting Christmas level results."

Don't Stop Direct Mail Fundraising
Direct mail is a great communications tool, particularly for small nonprofit organizations right now. It has the capacity to deliver your message in a way that's memorable.
A recent Direct Marketing Association study noted the average response rates from direct mail is at 4.4%. That's 37 times higher than the average email marketing rates at 0.12%.
Just because we live in a technologically-oriented world doesn't mean we should be focusing all of our attention on digital. We encounter hundreds of messages on the internet each day, and we just as soon forget them (or hit "delete" the second they reach our inboxes).
According to Spectrum Marketing, ignoring direct mail is more difficult than ignoring email.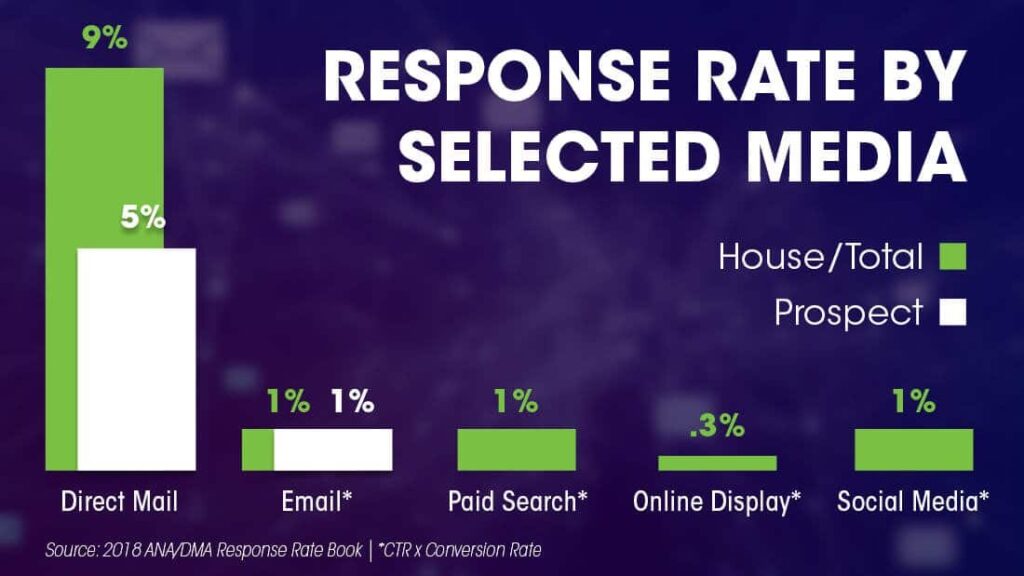 While direct mail lets recipients hold your letter in their hands because it's a tangible thing that they can read, and if your content is impactful… you've created a winner!
So why are smaller nonprofits not taking advantage of the power of direct mail right now?  Do they not understand its financial potential?
These are some of the questions worth asking if for no other reason than the answers may well improve revenue for smaller non-profit groups —and probably for larger ones as well.
Do the Math
For example, if an email to donors has a 20% on average chance of being opened and a postal mail letter a 50% chance… and if the response rates averages are about 0.5% for an email while a printed letter enjoys a 4% response rate, that's quite a difference in results.
Assume the average gift for both channels at $30. An email to 1,000 donors, assuming no cost, but a .05% response rate will produce $150 from those thousand donors. The direct mail letter assuming it costs $950 to reach those thousand donors with a response rate of 4% will produce a total of $1,200 minus the $950 cost of the mailing for a net income of $250.  As you mail to larger groups of donors the difference in favor of postal mail grows even larger.
Example #1
Even small charities like the Bethany Health Care Center, who have taken the plunge to use direct mail at this time have been successful. They had the courage to fundraise during COVID-19 and it paid off.
Here is the appeal letter from them.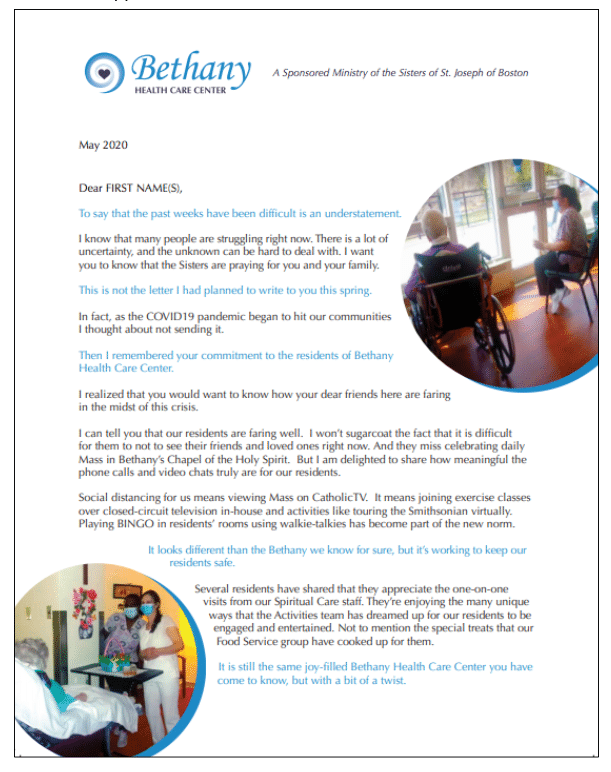 The result: they surpassed their own goal by 296% — and in just three weeks! While returns are still pouring in. The average gift amounted was $141.69.
Example #2
Another non-profit, Intervale Center, had planned out a year in advance to drop their Mother's Day appeal in May this year, but then wondered, if they should still do so because of the pandemic. The appeal was a multichannel campaign, via email, direct mail, and social media.
The concept was that for a $35 donation, they would plant a tree in honor of the donor's mother, thus combining Mother's Day and Earth Day. They had ordered the cards before the COVID emergency hit, so they had to quickly pivot and add an insert with personalized notes on every card to help donors feel supported and a part of the community. They mailed on Thursday, the 16th and have received a handful of donations which goes to show that that component of the campaign is still resonating."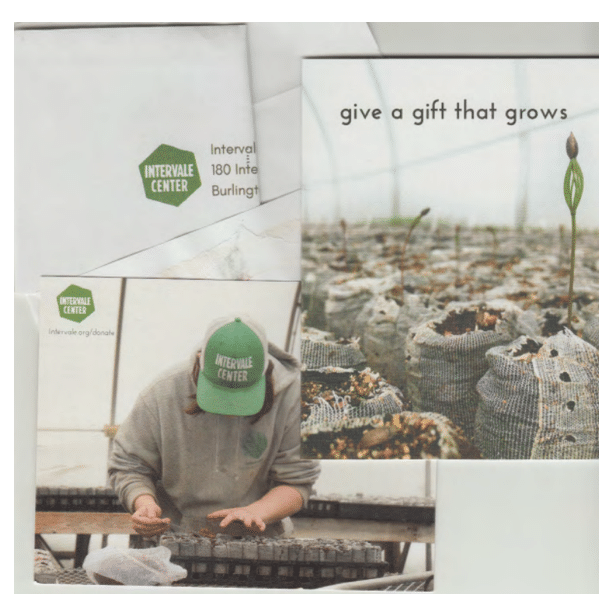 Example #3
Then there is this appeal from Armagh, a small non-profit that provides second-stage housing programme that offers secure and affordable housing to abused women, with or without children, for up to one year.
The concept was to provide laptop computers and software for the 18 women and their children who had escaped from domestic violence only to find themselves isolated in lockdown without any internet access.
Here is the outer envelope and letter.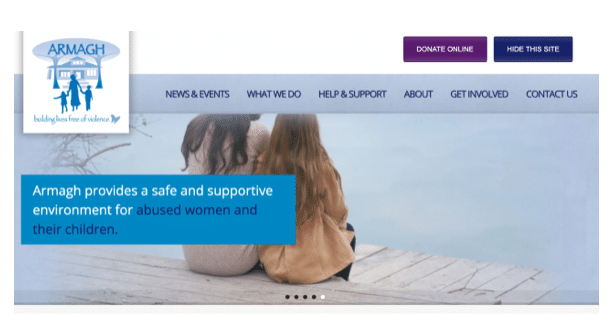 And here's the letter.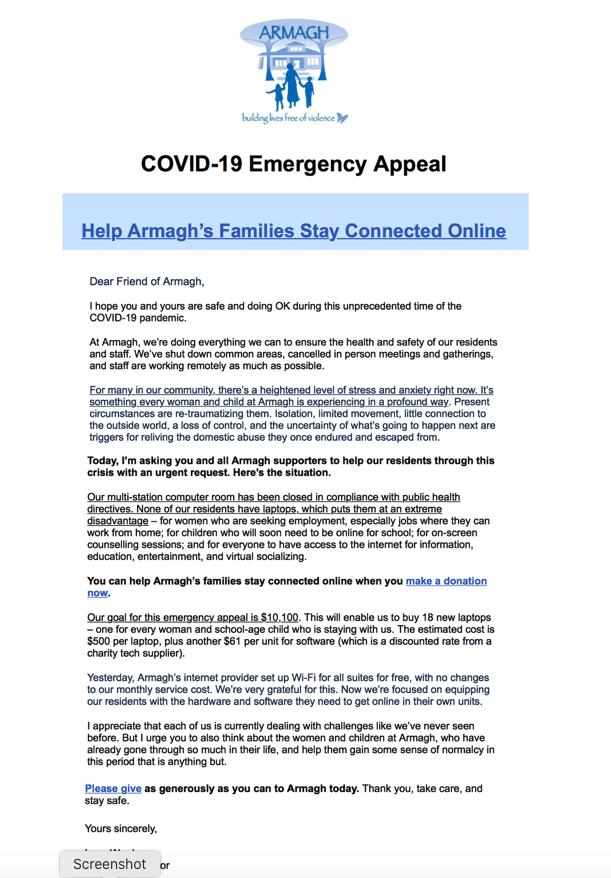 As of April 17th, the campaign has raised $23,039 and counting (there are still cheques coming in through the mail for it). One donor called in and asked, 'What else do you need money for?', and made a gift of CA$5,000 to provide online learning programmes for women residents.
Another great reason for mailing your direct mail piece now is because remember your donors love you and want to know how you're doing. What's more, they want to help.  We are all, every last one of us, affected by COVID-19 and you must continue to fundraise.
As fundraising Guru Ken Burnett recently suggested: 'At times of crisis, turn to your donors.' It's a well-worn truism of our sector and I've always found it infallible.
He is not alone, there is a lot of chatter on LinkedIn from many professional consultants wondering why non-profits are not taking advantage at this time to send out their appeals. For example, non-profit consultant Claire Kerr noted the absence of communications as well in this LinkedIn post.
Get Your Free Fundraising Letter Templates Here!
Fundraising Letter Templates for Every Sector
Two Huge Benefits of Direct Mail
First, it has been scientifically proven that the brain retains information gathered from paper for much longer than it does from digital messaging. In other words, people trust paper, especially the bulk of your donors who are in the older age group range who still like to read.
Second, you can practically mail anything and use it to engage donors by making it interactive. This tactile nature of direct mail that is inherent only in this medium is a big plus in telling stories and raising funds for non-profits.
Because of this current Covid-19 crisis and encouraged by media horror stories, the reaction of many charities has been to immediately cut communications and furlough their fundraisers. We hope that this article will make them think again. For clearly, they, their donors and their beneficiaries are missing out, because of their failure to understand how fundraising works at a time of crisis.
Remember, that the US postal service or Canada Post never really closed during this pandemic. They are considered an essential service.
I fear that too many nonprofits have little or no understanding of direct mail and therefore avoid it.  Instead they too easily default to digital, often in the mistaken belief that it's "free" or inexpensive. Wrong.
If you need help, there are enough good freelance writers and designers still out there who could help and they are not that expensive.