Choosing the right nonprofit CRM software for your organization can be tough! There are so many different options out there, and each comes with pros and cons.  This list is a rundown of the best nonprofit CRMs to not just manage donors, and fundraising, but your entire nonprofit.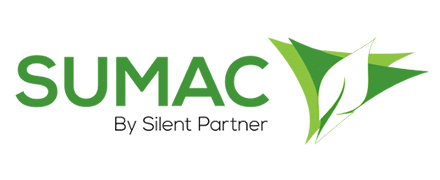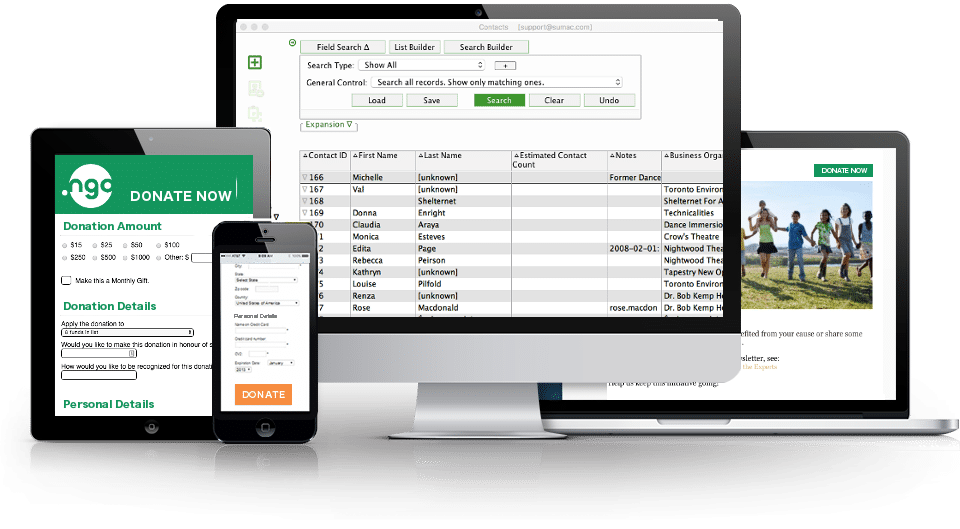 Sumac offers you control of:
Constituent profiles with customizable fields
Storing and tracking donors, volunteers, clients and members
Simple event management
Set up donor journeys with reminders
Integrated online donation forms
Reporting, dashboards, and queries
Mail merge tool, including conditional content, to send out personalized letters with ease straight from Sumac
User access levels, only allow users to see the information they need
Financial tools to give your finance team the information they need
Sumac is a very affordable solution with prices starting at just $35/month. And if you're a very small nonprofit, Sumac offers a free nonprofit CRM to eligible nonprofits as part of Sumac's commitment to help nonprofits access the tools and technology they need to succeed.
Here are some of the other pros and cons: 
Pros:
Online integration with donation forms and automatic data flow into your nonprofit database
Email marketing functionality, including integration with Constant Contact
Integrations with tools like Quickbooks to help manage your entire nonprofit, even financials
Add-ons and customizations, choose the features you need to fully customize your nonprofit CRM for your needs and budget
Best in class customer service included free with all plans, so you'll always be able to access live experts on the phone who will go above and beyond to answer questions and provide assistance
Cons:
Does not include a peer-to-peer fundraising tool to manage Walk or Run events
Integrations are only available are for some platforms, so they may not work with what you have in place now

2. DonorPerfect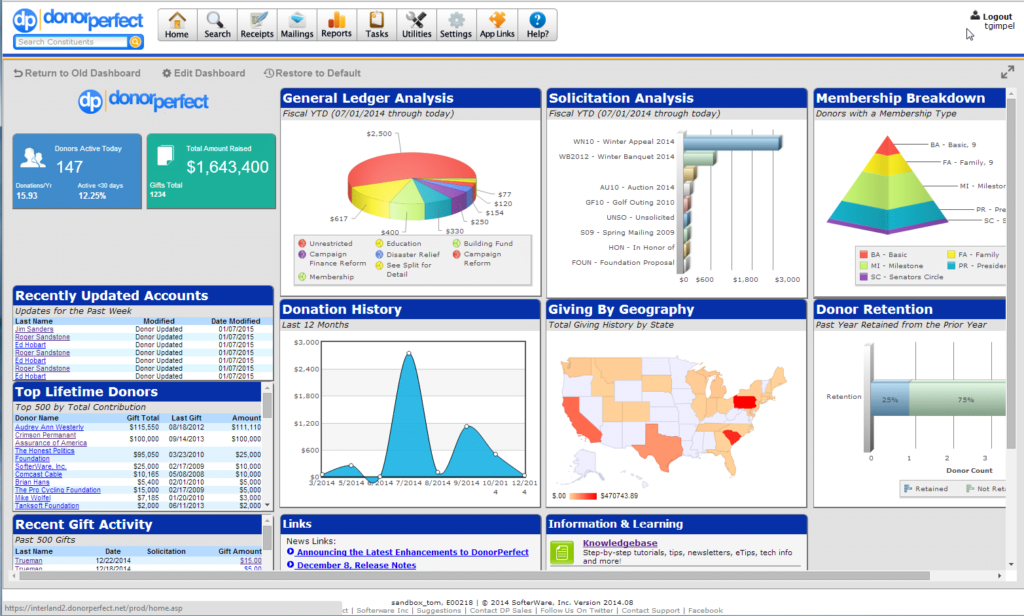 DonorPerfect nonprofit CRM has the ability to manage all of your constituent types in one place and manage all aspects of your fundraising program. Some key features of DonorPerfect CRM, which starts at $119/month:
Integrated donation forms and payment processing
Reporting capabilities including a report builder
Manage donor journeys by setting up actions and alerts
Manage constituents of all types including members, volunteers, and donors
Pros:
Features are customizable to your nonprofit with different price packages to choose from, however, this is limiting in what features you can access at each price point
Quickbooks integration means life is easier for accounting
Constant Contact integration makes email marketing a breeze
It's very user-friendly  
Cons:
Different price points that offer different features, so you may not be able to get all the features you want at the price that works for you
Customer support by telephone or email is an upgraded feature, while all plans include customer service only by live chat. This will limit your ability to get help if you need it
There are some limitations in reporting that makes it feel more like you are coding than running reports, and it doesn't include all of the caned reports that fundraisers need.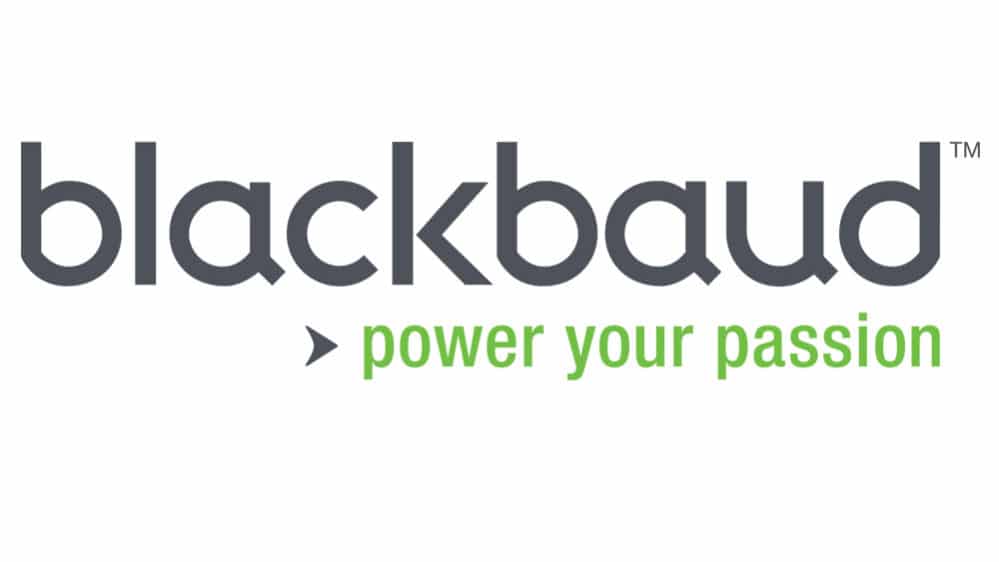 You can't have a conversation about nonprofit CRMs and not bring up the Blackbaud product suite. Boasting an impressive suite of products, you'd probably be hard pressed to find something that Blackbaud can't do. It's important to note, however, that all of these tools are separate products, so multiple licences might be required to build a complete software solution for your nonprofit. And because all the tools are separate, the level of integration that you need may not be available out of the box.  Blackbaud offers three different nonprofit CRM solutions:
Blackbaud CRM
Luminate Online CRM and online fundraising
Blackbaud Raiser's Edge/Raiser's Edge NXT
In order to manage your entire nonprofit with Blackbaud CRM software, you'll need: Raiser's Edge or Blackbaud CRM as your main CRM tool, and Luminate Online to handle all of your online fundraising needs. 
Raiser's Edge
Raiser's Edge is one of the most common CRMs used by larger nonprofits. Talk to anyone who has worked in the nonprofit sector for a substantial amount of time and they will be familiar with Raiser's Edge. So while Blackbaud offers other CRM tools, like Blackbaud CRM, we'll focus on Raiser's Edge.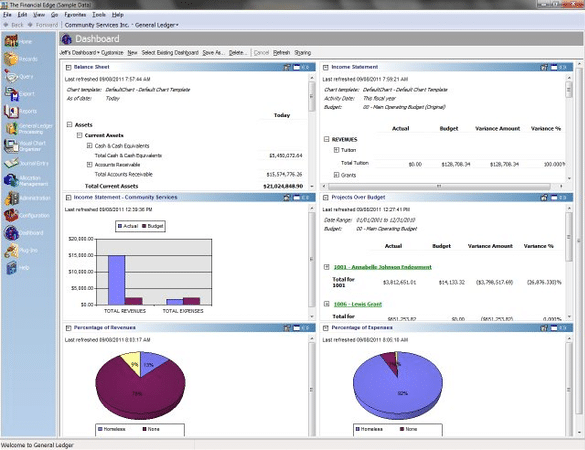 Raiser's Edge offers the ability to:
Store and track constituent information
Automate reports and receive the output by email
Run queries for donor information based on multiple criteria
Mail Merge to send personalized letters and gift acknowledgements
Luminate Online
Luminate Online can take care of all of your online fundraising needs, and it includes a CRM to manage all of the constituent data you need for your online activities. Luminate Online features:
Nonprofit CRM solution for your Luminate Online constituent data
Donation forms and online payment processing
Ticketing for events and e-commerce tool for selling physical goods
Peer-to-peer fundraising, individual fundraising pages and participant center for fundraisers and automated coaching emails
Email marketing platform: build, send, and track results for large email campaigns all within Luminate Online
Pros
Many product options offer a lot of functionality from one vendor
Potential discount options for a package of Blackbaud solutions
Very popular nonprofit CRM solution so your current and future staff are likely to have experience with Blackbaud products, especially Raiser's Edge
Cons
Requires multiple separate tools to manage all your entire nonprofit
Integration and data flow between all products may not be smooth or automatic
The out of the box design may not work for you, especially for online fundraising, so you may need to invest additional budget in customizations and specialized development work
If you're looking for an affordable nonprofit CRM, Raiser's Edge might not be a good choice, with prices starting at $5,000 for single user. 

Salesforce often comes to mind when thinking of affordable CRMs for nonprofits, because they offer 10 free licenses (user accounts) to nonprofits and a lot of functionality.  Nonprofits do have to be weary though, because there's a lot of cost involved in getting Salesforce customized and working for nonprofits. Check out our comparison of Salesforce for nonprofits for more on this.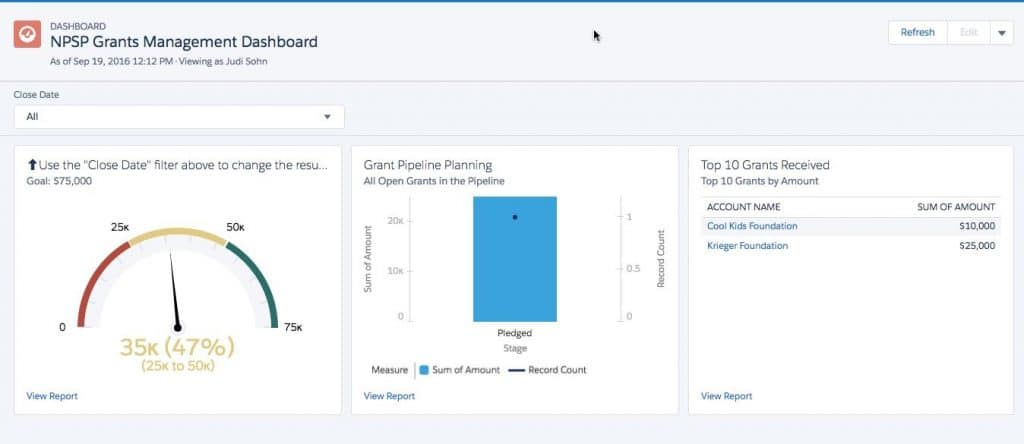 As Salesforce says on their website, they're the #1 CRM for business, but what about nonprofits? Salesforce offers nonprofits the following CRM features, although some require additional features to be added or third party integrations:
Manage constituent data, profiles and relationships
Manage your fundraising program
Reporting and revenue forecasting
Analytics and predictive behaviour reports
Connect and view multiple giving channels in one place
Create user journeys for different donor and constituent types
Pros:
Nonprofit database that offers 10 free user accounts
Lots of integrations with other platforms for online donations and email marketing
A powerful CRM with in-depth reporting functionality
Lots of customization options
Cons:
Salesforce won't work out of box, and customizing the CRM to work for nonprofits is quite costly and often requires consultants. Prices are said to starts around $30,000.  
While lots of integrations are available, many are through third part vendors, and come with additional costs or may not be available in your country
Depending on your nonprofit's geographic location, you may not be able to access all of the Salesforce features as some, like their payment processing integration, are noted to only be available in the United States.

Network for Good is a nonprofit CRM that offers an all-in one donor management and fundraising tool. Their website describes Network for Good's nonprofit CRM as simple donor management for small and growing nonprofits.  Network for Good's pricing plans start at $200/month and are based on number of contacts (constituent records) in your nonprofit CRM. There isn't a tier listed for more than 10,000 contacts, so if your nonprofit is bigger than that, Network for Good may not be the right solution for you.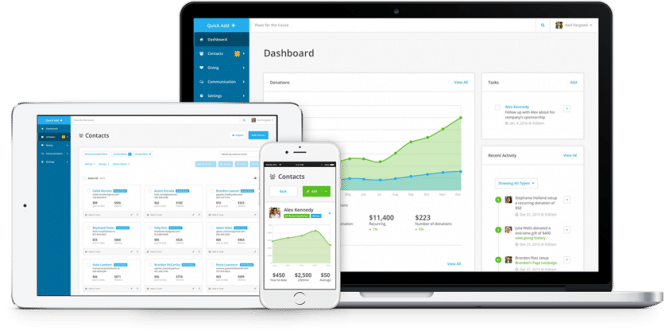 Network for Good nonprofit CRM offers:
Constituent profiles with many fields for data storage and tracking
Peer-to-peer fundraising
Constituent profiles with customizable fields
Quickbooks integration
Pledge management and action reminders for donor profiles
Dashboards and reporting features to track revenue targets and trends
Pros:
All the features small and growing nonprofits need
Integrated online fundraising tools help ease the learning curve into digital fundraising
Peer-to-peer fundraising tool and participant centre for Walk and Run events
Cons:
Limited customization options for integrated templates
As your nonprofit grows, you may find you outgrow the features offered by Network for Good 
Conclusion
Nonprofit CRMs are not one size fits all! If it's time for you to invest in a CRM solution for your nonprofit, make sure you do your research to find something that is right for your nonprofit. Keep in mind your different users: fundraisers, program staff, senior leadership, etc. And your different constituent types: donors, sponsors, volunteers and more. Find something that will help you manage your entire nonprofit. If your goal is to grow your organization overtime, make sure you're investing in a scalable solution that is going to grow with you and support your nonprofit's CRM needs at each step in your journey. Your nonprofit membership management software and CRM is the most important tool you have — make sure it's working for you not against you.
Learn more in Choosing a CRM for Your Nonprofit: A Complete Guide