For nonprofit organizations who need to onboard a lot of staff and volunteers at once, it's important to have a an onboarding process in place.
In this guide, we include staff onboarding checklists, volunteer onboarding checklists, and other onboarding checklists you can use at your nonprofit. We also go over some best practices for managing the onboarding process, so you can get new staff and volunteers up and running fast.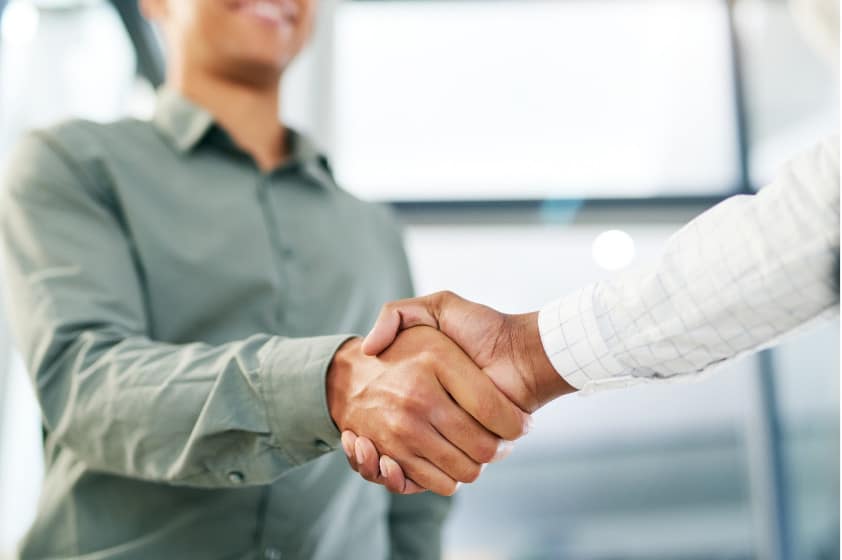 Make sure you aren't missing important steps in the onboarding process by following best practices and using staff onboarding checklists and volunteer onboarding checklists and following best practices.
Which nonprofit organizations need an onboarding process
Every nonprofit organization can benefit from a clear and organized volunteer and staff onboarding and screening process, but there are certain scenarios where it is especially important.
Nonprofits who onboard many staff & volunteers at once
When you are in the position of onboarding many staff and volunteers at once, it is easy to miss steps in the onboarding process, especially if you are on a tight deadline. We all know how easy it is to overlook something when you're busy and need to move fast to get new staff and volunteers up and running.
Nonprofit organizations who onboard several volunteers and staff members at once include:
Summer camps onboarding staff and volunteers for camp counsellors or other positions
Local theatres hiring staff and volunteers for the upcoming season
Food and clothing banks that are recruiting seasonal help for the busy holiday season and need to onboard staff and volunteers fast.
Nonprofits who support vulnerable populations
Volunteer screening and new staff onboarding are very important for nonprofit organizations that support vulnerable populations like social service organizations, schools or churches. It is especially important for these nonprofit organizations to take steps to protect their beneficiaries and clients, and for organizational risk management.
For these organizations, a missed step in the staff onboarding or volunteer onboarding process can have very serious consequences for the nonprofit itself and for the community it serves.
Organizations who need to take extra precautions in staff onboarding and volunteer onboarding include:
Schools
Churches
Youth programs
Shelters and social service organizations
It's important for all nonprofits to follow best practices for new staff and volunteer onboarding, but it's especially important for nonprofits who serve vulnerable populations.
What to include in staff and volunteer onboarding
What you need to include in your onboarding will vary depending on your organization and may vary from position to position.
If you're using onboarding software like PartnerHR with automated onboarding action plans, you can design your own onboarding checklists and include steps that are unique to your organization.

Here are some standard steps you'll want to include in your staff and volunteer onboarding checklists in order to follow best practices.
1. Screening and background checks
Including screening and background checks as part of the new staff and volunteer onboarding process is important for risk management, and more importantly, protecting the community you're supporting.
Determine the level of screening necessary to protect your nonprofit organization and your clients and beneficiaries, and make sure these steps are included in your onboarding policies for new staff onboarding and volunteer onboarding.
2. Training
Determine the training that each specific person needs and include the steps for setting that up in your onboarding policies. For example, does the hiring manager need to set up training with IT to go over technical systems and equipment.
Your organization may have other training like harassment and workplace safety training that need to be arranged.
3. Site Tours
New staff and volunteers will feel a lot more at home if you include a site tour as part of your onboarding process.
Site tours should include important safety features like fire exits and first aid kit locations, but they should also include nice to know things like the location of the break room or kitchen and where certain departments sit in the office.
4. Technology and user accounts
When your organization is onboarding a new hire, and in some cases new volunteers, you will need to get them setup with an email account, and get them access to the platforms your nonprofits uses.
You'll also need to get them set up with the hardware they need, like a computer and accessories.
Your onboarding process needs to make it clear which IT and technical accounts and equipment are needed. As well as when they need to be set up by IT and who is responsible for training staff and volunteers on systems and softwares.
5. Benefits and payroll set up (for staff)
Setting up benefits and payroll is a standard part of new staff onboarding and your organization's HR administrator is likely very familiar with the requirements.
However, building these steps into your onboarding process for new hires will ensure nothing is missed!
Make sure all the steps you need to take to set up payroll and benefits accounts are carried out by HR.
Include training for staff on payroll policies,benefits coverage, and vacation policies.
Ensure new hires know about any paperwork they need to set up and that they have access to any online accounts to set up log-in details for online portals.
6. Signing of policies
You should have a list of policies as part of your new staff onboarding or volunteer onboarding. Policies help new hires and volunteers understand what is expected of them, and having these signed policies on record are helpful for your organization.
Here are some examples of policies for staff onboarding and volunteer onboarding:
Social media policies
Use of company computers and equipment
Harassment and assault policies
Vacation policies
Out of pocket expense policies
Privacy policies and nondisclosure agreements
Onboarding Checklist Examples
New staff onboarding checklist (general)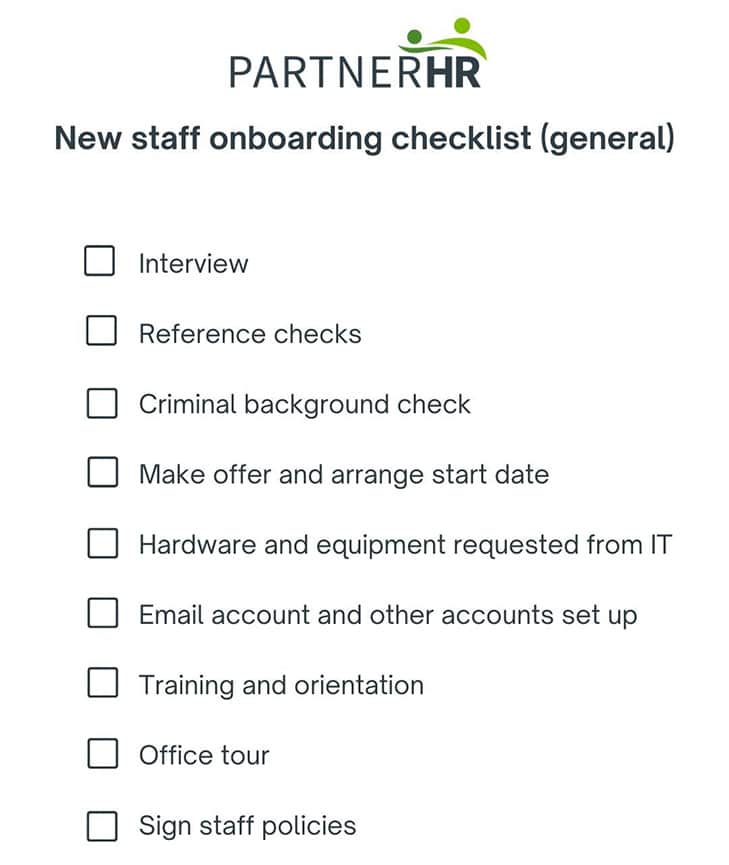 New volunteer onboarding checklist (general)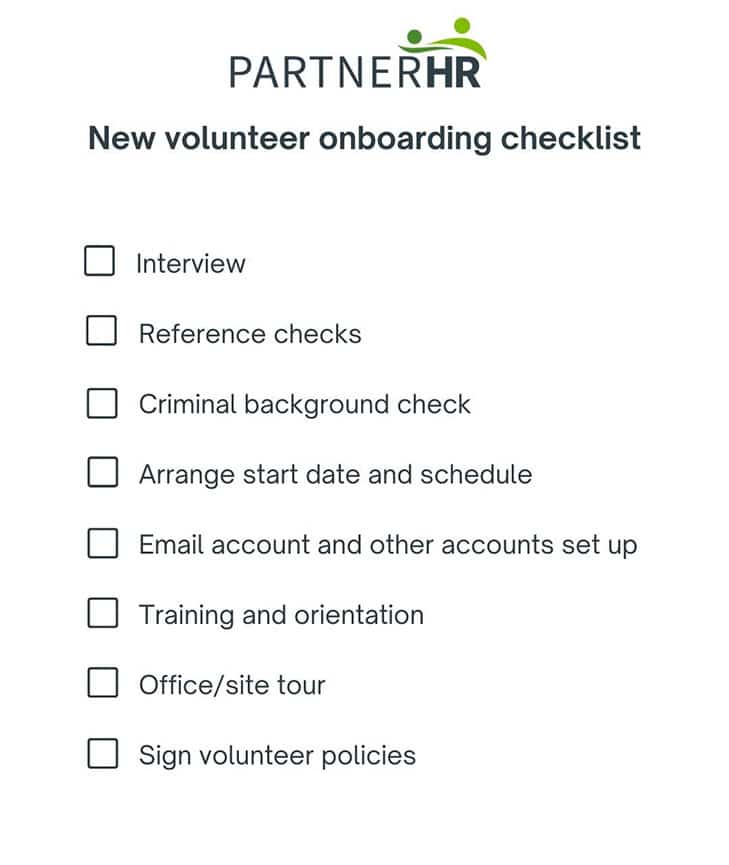 Seasonal staff onboarding checklist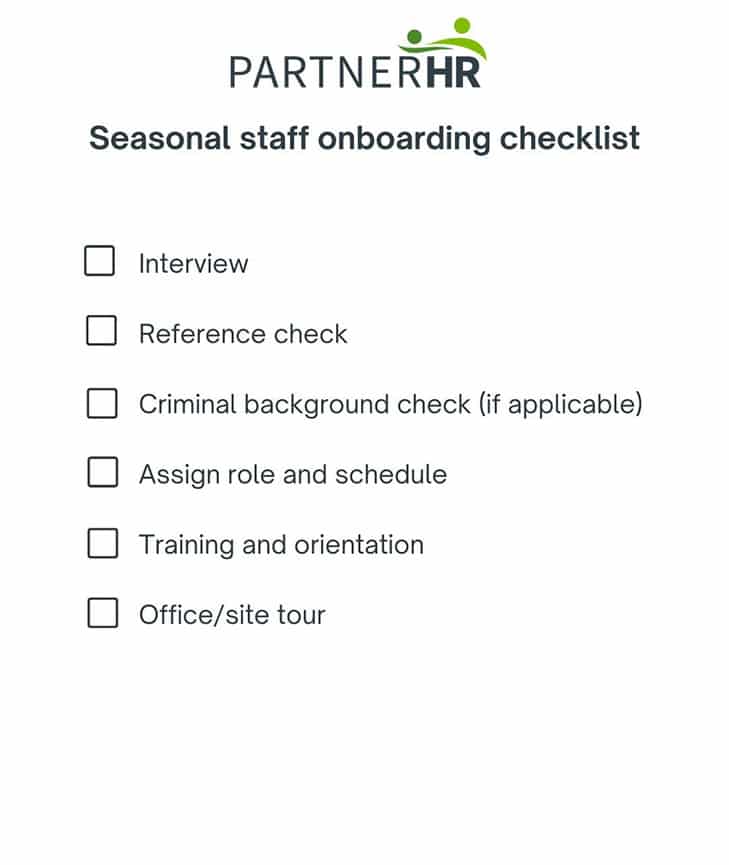 Event volunteer onboarding checklist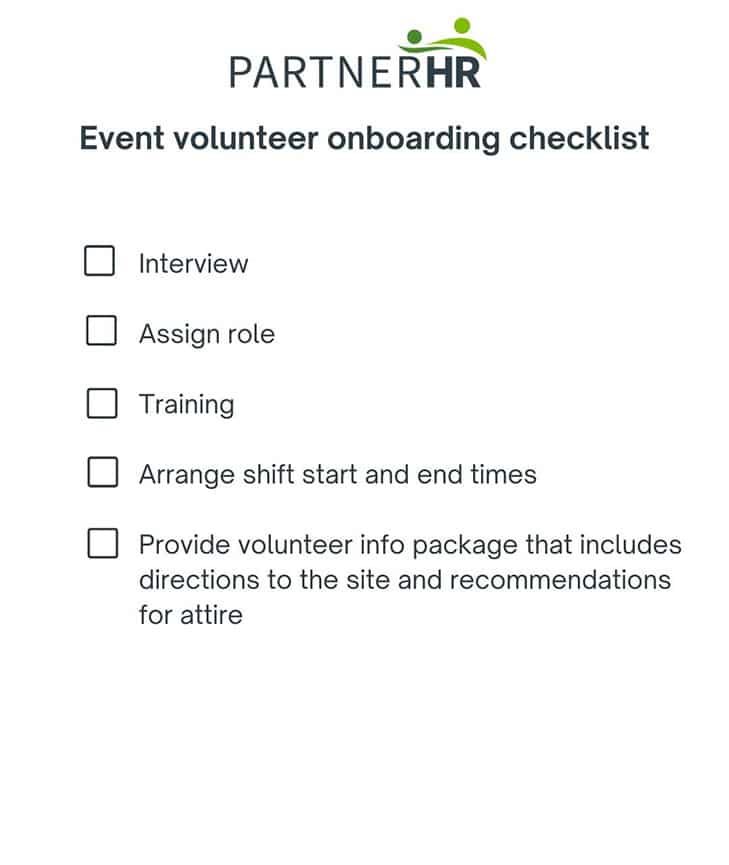 How to manage the onboarding process
There's no doubt about it, when it comes to staff onboarding and volunteer onboarding, there are a lot of steps involved if you're following onboarding best practices.
Use HR Software
Stay on top of the onboarding process with nonprofit HR software like PartnerHR that has built-in automated onboarding checklists to help you get new staff and volunteers up and running fast.
PartnerHR also lets you create your own custom checklist for your nonprofits unique needs. For example, here's a sample volunteer onboarding checklist for a camp counsellor:
Interview
Reference checks
Criminal background check
Email account set up
Sign volunteer policies
3-day training and orientation
Campsite tour
Regardless of your onboarding process, missing a step – especially screening and background checks – can be disastrous for your nonprofit.
HR software is the best way to manage your various staff and volunteer onboarding checklists to ensure the process is standardized, streamlined, and that important steps aren't missed.
Using nonprofit HR software also ensures that:
Hiring managers have control over the process, while giving HR oversight efficiently without being involved in every step.
All steps are completed with staff onboarding checklists and volunteer onboarding checklists.
You get reminders when things like background checks need to be renewed so nothing is overlooked.
you can oversee all onboarding and identify where there are roadblocks
Staff and volunteer onboarding documents are stored in one secure location.
Keep records in a secure location
The onboarding process includes a lot of paperwork for new hires and volunteers to fill out and sign, along with other documents like background checks that your nonprofit needs to keep on file.
Because these documents contain personal information, they need to be stored in a secure location. It's also important that your nonprofit hold on to these records, even after someone is no longer working with your organization, in case an incident comes to light.
Keeping paper records takes up a lot of space, they can be difficult to access, and are not secure. Electronic records, stored in a safe and secure location, are the best way for your nonprofit to manage onboarding documents.
Why you need an onboarding process
The best way to manage onboarding for new staff and volunteers is to have a clear process in place for screening and onboarding.
You need to have a process in place to ensure that every step of the process is met. If steps are skipped or missed, it can be disastrous for your organization.
Risk management
If an incident ever arises that involves a staff member or volunteer from your organization, it's important that you have a record of the screening and onboarding that this person went through during the volunteer onboarding or staff onboarding process.
Proper screening, onboarding and record keeping policies and processes are an important part of your nonprofit's risk management. This is especially important for nonprofits whose staff and volunteers are working with vulnerable populations like children.
Maintain a profession reputation
An efficient and thorough onboarding and screening process also makes your organization look professional and organized to new staff and volunteers. It also ensures that new staff and volunteers receive all the information they need during the onboarding process to be set up for success.
This will help with retention of staff and volunteers and contribute to a positive reputation for your nonprofit organization. Your staff and volunteers will share with their friends how wonderful your organization is to work for and may refer their friends for staff or volunteer positions at your nonprofit.