You don't need us to tell you that 2020 was a tough year for businesses and individuals across the globe. Although we certainly aren't out of the woods yet, there is a glimmer of hope that things will improve and start to return to some form of normality in 2021.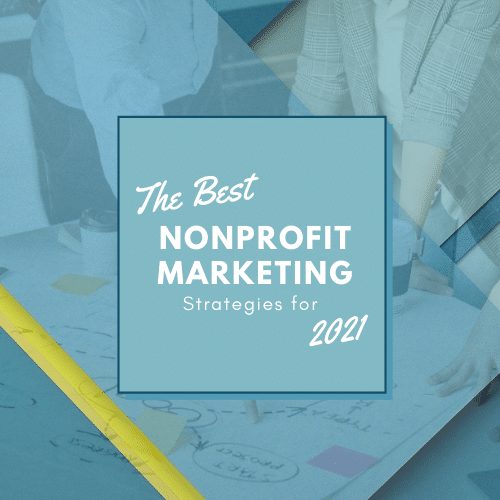 There has been a fundamental shift in how we live and work in the last 12 months. With 74% of office-based businesses in the UK working entirely from home, their attention is now more focused online than ever before. In turn, forward-thinking businesses and nonprofits are embracing the opportunity afforded to them by this unique time in history by increasing their online marketing activities.
However, with more attention online there is also most competition to grab that attention. In this article, we run through 7 of the best tactics you should include in your 2021 nonprofit marketing strategy to cut through the noise and reach donors in a way that compels them to act.
Create Video Case Studies
There is a reason why YouTube is the second biggest search engine in the world. People love digesting video content. In fact, a study by Cisco suggests that by 2022, online videos will make up more than 82% of all consumer internet traffic, which is 15 times higher than it was in 2017. Furthermore, 87% of marketers said video had increased traffic to their website.
It is important to show potential donors the work you are doing and how their donations are helping make a difference in the world. By creating video case studies of the work your charity does, you can engage and educate your audience in the way that they want to digest content.
Publish Podcast Interviews
Although not a new concept, podcasting has grown massively in popularity in the last few years. Some surveys show that a huge 37% of the population listen to at least one podcast each month.
The passive listening nature of podcasts is an excellent way to reach donors in a non-evasive way. Recording interviews with various members of the charity, those you have helped and even inviting donors to tell their story will help you build personal connections with listeners.
One final, huge benefit of creating a podcast for your charity is the ability to do this whilst working remotely. This allows you to create highly engaging marketing materials whilst working from home.
Set SMART Goals
It's impossible to measure your progress if you aren't clear on what you are working towards. Although the vision for your charity may be inspirational in nature, it is important to put in place achievable and measurable goals to ensure you keep moving towards achieving that vision.
The SMART goal setting system is a great way to ensure your goals are written in a way that they can be checked off. SMART stands for:
Specific
Measurable
Achievable
Relevant
Time-bound
If any of these aspects are missing from your nonprofit's marketing goals, they are unlikely to ever be achieved. For example, you may set a specific goal which includes a measurable metric, but if you do not also include a deadline for achieving that metric, how will you know what you are aiming for?
Setting SMART goals is an excellent way to help motivate your team, drive effort and allocate resources in the areas which matter most to your charity.
Follow a Tight SEO Strategy
The benefits of appearing high up on relevant search engine results should need a little explaining. In fact, this study showed that the search result in the #1 position received a huge 31.7% of all clicks and was 10 times more likely to be clicked than the result in the #10 spot.
With more people online during the pandemic, it is now more important than ever to rank highly on search results.
Although there is a vast number of techniques, tactics and technically confusing ways which can be used to boost your rankings, there are a small number of simple, established best practices which can really improve your search engine positions. Some of these include:
Publishing consistent, relevant content
Understanding which keywords matter to your charity and targeting them in your content
Improving your website speed and usability
Earning backlinks from other quality, relevant websites
Work With Influencers
Admittedly, influencers don't always carry the best reputation, which may make them seem a little risky when it comes to promoting your charity. But finding the right influencers can be a great way to reach new potential donors and engage them through content that is already proven to work.
When looking for influencers, consider more than just the size of their following. Ask yourself if their content matches or complements your own branding and whether their values are closely aligned with yours.
Develop Donor Profiles
Before you start planning and implementing the tactics we have highlighted in this guide, you must first seek to fully understand those you are trying to reach. Creating customer or buyer personas is already a widely established practice for many businesses. Once created, these profiles help businesses to quickly cross-reference any decision making, including marketing decisions, to ensure they are best suited towards serving their ideal customers. The same theory can be applied to your donors. When creating donor profiles, go as detailed as possible, including information such as their age, gender, location, job role, family and social position, personality types and their motivation behind donating. For a more accurate profile use data you have previously collected on donors and try to find common themes. By creating 2-5 donor profiles you will better understand your donors and how you may serve them.
Nonprofit Marketing Tactics
Regardless of what 2021 brings, developing a strong marketing strategy made up of some, or all, of the marketing tactics we have highlighted in this article will help you reach donors and potential donors in a way which resonates with them and compels them to take action.