Simki Dutta is a content marketer at Venngage, a free infographic maker and design platform. When she's not working, she can be found refreshing her Twitter feed and binge-watching Netflix shows. Find her on Twitter and LinkedIn.
From growing your donor base and meeting your fundraising goals, to making a difference to the community and reaping change, your nonprofit has had a successful year.
Now it's time to talk about it and communicate those wins through an annual report.
According to the Council of Nonprofits, annual reports can be used to:
Highlight what you've achieved over the year
Reinforce your mission and impact
Thank volunteers and supporters
Make a case for donating to your organization
The idea is to make your donors and supporters the hero of your annual report by showing them the impact their donation has made. Doing this builds trust and makes them feel proud about being associated with your nonprofit organization while appealing to new donors.
Let's take a look at how you can create an effective annual report along with some annual report templates that are sure to inspire existing donors and attract new ones.
1.  Introduce Your Mission
Every nonprofit organization works towards a mission that gives them purpose and a sense of direction.
It's important to begin your nonprofit annual report by introducing readers to your mission statement and objectives because it helps them relate better to the activities and accomplishments mentioned later in the report.
A nonprofit mission statement needs to encapsulate:
Why your nonprofit exists
Whom it serves
How it serves them
Here's an example of a nonprofit annual report that sets the foundation by clearly stating the mission statement on the front page.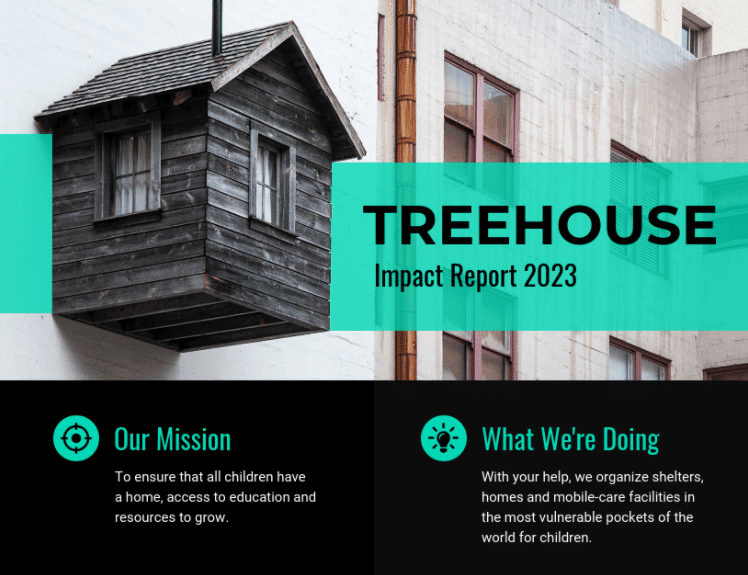 In addition to this, you can also add a crisp summary of the work your nonprofit is doing or illustrate your strategy through a strategy map, demonstrating how it's advancing the mission.
Here's an example of a nonprofit strategy map you can use in the annual report. It talks about how to conduct an evaluation, along with the approaches and tools to use.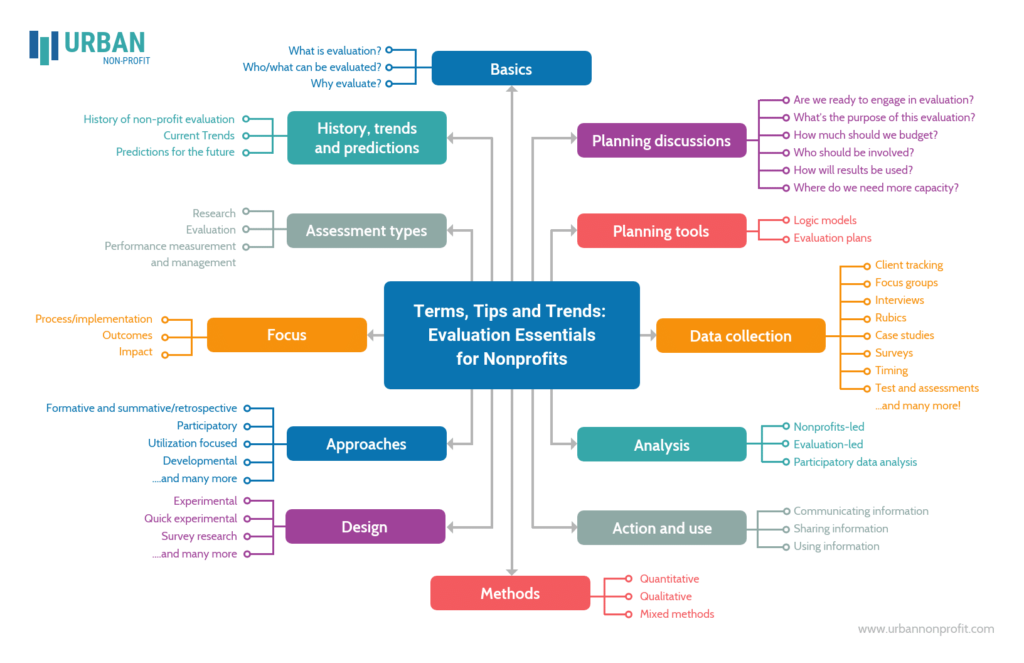 2.  Use Visuals to Convey Impact
A nonprofit annual report is not meant to be a list of activities you've carried out in the past year. What donors and other stakeholders want to know is the impact your nonprofit is having.
While you can write lengthy paragraphs of text to demonstrate impact, it certainly won't manage to hold people's attention. The best way to draw readers in while communicating impact is by using visuals.
Here are some visual elements you can use to convey impact in annual reports for nonprofits:
Use statistical infographics to share key achievements in the form of numbers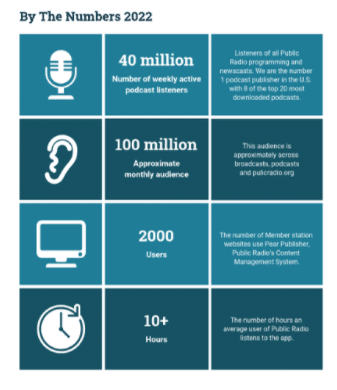 Use timeline infographics to visualize various milestones achieved in the year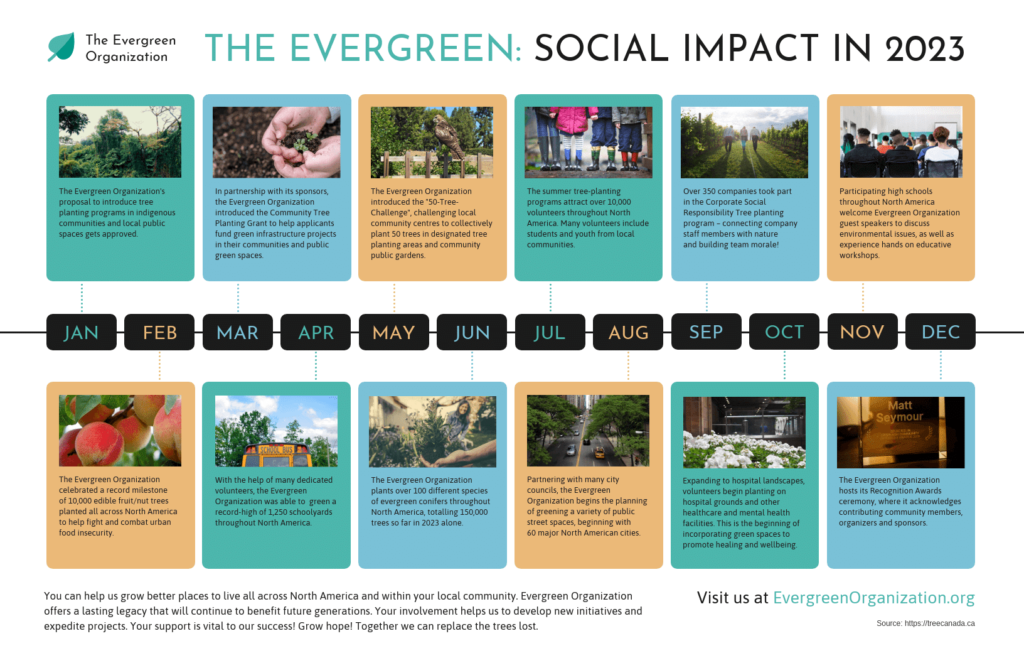 Use charts such as pie charts, donut charts, bar charts, and line charts to highlight data points or demonstrate change over time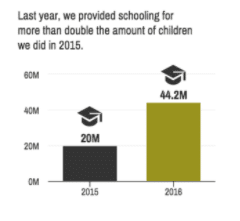 Use illustrations to complement the text or emphasize a problem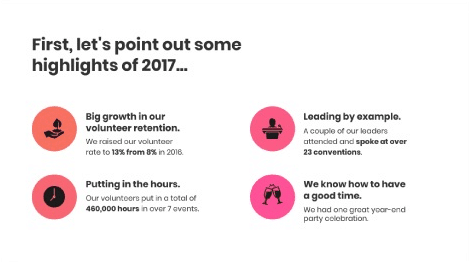 The idea behind using visual communication is to simplify information and make it easier to digest while keeping readers engaged. Remember: the visuals you choose need to be functional and pleasing to the eye.
3.  Feature Inspiring Real-life Stories
You've shared the numbers behind your success but don't stop at that. Include real-life stories of people your nonprofit has impacted and let your donors see your work in action.
Effective nonprofit storytelling helps you build a connection and create transparency with your donors. It breathes life into your annual report while inspiring existing donors to continue their support and encouraging potential donors to get involved.
It's best to get a first-hand account from the people who have benefited from your nonprofit. This makes it seem more authentic and real. Be sure to supercharge impact by adding their photos or including video testimonials.
Take a look at DREAM's annual report. They feature stories of the children they've impacted, along with their pictures and quotes.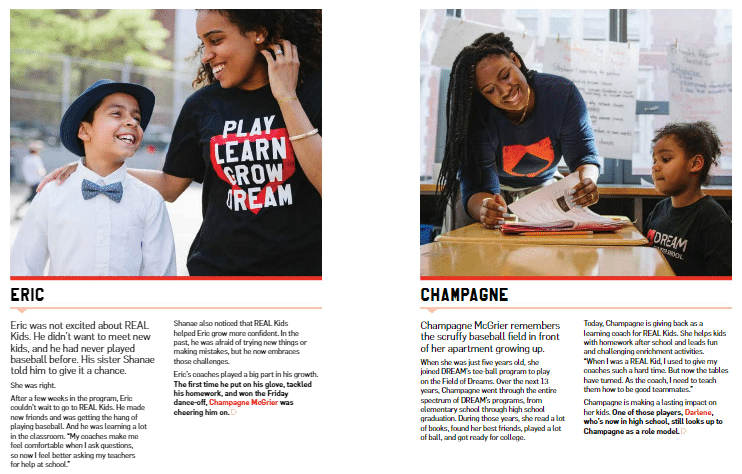 4.  Be Transparent About Financial Information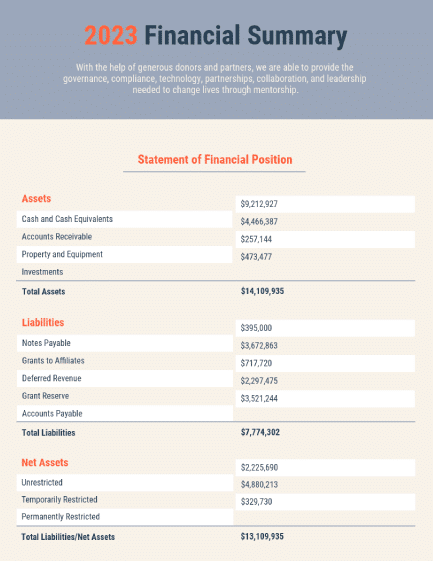 It's interesting to note that transparent nonprofits received 53% more contributions, proving that financial transparency plays a critical role in building strong donor relationships.
Donors will want to assess the financial health of your nonprofit which is why it's important to be transparent about your financial information in annual reports.
But if you're including your financial statements as is, it may overwhelm the reader.
Instead, consider using data visualization such as charts, graphs, tables, maps and infographics to present the same financial information in a more engaging way.
You can include financial statements such as:
Statement of financial position
Revenues and expenses
Cash flows
Statement of functional expenses
Here's an example of a nonprofit annual report that presents the financial summary in a tabular format, letting readers view key data. They've also color-coded the sub-headings which breaks down the information and makes it easier for people to interpret the data.
5.  Maintain Consistency in Design
One of the most important design elements to consider while creating your nonprofit annual report is consistency. The report needs to offer a cohesive reading experience from the beginning to the end.
Establish an overarching theme and let it reflect across the annual report in the color scheme, typography and visual elements used.
Here's an example of a well-designed nonprofit annual report. Notice how the fonts, colors and illustrations are consistent across all the pages and reflect a singular theme.
6.  End With a Strong Call-to-action
Imagine this: a potential donor has just finished reading your annual report and is left impressed with everything you've achieved.
It's best to strike while the iron is hot — use this opportunity to encourage action and attract support.
How do you do that? By ending the annual report with a strong call-to-action that tells people what is expected of them.
Here are some action items you can leave readers with:
Tell them how to donate
Share volunteering opportunities
Outline monthly memberships
Encourage them to engage with you on your social media platforms
Ask them to subscribe to your newsletter and build your email list
Take a look at the last page of American Kidney Fund's 2017 annual report that lists the various ways people can get involved and show their support.
The takeaway: create a donor-centric annual report for nonprofits
Nonprofit annual reports give you the opportunity to educate, attract and inspire donors. Make the most of it by implementing these six best practices, enabling you to create a donor-centric annual report that captivates attention, gets read and leaves people impressed.
More: 
How To Write The Perfect Annual Report (With Examples)
3 Awesome Annual Report Themes with Examples