By Erica Waasdorp, President at A Direct Solution, Author of Monthly Giving: The Sleeping Giant.
First, I hope you're doing okay? Are the kids getting used to being homeschooled? Are you getting used to working from home? Perhaps you worry about your job. Perhaps you worry even more about how your nonprofit is going to survive this worldwide coronavirus pandemic disaster!
When you started the year, you knew your plans were solid. So many events. So many direct mail appeals. So many email newsletters and e-newsletters. So much social media, etc. Thank you letters in place.
If you're like many, especially small to mid-size (and yes, even larger!) nonprofits, monthly giving is perhaps the last thing in your plan. Because events take up so much time and then the next email must go out, the next board report must be written.
There just never seems to be enough time in the day to focus on bringing in new monthly donors and keeping the ones you have or better yet, upgrading them to give more or convert them to give from their bank account.

But focusing on monthly giving pays off:
Source:Bloomerang
So, I'm here to tell you that the time is NOW to focus on it. You have some time to focus. No commute so take that extra time and look at a few areas:
Start with the current number of donors who give monthly or quarterly to you. What's their total value? What's their annualized value? Then look at this chart. Where do you fall? See how quickly monthly giving can grow?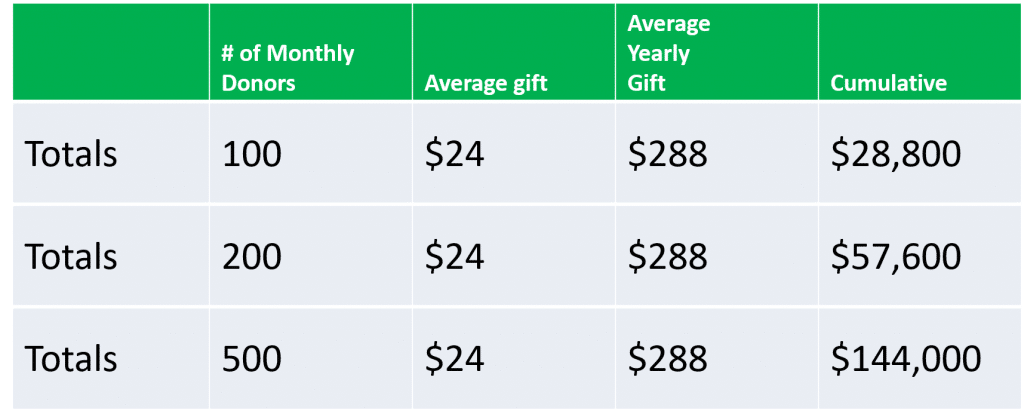 What if you had this amount of money coming in right now? Sustainable revenue, no matter the pandemic, no matter the stock market.
Then look at how you generated those monthly donors. Was this done through direct mail, email, phone or another source? Then try out these Monthly Giving Calculators and calculate your potential!
What if you could change in your current communication stream to try some new approaches.
What if you added a button in every email asking for monthly gifts? Try it for a few months and see what happens. You can only increase your numbers, right? And guess what?
What if you tried it right now, in your emergency emails and appeals during this stay at home coronavirus time of waiting. I've seen fabulous results!
What if you added a few emails to your mix with a request to make a monthly gift? Try it for a few months and see what happens.
What if you tried a tick box on an appeal reply form?
What if you tried a direct mail invitation to see if you can generate new monthly donors that way? (Note, this is of course much more successful if you're already sending direct mail to your donors now. I wouldn't start this if you've never reached out to your donors that way).
What if you tried some thank you calls to your lapsed monthly donors and see if you can bring them back.
What if you tried some thank you calls to recent smaller donors and see if you can convince them to give monthly?
What if this could be the time where you're doing some more experimenting with something that other organizations have already found works!
The number of opportunities can be endless. I'm a great supporter of repurposing existing materials, so look at some of the successful one-time gift approaches you've created and see if you can simply repurpose them with a monthly gift.
I'm also always on the lookout for what some of the big and successful monthly donor focused organizations are doing. Consider making a small monthly gift to them and then see what happens. How easy is it to make a gift? What are the amounts? How can you pay? What does their thank you letter look like? What are they sending you during the year?
What if today could be the start of a more focused approach to monthly giving?
What if today could be the day you really start working on generating that sustainable unrestricted income for your organization, so you're ready for when the next crisis occurs.
There's a popular Chinese proverb that says: "The best time to plant a tree was 20 years ago. The second best time is now."
Well, guess what! NOW, TODAY is the day to start generating more monthly donors than you ever imagined. What are you waiting for?
About the Author: Erica Waasdorp is the author of "Monthly Giving: The Sleeping Giant" and is the President of A Direct Solution. She works with non-profit clients all over the country as well as internationally, helping them with their appeals, monthly giving, grant writing, and PR.
See Complete List of COVID-19 Resources for Nonprofit Here.