There are many ways to engage your donors, but by far the best way to do so is to create a closer bond between your nonprofit and your donors by immersing them in a memorable experience.
We have all heard of a donor's journey. What these four nonprofit fundraising ideas do so well is take the donor on that special journey.
1.   The Washable Book
Infectious diseases transmitted via hand are still significant issues in developing countries. More than 6,000 children lose their lives every day over this problem. Japanese company ANGFA created an interactive print ad where kids would need to use the block of soap, an enticing way to educate young people to use it.  The company created a technology where colorful print would appear after it is washed with the soap. As a result, Washable Book was created. This campaign was very successful and boosted soap sales for the company by 1,730%.
2. A Video Produced by Students for the Lisa Brown Charitable Foundation
If you work it right, social media can be the foundation for a killer storytelling campaign. It allows you to not only reach your donors through multiple platforms, but it also really pulls your audience in.
This video created by student's as a class project not only helped the small charity raise more money than ever before but it was so successful that Sick Kids Hospital saw the video and approached the charity and offered to make The Lisa Brown Charitable Foundation a part of their organization. Now, that's success.
3. Wouldn't Change A Thing – 50 Mums | 50 Kids | 1 Extra Chromosome
What started with a video turned into a charity! Fifty mums who are part of an online support group for parents whose children have Down Syndrome got together to make a video with their kids to mark World Down Syndrome Day.
The video, shot is in the style of a carpool, shows the mums and their kids singing along to the song A Thousand Years by Christina Perri. One of the mums got the idea from watching videos by Singing Hands, a group that does nursery rhymes in a form of sign language. Their aim was to challenge the perceptions of Down Syndrome and show that they #WouldntChangeAThing.
The video quickly went viral in the UK and has many responses to the video and more than five million views (a million in the first week alone). Because of the success and positivity of the video, they've now set up a charity called Wouldn't Change A Thing.
Their aim is to "try to achieve a world where negative, outdated perceptions of Down Syndrome are a thing of the past".
4. WWF's Approach to Attract New Donors
This example is from World Wildlife Fund (WWF), called: Don't let this be my #LastSelfie, they decided to targeted a younger audience using Snapchat as their medium with these images: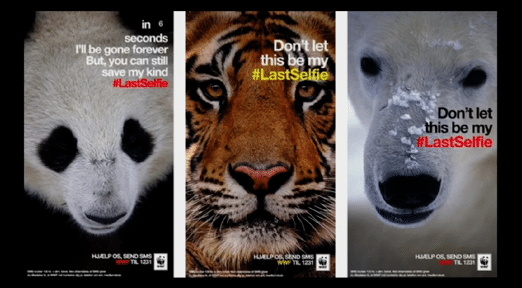 That's because Snapchat is not only a platform that is really popular with a younger audience, but also because on Snapchat, images only show up for a few seconds before they disappear. And this is what is happening to endangered animals today.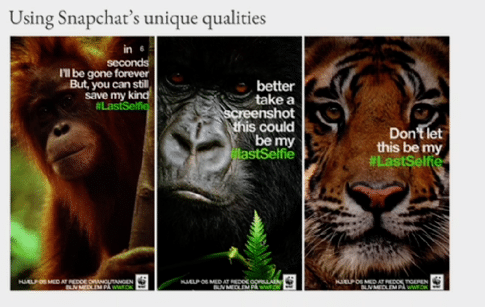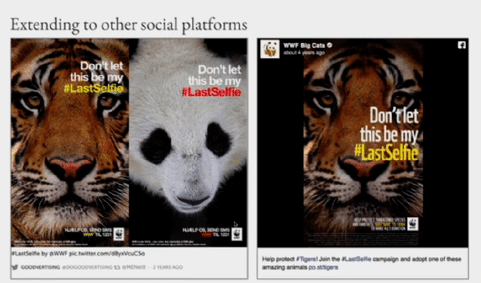 WWF first sent these messages to influencers, who they identified as having a large following of young people and asked them to be part of the campaign.
Once the younger people who followed these influencers saw these messages, they too began to follow WWF.  They took these selfies of animals on their phone and took screen captures of the images before they disappeared and shared them with their friends on social media. WWF's website also asked the audience to donate.
The campaign was extended to other social platforms like Twitter and Facebook.
The Result: 40,000 Twitter followers shared and posted it in the first week.
What is truly amazing is that 120M Twitter users saw it in the first week, reaching 50% of all active Twitter users.
WWF reached their fundraising goal for the month in just 3 days. The campaign was also translated into six different languages and it went viral around the world.
In conclusion: By using participatory, hands-on, and tangible methods, nonprofit organizations can show donors not just what they offer, but also what they stand for.
What all these nonprofit fundraising ideas have in common is that they focused on the donor's experience more than on the nonprofit. Most donors are familiar with a nonprofit's cause, so it's time to engage them to enhance their experience to get them to engage. 
Remember fundraising isn't about proving your organization is the best, it's about showing people how your services help others.
There is great wisdom in what Maya Angelou said: "I've learned that people will forget what you said, people will forget what you did, but people will never forget how you made them feel."