A simple thank you can go a long way in voicing appreciation, and it's easy to do. We utter these words to strangers every day without even thinking about it. But when it comes to the massive thank you's – the ones that offer up a deep appreciation for another's actions – sometimes we falter.
So how can you, representing your nonprofit, show genuine appreciation to your donors and patrons through a thank you email? Here are four key features that your nonprofit thank you email should always contain.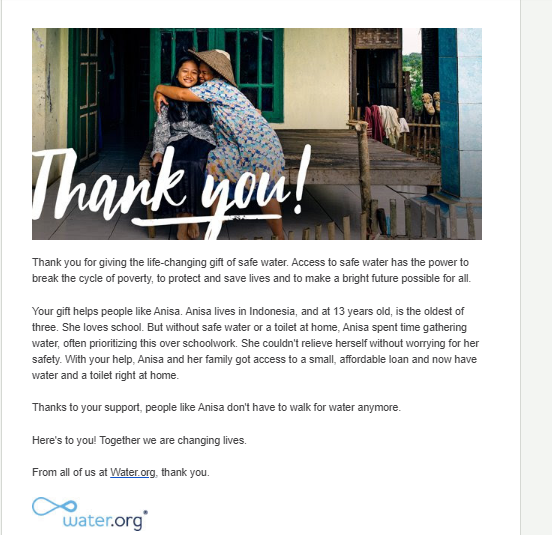 1. Appreciate Their Actions
Showing appreciation for your donors is the most important action you can take to retain donors. Whether through email, letter, or in person, always let them know you appreciate them.
When crafting your thank you email, be sure to voice gratitude for the action – the donating – rather than the monetary value of the donation itself. You can mention the amount given, but remember it's a person who's doing that giving, and they should be recognized first and foremost.
If you need some examples for inspiration, check out these donation thank-you email examples! 

2. Recognize The Donor
Many nonprofits fall into the trap of talking about themselves, their mission, and programs, rather than the donor, when relaying thanks .
Remember, the email is a physical commendation that illustrates the institution's gratitude for the donor's generosity. You are not reaching out to the donor to further discuss your nonprofit's mission; they already know and support it.
When you send a thank you email, you're contacting them to recognize the role they played in aiding that mission, so thank them accordingly.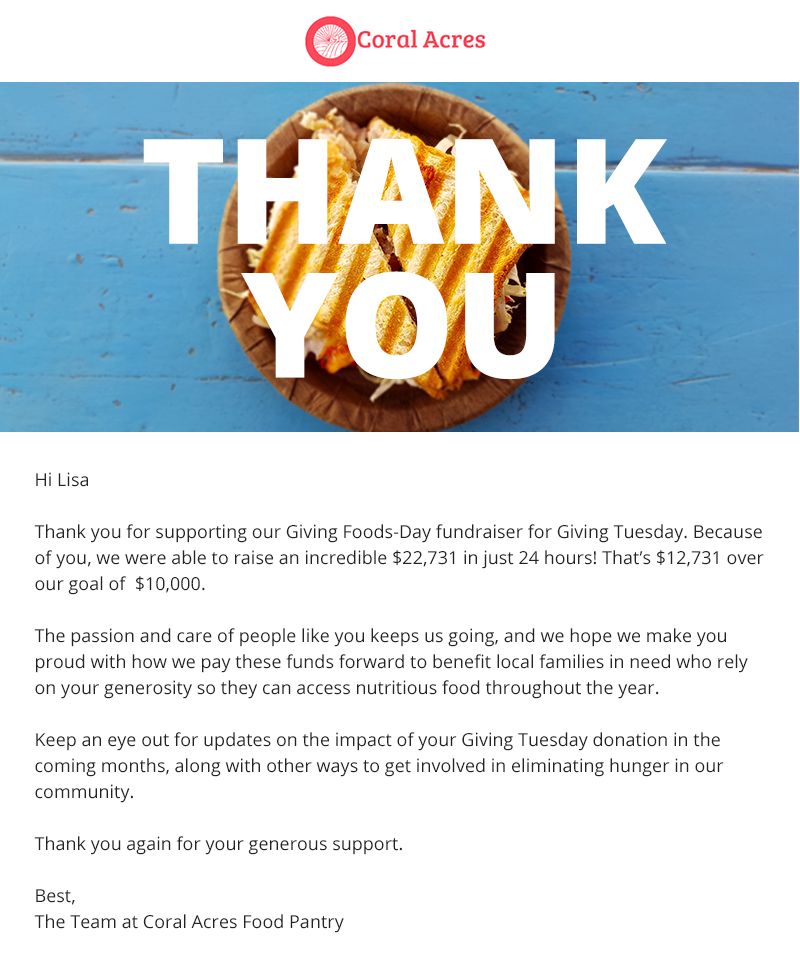 3. Make it Emotional
When writing a thank-you email to donors, avoid bland, formal business language. Speak to your donors like people first, and remember that it's ok to be emotional and personal with your writing. 
Heartfelt language in your thank-you will be much more appreciated by your donors than formal, business-like language.
4. Personalize Your Communication
Sending out personalized thank you emails if you are a large nonprofit may seem like a daunting task, but it is a necessary one, and it doesn't have to be difficult.
A nonprofit CRM like Sumac can help personalize name, giving amount, programs gave to, or interested in, etc. 
Personalizing thank-you emails can dramatically change how your message is received. Suddenly it doesn't look like it was mass produced, but meant specifically for each donor. That's big.
Start Your Email Campaign Today
Communication is essential to donor retention. The more you show your appreciation and communicate with donors, members, and the community, the more likely your nonprofit will succeed in raising funds to further your cause.
The next time your nonprofit sends out thank you emails, keep these four key features in mind, and your donors are sure to feel your sincere appreciation, and continue giving!
If you would like to learn more about our built-in email campaign programs, please contact one of our software experts at Silent Partner Software today.