In the nonprofit world, donor retention is crucial, since keeping existing donors is always far more cost effective than trying to attain new ones.
There are many reasons a donor stops giving. This chart, provided by IMPACTS Research represents the responses of a 98,000 person sample of previous $250-$2,500 annual donors who didn't make another gift to the same visitor-serving organization within the past 24 months.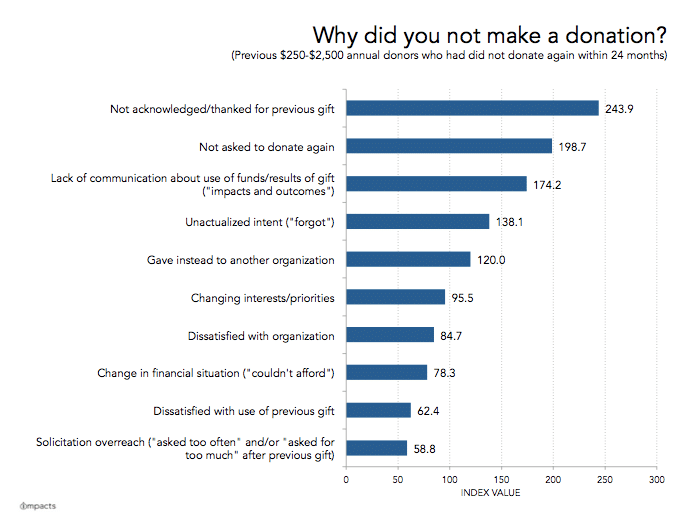 Let's break down the top 5 reasons donors stop giving.
1. No Acknowledgement
According to Penelope Burk, author of Donor Centered Fundraising, saying "thank you" is the first step to getting that next gift. Burk has been conducting this research for nearly two decades, and donors have consistently pointed to the things they most want from nonprofits, and it's three very simple things:
1. Prompt gift acknowledgement
2. Confirmation that gifts have been set to work as intended
3. Measurable results on those gifts at work, before they are asked for more money.
That's it. They don't want a keychain, their name engraved on a wall, or anything else.
With good donor management software, you don't have to think about your thank-you letters. They are sent promptly, and automatically after every single donation, whether the donation is made on your website or over the phone.
Sumac donation pages, for example, automatically enter donations into your donor database and send out thank-you letters and receipts, so you never have to worry about donors being thanked.
Here's help with How to Write the Perfect Donation Thank-You Email (With Examples)
2. Not Asked Again
Don't make this mistake. The easiest way to secure a second donation is to just ask for it. Don't be afraid to ask, especially if you've thanked your donors and updated them on the impact of their gift.
Here's help with getting the ask right: How To Write The Perfect Fundraising Letter.
3. Lack of Communication About Impact of Gift
Saying thank-you shouldn't be the end of your communication with donors. Donors want to know both that their gift was used as intended and the impact it had. If you can do this, they'll want to keep giving to your organization
You can also include an impact Page on your website. This page can highlight the individuals your organization has helped. Check out the S.F Marin Food Bank's impact Page. Notice at the bottom of each story they encourage people to "Take Action and Donate Now."
Here are some help with getting the update right: 5 Creative Ways Non-Profits Can Show The Impact Of Donations
4. Failed Intent (Forgot)
With busy lives, and so many competing causes, it's unsurprising that donors often just forget to give again. In order to make sure this doesn't happen, it's important to stay top of mind. This means, sending communications and posting updates on social media that remind them of the incredible impact of their donations, and thanking them again and again. Check out: 6 Ways to Thank Your Donors.
The absolute best way to ensure donors don't forget to give, however, is to get them to enrol in your monthly giving program. When donors are giving monthly, they tend to keep giving. Harvey McKinnon, author of Hidden Gold: How Monthly Giving will Build Donor Loyalty, Boost Your Organization's Income, and Increase Financial Stability, says:
"It takes proactive action from the donor to stop and it is rare for them to take that action even if the non-profit messes up. So, while donors that require constant renewal rarely make it past 2 years, monthly donors keep giving for 10 years plus. Also, they tend to give more. Donors, for instance, who would give $100 per year will give $20 – $30 per month. All of this translates into huge boosts in revenue for non-profits."
Go ahead and try out our monthly giving calculator to see how much more you could be raising if your donors were giving monthly and sticking around: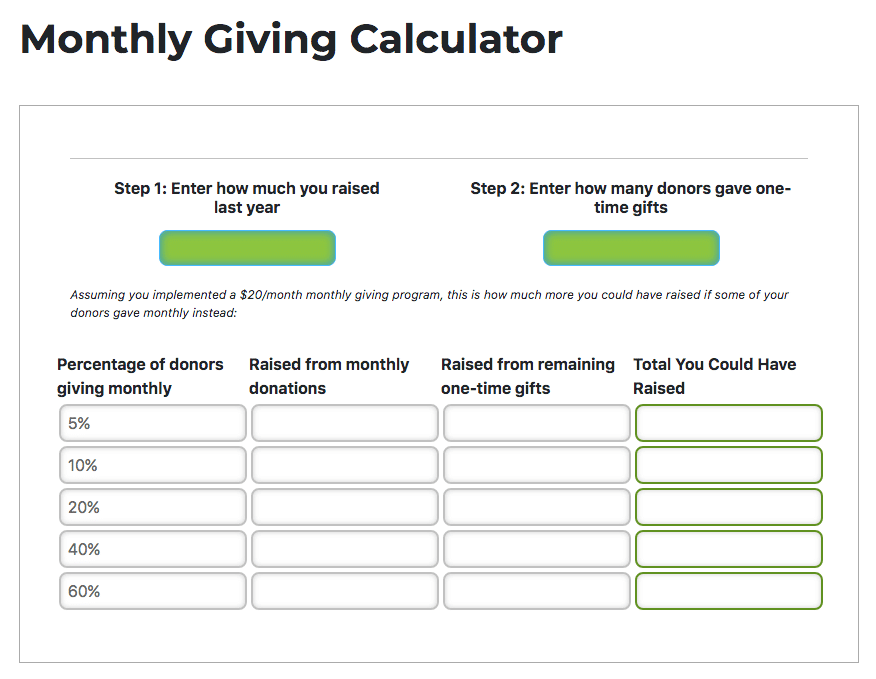 5. Gave to Another Organization Instead
There is no denying the competition for donations is fierce, so it's no wonder many donors report that they just simply gave to another nonprofit instead. If you want donors to keep giving to your organization, remember the three things they need from you to keep giving. If you do these things well, your donors won't be going anywhere!
About the Author: Sumac is part of the Silent Partner Software family, a company dedicated to providing exceptional software and services to nonprofits.
With over 25 years of service, Silent Partner has helped organizations manage over 3 million donors and contacts across the US, Canada, UK, and Europe. Learn more.