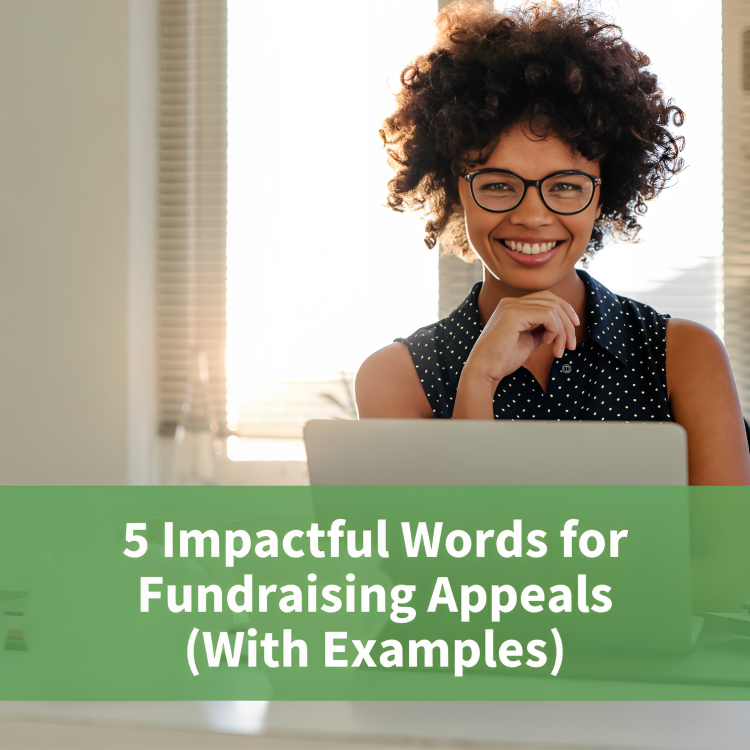 Are you aware that most nonprofits are leaving significant revenue on the table? Startling nonprofit fundraising statistics reveal that organizations typically send just two print newsletters and three print donation appeals per year. What's more, those dissatisfied with their marketing outcomes tend to produce even fewer pieces of digital content. 
But don't worry! Writing compelling appeals for your fundraising campaigns doesn't have to be daunting. By making a few tweaks and incorporating a handful of action-oriented words, you can set yourself up for success.
Here are 5 impactful words you can use in your next fundraising appeal and the strategy behind them:
"You": Speak Directly to Donors
"Because": Use the Power of Reason
"Small"

: Give Donors the Minimal Option

"Instantly"

: Convey the Immediacy

"Support": Appeal to Emotion 
"YOU": Speak Directly to Donors
The key to a successful appeal is pulling your readers into the action and establishing an instant connection. 
By speaking directly to the donor and utilizing the most powerful word in the English language – YOU – you can personalize your ask. 
Personalizing your copy not only helps you to strengthen relationships with your donors but also:
Grabs their attention
Tips them towards seeing your request in a positive light

Shows your donors how they can personally make a positive contribution
Make your message resonate by tying your NPO's mission to your donor's actions.
For example, instead of stating "we pledge against hunger", try "You can help us pledge against hunger".
"BECAUSE" : Use the Power of Reason
People tend to comply with requests when given a follow-up explanation. Our brains are wired to respond to the word 'because' and pay attention to the reason provided. 
There is a famous Harvard Magazine report asking participants to cut in line to make copies at a copy machine. First, the participant asked, "Excuse me, I have five pages. May I use the copy machine?" Thirty percent of people allowed them to cut the line. The second time, the participant said, "Excuse me. I have five pages. May I use the Xerox machine because I am in a rush?" Ninety-four percent of people let him go first.
Sonia Simone, a founding partner of Copyblogger Media, quotes, "Your readers are not dumb; they are distracted." Similarly, your donors have endless things to process besides trying to decode your appeal. So make sure you give them a reason why they need to donate. 
"SMALL": Give Donors The Minimal Option
Research shows that words such as 'small' indicate little contribution and make the donors feel that the appeal is reasonable and negligible, increasing the likelihood of them donating.
For another scientific research, Dr. Robert Cialdini, a professor of psychology at Arizona State University, conducted an experiment on what leads people to say YES to requests. He examined the donation process for the American Cancer Society, where appeals were made in a door-to-door solicitation.
One group of prospective donors were asked, "Would you be willing to help by donating?" Another group was asked, "Would you be willing to help by donating? Every penny will help."
Participants from group two–who were asked with a minimal parameter–were almost twice as likely to donate.
So while it might not seem like a big difference, giving donors a minimal parameter can deliver dramatically different results, and is very effective in generating donations. 
"INSTANTLY": Convey the Immediacy
One of the strategies for increased conversions of donors is using the words "instantly" or "immediately." Digital marketers have found this technique extremely useful to drive sales, and fundraising is no different.
Emphasizing donors to take action right away, followed by showing them instant gratification through your actions (such as social proof or thank you letters), is a great way to build long-term relationships.
"Support": Appeal to Emotion
Research shows that the mention of the word "support" in your call-to-action increases your donation rate by 16% per page view. This strategy works even better if you add a photo of the cause you are fundraising for, as it helps to grab the donors' attention better. Both of these things appeal to people's emotions, and are more subtle than directly asking for donations.
So instead of simply saying 'donate,' replace it with the word 'support' followed by the name of your campaign.
Donation appeals and fundraising campaigns are the lifeblood of any nonprofit organization. The words you choose for your task can make or break your campaign and impact your mission and its objective. 
In conclusion, crafting compelling appeals for your nonprofit fundraising campaigns doesn't have to be an arduous task. 
By implementing these simple strategies, in addition to using a robust Nonprofit CRM and Donor Management Software, you can maximize your potential revenue and engage donors effectively.