How can your nonprofit run a great #GivingTuesday campaign that will stand out? These 15 creative Giving Tuesday campaign ideas and examples are a great place to start!
In 2020, approximately $2.5 billion was raised in the United States on Giving Tuesday. Needless to say, it's a great opportunity for your nonprofit to raise money!
These creative Giving Tuesday campaign ideas will help your nonprofit leverage this global day of giving to support your mission and engage your community in a movement of generosity.
1. Send Supporters a Calendar Invite
Make sure your supporters remember Giving Tuesday and your campaign by setting up a public calendar invite to serve as a save-the-date.
When your supporters add the event to their personal calendars, they'll receive a reminder on Giving Tuesday so they won't forget to support your campaign.
Save-the-date can also be used for a #GivingTuesday Facebook event. When supporters RSVP to the event, they will receive a reminder on the day, so they remember to donate and share your campaign on social media.
2. Start a Giving Tuesday Facebook Fundraiser
Facebook fundraising tools make it really easy for your community to participate in Giving Tuesday and support your nonprofit.
Here's how to set up a Giving Tuesday campaign on Facebook:
Step 1: Make sure you are eligible for Facebook giving tools and register your nonprofit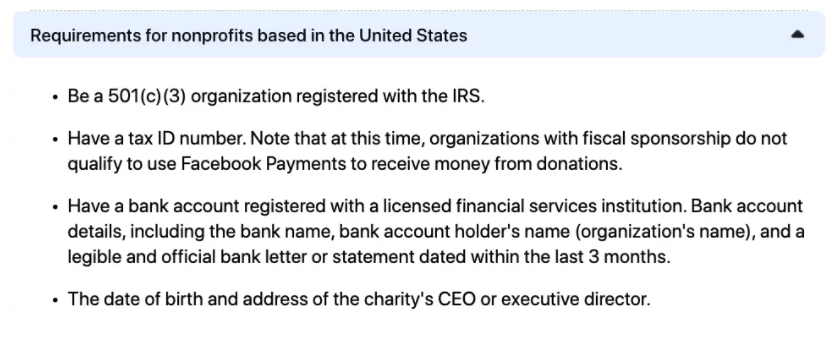 Step 2: Sign up for Facebook Giving tools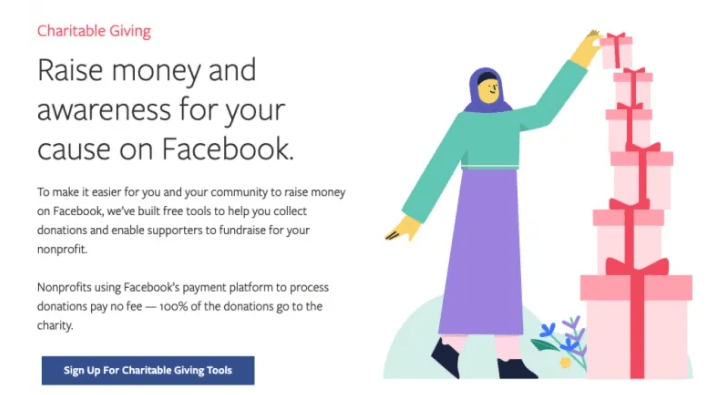 Step 3: Set up a Giving Tuesday fundraising campaign on Facebook. You will find the option in the "fundraisers" category on your nonprofit page.
Enter the information for your Giving Tuesday Facebook fundraiser and launch your campaign!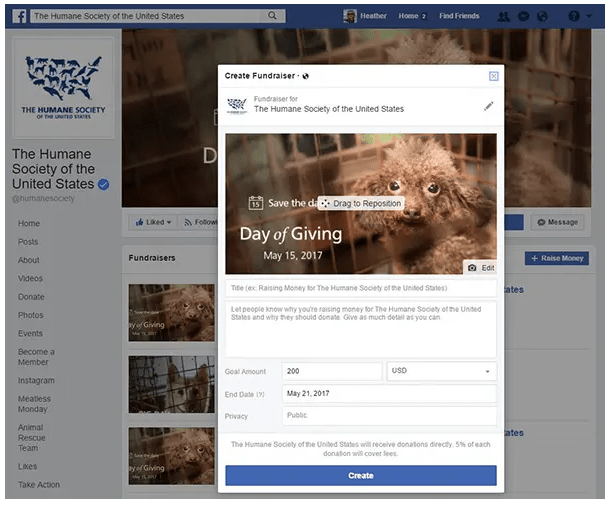 In 2020 St. Jude Children's Research Hospital used a Facebook fundraiser to collect donations directly on Facebook for their Giving Tuesday campaign, and it was incredibly successful.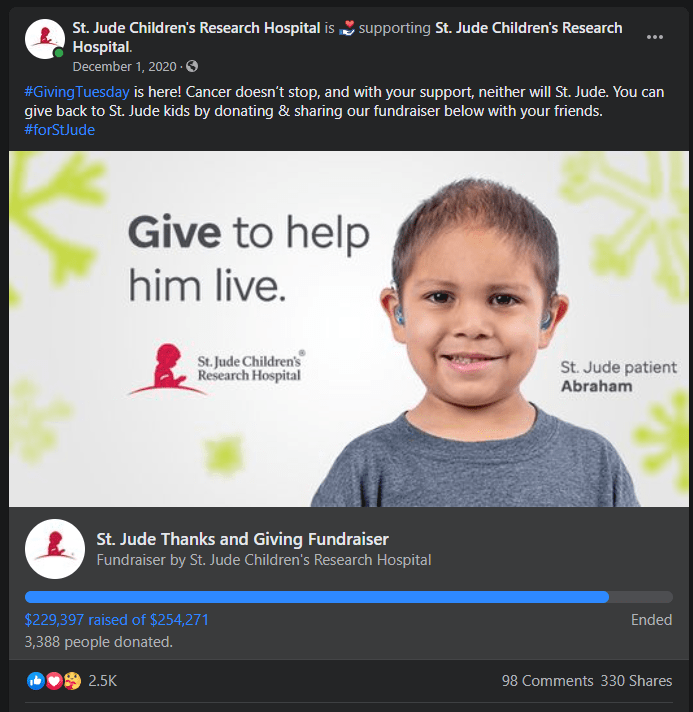 For more information on Facebook fundraising tools you can read this complete guide to getting started with Facebook fundraising.
3. Engage Your Corporate Partners with a Matching Gift Program
Another Giving Tuesday campaign idea that will help your nonprofit stand out is to get your corporate partners to make a matching gift.
World Vision worked with corporate partners to secure matching gifts for this Giving Tuesday campaign example, and shared it on social media to spread the word!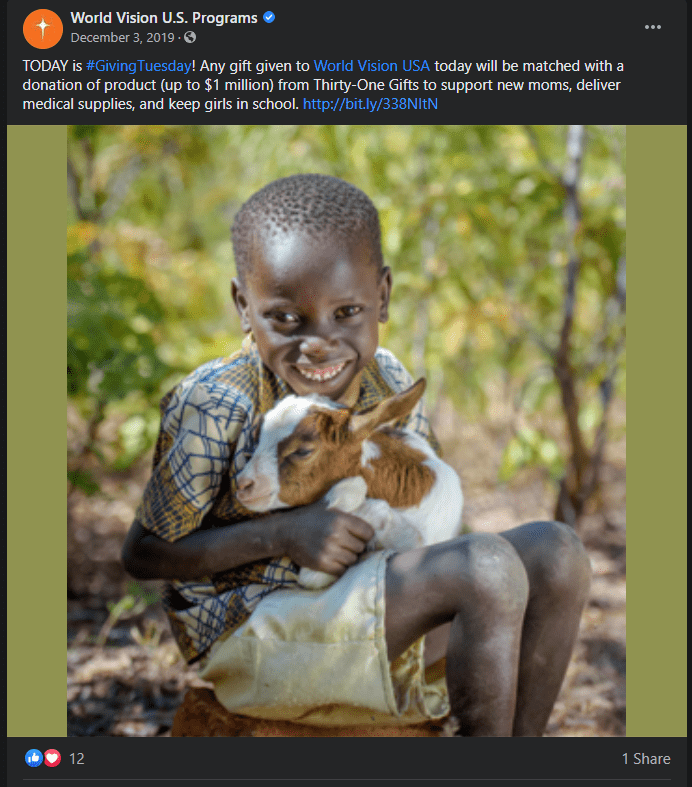 When you engage a corporate partner, you'll also be amplifying your message further, since that company will likely spread the news about your campaign and their generous matching gift to their own audience.
4. Get a Head Start on the Competition
This is a pretty simple Giving Tuesday campaign idea – don't wait until November 29th to get started. Instead get a head start on the competition.
On #GivingTuesday, your donors will be receiving emails and seeing social media posts or ads from dozens of nonprofit organizations.
Let your donors know they don't have to wait until November 29th to make a difference, by starting a week or even two weeks earlier, like Heart & Stroke did in this Giving Tuesday campaign example.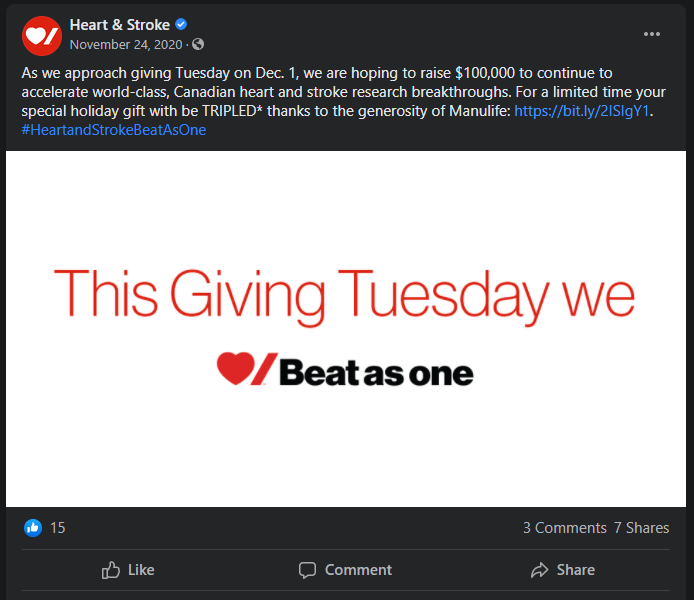 Starting your Giving Tuesday campaign early helps your nonprofit get your message in front of donors before anyone else, while still allowing them to feel like they participated in Giving Tuesday.
In order to ensure your #GivingTuesday campaign goes off without a hitch, it's important to have a great donor management solution that allow you to create campaigns, email supporters, collect donations on your website, and send out personalized receipts. If you don't have one yet, there's still time.
Sumac Donor Management Software lets you do all of this and more, to help you reach your year-end fundraising goal.
5. Set an Exciting Goal
Adding a goal is a smart Giving Tuesday campaign idea for a few reasons. Fundraising goals are attention grabbing, create a sense of urgency, and foster a sense of community among the donors who feel invested in the campaign's success.
Here are some Giving Tuesday campaign ideas for goal setting:
Make the goal tangible if you can, not just a dollar value, but what that money will accomplish for your mission.
Choose a goal that is ambitious, but achievable. Your donors want to invest in something they know will be successful, so if the goal is too high they may not want to donate.
Leverage your goal in last minute communications, appealing for your donors to help your nonprofit raise the last bit at the end of Giving Tuesday.
This Giving Tuesday campaign example from Make-A-Wish America shows an exciting goal to grant 30 wishes.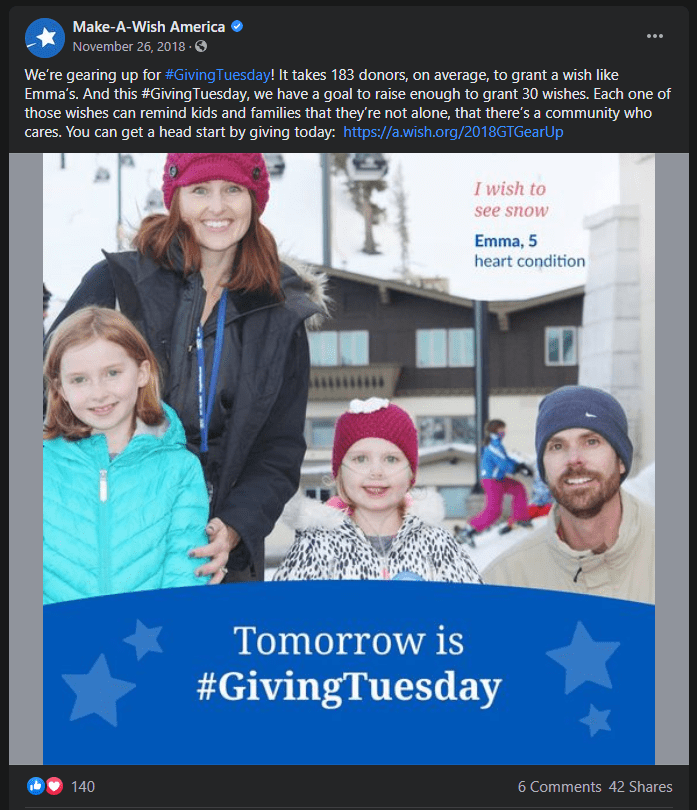 6. Create a Buzz by Encouraging Donors to Share Their Donation on Social Media
Create some buzz by asking your donors to share that they've made a donation on their social media. This creative Giving Tuesday campaign idea will help your nonprofit amplify the message of your campaign.
Here's how you can encourage your donors to share their donation on social media:
Make it easy! Have a social share button built into the thank you page of your donation form.
Create shareable graphics that donors can easily share on their social media channels.
Make sure you have a hashtag for donors to use.
7. Use Stories to Create an Emotional Connection
We all know that donors give to causes that they feel emotionally connected to, and making a donation to a #GivingTuesday campaign is no different. So, it's a good idea to use stories to showcase your impact and connect with your donors.
A great story creates an emotional response in your donors, shows the good work that your nonprofit is doing, and most importantly displays the need for more donations to continue creating success stories.
If you're wondering what stories will work the best and what social media platforms to share them on, you should give Hopeful a try.
Hopeful lets you know exactly what is leading people to engage with and donate to your cause on Twitter, Instagram, Facebook, and LinkedIn by using storytelling AI technology, so you get the biggest bang for your buck with your social media spend. Learn more.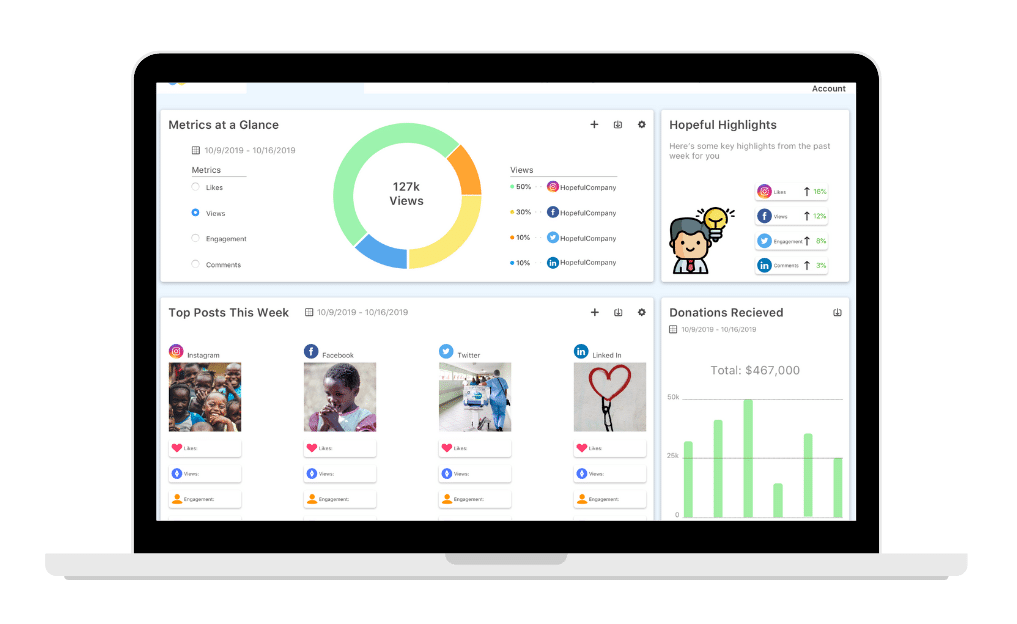 This Giving Tuesday campaign example from Feeding America uses a story, and a video to show why donations are important, and they've integrated the story into their #GivingTuesday campaign.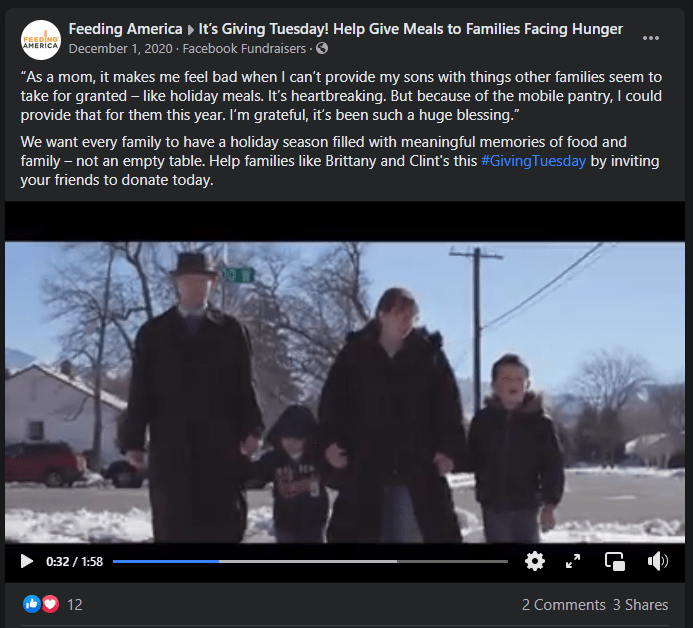 8. Create an Effective Giving Tuesday Campaign Landing Page
You can communicate with your supporters about your campaign on multiple channels, including email and social media, but it's a wise idea to have one central place to send supporters to donate. 
You'll need an impactful Giving Tuesday campaign landing page to help close the deal with your donors, and secure their donation.
How to create an effective Giving Tuesday campaign landing page:
Include information about your nonprofit's mission. Your campaign may attract the attention of prospective new donors who may not know about your organization.
Create urgency by including the date of Giving Tuesday (this year it's November 29, 2022). You may even want to include a live countdown on the page
Make donating easy by embedding your online donation form right on the landing page, or including an obvious "Donate Now" button. Sumac donation pages can be embedded on any page of your website to help increase conversions.
Focus on the impact of donations with success stories and information about your nonprofit's programs to connect with donors emotionally
Showcase special offers like matching gifts or include a goal thermometer to motivate donors

9. Partner With an Influencer or Celebrity
A celebrity partner is a great Giving Tuesday campaign idea because it helps your nonprofit leverage a larger audience.
Here's a Giving Tuesday campaign example from Covenant House. In 2020 they promoted a matching gift Giving Tuesday campaign with Ryan Reynolds and Blake Lively.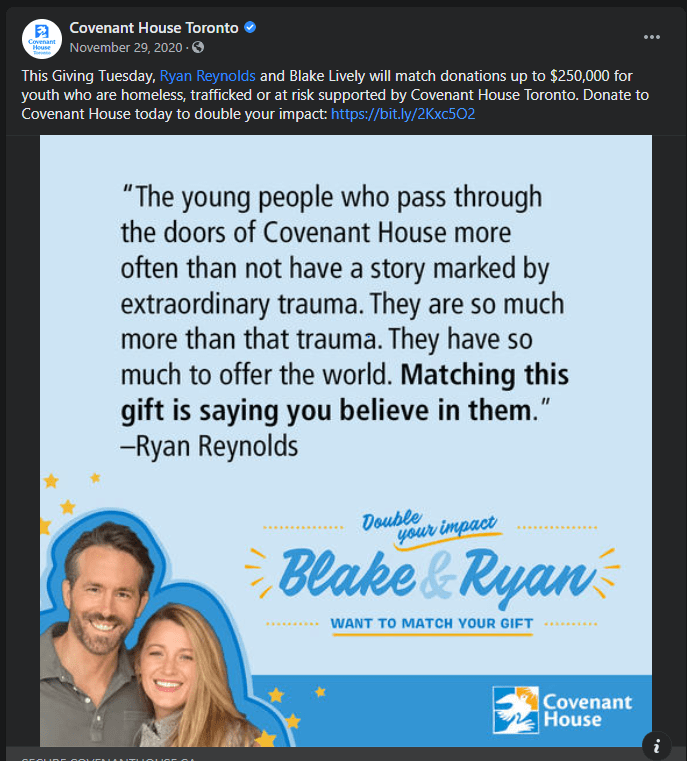 Of course we can't all work with A-list celebrities like Blake Lively and Ryan Reynolds, but you can scale this Giving Tuesday campaign idea by partnering with a well known individual in your community to access a larger audience.
Start by making a list of well-known people within your network that you can ask to be part of your campaign.
10. Convert More Donors with Retargeting Ads
Retargeting ads are the ads that sort of follow you around after you've looked at a certain product. You visit a retailer's website and look at a variety of products, or maybe just one or two, then you leave the website without buying anything.
Later on, when you're visiting other sites or social media, you see ads for the store and even the specific products that you looked at.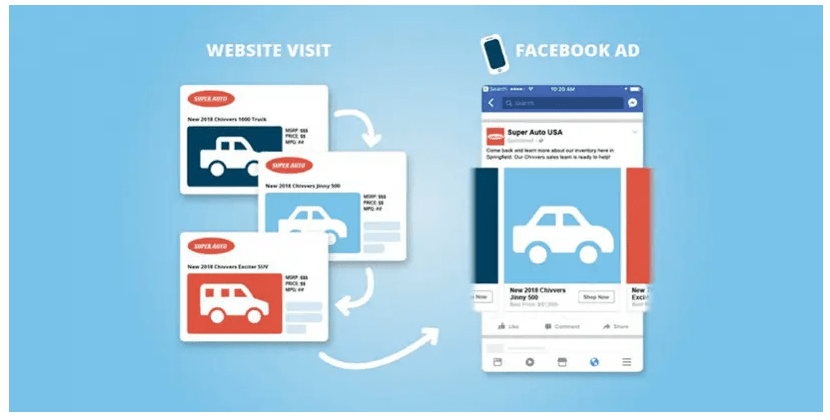 Using retargeting ads is a great Giving Tuesday campaign idea because these ads can help you acquire more donors. Here's more on How to Engage Donors with Retargeting Ads.
Here's how you can create a great retargeting ad strategy for your campaign:
Ad value with a matching gift or a special offer
Create urgency with a limited time appeal – which is really easy to do on Giving Tuesday!
Showcase impact with an impact story
This example from Soi Dog Foundation is not a Giving Tuesday campaign example, but it does show a great retargeting ad in action.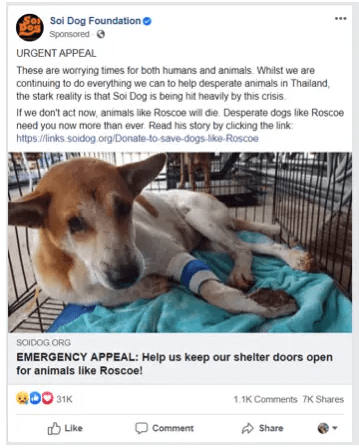 11. Create Real-Time Connection with Livestreaming
Livestreaming is another great Giving Tuesday campaign idea, because it offers your nonprofit the chance to connect with supporters in real-time, and for your supporters to connect with other viewers in the live chat.
Here's a Giving Tuesday campaign example of a livestream that World Pulse hosted on Facebook that worked to generate donations for the cause.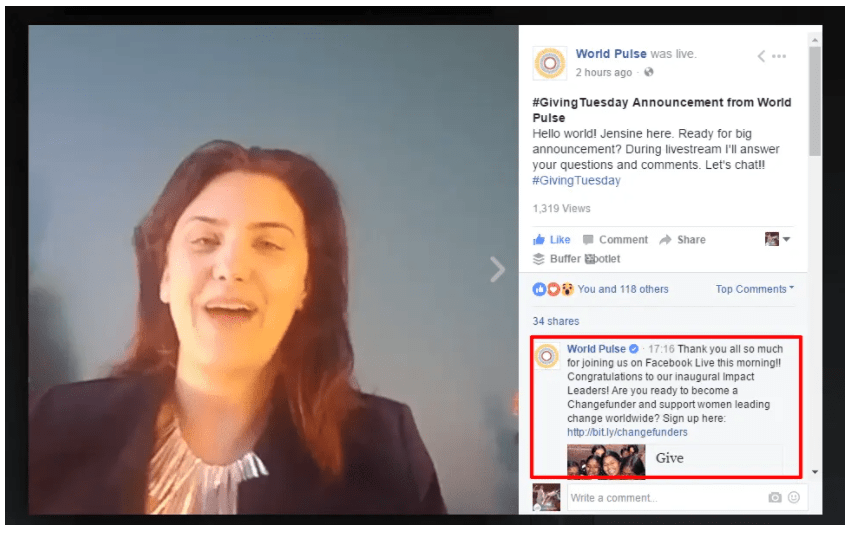 You can go live for your Giving Tuesday campaign on the following channels:
Regardless of which channel you host your campaign livestream on, make sure you promote it in advance on all of your nonprofit's social media channels. More on live-streaming for a cause.
12. Increase Sustainable Revenue with Monthly Donors
Giving Tuesday usually focuses on one-time donations, but a creative Giving Tuesday campaign idea for your nonprofit is to prioritize monthly donations, that help generate sustainable revenue. Check out these monthly giving calculators to see the impact monthly giving has for yourself.
Giving Tuesday is a great opportunity to onboard more monthly donors. Here are some Giving Tuesday campaign ideas to prioritize monthly gifts:
Set a goal to recruit a certain number of monthly donors, tie this to impact by stating something like "100 new monthly donors giving $10 per month could X,Y,Z for our mission"
Offer a special matching gift that only monthly donors can access like a generous donor will match the first monthly payment for each monthly donor we recruit on Giving Tuesday
Add a monthly gift upgrade during the checkout process to ask donors if they want to convert their one-time donation into a monthly donation
Here's an example of a monthly upgrade during check-out from Stand Up to Cancer. Your nonprofit can use this method during your campaign to convert more monthly donors.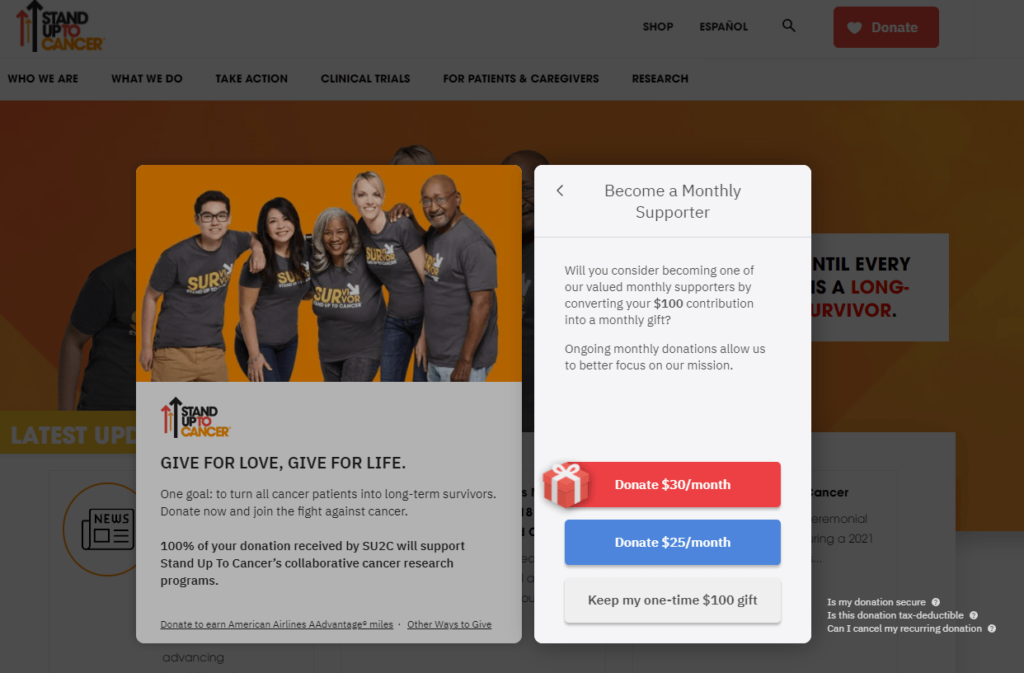 13. Deepen Your Relationship with Mid-level Donors
Your Giving Tuesday campaign doesn't have to be just for your annual level donors, but you can use it to deepen your relationship with your mid-level donors as well.
Here are a few Giving Tuesday campaign ideas for including your mid-level donors, and even your major gift donors:
Personalize Giving Tuesday campaign communications like emails with language specific for mid-level donors.
Use your Giving Tuesday campaign as a reason to reach out to your best mid-level donors by phone or personal email.
Include a save-the-date invitation in your mid-level direct mail packages with a special Giving Tuesday offer just for your mid-level donors.
14. Build a Community with an Engaging Social Media Strategy
This Giving Tuesday campaign idea will have your nonprofit creating a community of supporters using social media. This will help your donors feel like they are even more connected to your cause, and amplify the reach or your campaign.
Here's how you can create engaging social media content for your Giving Tuesday campaign:
Create a unique hashtag for your nonprofit's Giving Tuesday campaign.
Upload social media ready graphics to a sharing site like Google Drive for supporters to download and use to create their own social media posts.
Create profile photo frames for your Giving Tuesday campaign that supporters can add to their profile photos on social media to show their support.
Interact with supporters on social media by liking and commenting on their posts.
Create a fun collection of "I donated" posts for donors to share and make sure you share them on your nonprofit's social media to engage with and thank your donors.
15. Raise More Than Money
Giving Tuesday is about being generous and that isn't limited to cash donations. A Giving Tuesday campaign idea for your nonprofit could be to raise something other than money that supports your cause.
Here are some things other than money you can raise:
Recruit volunteer support for the holiday season or the following year
Encourage supporters to set up peer-to-peer fundraisers
Food or clothing donations
Toys and school supplies for kids
This opens Giving Tuesday up to people who may not have extra money to give, but could donate their time or second hand items.
Here's a creative Giving Tuesday campaign idea from Pathways to Education: for Giving Tuesday in 2017 they asked their community to pledge to create a birthday fundraiser in the following year.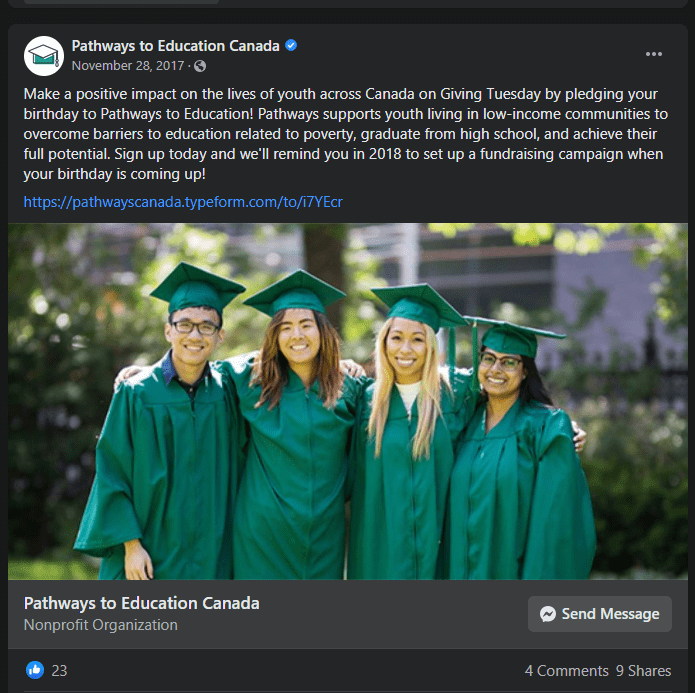 Giving Tuesday is a great opportunity for your nonprofit to engage with you supporters and raise more money, but it's also a highly competitive time of year for nonprofits, and for profit retailers.
These creative Giving Tuesday campaign ideas will help your nonprofit stand out in the crowd so you can have your most successful Giving Tuesday ever!